Are you a frequent traveler or do you know someone who is? You should Transform Old Maps into DIY Coasters!
Traveling is so much more fun and convenient these days. With inexpensive flights and options that vary from short city breaks and luxury stay-cations to round-the-world trips, it's so easy to just pack a bag and go. For a day, a weekend, a week, a month, or even more.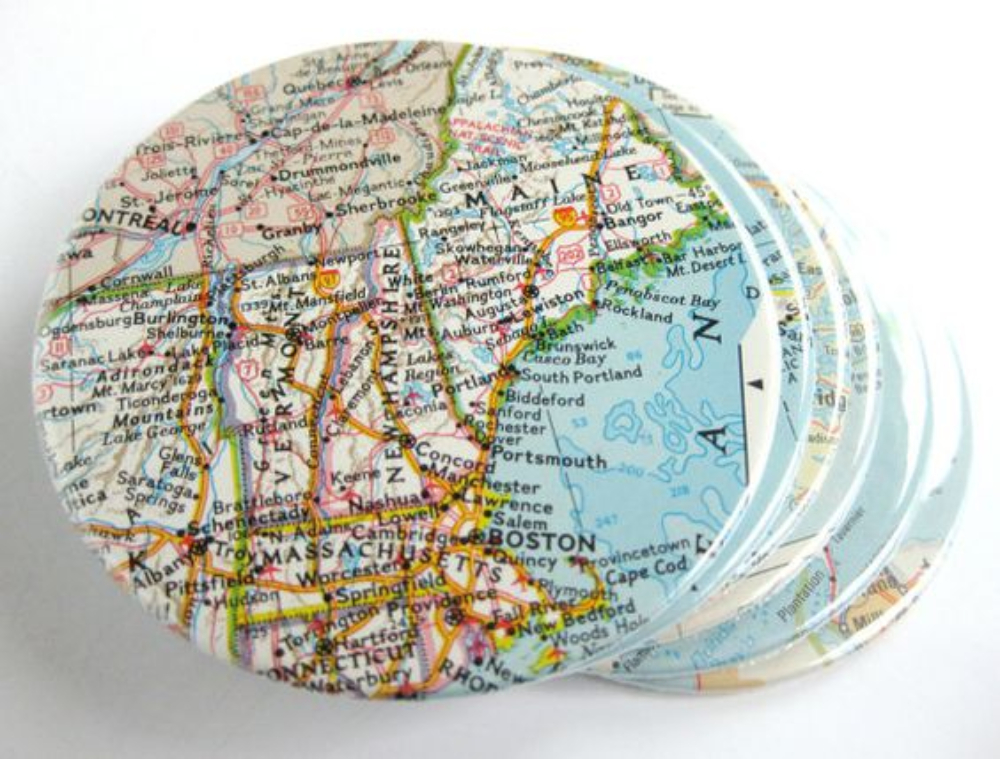 We see lots of good deals in various places, but we're not sure where to start. Is it best to plan a trip from the destination, or from our home base? Should we buy tickets as soon as we can? Or should we wait for a better price? And what about passports, visas, money, and all of the other things we'll need to consider?
It is also a great way to learn new things, meet new people, and discover new cultures. You could even learn a new language or gain skills in a new trade. There is so much to see, so much to miss and so little time to do it all – so why not travel the world?
You can make yours using maps from your travels or if you didn't get to save any, download some photos and print them. It could be a map of your hometown, your favorite place, or your dream destination. Anything! ;)
This project is so easy, you'll probably wonder why you haven't even thought of it yet. It's basically just gluing some paper to a cork coaster… even kids could do this!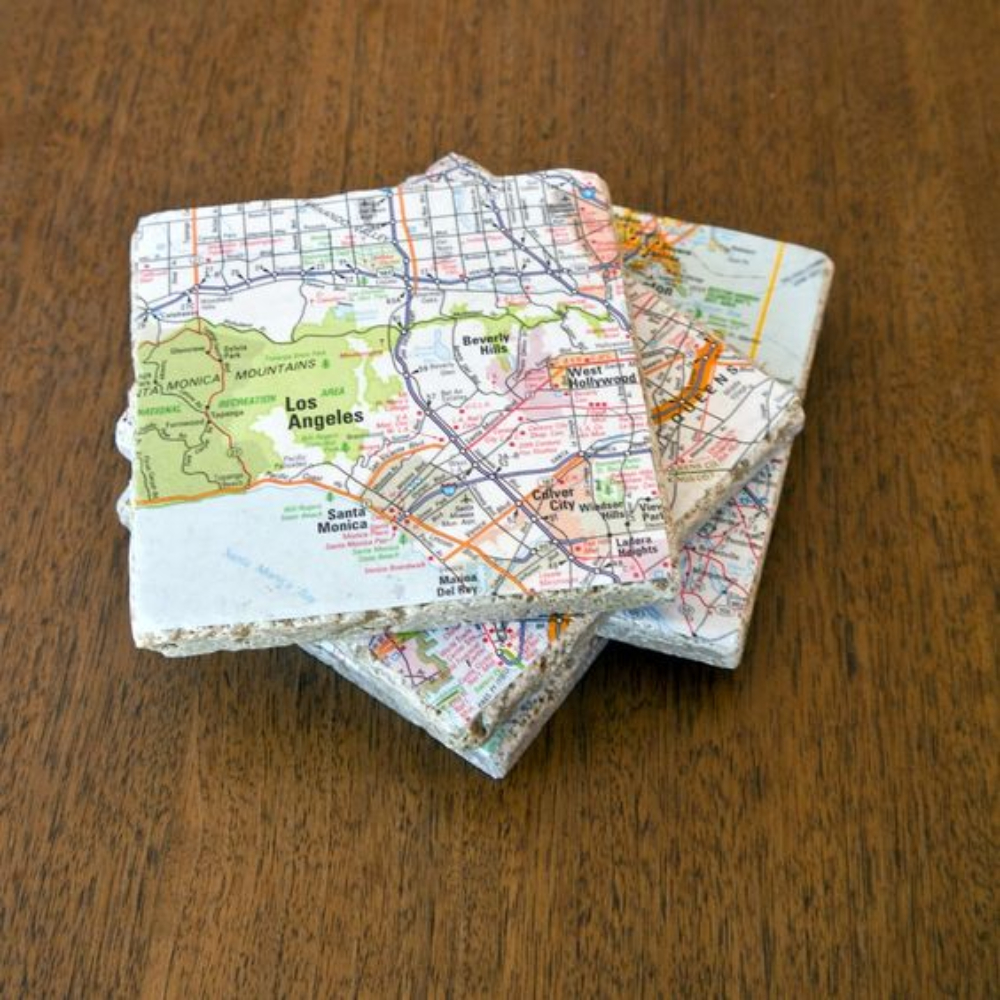 Want something lighter? Use cardboard! Want something sturdier? Use wood or even tiles! The great thing about DIY is you can choose what materials you use so no need to buy if you've got alternatives at home.
The not-so-great thing about DIY is that you learn a lot doing it. You'll learn how to do much more than expected, and you'll learn the things you DIDN'T expect to do.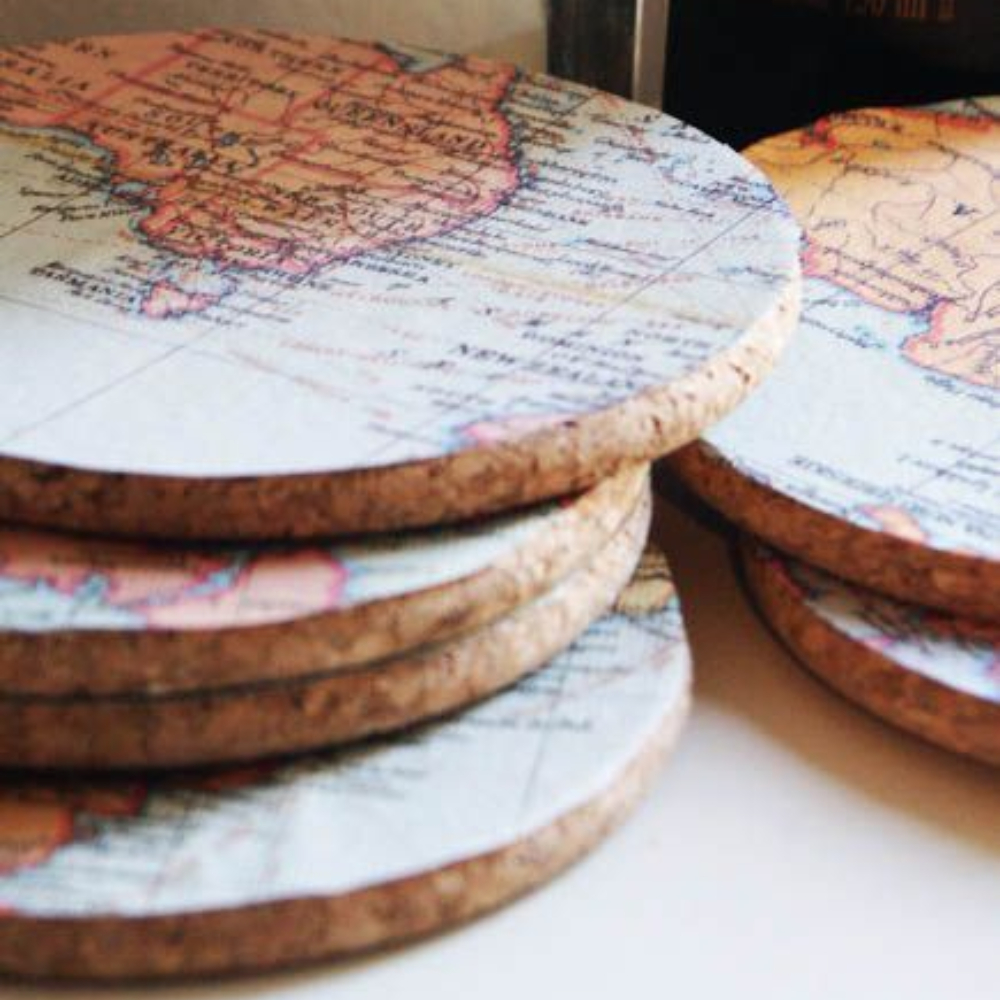 Map coasters are a great DIY project that can help you breathe new life (and color) into old paper maps that you've collected over the years. They're also a great way to put a more personal touch on a housewarming gift, or even use as a fun way to spice up your living room decor.
The coasters are fun to make and a great way to keep your map from being damaged or destroyed over time. You can make them for yourself, or as a gift for others. These coasters are a great conversation starter and look especially awesome sitting on your living room coffee table.
Ready to transform old maps into coasters?
You're going to need these materials…
And these tools…
Craft Knife
Cutting mat
Foam paintbrush
Click on any image to start the lightbox display. Use your Esc key to close the lightbox. 😎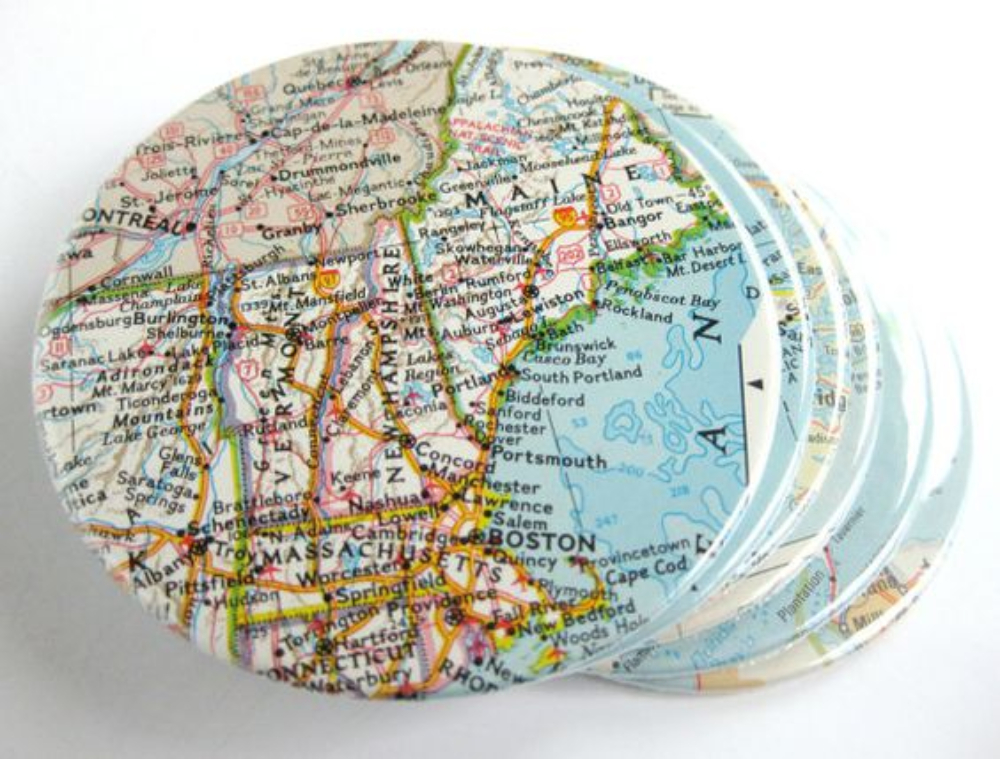 Ready? Watch the video below to learn how to make it!
The coasters work great. They're easy to clean, and the maps make interesting backgrounds. Now, if we could only figure out a way to employ this trick to wipe away stains.
In conclusion, Coasters is indeed a fun item to make, and a great item to add to your map. Adding them to your map to protect against damage over time is a great idea, but having coasters on your map is also a fun conversation starter. Coasters look great displaying a cherished map and look great casually sitting on a coffee table.
With a little imagination and glue, you can transform old maps into DIY coasters.
While you're here, why not learn how to make other designs of cork coasters like Galaxy Coasters.