Chic, trendy, and stylish, this macrame bag is something both teens and adults will love.
My sons' school organized a trade fair to raise funds to buy new equipment for their marching band. I was known among the teachers as an avid DIY-er. Because of this, I was invited to join the fair. Seeing that it was for a worthwhile cause, I gladly said yes.
I wanted to contribute something different as I knew that most of the people involved will be selling baked goods. So I thought of things that everybody will enjoy having. Picking up my sons one day, I noticed a group of teenage girls hanging around. They looked so… fashionable. And that's when the idea clicked.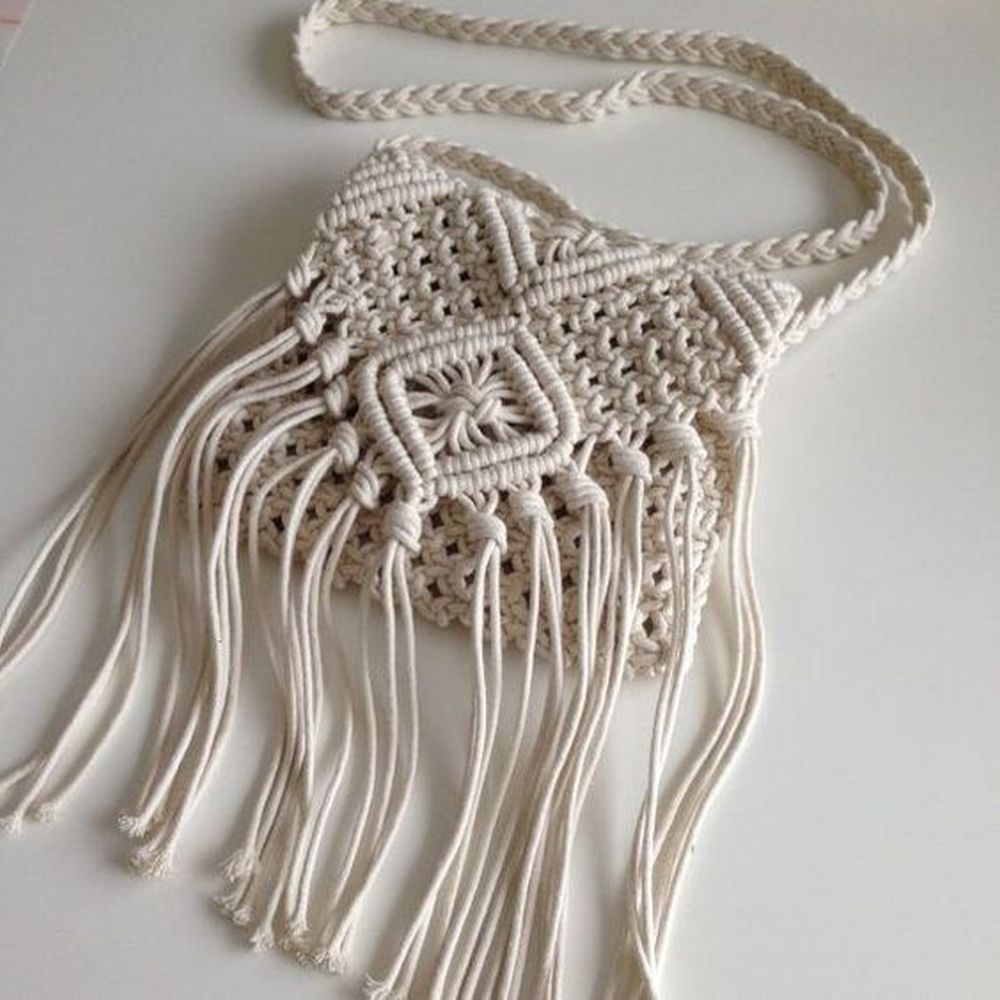 Macrame bags make ideal accessories due to their trendy, hip, and chic nature. They are highly appealing to teenagers and parents alike, making them a desirable purchase. Additionally, they offer the added advantage of being simple to create. I recently came across an excellent tutorial video on YouTube that provided clear and easy-to-follow instructions, prompting me to craft multiple pieces.
The intricate details of these bags are truly delightful, aren't they?
I'm telling you, it was such a big hit! I even kept getting orders long after the trade fair was done.
We've rounded up some of the best designs we could find to inspire you to create your own beautiful macrame bag.
Macrame is a great way to add a personal touch to your accessories, and there are endless possibilities when it comes to design. Whether you want to keep it simple or get creative with colour and pattern, there's a macrame bag design out there for you.
So what are you waiting for? Get inspired and start creating your own one-of-a-kind macrame bag today!
Trendy DIY Macrame Bag Designs
Click on any image to start the lightbox display. Use your Esc key to close the lightbox.
Here are some stylish do-it-yourself macrame bag designs:
Boho Chic Tote: Create a large, roomy tote bag with intricate macrame patterns. The bohemian-inspired design will add a trendy touch to your outfit.
Mini Crossbody Bag: Craft a compact macrame crossbody bag perfect for carrying essentials. The intricate knots and delicate straps make it a fashionable accessory.
Beachy Macrame Bag: Design a lightweight, airy macrame bag using a natural-coloured rope. This beachy style is ideal for carrying your beach essentials in a stylish and functional way.
Statement Fringe Bag: Make a bold statement with a macrame bag featuring long fringe details. This eye-catching design is perfect for adding a boho flair to your look.
Geometric Clutch: Experiment with geometric patterns and create a chic macrame clutch. This sleek design is ideal for evening outings or special occasions.
Bucket Bag With Drawstring: Craft a versatile macrame bucket bag with a drawstring closure. This practical design can be customized with colourful rope or unique embellishments.
Backpack With Macrame Accents: Add a touch of macrame to a regular backpack by incorporating macrame accents or straps. This fusion of trendy and functional elements will make your backpack stand out.
Remember, with macrame, the possibilities are endless. Feel free to experiment with different patterns, colours, and sizes to create your own unique and trendy macrame bag designs.
Step-By-Step Guide on Crafting Your Own DIY Macrame Bag
Making your own macrame bag is a fun and easy way to add a unique touch to your style. All you need are a few simple materials and some patience to create your very own one-of-a-kind bag.
Materials You'll Need
How to Make a DIY Macrame Bag
Making your own macrame bag is a fun and easy project that you can complete in just a few hours. All you need is some sturdy cotton cord and a few basic knots. Once you've mastered the basic technique, you can get creative and make all sorts of different designs.
Here's a step-by-step guide to making your own macrame bag:
1. Cut your polyester cord
First, cut your rope or cord into lengths that are about twice the size of your desired finished bag.
You'll need about 3 metres of cord for a small bag or 6 metres for a larger one.
2. Tie each cord
Next, tie each length of cord around your dowel or ring, making sure to leave some slack. You can use a small piece of paper or carton as a jig for the small spaces.
3. Make a base knot
Fold the cord in half and tie a basic knot about 30cm from the end. This will be the base of your bag.
4. Start making the sides
Once all of your cord is tied, begin knotting it in a basic macrame pattern.
To secure the knots in your rope, you can use a light flame. A candle or lighter will work just fine. Just be careful not to burn yourself. Once the knots are secure, your rope will be much stronger and more durable.
5. Make the handle
To make the handle of the macrame bag, use the remaining cord and create a continuous loop. Pull the cord until the loop is tight against your hand. Fasten each loop with a light flame.
Now, take both ends of the cord and make a knot. This will secure the loop in place.
Finally, measure the length of the handle. Cut the cord at the desired length and make another knot. This will create the handle for your macrame bag. Secure the knot with a light flame.
Great job! Now that you've made your own macrame bag, you can show it off everywhere you go. Whether you're headed to the beach or running errands around town, your new bag will add a touch of style.
You can add more embellishments to your macrame bag by using other colours for the handle, simply attach it on a continuous loop. Adding beads or a heartstring in the centre of the macrame bag can give it a sweet, stylish look!
Here's a video tutorial on how to make your own macrame bag:
If you liked this project, you might also like to view the Design Your Own Tote Bags With Stencils!
Knots of Style: Master the Art of DIY Macrame Bags!
And there you have it! This guide showcased a range of knotting techniques, presented design ideas to ignite your creativity, and shared practical tips for crafting your very own DIY macrame bag. Whether you're a novice or have prior experience with macrame, this video tutorial is an invaluable asset that will assist you in becoming a master of macrame bag making.
So gather your materials, prepare for an exciting crafting session, and enjoy creating a stunning and functional accessory. Happy knotting!