Thinking of making DIY rope toys? Well, keeping pets in the household can bring immense joy and companionship, however, it can also result in damage to personal belongings due to their natural tendency to chew. This behaviour is especially prevalent in dogs, who are instinctively inclined to gnaw on items like shoes, bags, furniture, and the like. Fortunately, there are ways to redirect this behaviour and prevent damage to household items – toys!
One approach is to provide your pets with suitable toys to satisfy their chewing needs. Rope toys, in particular, are an excellent option as they offer a durable and textured surface that dogs find enjoyable to chew on.
By providing diversionary tools such as rope toys, you can ensure that your pets remain content while safeguarding your personal belongings from unwanted damage.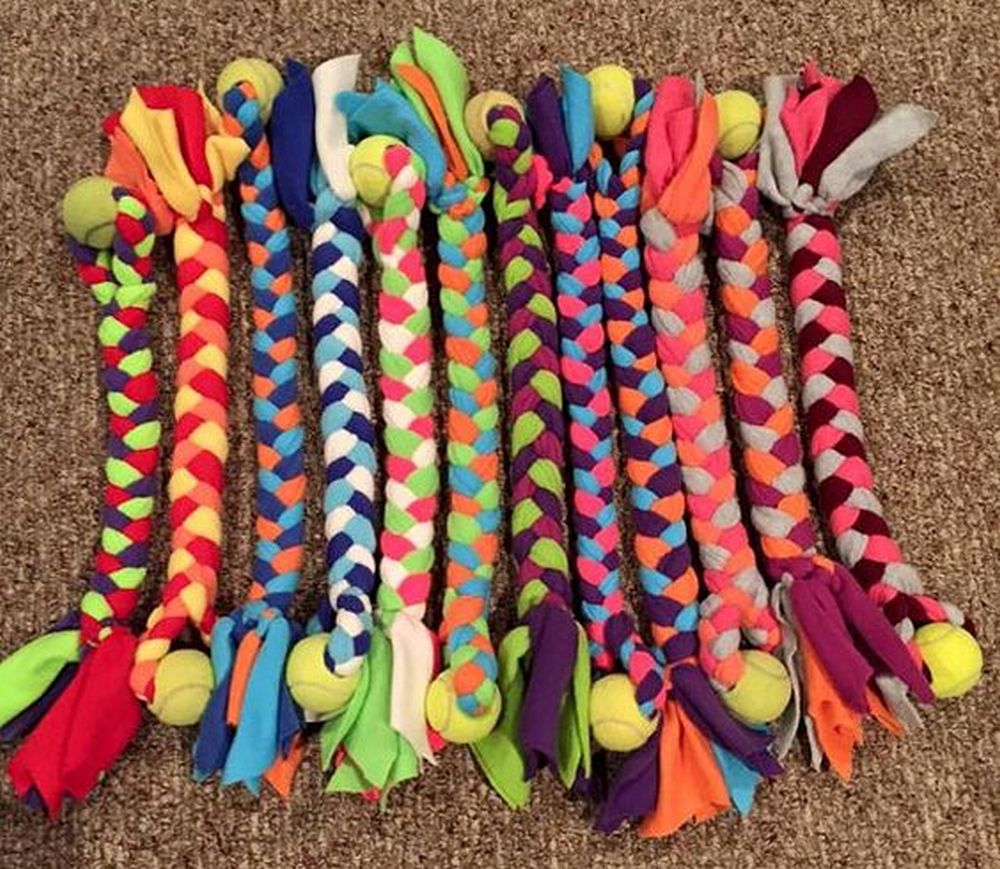 Unlock the power of creativity with this amazing DIY project – a rope toy your furry friend will surely love! This toy is not only incredibly useful but also incredibly affordable. With just a meagre 25 cents tennis ball and old shirts along with other simple materials, you can make this DIY toy! Don't hold yourself back and unleash your inner artist. Get started now!
Our Pick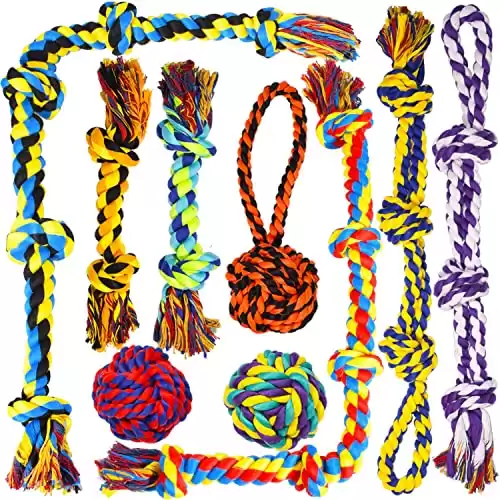 Heavy Duty Dog Rope Toys Kit for Medium Dogs
The durable dog toys are made of high quality nature cotton that wear-resistant, tightly woven twist and sturdy knots make large dog toys stand up for aggressive chewing.
Buy on Amazon
We earn a commission if you make a purchase, at no additional cost to you.
12/01/2022 10:49 am GMT
You can make several of these and give them out to friends with pets. They'll surely appreciate the thought and effort behind the gift. Or you can donate them to an animal shelter, too!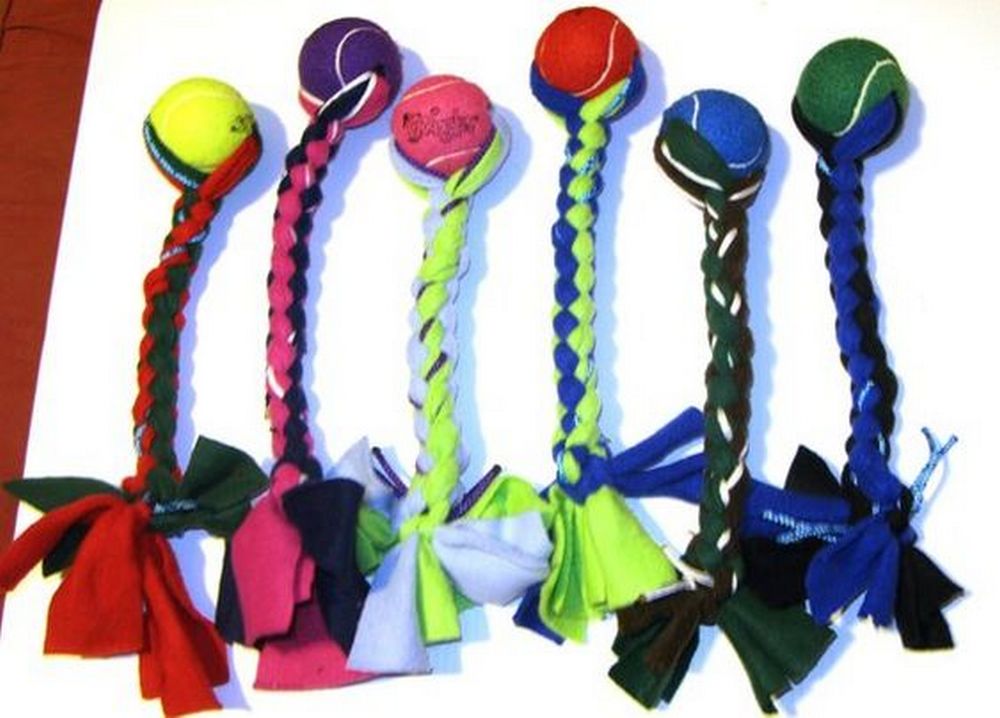 Making DIY rope toys using old shirts and tennis balls is a fun and easy way to create toys for your pets. The materials and procedures involved are straightforward, making the entire process simple to follow and do.
Materials:
Old shirt (preferably cotton)
Tennis balls
Glue (optional)
Tools:
Steps:
Cut the shirts into strips about 1-2 inches wide. The length of the strips will depend on the size of the shirt, but around 10-12 inches is a good starting point.
Take three strips and tie a knot at one end carefully.
Braid the three strips together, making sure to keep the tension tight. You can add texture to the rope toy by incorporating fabric strips or knots. This can make it more interesting and engaging for your pet.
Once you reach the end, tie another knot to secure the braid.
Repeat steps 2-4 with more strips of fabric until you have a length of rope that's long enough to wrap around the tennis ball several times.
Cut a small slit in the middle of the fabric rope.
Insert the tennis ball into the slit in the fabric rope and push it all the way through so that it's in the middle of the rope.
Tie knots at each end of the fabric rope to secure the tennis ball in place. Tie the knot around the tennis ball to create different designs and textures. You can tie a simple knot, a double knot, or even wrap the rope around the ball in a figure-eight pattern.
Make sure the rope is tightly wrapped around the tennis ball. You can also add a bit of glue to the knot to make it extra secure.
Trim any excess fabric if necessary.
Your DIY rope toy using old shirts and tennis balls is now ready for your pets to play with!
Optional: You can add other toys or objects, like chew toys or stuffed animals, to the rope to create a more interactive and engaging toy.
5 Essential Considerations When Crafting DIY Rope Toys
There are just a few things to consider when making durable DIY rope toys. To ensure success, here are some essential considerations to think about:
1. Fabric
Select a fabric that is appropriate for the size and strength of your pet. For larger and stronger dogs, a thicker and more durable fabric is likely needed. Always use high-quality materials that are safe for your pet to play with. Choose cotton or nylon.
2. Colours
You can use different coloured fabrics to make the toy more visually appealing and distinguishable from other toys. Play with vibrant colours to make attractive rope toys.
3. Knots, Braids, and Patterns
Experiment with different knots, braids, and patterns to create unique and fun rope toys that your pet will enjoy. Creates a toy that your pet will chase and play with for hours.
4. Pet preferences
Think about what kind of toy your pet enjoys playing with. Some dogs prefer a rope toy with a ball in the middle, while others like a toy with multiple knots and twists.
5. Safety
Make sure that the toy is safe for your pet to play with by avoiding any materials that can be harmful if ingested and ensuring that the toy is not too small or too large for your pet.
By following these tips, you can easily customize your DIY rope toys to suit your pet's unique preferences and personality while ensuring their safety and enjoyment.
4 Benefits of Crafting DIY Rope Toy
Crafting your own rope toys for your pet can offer multiple benefits. Here are some of the indispensable reasons why you have to craft your own toys:
Provide a variety of interactive play opportunities.
Promote physical exercise and mental stimulation for your pet.
Allow a bonding experience through physical play.
Offer a safe alternative to plastic or synthetic options, reducing the risk of ingestion or choking hazards.
Creating your own rope toys is not only fun and rewarding, but it can also ensure the safety and well-being of your beloved pet.
Here are some cute DIY rope toy design ideas for inspiration…
Click on any image to start the lightbox display. Use your Esc key to close the lightbox.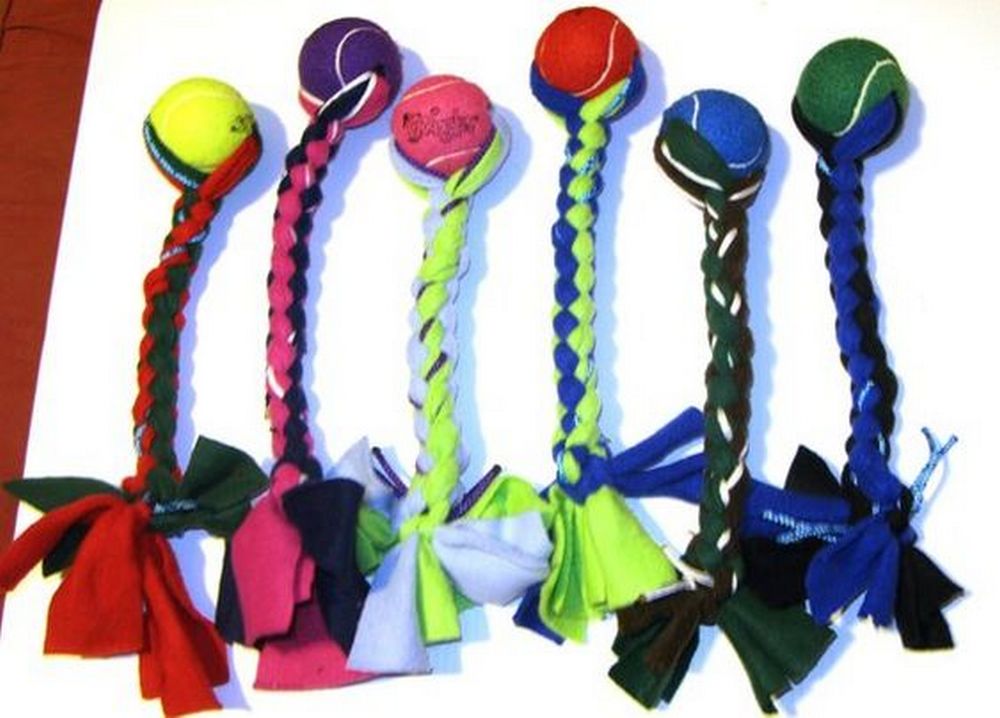 Special thanks to Cassandra Nicole for this project. Watch her tutorial video below.