Embroidery machines carry in their technological genes a fascinating story. The art of embellishing fabric with decorative stitches has been a cherished human tradition for millennia. The invention of embroidery machines marked a significant leap forward in the efficiency and precision of this intricate craft.  One look at our feature-rich top choice for this list, the Brother PE800 Embroidery Machine, will tell you that.
However, the concept of mechanizing embroidery did not emerge until the Industrial Revolution in the 18th century. But even then, the early mechanical devices that people created to replicate intricate embroidery handwork were rather limited and often required – well — manual intervention.
The invention of the Schiffli machine a century later revolutionized the embroidery industry. The Swiss inventor, Isaak Groebli, devised the machine to automate the process of creating intricate and large-scale embroidery designs using a system of needles and thread to replicate hand-stitched effects.
The name "Schiffli" is derived from the Swiss-German word for "little boat."  This was the shape Groebli used for his machine's needle-carrying arm.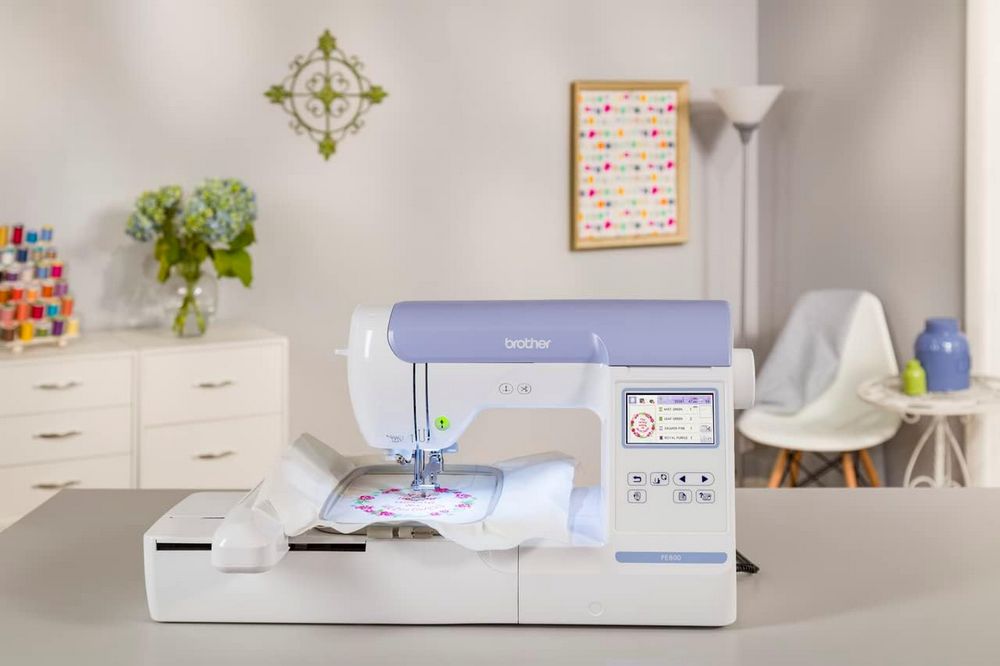 Top 5 Brother Embroidery Machines on Amazon
Today, of course, embroidery machines are equipped with advanced software, touchscreen interfaces, and USB connectivity. They offer a vast range of built-in designs and the ability to incorporate personalized, custom creations. These machines can handle a variety of fabrics and stitch types, from delicate monograms to complex multicolored designs.
Few will disagree that, in the competitive and ever-evolving market in modern sewing and embroidering technology, one name stands out: Brother. With a rich history that spans more than a century, Brother Industries, Ltd. has grown from its humble beginnings in Japan into the diversified multinational mammoth corporation it is today.
While its technology and business activities have evolved over time, product innovation has remained evident in its embroidery machines throughout. These qualities remain as important to the company today as they were in 1908.
In fact, we here at Ideas2live4 have loved just about every model that Brother has produced over the past few years.
That said, we've prepared a detailed list of the 5 best Brother embroidery machines you can buy on Amazon right now. Each one of the machines in the list below should help people looking to buy a top-notch embroidery machine that looks good and is durable, versatile, and fun to use.
1. Brother PE800 Embroidery Machine
The Brother PE800 Embroidery Machine is rich with useful features that encourage creativity and imagination. Like all of Brother's embroidery machines, the PE800 is suitable for both beginners and experienced embroiderers. Its combination of advanced technology, user-friendly interface, and wide range of built-in and customizable design options make it a standout choice in the embroidery machine market.
The PE800 boasts a sturdy and durable build that ensures years of creative embroidering without compromising performance. The machine's white and grey color scheme – which has become synonymous with all of Brother's newer sewing and embroidery machines — is sleek and modern, fitting well into any sewing or crafting space.
This embroidery machine's compact size allows for easy storage when not in use, making it a great option for those with limited workspace.
A Spacious Embroidery Area Inspires Creativity
With a maximum embroidery area of 5″ x 7″, the PE800 Brother embroidery machine offers ample space to create larger and more intricate designs. The machine comes with 138 built-in designs, including a variety of decorative stitches, lettering fonts, and border patterns. These designs cover a broad range of styles, making them suitable for various projects, from monogramming to decorative stitching.
We especially appreciated the large full-color touchscreen display on the PE800. The feature provides an intuitive interface that makes it easy to navigate through design options, edit designs, and customize settings.
The on-screen tutorials and help features are incredibly useful for beginners, as well, as guiding them through the embroidery process step by step. We admit to having more fun than we should have with this particular feature.
The PE800 embroidery machine offers USB connectivity, allowing you to import your own designs and expand your creative possibilities.
During testing, we selected a few built-in designs and then tried one of our own designs. Once we imported our custom design into the machine, we saved it using the memory function. You can do the same with the built-in fonts and borders. Once you save a design, you can save it for future use. 
This feature – which is common to all of Brother's newer line of embroidery machines – is particularly valuable for advanced users who want to work with custom designs and patterns. The ability to connect the Brother embroidery machines to any computer also opens up opportunities to access a wider range of embroidery patterns and software.
Reliable and Feature-Packed
We think the PE800's automatic needle threading, quick-set bobbin, and easy-to-follow instructions will be quite useful for people who are just starting to get into embroidery. More experienced users will appreciate the manual thread tension adjustment, which allows fine-tuning for different types of fabrics and threads.
The machine operates at a maximum embroidery speed of 650 stitches per minute, providing efficient and reliable results. While it may not be the fastest embroidery machine on the market, it strikes a good balance between speed and precision, ensuring high-quality embroidery without compromising on the final product.
The Brother PE800 Embroidery Machine is an excellent choice for individuals who are passionate about embroidery and want a reliable, feature-packed machine.
Brother's user-friendly design, the machine's impressive embroidery area, and extensive design library make it suitable for a wide range of projects. Whether you're a beginner looking to learn the craft or an experienced embroiderer seeking a well-built, capable embroidery machine, we say the PE800 is the best choice you can make.
2. Brother SE600 Embroidery Machine
The Brother SE600 is yet another highly regarded sewing and embroidery machine that combines the versatility of traditional sewing with the creativity of embroidery. It's a popular choice among crafters, quilters, and beginners.
Like the PE800, the SE600 has a compact and modern design, combining white and grey tones that make it an attractive addition to any crafting space. The machine is well-built and robust, which ensures both great performance and longevity. Again, like the PE800, the SE600's s manageable size makes it easy to store when not in use.
The SE600's best design feature is its dual functionality. You can sew and embroider with the same machine. It comes with 103 built-in sewing stitches, providing a wide range of options for different projects. The 80 built-in embroidery designs cover various styles, and the 6 embroidery lettering fonts enhance the personalization options.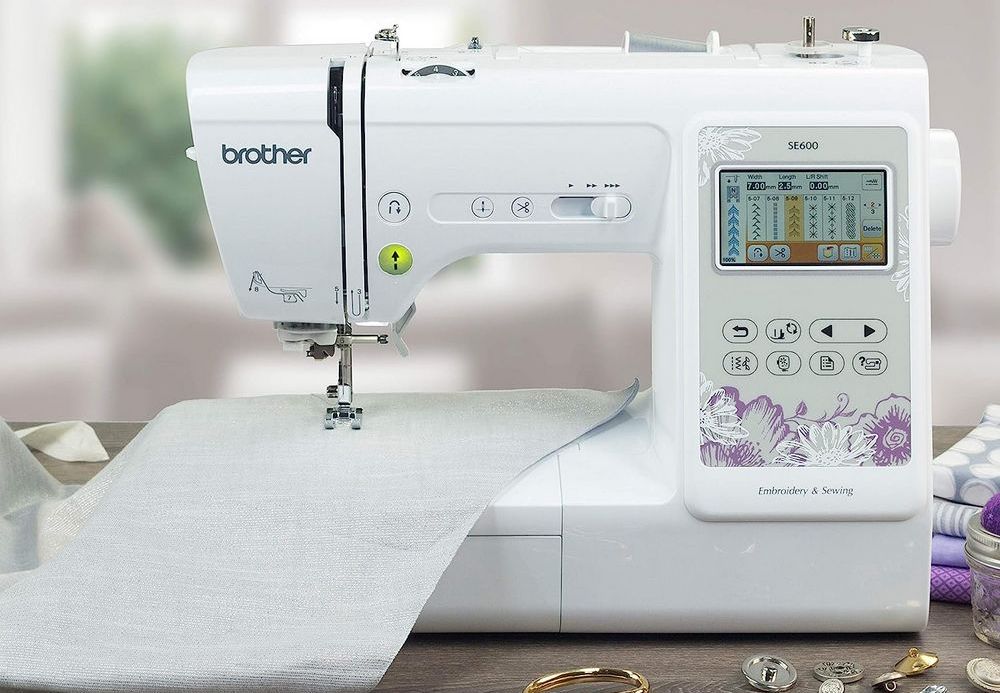 Excellent for Smaller Designs
The SE600 embroidery machine offers a full-color touchscreen display, as well. The intuitive interface simplifies the process of selecting designs, adjusting settings, and previewing your work before you start stitching. Like the PE800, this machine offers on-screen tutorials that are particularly beneficial for beginners.
The SE600 embroidery machine's maximum embroidery area is 4″ x 4″. This is much smaller than that of the PE800, but it is still suitable for a wide range of projects, from monogramming to smaller decorative designs. Out of the box, the machine comes with two embroidery hoops (4″ x 4″ and 3.94″ x 1.61″) to accommodate different-sized designs.
Like the PE800, The SE600 offers USB connectivity. This allows you to import your own embroidery designs from your computer. You can use the machine's color palette to customize embroidery thread colors. We think this is among the best features shared by most Brother embroidery machines. You can preview colors and custom designs on the screen and save time and material by getting the colors right long before the needle touches the fabric.
Brother has designed the SE600 with user-friendliness in mind. Automatic needle threading, quick-set bobbin, and easy-to-follow instructions make it an ideal choice for beginners.
The SE600 also features the same manual thread tension adjustment as the PE800 for more experienced users. However, would-be buyers should note that the PE800's manual adjustment provides more flexibility.
Fast, Precise, and Efficient
The SE600 has a maximum sewing speed of 710 stitches per minute, allowing for efficient and reliable sewing. The embroidery speed is adjustable, too, so you can achieve consistent and precise results regardless of the complexity of the design.
So, you may be asking, what makes this machine so special that it claimed the second spot on our list? Simply put, it's a great machine to learn embroidery for an entry-level price. If you are looking for an inexpensive embroidery machine that is highly versatile and fun to use, the Brother SE600 should be at the very top of your list.
Our final verdict? The Brother SE600 is a feature-packed sewing and embroidery machine that should appeal to a wide range of users because it offers fabulous value for your money. Its combination of sewing and embroidery capabilities, along with USB connectivity, makes it a top choice for anyone looking to take their sewing and embroidery projects to the next level.
"This machine is a beauty to behold. Sometimes I just sit and look at it and thank my lucky stars I ordered it from Amazon," says one reviewer. "It is a joy to sew with as it sews like a dream." Need we say more?
3. Brother PE535 Embroidery Machine
Like most of its siblings in Brother's line of embroidery machines, the Brother PE535 has earned a reputation as a user-friendly tool suitable for both beginners and experienced crafters.
The P535's build quality is solid, with durable materials used throughout. Perhaps best of all, it's also the most inexpensive machine on this list. 
Brother's well-considered standard 3.2-inch LCD touchscreen interface on this machine is enhanced by a simple and responsive design that makes navigation and customization a breeze. With it, you can review and edit your design before stitching.
The P535's 4″ x 4″ embroidery area makes it excellent for small embellishments, lettering, and intricate designs on garments and home decor items, among others.
If you have no interest in sewing but want to make small, detailed embroidered designs, then this is most certainly one of your best options.
Easy to Use, Top-Notch Performance
Because using the P535 requires only a small, short learning curve, even beginners can take to the machine and create embroidered designs like a professional within minutes. Aside from being a cinch to set up and use, the P535 also has Brother's signature modern feel.
The PE535's performance is, of course, top-notch. The machine delivers consistent and precise embroidery stitches every time.
The automatic needle threading feature, though occasionally requiring a bit of fine-tuning, generally works efficiently. The machine's motor operates smoothly with minimal vibrations.
The P535 embroidery machine comes with 80 built-in embroidery designs, including a variety of patterns, borders, and 9 fonts (6 in English, 3 in Japanese) that offer a good starting point for your creative projects.
As one would expect, the USB port allows easy importing of your own designs. The machine's variable stitch speeds allow you to choose a pace that suits your comfort level and project complexity. The bright LED-lit work area provides excellent visibility, reducing eye strain during long embroidery sessions.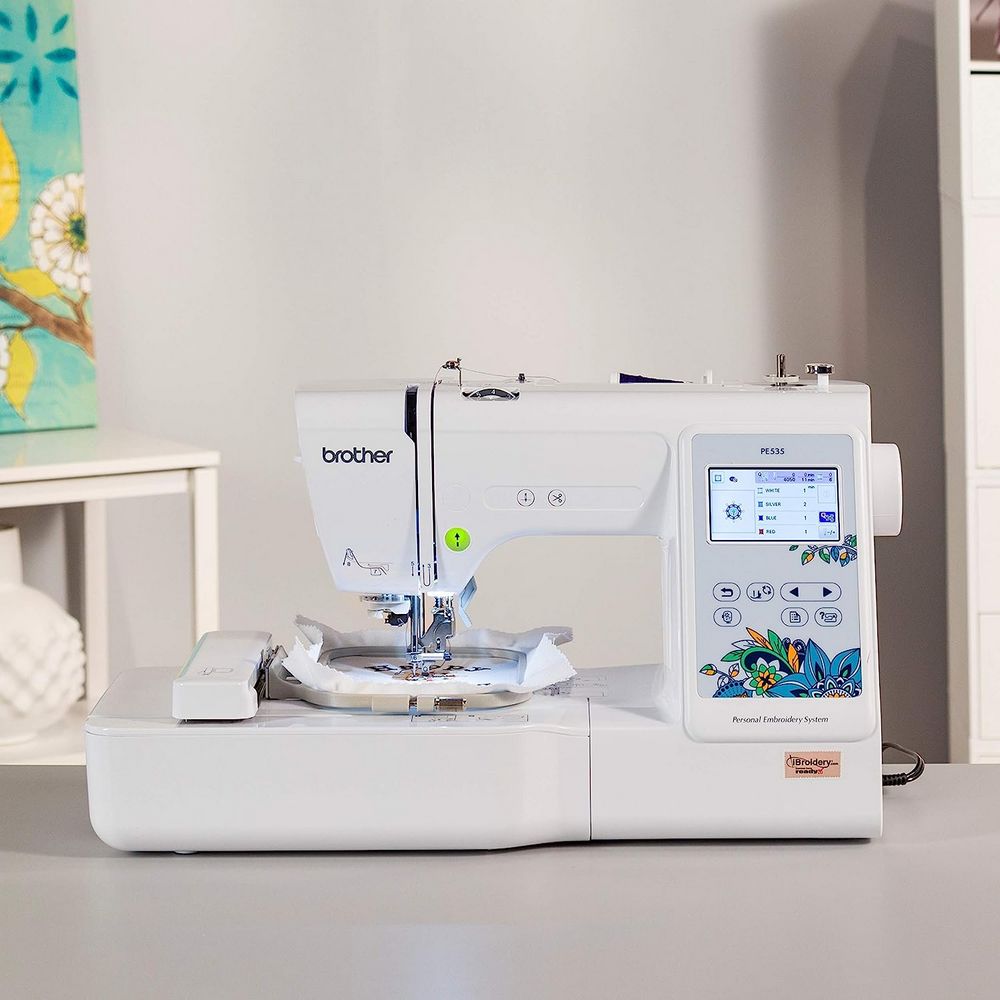 Loads of Fun for Fantastic Value
The PE535's performance is worthy of praise, of course. The machine delivered consistent and precise embroidery stitches throughout our tests.
The automatic needle threading feature, though occasionally requiring a bit of fine-tuning, generally works efficiently.  The machine's motor operates smoothly, minimizing vibrations and ensuring a stable stitching experience.
We loved the P535's array of simple, useful, user-friendly features. With its reliable performance and overall value, we say this embroidery machine would be a valuable addition to any crafter's toolkit.
Considering the PE535's reasonable price point and the range of features it offers, it provides excellent value for both beginners and intermediate crafters.
"Loved this product," says one beginner's review on Amazon. "Did struggled a little with it because I don't have prior sewing or embroidering experience, but after I watched videos, it was pretty easy."
The inclusion of built-in designs, along with the capability to import custom designs, ensures that you won't quickly outgrow this machine as your skills improve.
4. Brother SE700 Sewing and Embroidery Machine
We particularly enjoyed testing the Brother SE700 Sewing and Embroidery Machine. Its combination of sewing and embroidery capabilities made for great versatility. Like the SE600, the SE700 features a sleek and compact design that integrates sewing and embroidery functionalities.
The machine's robust build quality speaks durability, while the well-organized control panel and intuitive LCD touchscreen contribute to a fun and creative embroidering experience. The SE700's white and blue color scheme adds a touch of sophistication to its modern look.
With 98 built-in sewing stitches and 103 built-in embroidery designs, we had ample room for creative testing. While we would have wanted to see an embroidery area larger than Brother's standard 4″ x 4″, the overall quality of the SE700 sewing and embroidery machine more than made up for the lack of creative space.
Wireless LAN, Peerless Performance
As we have come to expect from Brother's line of embroidery machines, the 3.2-inch color touchscreen on the SE700 is responsive and user-friendly. The software allows for easy design editing, layout adjustment, and previewing before stitching.
The SE700's wireless LAN interconnectivity makes data management a breeze. Again, the inclusion of a USB port permits you to import your own embroidery designs, expanding creative possibilities beyond the built-in options the machine offers.
The machine provides a range of editing options, including resizing, rotating, and mirroring designs. We found these features quite impressive, and we had fun using them all. You can, of course, customize your designs any way you want.
Taken together, we think these options are enough to satisfy even the most demanding project requirements.
The SE700's performance is impressive on both sewing and embroidery fronts. The machine consistently delivered accurate stitches across various fabric types during our tests.
We were impressed by how the machine maintained an absolutely steady pace while producing intricate designs. The embroidery quality is enhanced by the machine's smooth motor operation, which minimizes vibrations and ensures stable stitching.
Light and Seamless
Despite its advanced capabilities, the engineers over at Brother apparently designed the SE700 with user-friendliness in mind. The touchscreen interface simplifies design selection, editing, and customization.  
This embroidery machine is also exceedingly light. It weighs just one pound. The SE535 weighs much heavier in comparison at around 15 lbs.
The on-screen tutorials that come with the SE700 embroidery machine can guide beginners through setup and operation. This really helps to reduce the learning curve.
Threading the machine, whether for sewing or embroidery, is made easier by the automatic needle threader, of course.  However, we think some might need a few practice runs to perfect the process. As always, when in doubt, check the manual.
The Brother SE700 Sewing and Embroidery Machine offers exceptional value, particularly for those seeking a dual-function machine. Its affordable price point, combined with the variety of built-in designs and stitches, USB compatibility, and user-friendly interface, make it a smart investment.
The machine's durability and versatility ensure that users will continue to find value in it as they develop sewing and embroidery skills.
Our overall verdict? The Brother SE700 Sewing and Embroidery Machine is an excellent crafting tool. This machine's seamless integration of sewing and embroidery capabilities, along with its impressive features and performance for crafters looking to expand their creative horizons.
5. Brother SE1900 Embroidery Machine
The last on our list of Brother embroidery machines is also the most expensive. But despite its rather steep price point, the Brother SE1900 Embroidery Machine is a feature-rich crafting companion that has captured the attention of both beginners and experienced homeowners and crafters.
You can build a fairly usable gaming desktop PC for the price that the SE1900 commands. We were eager to find out whether the machine could live up to both its price point and its fantastic ratings on Amazon.
The SE1900 boasts Brother's trademark sleek, modern, white, and grey design. It's a looker, blending functionality and aesthetics in one attractive package. Its tough construction ensures endurance, while the well-organized control panel and intuitive LCD touchscreen make for a pleasant crafting experience.
Flexible and Inspiring
Like the SE600 and the SE700, the Brother SE1900 is a dual-function machine, offering 240 built-in sewing stitches and 138 built-in embroidery designs. This flexible combination allows for a wide range of creative projects and practical, everyday use.
With the flexibility to combine designs, change colors, and upload multiple pre-designed patterns, the SE1900 embroidery machine has limitless applications. The design editing feature even allows you to change individual embroidery thread colors using the built-in color palette.
We of course loved the generous 5″ x 7″ embroidery area on the SE1900. As with the Brother PE800 Embroidery Machine, the SE1900 offers you ample space to create intricate and detailed designs on everything from linen to cotton to polyester and denim.
The color touchscreen offers clear navigation and responsive control over design selection, customization, and editing. Like the PE800, this machine provides resizing, rotating, and mirroring design options.
Good for Both Beginners and Pros
While it is a state-of-the-art machine suitable for professionals, the SE1900 also features Brother's standard on-screen tutorials to guide you through setup and various operations, which makes it just as suitable for beginners.
Like all its siblings on this list, the SE1900 features automatic needle threading and a USB port. Now, as always, threading this machine is easy enough but may require some practice. Simply wind the thread around the threader and press the lever on the side. The threader will pull the thread through the eye of the needle.
The SE1900 excels in both sewing and embroidery. The machine maintained a good, steady pace during our tests and stitched even our most elaborate designs with incredible precision.  
But as fun, useful, and versatile a machine as it is, the SE1900's price point can be quite intimidating. Depending on how much you have in your bank account, this machine commands a price that can go through your pocket and dig a hole bone deep.
But we suggest that you monitor the price as it does go down from time to time. "The price changes a lot so keep an eye on price drops and increases over time," advises one 5-star review. "…Overall, I would highly recommend this machine."
We concur – emphatically. The SE1900's combination of sewing and embroidery functions, along with its wide range of fun features, make it an excellent crafting companion.
Fun Tips on Using Brother Embroidery Machines
As we've described in the list above, Brother embroidery machines come equipped with an array of built-in designs, from intricate patterns to playful motifs. Crafting with a Brother embroidery machine means you have a treasure trove of creative fun at the tip of your fingers.
Spend time exploring your machine's features and let your imagination run wild. Whether you're embellishing a pillow, a garment, or a tote bag, these designs can provide the perfect starting point for your creative journey.
Personalize and Customize
What's more exciting than adding a personal touch to your creations? Brother embroidery machines make it easy to customize your projects with names, initials, dates, and special messages. Transform ordinary items into personalized gifts that are sure to bring joy to your loved ones.
Mix and Match Colors
Experimenting with color combinations is another enjoyable aspect of embroidery. With a wide range of thread colors at your disposal, you can play with hues and shades to create eye-catching and visually appealing designs. Get playful by combining unexpected colors for a fresh and unique look.
Experiment with Different Fabrics
Embroidery isn't limited to just one kind of fabric. You can also embellish denim, leather, canvas, and even paper. Use your Brother embroidery machine to add artistic flair to clothing, accessories, home decor items, and even scrapbooking projects. The versatility of these machines allows you to explore various textures and create stunning effects.
Freestyle with Custom Designs
While built-in designs are fantastic, don't forget to express your unique style by creating your own designs. With the ability to upload custom designs through USB connectivity, you can turn your sketches, digital drawings, or downloaded patterns into embroidered masterpieces.
Mix Techniques
Embroidery machines can complement other crafting techniques. Why not combine your embroidery with sewing, quilting, appliqué, and more to create multidimensional and visually striking pieces? The fusion of techniques opens up a whole new realm of creativity!
Try Different Stitches and Effects
Brother embroidery machines offer a variety of stitches, fonts, and effects. Play around with different stitch types to achieve different textures and patterns. Mix satin stitches with fill stitches, experiment with different fonts, and explore the possibilities of 3D effects for a truly unique look.
Create Whimsical Wearables
Transform plain clothing items into wearable works of art. Embroider intricate designs on denim jackets, add flair to t-shirts or embellish hats with playful motifs. Your clothing becomes a canvas for your creative expressions.
Embroidery is even more enjoyable when shared with friends or family. Organize crafting sessions, workshops, or embroidery parties where you can collaborate on projects, exchange ideas, and learn from each other's techniques.
Enjoy the Learning Journey
Above all, remember that the journey of creativity is a learning experience. Don't be afraid to experiment, make mistakes, and learn from them. Each project you undertake is an opportunity to grow as an artist and find joy in the process.
In a nutshell, Brother embroidery machines offer a playground for your imagination. With their user-friendly features, diverse capabilities, and endless creative possibilities, you can have fun while crafting beautiful, personalized, and one-of-a-kind creations that reflect your artistic vision.
So, let your creativity soar, and let the stitches tell your story.
---