We all know the benefits of having a potted plant or a bouquet of flowers in our home. Not only do they add accent to indoor spaces, but they can also add a relaxed, beautiful atmosphere to even the dreariest corners of one's home.
Fresh flowers are the best as they are not only pretty, some of them smell good too. But what if you don't have access to fresh flowers nor the time to buy and replace the wilted ones in your living room?
Well, artificial flowers can be pretty too. You can buy them from stores or if you want a more personal touch to it, why not DIY your own fabric flowers!
This sewing project is indeed a great option if you want to decorate your home with flowers. Compared to the real ones, fabric flowers can obviously last longer and don't need to be watered at all. If you have scraps of pretty fabrics lying around, get your craft tools and start turning them into a vase of pretty fabric flowers!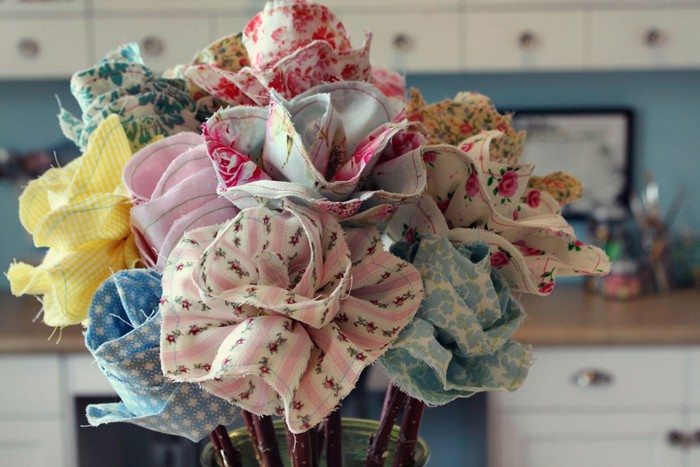 If you're into sewing projects, then this should be very easy for you to make by just looking at the images we have on our album. But if you need a detailed step-by-step guide on how to make it, then head over to the link provided below our album.
You can put them in your living room, your kitchen or your bedside. You can even make them into a bouquet!
Can your home use some beautiful fabric flowers?
Making fabric flowers is a great way to add a personal touch to your home décor. They also make great gifts! Here are some charming DIY fabric flower designs to inspire you:
Charming DIY fabric flowers designs
Click on any image to start the lightbox display. Use your Esc key to close the lightbox.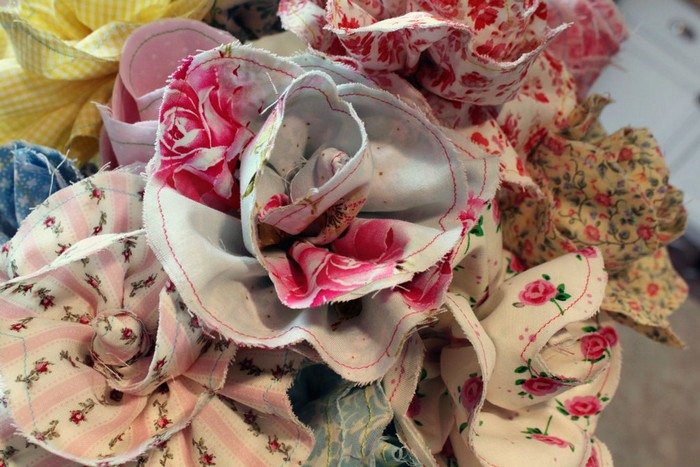 This is a great project for anyone, regardless of your sewing skills. You'll need a few supplies to get started:
Materials:
5″ Fabric Strips
Sticks (Stems)
Tools:
Sewing Machine and Other Sewing Tools
Glue Gun
How to make DIY fabric flowers
With just a few simple supplies and some creativity, you can easily create beautiful blooms that will last forever. Plus, DIY fabric flowers make great gifts! Just follow these simples steps:
1. Prepare the fabric
Cut the fabric into strips. Approximately 5 inches each.
Fold the strips lengthwise and trim the edges.
Unfold the fabric and sew the line made by folding the fabric.
2. Make the petals
Each strip should be traced with a scallop design to make the petals. Make sure the sizes are equal. Using the guide markings, cut them with your scissors. You will need to leave at least four inches of tail at the end of each slit.
3. Sew the petals
Sew the scalloped edges made with a running stitch. Start at the base of the petal and work your way up, leaving a long tail of thread at the end. Once you've sewn all the way around, gently pull on the thread to gather the petal up, then knot the thread off to secure.
4. Start creating the flower figure
Using the tail, wrap it around the stick (this will be the stem). Continuously wrap the stick with the fabric until you make a circular-shaped flower – a rose.
5. Apply glue
To secure the shape of your flower, simply apply some glue to the flower and stem. You can use any type of glue, but we recommend a clear, quick-drying glue for the best results. Just a few drops will do the trick!
6. Add leaves
If you have any excess fabric, you can use it to make leaves and glue them to the stem. This will give your plant a more natural look, and it's a great way to use up fabric scraps.
7. Make a bouquet
To make a bouquet, simply repeat this process for each petal, until you have a beautiful bouquet of fabric flowers!
Thanks to Snowy Bliss for this great project. You can get step-by-step instructions here…
If you liked this project, you might also like to view the DIY Paper Flowers…