We all know the benefits of having a potted plant or a bouquet of flowers in our home. Not only do they add accent to indoor spaces, but they can also add a relaxed,  beautiful atmosphere to even the dreariest corners of one's home.
Fresh flowers are the best as they are not only pretty, some of them smell good too. But what if you don't have access to fresh flowers nor the time to buy and replace the wilted ones in your living room?
Well, artificial flowers can be pretty too. You can buy them from stores or if you want a more personal touch to it, why not DIY your own fabric flowers!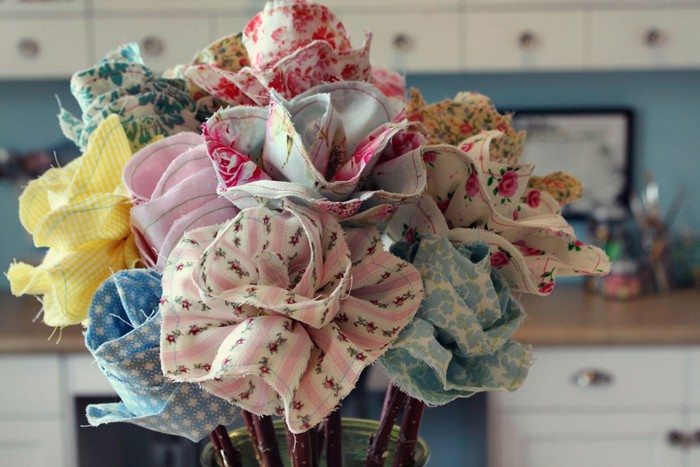 This sewing project is indeed a great option if you want to decorate your home with flowers. Compared to the real ones, fabric flowers can obviously last longer and don't need to be watered at all. If you have scraps of pretty fabrics lying around, get your craft tools and start turning them into a vase of pretty fabric flowers!
If you're into sewing projects, then this should be very easy for you to make by just looking at the images we have on our album. But if you need a detailed step-by-step guide on how to make it, then head over to the link provided below our album.
You can put them in your living room, your kitchen or bedside. You can even make them into a bouquet!
Can your home use some beautiful fabric flowers?
Materials:
5″ Fabric Strips
Sticks (Stems)
Tools:
Sewing Machine and Other Sewing Tools
Glue Gun
Click on any image to start lightbox display. Use your Esc key to close the lightbox.

Thanks to Snowy Bliss for this great project. You can get step-by-step instructions here…