If you're really wanting to up your sewing game, you gotta treat yourself to a decent sewing machine. It's totally worth the investment. With a top-notch machine, your sewing game will be on point and you'll be whipping up some seriously pro-quality stuff that'll last you ages.
Here's the deal: go for the machines with all the fancy features. Opt for machines with precise stitching, adjustable speed controls, and automatic threading. These machines can handle any fabric or technique you throw at them.
Whether you're a newbie or a pro, these sewing machines with top-notch reviews have got you covered. They'll be your trusty pals as you dive into the exciting world of fashion and push your creative boundaries.
So, get sewing and see where our imaginations take you!
The Top 5 Sewing Machines to Stitch in Style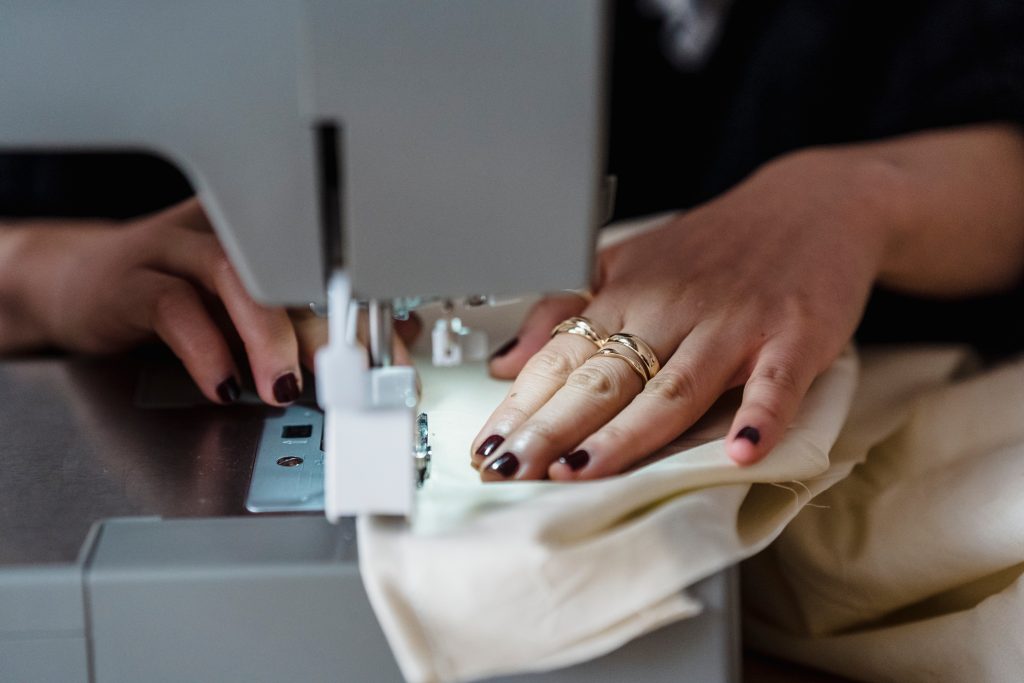 1. Brother Sewing Machine XM2701: A Lightweight and Versatile Option for Creative Sewing Projects
The Brother Sewing Machine XM2701 is a highly regarded and popular choice among sewing enthusiasts. Packed with advanced features, this lightweight machine offers exceptional performance, making it ideal for both beginners and experienced sewers. With its impressive power source and reliable warranty, it provides the perfect combination of functionality and convenience.
Prime Features
The Brother XM2701 boasts a range of advanced features that elevate your sewing experience. With 27 built-in stitches, including decorative, zigzag, and stretch stitches, along with an auto-size buttonhole you have ample options to add creative flair to your projects. 
Say goodbye to tedious threading with the automatic needle threader that effortlessly guides the thread through the needle, paired with a jam-resistant drop-in top bobbin for hassle-free sewing.
Get started right away with the XM2701's inclusive accessory package, featuring 6 sewing feet, a 3-piece needle set, twin needles, 4 bobbins, an instructional DVD, a manual, and more. From beginners to advanced users, enjoy the versatility of the XM2701's free arm for a wide range of everyday sewing projects.
There are just a few things that may create inconvenience or trouble when operating the equipment.
According to one user: "The bobbin case cover/plate is plastic and a little tricky sliding off. The metal needle plate has measurements but is hard to see. The extension table is hard to get off."
Reliable Performance
When it comes to overall performance, the Brother XM2701 excels. With its user-friendly design and intuitive controls, even beginners can quickly master the machine. Its adjustable stitch length and width also provide versatility for various sewing techniques, ensuring precise and consistent results.
This machine is legit smooth and quiet, so you can get your project done without any annoying interruptions. It's built to last and gets the job done right, whether you're just fixing a tear or going all out on a fancy outfit.
Stable Power Source
The Brother XM2701 operates using a standard power source, offering both versatility and convenience. This isn't gonna be giving you any power-related headaches. Just pop it into a socket and you're good to go with a constant stream of electricity for your sewing sesh. And it's chill on the power usage, so you're totally making an eco-friendly move.
Affordable Price
Brother XM2701 is considered an affordable sewing machine and falls within the lower to midrange price category compared to more advanced and high-end sewing machines. It offers a good balance of features, performance, and affordability, making it suitable for beginners and those on a budget.
"Great sewing machine, I have ever used," says one user. "Help you sew your perfect outfits. so if you looking for a sewing machine, that won't let you down and is a great value. This is the one for you."
Comprehensive Warranty
Brother is known for its commitment to customer satisfaction, and the XM2701 sewing machine is no exception. It comes with a badass 25-year limited warranty that covers any factory screw-ups or malfunctions. That means you can sew your heart out without stressin' about the machine breaking down.
Overall Assessment
The Brother XM2701 Sewing Machine stands out as a reliable and versatile option for fashion enthusiasts and DIYers alike. This sewing machine is the real deal. It's got all the bells and whistles, runs like a charm, comes with a regular power cord, and has a sick warranty.
Whether you're sewing clothes, home decor, or whatever, the XM2701 has got you covered for all your creative needs.
2. Magicfly Mini Sewing Machine: A Small and Portable Sewing Equipment for a Variety of Sewing Projects
The Magicfly Mini Sewing Machine is specifically designed with beginners and occasional sewers in mind. It comes equipped with a range of features that simplify the sewing process and make it easy for newcomers to get started.
Expanded Features
The Magicfly Sewing Machine is designed to be beginner-friendly. It features a threading direction guide on the machine to assist you in threading easily. With its compact size (8.3″ in height, 7.7″ in length) and simplified stitching options (fixed stitch width/length, no backstitch function), this machine meets the basic sewing needs of most households without unnecessary complexity.
With its double-thread design, this sewing machine ensures stronger stitching and makes it easy to finish your sewing tasks without having to tie the thread. The machine features a speed button that allows you to adjust the sewing speed to either "high" or "slow" according to your preferences and requirements.
This sewing machine hooks you up with a dope accessory kit. You get 32 bobbins, 5 needles, scissors, a threader, a tape measure, a seam ripper, a thimble, an extension table to keep things steady while you're tackling bigger projects, and a sweet storage bag to keep it all organized
"I was skeptical to make this purchase for a 9-year-old child, but she learned very quickly how to operate the sewing machine," says one user. "I wasn't sure how well the stitches would come through, but they are just as professional as my large $600 sewing machine."
One potential disadvantage of the Magicfly Mini Sewing Machine is its small size, which may take some getting accustomed to.
"It's tiny and a little odd to work with at first but if you make easy projects, then it's a good one," says one user.
But despite its initial unfamiliarity, once you become accustomed to its size, you will find that it is a reliable and efficient option, particularly for simpler sewing projects.
Dependable Performance
This sewing machine is capable of performing basic stitching jobs including hemming, repairing, and small-scale sewing projects. But, due to its small size and limited stitch possibilities, it may not be ideal for heavy-duty or sophisticated stitching projects.
Best Price
In terms of cost, the Magicfly Mini Sewing Machine is a low-cost alternative that is suitable for people on a tight budget or who are new to sewing. Its low price makes it a popular choice for novices or as a backup sewing machine.
Versatile Power Source
The Magicfly Sewing Machine is versatile, offering both AC/DC power supply and battery power supply options. You can easily turn on the machine using the power button or the included foot pedal. This convenience allows you to start your sewing projects with ease.
Credible Warranty
The Magicfly Mini Sewing Machine is backed by a warranty that offers comprehensive coverage for any manufacturing defects or malfunctions. This warranty's got your back when it comes to the quality and performance of your sewing machine.
And if, by some slim chance, you run into any problems with how it's built or how it works, don't stress – the warranty's got your back and will hook you up with some assistance and support.
Overall Assessment
The Magicfly Mini Sewing Machine is a compact and portable option that is perfect for fulfilling basic sewing needs. This machine is all about convenience. It's lightweight and easy to tote around, so you can bring your sewing game with you wherever you roam. Even if you're new to the sewing scene, the simple operation and user-friendly features make it a solid pick.
But don't let its small size fool you – experienced sewers can totally use it as a backup option for those quick and easy projects. And let's talk performance – this little guy delivers consistent stitching and reliable results that'll blow your mind.
3. SINGER Heavy Duty Sewing Machine 4452: Power and Versatility for Pros and Hobbyists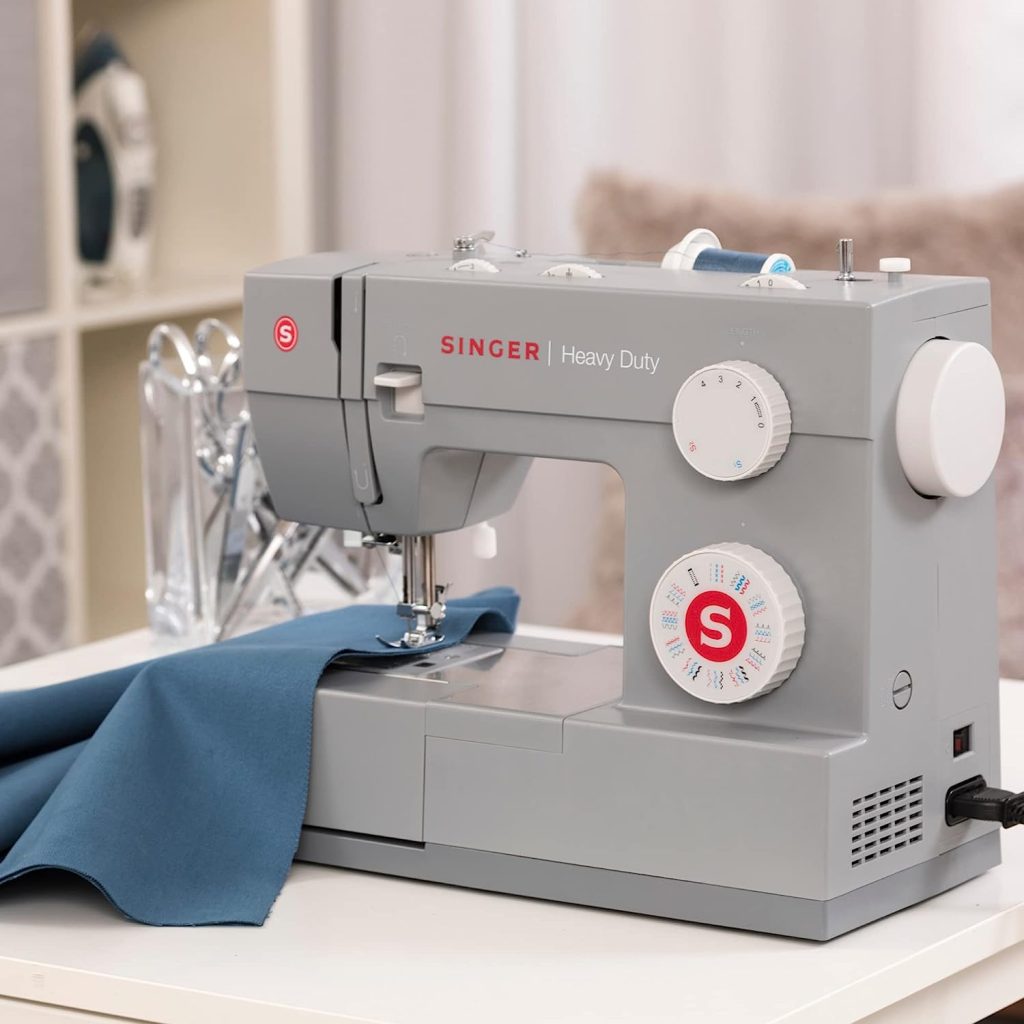 The SINGER Heavy Duty Sewing Machine 4452 is a robust and versatile machine that is designed to handle a wide range of sewing tasks. With its impressive features and reliable performance, it is a popular choice among both professional sewers and sewing enthusiasts.
Standout Features
Experience the joy of creating elegant garments and heartfelt gifts with the SINGER Heavy Duty 4452 sewing machine. This remarkable machine offers an impressive range of features to make your sewing projects fun and exciting.
With 32 built-in stitches, including 6 basic, 7 stretch, 18 decorative stitches, and 1 fully automatic 1-step buttonhole, you have a versatile selection to bring your creative ideas to life. Whether you're working on crafts, home decor, clothing construction, or more, this sewing machine has the perfect stitch for every fabric and style.
Threading the needle becomes a breeze with the automatic needle threader feature. Simply follow the threading path printed on the machine, and the built-in needle threader will effortlessly guide the thread through the eye of the needle, saving you from eye strain and frustration.
With a generous sewing space of 6.25 inches (needle to tower) and a height of 4.25 inches, you have ample room to work on larger projects with ease. The stainless steel bedplate ensures smooth fabric flow, while the heavy-duty interior metal frame provides skip-free sewing even on challenging materials.
The top drop-in bobbin is easy to insert, remove, and monitor, allowing you to keep track of your thread supply without interruption.
It's pretty great overall, There's just one little thing to keep in mind. Apparently, the thing that holds the thread spool up top is made to fit regular-sized spools and it's positioned sideways.
So if you're working with bigger or funky-sized spools, you might have to tweak things a bit to get the thread flowing smoothly.
According to one user: "The only drawback is that the spindle to hold the spool of thread at the top is designed for a "regular" sized spool and lays horizontally."
Top Performance
Speed through your projects with the high-speed sewing capability of the Singer 4452 sewing machine, which can stitch up to 1,100 stitches per minute. Its 60% stronger motor than standard sewing machines allows it to effortlessly sew through heavyweight fabrics, ensuring smooth and precise stitch patterns every time.
As a best-selling sewing machine, the SINGER Heavy Duty 4452 is a true workhorse. The stainless steel bedplate ensures smooth fabric flow, while the heavy-duty interior metal frame provides skip-free sewing even on challenging materials.
"Great little machine," says one user. "Handles jeans and upholstery fabrics easily."
Convenient Power Source
The SINGER Heavy Duty Sewing Machine can be powered by either an electrical outlet or a foot pedal, providing flexibility and convenience during your sewing sessions. Its sturdy construction and durable components ensure long-lasting performance, making it a reliable investment for your sewing needs.
Reasonable Price
The SINGER Heavy Duty Sewing Machine is regarded to be in the mid-range pricing bracket. While it is more expensive than entry-level machines, it provides outstanding value for money given its longevity and adaptability.
Limited Warranty
In terms of guarantee, the SINGER Heavy Duty Sewing Machine has a one-year limited warranty that covers any manufacturing flaws or defects. It is always advisable to review the manufacturer's individual warranty terms and conditions for more thorough information.
Overall Assessment
The SINGER Heavy Duty Sewing Machine is a top-notch option for those seeking a reliable and powerful sewing machine. Its impressive features, high-performance capabilities, and sturdy build make it a worthy investment for sewing enthusiasts of all skill levels.
Whether you're working on heavy-duty projects or delicate garments, this machine will meet and exceed your expectations with its exceptional performance and durability.
4. LooQoo Handheld Sewing Machine: A Portable Companion for On-The-Go Stitching and Quick Fixes
The LooQoo Handheld Practical Stitching Machine is a portable and compact sewing device that is designed for basic sewing tasks and repairs. Its small size and lightweight construction make it convenient for on-the-go use and quick fixes. Despite its compact design, this machine still offers a range of useful features.
Top-Notch Features
Operating this handheld sewing machine is a breeze. Just thread the needle-piercing device through the pinhole, insert the thread through the needle-piercing device, and pull the needle back. The cordless sewing machine moves automatically, making it perfect for both beginners and professionals to easily sew and engage in DIY projects.
The handheld sewing machine is made of high-quality ABS material, ensuring durability and longevity. It can handle various sewing tasks without the need for disassembly, making it convenient for your daily sewing needs.
"Ideal sewing machine for beginner, lightweight and mobile yet sturdy," says one user.
One drawback of the handheld sewing machine noted is that the thread tends to get pulled out too easily, which can be frustrating during sewing projects.
According to one user: "The thread gets pulled out way too easily."
Make sure you are using a thread that is suitable for the fabric and project you are working on. Using a thread of appropriate thickness and quality can help prevent it from slipping out.
Quality Performance
In terms of performance, this handheld sewing machine provides reliable stitching for lightweight fabrics and simple sewing projects. It is suitable for tasks like hemming, mending, and basic stitching. However, it may not be ideal for heavy-duty or complex sewing projects due to its limited functionality.
Versatile Power Source
Power for the handheld sewing machine can typically be sourced from either batteries or an AC power adapter, offering versatility in terms of power supply options. This makes it convenient for use in different locations and situations.
Affordable Price
In terms of price, it is generally more affordable compared to larger, traditional sewing machines. It provides a cost-effective solution for individuals who have basic sewing needs or are just starting with sewing.
Warranty Backing
The handheld sewing machine is backed by a warranty to ensure your satisfaction and peace of mind. This warranty provides comprehensive coverage for any manufacturing defects or malfunctions that may occur.
With this warranty in place, you can confidently explore the capabilities of the handheld sewing machine and embark on various sewing projects, knowing that you are protected by reliable coverage.
Overall Assessment
The LooQoo handheld sewing machine is a practical and portable tool designed for beginners and professionals. Its compact and lightweight design allows for easy on-the-go sewing and quick fixes.
With simple operation and automatic movement, it is user-friendly and suitable for various sewing projects. Whether you're sewing clothes, curtains, or DIY crafts, this machine is a handy tool. This handheld sewing machine is a reliable companion for all your sewing needs.
5. Kylinton Sewing Machine: Your Go-To Tool for All Stylish Creations!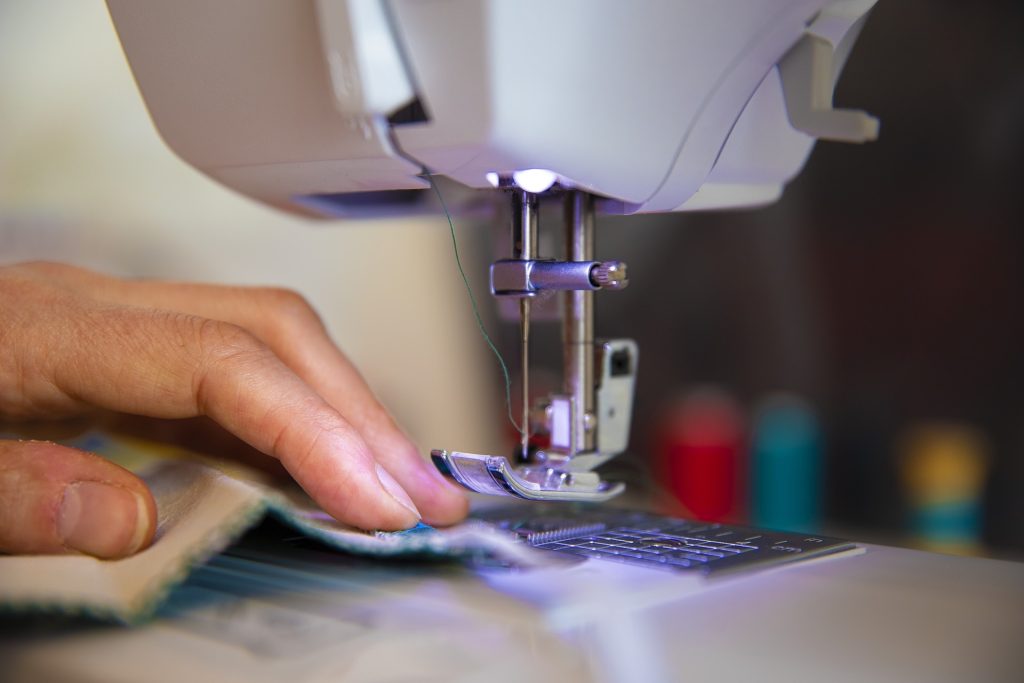 The Kylinton Sewing Machine is a versatile and user-friendly option for both beginners and experienced sewers. With its impressive features, reliable performance, and affordable price, it offers great value for money.
Impressive Features
Kylinton Sewing Machine is the perfect choice for those who are just starting their sewing journey. With a range of stitch options including straight, blind, zigzag stitches, and a 4-step buttonhole, this machine provides versatility to tackle various sewing projects.
The unique design of the foot pedal and the Automatic Low/High Speed sewing methods offer precise control and effortless operation, ensuring an enjoyable sewing experience for users of all skill levels.
Additionally, it is highly portable and lightweight, weighing only 5.15 lbs. Its compact mini size of 13.6×12.2×6.5 inches (34.5×31×16.5cm) makes it easy to carry and store, allowing you to take your sewing projects wherever you go.
The portability and lightweight design make it an excellent choice for gifting to kids who are eager to explore their creativity through sewing.
Reliable Performance
The Kylinton Sewing Machine delivers smooth and consistent stitching results, ensuring neat and professional-looking seams. It offers adjustable sewing speed control, allowing you to match the speed to your sewing skills and project requirements.
From basic mending to more complex garment construction and crafting projects, this sewing machine can handle a variety of sewing tasks.
"Perfect for the little jobs of the average man," says one user. "I hemmed my shorts, and a pair of pants and had no problem figuring out how to do anything with it. I loved it."
However, there's one limitation that can restrict your control over the sewing speed.
"Gripe I have is that the foot peddle is a single speed and not pressure sensitive," says one user. "You're pretty much-stuck sewing at one speed regardless of how much weight you press on the peddle."
You have to practice manually controlling the sewing speed by carefully coordinating the movement of your foot on the pedal.
Efficient Power Source
Safety and energy efficiency are paramount in Kylinton. It supports both AC/DC power supply, with UL/ETL/CE approval for safety. You can effortlessly turn on the electric sewing machine using the automatic sewing switch or the included foot pedal.
Reasonable Price
This sewing machine offers excellent value for its affordable price range, making it an accessible choice for beginners or those on a budget.
Warranty Support
The Kylinton sewing machine comes with a warranty that provides coverage for any manufacturing defects or malfunctions. The warranty ensures that you can enjoy peace of mind and seek assistance in case of any issues with the sewing machine.
Overall Assessment
The Kylinton Beginner's Electric Sewing Machine is a reliable and user-friendly option that offers a variety of features and performance capabilities at an affordable price point. Whether you are a beginner or an experienced sewer, this machine can meet your sewing needs and inspire your creativity.
Kylinton is not limited to basic sewing tasks; it is a versatile mini-sewing machine that opens up a world of DIY possibilities. Whether you're working on home decorations, crafts, prom dresses, or even pet clothes, Kylinton can add a colourful touch to your creations.
To help users get started, Kylinton provides a PDF and video user guide, ensuring a seamless introduction to sewing. Its elegant and cute appearance also makes it an excellent choice as a gift for friends or kids on special occasions like Christmas or Mother's Day.
Stitch Your Style!
And there you have it! The best sewing machines to bring your stylish projects to life! From creating fashionable garments to crafting trendy accessories, these sewing machines will help you unleash your creativity and bring your fashion ideas to reality.
With their advanced features, reliable performance, and user-friendly designs, these machines are tailored to meet the needs of both beginners and experienced sewers.
Elevate your sewing skills and embark on a journey of fashion magic with these top-rated sewing machines!