The sea glass mosaic table is a gorgeous way to give your home an artistic and unique touch. Whether it's for your home or for a gift, this DIY mosaic table is easy to make. You'll need a few supplies, including sea glass, a tile cutter, grout, sandpaper, sealant, and sea glass.
If your garden or patio table looks a little weathered or dated, you can give it a colorful makeover using sea glass!
Seaglass is beautiful by itself and using it for your projects is definitely a great idea, especially for people who live by the sea and have a lot of access to this material…
Our Pick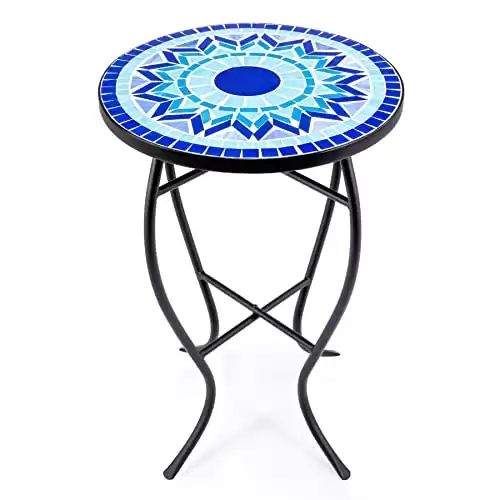 It is the perfect material for making jewelry such as necklaces, bracelets, and earrings, as it can be easily shaped into beautiful and unique items.
isn't this mosaic table pretty? You can put yours in the living room, kitchen, or even in your bedroom if you don't have a backyard or patio. It's all up to you. ;)
Of course, not everyone is lucky enough to live by the beach and if you want to do this project but you don't have enough sea glass to cover your table, we've got the perfect DIY sea glass tutorial for you!
Grab your sea glass collection and start planning your mosaic table!
You'll need these materials…
Table
Mosaic tiles
Seaglass and other beach items
Tile adhesive
Grout
Sealant
And these tools…
Tiling sponge
Tile trowel
Grout bag
Click on any image to start the lightbox display. Use your Esc key to close the lightbox. 😎
You can get the step-by-step instructions here…