Gone are the days of slow dial-up internet!
Today's generation of kids is being introduced to various new technologies and the age of exposure to gadgets and the internet is getting younger and younger.
Technology by itself isn't bad but it's important for parents to monitor not just the length of time their children spend using gadgets but also the content that they interact with. While there's a lot of apps that are great for supplemental learning or just keeping your little ones entertained, there are also some apps that could potentially pose a threat to your kids' online safety.
Want to know how to protect your kids online? Here's a list of some of the most dangerous apps that you should watch out for…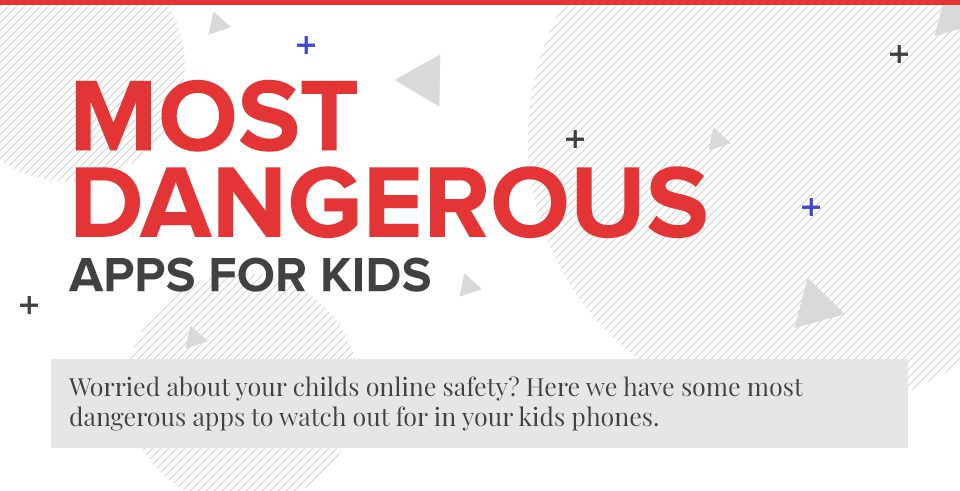 Most Dangerous Apps For Kids
Before we start, I just wanted to make one thing clear… this article isn't written to encourage helicopter parenting. This is simply an informative guide for parents to learn from and refer to in order to decide what is best for their own kids. Children, especially preteens, need to feel a sense of independence in order to grow up into well-functioning adults.
With that out of the way, here's the number one app on our list!
1. After School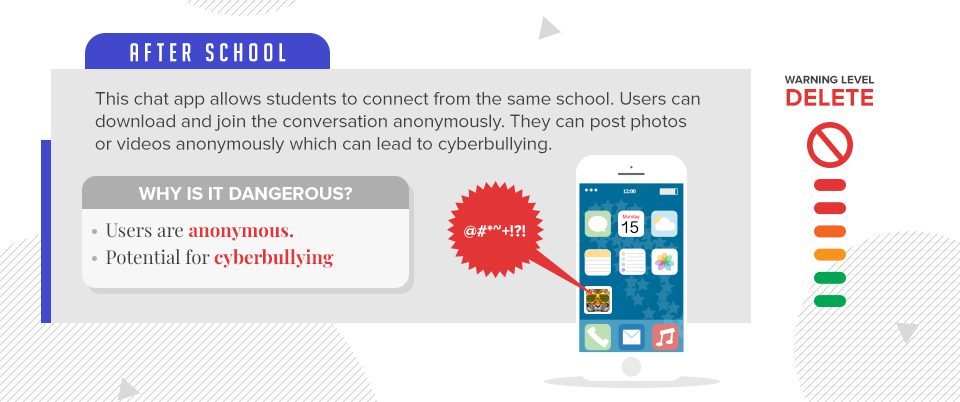 An app designed to connect students from the same school may seem like a good idea at first, but what the developers didn't take into account is that their anonymity filters can lead to cyberbullying from text-based posts written to spread rumors about other people to posting other people's photos without consent.
While the app does have age and school verification, it uses Facebook to do this which is very easy to falsify. Forget underage kids making fake accounts to sign up for this app, online predators could be pretending to be someone on this app and grooming your kids.
Warning Level: Delete
2. Ask.FM

Ask.FM is another anonymous app that you need to watch out for. This seemingly innocent popular Q&A app is the reason for countless cases of cyberbullying, some of which even led to suicides.
Warning Level: Delete
3. BIGO Live

Livestreaming has become really popular nowadays and riding on this popularity is the BIGO Live app. While there is danger of cyberbullying here as well, a more pressing issue is that users here send "beans" to people livestreaming. These virtual gifts cost real money and if your credit card is connected to your child's account, there's a possibility that you will end up with a very huge bill.
Warning Level: Delete
4. Holla

By now you should have realized that anonymity is one of the warning signs you need to watch for in these apps and Holla is the next app you need to add to your list. This app lets you video chat with random strangers and you never know what to expect. There have been numerous reports of unwanted sexual content and nudity on this app. This app also enables location tracking, posing a real physical threat to your child's safety.
Warning Level: Delete
5. Whisper (Warning Level: Delete)

Whisper is one of the most dangerous on this list. This "confession" app doesn't have age verification or even registration of any kind, making it impossible to track who posted what. It also has access to your child's location, making it a hotspot for child sex offenders and could lead your child to contact with predators.
Warning Level: Delete
6. Snapchat (Warning Level: Delete)

Snapchat is on the same level as Facebook and Instagram in terms of popularity among not just teens but also young adults. For those of you who don't know how this app works, users can send snaps or photos that disappear in 10 seconds or less.
Unlike previous apps, however, Snapchat will only show you photos from people on your friends list. If someone not on your list sends you a snap, you'll get a notification but you won't see it unless you add them so there is a smaller chance that your child will get unwanted photos from strangers.
It's also important to note that this app has become infamous for users who make adult content and post it on the platform so while it's a bit safer than the other apps on this list, you still need to be careful.
Warning Level: Caution
Guidelines For A Safe App
Even if you've already blocked the apps listed here on your kid's phone, it's likely that there will be new apps developed in the future that could compromise their safety. Here are some guidelines that you can use to determine whether or not an app is good for your kid…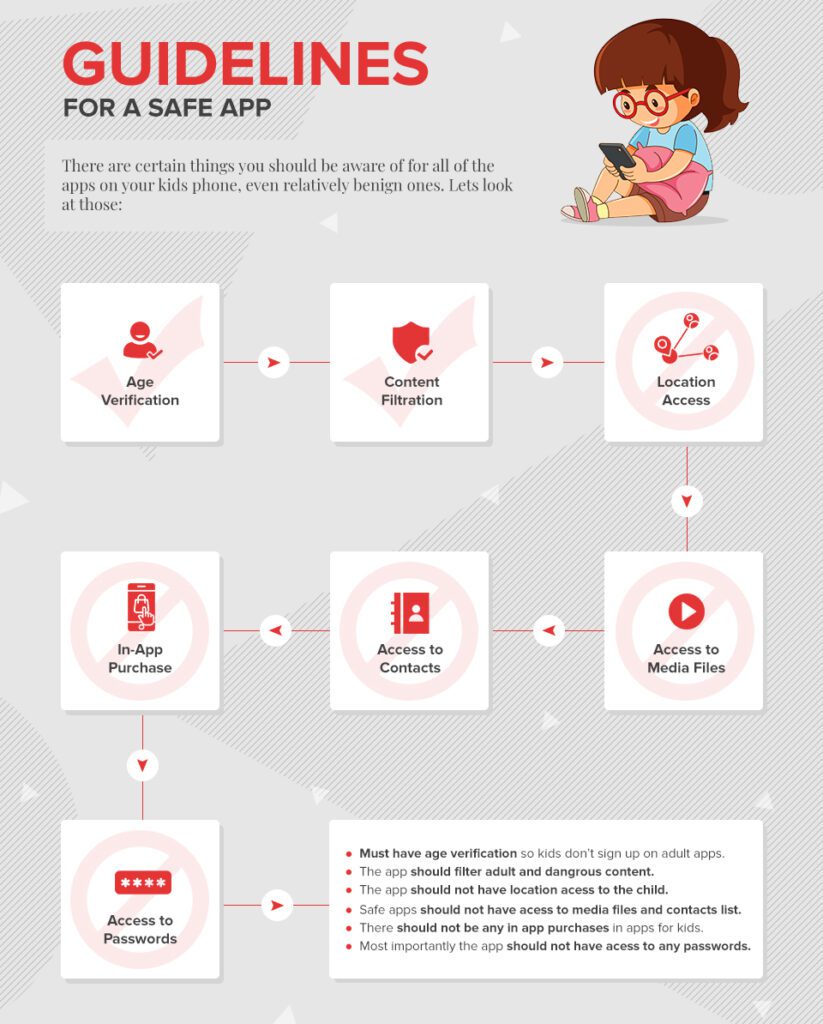 Even apps that seem innocent can be dangerous for your child so before installing an app on your kid's phone, you need to make sure that it checks only the right boxes on this list.
Ways To Protect Kids From Dangerous Apps
If your child is still very young, you can install activity monitoring apps, approve what apps they can use, and set parental controls on the Play Store to make sure that they are only using safe apps. Check the privacy settings of the apps that they frequently use to find hidden dangers.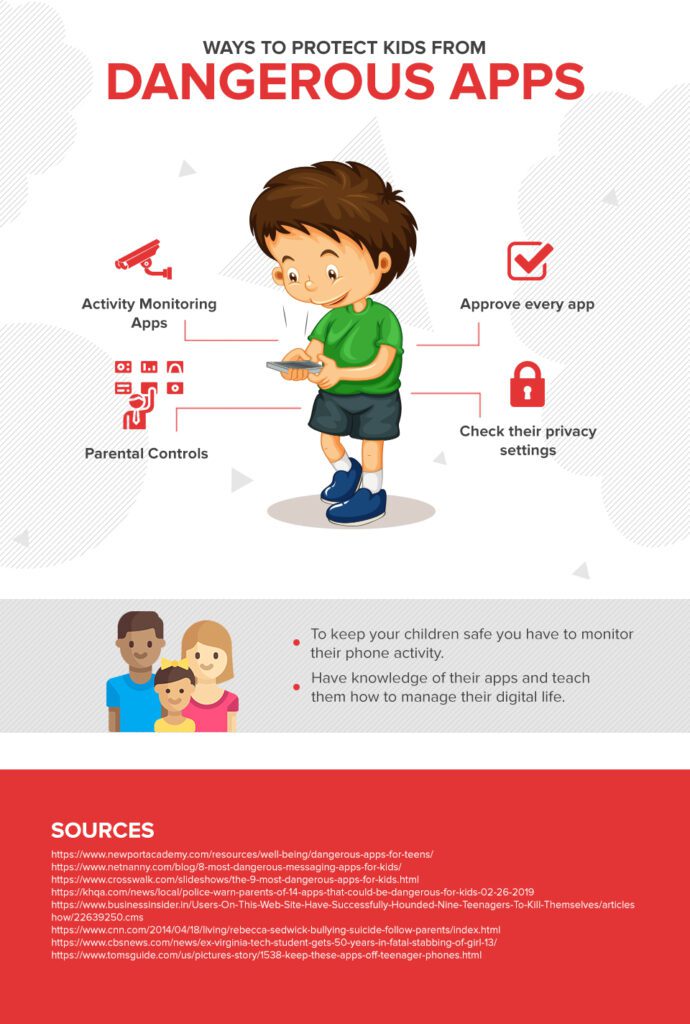 Before you do any of these however, it's important for you to sit down and have a conversation with your child.
Whether your child is in their preteens or even late teens, you need to explain to them why it's important for you to monitor their online activities. If you hide these things from your child, they might feel like you are invading their privacy and start hiding things from you, something that no parent would want to happen as it endangers them even more.
A great way to add further security for the whole family is to use a Virtual Private Network (VPN). You can read about the advantages here…
At the end of the day, it is your decision as a parent to give your child their own smartphone. It is also your responsibility to make sure that you have educated them on the possible dangers of the internet and teach them how to properly manage their digital life.
You won't always be there to protect them therefore it's important for you to prepare your kids so when they face danger, they'll know what to do!
Thanks to Swift Tech Buy for the awesome infographic.