Planning on going somewhere far on your bike? Pack the essentials in your own bicycle frame bag!
Cycling boosts energy, improves aerobic and cardio-vascular fitness, builds muscle, lowers blood pressure, and improves coordination. Sneaking the health benefits of biking into your daily commute is so easy it feels like cheating on your exercise routine! In fact, riding a bike to any destination makes things a lot more fun.
That's why bike-packing is a fairly common activity for those who want to get away from the hustle and bustle of fast-paced living. It's what long car drives are to bike rides – one simply hops on his bike and pedals away to go camping. It's therapeutic and relaxing, with a strong breeze and warm sunshine.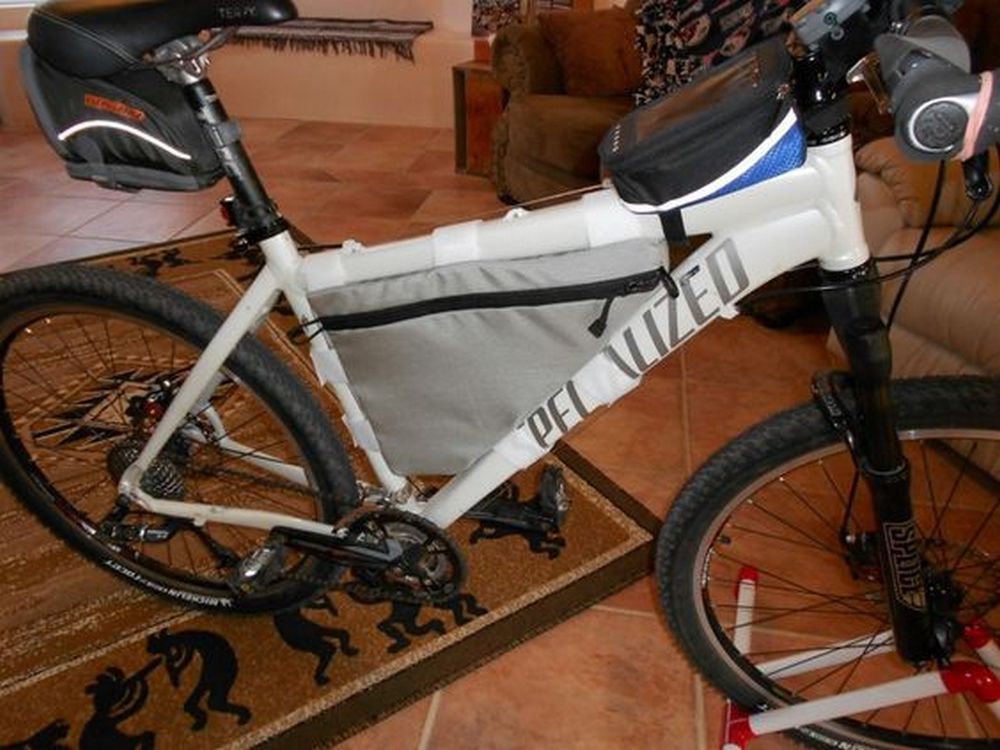 However, there's a twist. Because one is on a bike and not a car, it's important to travel light. A small "camping" bag is attached to the bike's frame, holding the essentials. And because not all bikes are created equal, bike owners opt to customize their own bike frame bags.
These bags can be made in such a way that they fit the exact dimensions of the bike's frame. Additionally, making your own bag would mean you get to maximize storage space. If you think this is awesome, go ahead and try it. Your biker friends would surely love one, as well.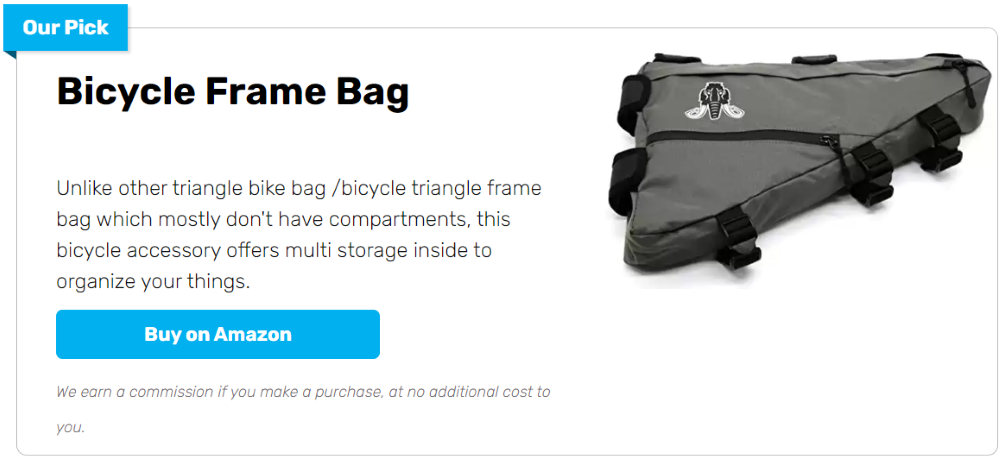 Because the bike bag is fully customizable, you get to choose the dimensions that you want to maximize storage space.
There are so many great DIY bicycle frame bag designs out there that it can be tough to know where to start. But never fear! We've rounded up some of the coolest and most inspiring designs we could find, to get your creative juices flowing.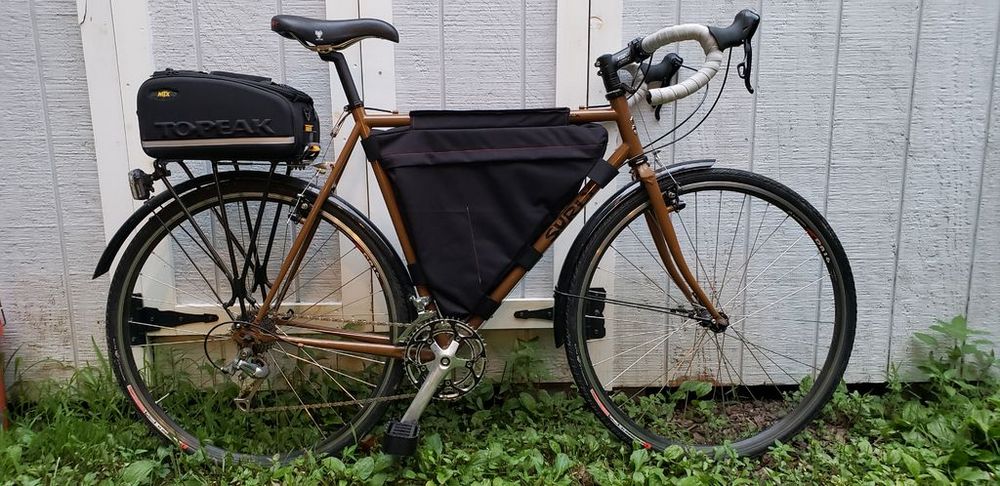 Whether you're looking for a simple and sleek bag to keep your essentials close at hand, or something a little more flashy to show off your personality, there's bound to be a design here that speaks to you. So get ready to get crafting, and enjoy the satisfaction of having made your very own bicycle frame bag!
Cool DIY bicycle frame bag designs
Click on any image to start the lightbox display. Use your Esc key to close the lightbox.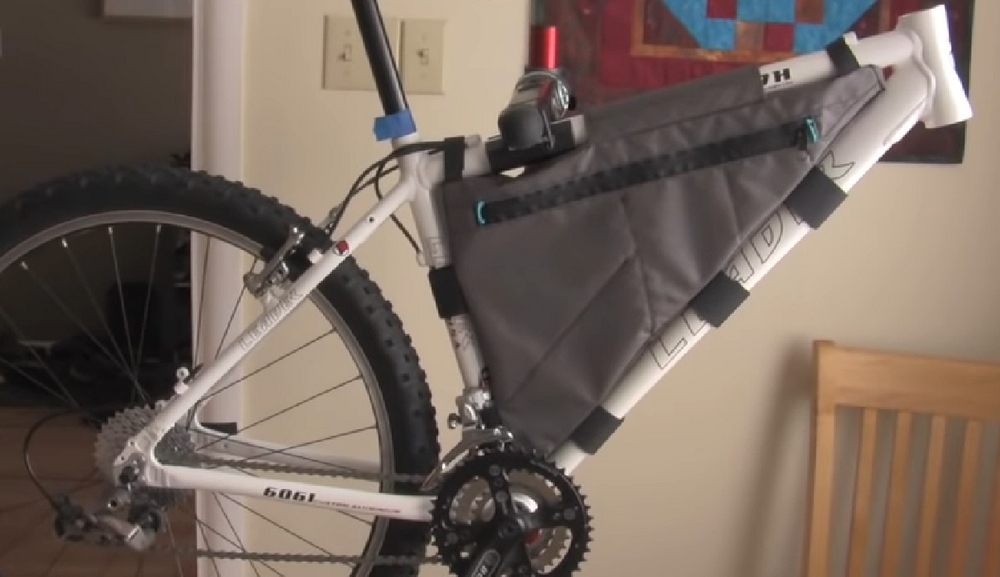 A bicycle frame bag is a great way to store your essentials while you're on the go. You can easily make your own frame bag with a few simple materials. Here's what you'll need:
Materials:
mesh
x-pac ripstop nylon
1-inch and 2-inches Velcro
Waterproof zippers
100% nylon thread
Tools:
Rotary cutter
Straight edge
1-inch grosgrain
Sewing machine
Scissors
How to make a DIY bicycle frame bag
Whether you're a seasoned cyclist or just getting started, the bike bag is a great way to keep your belongings safe and organized while you're on the go. So whether you're looking for a small bag to hold your essentials, or a larger bag to pack for a long ride, the bike bag is a great option.
With just a few supplies and a little bit of time, you can easily make a frame bag that's custom-fit to your bike. Just follow these steps:
1. Make a template
To make a template for your bicycle's bag, measure your bicycle's frame. You can use a carton board to template your frame. Put a mark on the spot where the straps will be attached.
Make sure to measure the length and width of the frame, as well as the distance from the top of the frame to the ground. With these measurements, you'll be able to create a bag that fits your bicycle perfectly!
2. Cut out your fabric
Once the template is done, trace it onto your fabric. Make sure to mark any necessary details with a pen or pencil. We recommend using a Velcro fabric, as it will be easier to work with.
Next, carefully cut the fabric along the lines you traced, using a rotary cutter or scissors. Take your time with this step, as you want the final product to look clean and professional.
3. Add zippers
To make a zipper with the velcro fabric, start by sewing the two pieces of fabric together with a straight stitch. Then, using a zigzag stitch, sew along the edge of the fabric. Finally, trim the excess fabric from the zipper.
4. Dividers
Adding internal dividers to your bike bag is a great way to keep your gear organized and easy to access. Plus, it's a quick and easy project you can do yourself! Here's how:
Measure the inside of your bag to determine how big you want your dividers to be. Cut out pieces of mesh fabric to those dimensions.
Sew the dividers into place inside your bag. Make sure to leave enough room at the top so that you can still close the bag. And that's it! Now you have handy internal pockets that will keep everything in its place.
5. Let's pin & sew
Finally, you can now start sewing your bike bag. Make sure to fold and pin the fabric before sewing it together – this will help ensure that your final product looks great! Don't forget to add the zipper before you start sewing the fabric together. Lastly, trim the unnecessary threads.
Great job! You can now bring your stuff while riding your bike without bringing your pouch or backpack! Enjoy riding!
Now that you have installed a bike bag, you can enjoy riding your bike while bringing your belongings with you! This is a great way to get around without having to carry a backpack or pouch, and it will make your rides more enjoyable. Thanks for installing the bike bag and enjoy your rides!
Here's a quick video…
Thanks to Greenwater for this project. You can also watch their video tutorial…
If you liked this project, you might also like to view Design Your Own Tote Bags with Stencils!