I honestly could not remember what I was doing during our art classes way back when I was still in school. First, I am not creative – at all. Second, I couldn't even make a straight line, even with a ruler. Third, it's just not my thing.
Everything turned 180 degrees when I had kids. I'm really hands-on when it comes to their parties. In fact, I DIY most of the decorations. Tassel banners? I've done that. Letter standees? Easy-peasy.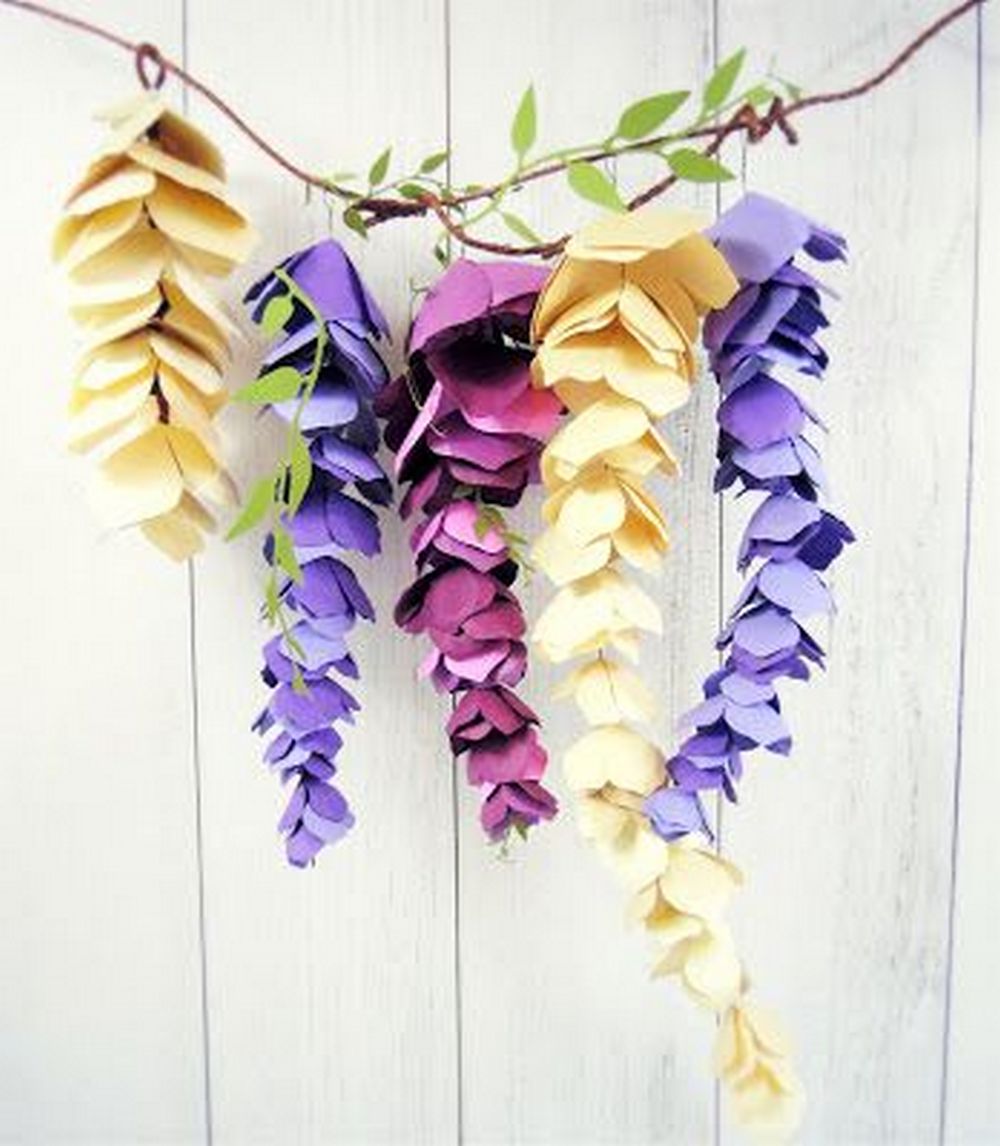 The planning and conceptualization really take most of my time. Obviously, each birthday has a theme. We see to it, though, that most of our decors may be reused.
How to Make a Great Paper Wisteria?
One of my favourite DIYs is the paper wisteria. It's not hard to make, even grade schoolers can do it themselves. It can really blend in different party themes and may actually be used as a house decoration. My daughter's teacher even had them put up in her classroom.
This is one of the most basic – but really useful – crafts.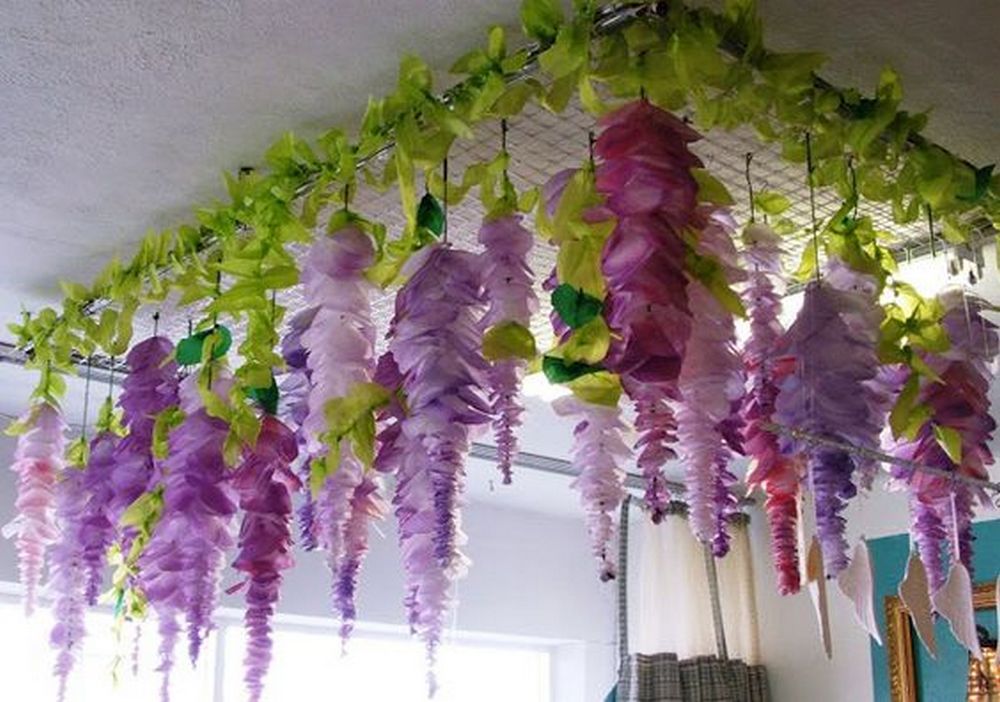 Materials
Collecting the required materials prior to starting a project is important. Allocating time to plan and collect the materials in advance guarantees a smooth and productive workflow. Having the required items on hand prevents the inconvenience of pausing to get more supplies, saving both time and frustration.
Gathering the necessary materials and equipment for a project guarantees that you have all the required items to finish it. This enables you to get any additional needed materials ahead of time.
Coloured paper

You can use tissue paper or crepe paper in different shades of purple, pink, and white to create the flowers. You can also use green paper for the leaves.

Small beads/pearls

These will be used to create the stamen of the flower. You can use beads or pearls in a contrasting colour to the flower petals.

22 gauge wire

This type of wire is sturdy enough to hold the weight of the paper flowers and allows you to create a realistic-looking stem for your wisteria.
Tools
In addition to collecting materials, it's crucial to ready the necessary tools for your DIY paper wisteria project. Possessing appropriate tools can simplify and speed up the process, enabling you to effortlessly craft a stunning and lifelike paper wisteria.
Some of the tools you might need for this project include:
Glue gun

For this project, a hot glue gun is essential for swiftly and effortlessly attaching the paper flowers and beads to the wire stem. It is crucial to have an ample supply of glue sticks on hand, given the quantity of gluing required.

Scissors/cutting machine

To cut the paper into the desired shapes and sizes, you will require a pair of sharp scissors. Alternatively, a Cricut or Silhouette cutting machine can be utilised to speed up the process.

Rolling tool and mat

These tools are helpful for creating the 3D effect of the flowers. You can use a rolling tool and mat to curl the petals of the flower to make them look more realistic.

Pliers

Depending on the type of wire you use, you may need pliers to help bend and shape the wire stem.

Ruler

A ruler can come in handy for measuring and cutting the wire and petals to the correct length.
Step-by-Step Instructions
Creating your own paper wisteria is a fun and easy project that anyone can do. Follow these simple instructions to get started:
Cutting the Petals
To create a paper wisteria, begin by cutting numerous petals from your preferred coloured paper. It is crucial to have enough supply of petals to create a rich and lively wisteria appearance. Employing a cutting machine would speed up the process significantly.
To add variety and depth to your wisteria, cut petals in different sizes. You may use a template or draw the shapes by hand, but ensure they are roughly uniform. Though time-consuming, cutting petals is essential for a realistic and stunning wisteria. Take your time and make enough petals to create a full, lush look.
Rolling the Edges
After cutting out the petals for your paper wisteria, the next step is to give them a more natural look by curling the edges. You can use a rolling tool and mat for this step.
Start by laying the petal on the mat, coloured side down. Secure the petal with one hand and use the rolling tool with your other hand to curve the edges towards the centre. Apply gentle pressure as you roll the tool back and forth along the petal's edge. You can curl the edges slightly or more dramatically, depending on the look you are going for.
Curling the edges of the petals gives the wisteria a more realistic and natural appearance. It also adds dimension and depth to the overall design. So take your time and carefully curl the edges of each petal until you are satisfied with the result.
The Stem of Your Paper Wisteria
After attaching beads or pearls to the centre of each petal, it's time to prepare the wire for your paper wisteria. This will serve as the stem of your paper flowers.
Start by taking a 22 gauge wire and affixing a tiny bead or pearl to its end. You can use a hot glue gun or twist the wire to secure the bead. The bead will function as a stopper for your petals.
Add another bead to the wire approximately an inch from the first one. Use the glue gun to affix the bead. Continue this process until the wire is embellished with a series of beads.
Adding the Petals to the Stem
Attach the petals to the beaded wire by applying a small amount of glue to the bottom of each petal. Carefully attach them to the wire, just above the first bead. Press firmly and hold for a few seconds until the glue sets.
Repeat this step for the rest of the petals, spacing them out evenly along the wire. The beads on the wire will serve as stoppers for the petals, keeping them in place.
As you attach more and more petals, your paper wisteria will start to take shape. Be sure to arrange the petals in a way that looks natural and organic. You can bend and shape the wire to create a more realistic stem for your paper flowers.
Continue adding petals until you achieve the desired length of your paper wisteria. To add more variety and interest, combine various colours and sizes of petals. When satisfied with the length, twist the wire ends together to form a loop for hanging your paper wisteria.
Design Ideas
One of the best things about paper wisteria is its versatility. Here are a few design ideas to get you started:
Choose a colour scheme that matches your party's theme.

Selecting the appropriate colour scheme is crucial for establishing a cohesive and aesthetically pleasing décor. Take the overall theme of your event into account when deciding on colour choices. For example, for a baby shower, mellow and understated pastel hues such as pink, blue, yellow, and green may be suitable. Conversely, for a bachelorette party, lively and daring hues like red, pink, purple, and black can produce an entertaining and thrilling ambience.

Create a beautiful ombre effect by using different shades of the same colour.

Create a distinctive and visually appealing paper wisteria by exploring diverse colour combinations. Opt for an ombre effect by using varying hues of a single colour or blending complementary colours for a dramatic contrast.

Mix and match different paper textures for added interest.

Consider using metallic or glitter paper for a touch of glamour.
In addition, you can also consider incorporating metallic or glitter accents to add some sparkle and glam to your paper wisteria. Just be sure to use them sparingly to avoid overwhelming your decor with too much shine.

Hang your wisteria from a chandelier or canopy for a dreamy effect.

To showcase your creativity, hang it from a chandelier or canopy for a stunning and enchanting display that is sure to impress your guests.
Hang wisteria using a fishing line or clear thread for a floating effect, or ribbon or twine for a rustic feel.

Create a wisteria photo booth backdrop by attaching several strands of paper wisteria to a wall or frame.
In Conclusion
Create stunning paper wisteria for any occasion with this fun and rewarding DIY project. With minimal materials and time, impress guests with your beautiful handmade decorations. Don't hesitate to try it out and witness the breathtaking end result.
Click on any image to start the lightbox display. Use your Esc key to close the lightbox.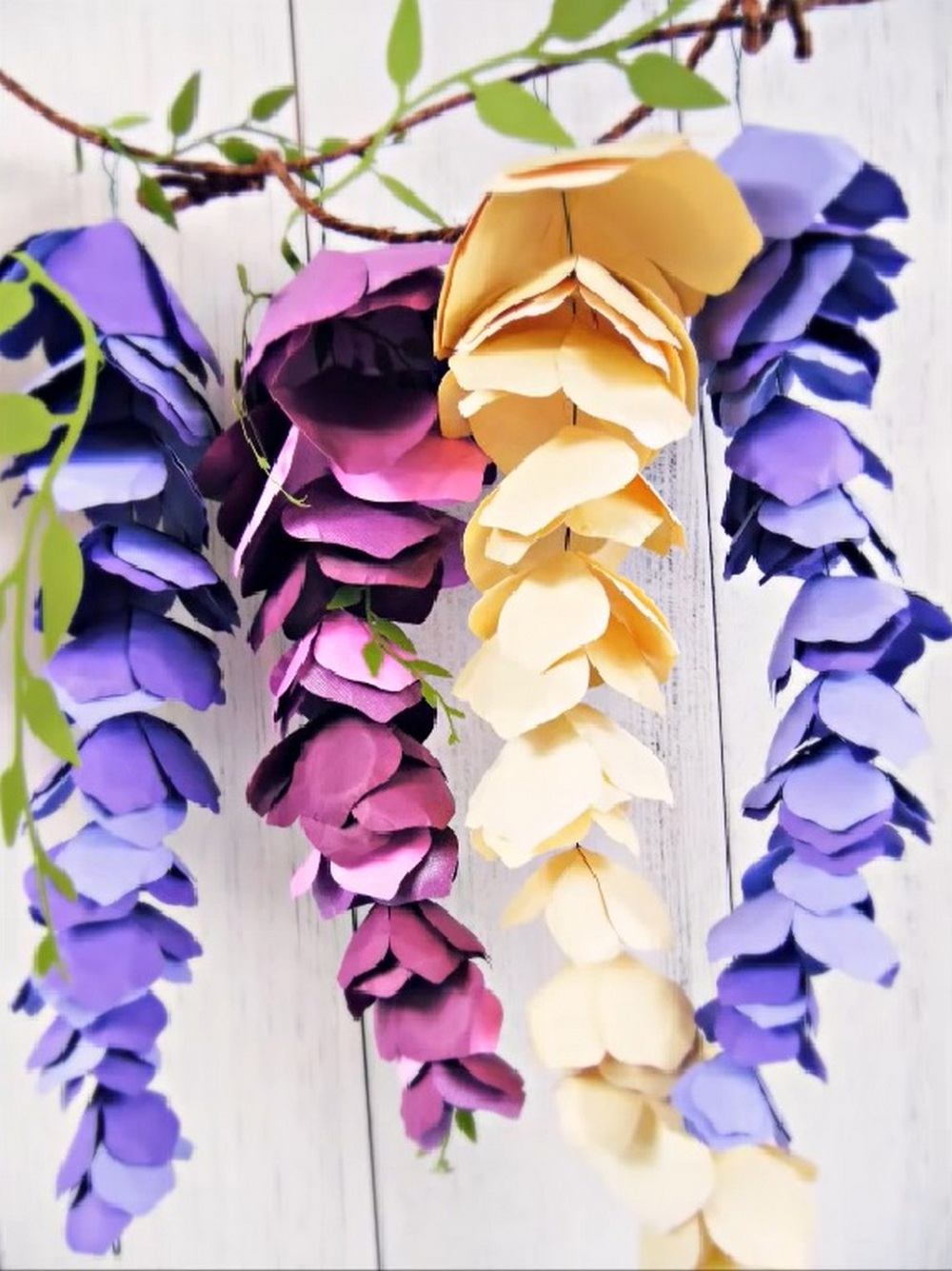 Itching to make this gorgeous wisteria out of paper? You can get step-by-step instructions here…