Last Updated on
We all have that special corner in our homes that have become a kind of personal haven. We tend to be more creative in these little corners and relaxation comes a little easier. If you work hard and are always on the go, it's extremely important to find this place. It doesn't have to be anything fancy. Just somewhere that you can think and kick back without interruption or intrusion.
Some prefer a little nook in the library. Others like to sit by a particular window, or perhaps over by the fireplace.
The garden is where I usually spend most of my time at home. It doesn't matter what time of the day it is. I love it during the morning while I drink coffee and read the daily news. On lazy afternoons, I stay there to read a book. At night, I play catch up with the family. There's something special about the garden that invites us to stay there.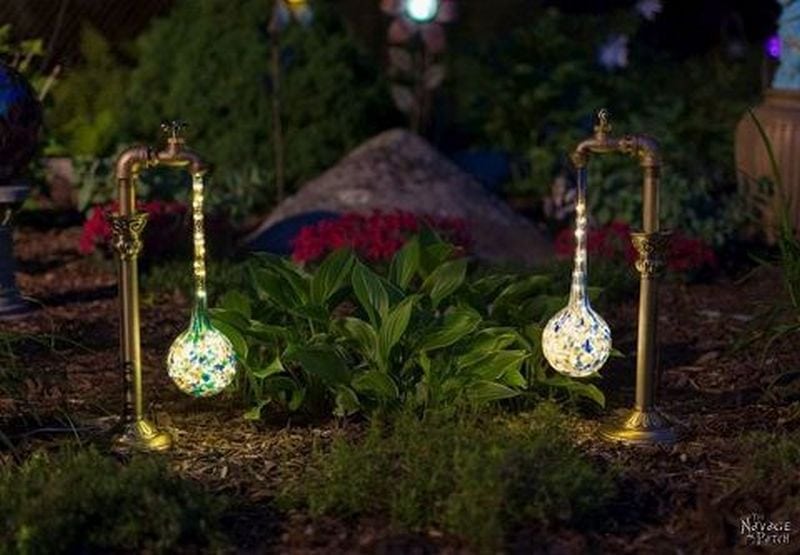 I saw this really dreamy DIY project and thought I'd share it with you. It's for a faucet garden light. The effect is magical and would make a great addition to your garden. It's the perfect backdrop for your wine sessions.
This is very easy to make – and economical, too. It makes use of solar power so you don't have to worry about using electricity. Why not try this out for yourself?
Materials:
Candle holder
½-inch nipple
½-inch 90 degrees elbow
½-inch hose bib
Spray paint (optional)
Solar lights
Watering globe
Skewer
Epoxy putty
Industrial glue
Tools:
Long nose pliers
Scissors
Click on any image to start lightbox display. Use your Esc key to close the lightbox.
Learn how to make a DIY faucet garden light by watching this video…