Pregnancy can be a tough cookie for some of us. After all, we want it to be as comfortable for us and the baby as possible. And with everything you already have to go through, I'm sure you want to be at your best. This is where your comfort miracle comes in – the DIY contoured maternity pillow!
Our Pick
A contoured maternity pillow can go a long way toward easing those pesky body aches, the discomfort, and the pains that come when carrying our baby. A maternity pillow will definitely help you position yourself in a more comfortable way. It's will support your belly and hips as well as your back while sleeping.
Not pregnant? You don't need to be to benefit from these wonderful pillows! They help take away the pressure on your neck, shoulders, and your knees while you're sleeping too.
So, let's get that sewing machine up and running to create this DIY contoured maternity pillow!
You'll need these materials to make a maternity pillow:
Printed, cut out, and pieced together Contoured Maternity Pillow PDF Pattern
2 50-inch (or 54-inch for tall) x 30-inch pieces of fabric A
stuffing
6 3-inch x 40-inch (or 44-inch for tall) strips of coordinating fabric B (optional – to give it a little more height)
2 2-inch x 25-inch strips of fabric B (optional)
24-inch (+/-) zipper (optional)
Interested in other forms or designs of this pillow? Check out these ideas you could use to start creating your own DIY maternity pillow.
'Click on any image to start the lightbox display. Use your Esc key to close the lightbox. ?'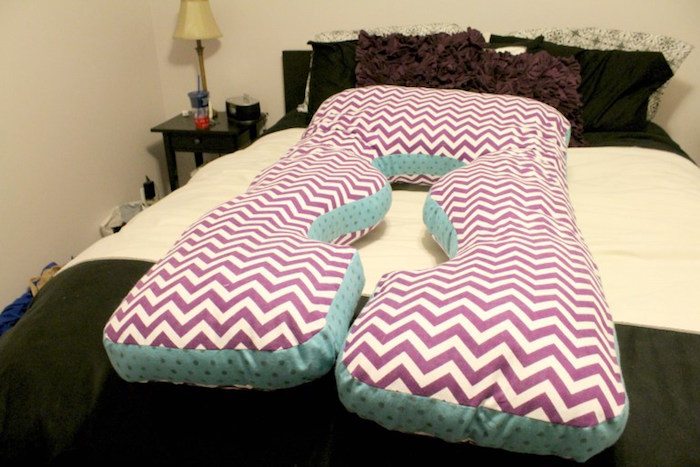 Get the PDF pattern and step-by-step instructions for this DIY contoured maternity through Homemade Toast…