Pregnancy can be a tough cookie for some of us. After all, we want it to be as comfortable for us and the baby as possible. And with everything you already have to go through, I'm sure you want to be at your best. This is where your comfort miracle comes in – the DIY-contoured maternity pillow!
A contoured maternity pillow can go a long way toward easing those pesky body aches, discomfort, and pains that come when carrying our baby. A maternity pillow will definitely help you position yourself in a more comfortable way. It's will support your belly and hips as well as your back while sleeping.
Not pregnant? You don't need to be to benefit from these wonderful pillows! They help take away the pressure on your neck, shoulders, and your knees while you're sleeping too.
So, let's get that sewing machine up and running to create this DIY-contoured maternity pillow!
Interested in other forms or designs of this pillow? Check out these ideas you could use to start creating your own DIY maternity pillow.
Contoured maternity pillow designs
'Click on any image to start the lightbox display. Use your Esc key to close the lightbox. ?'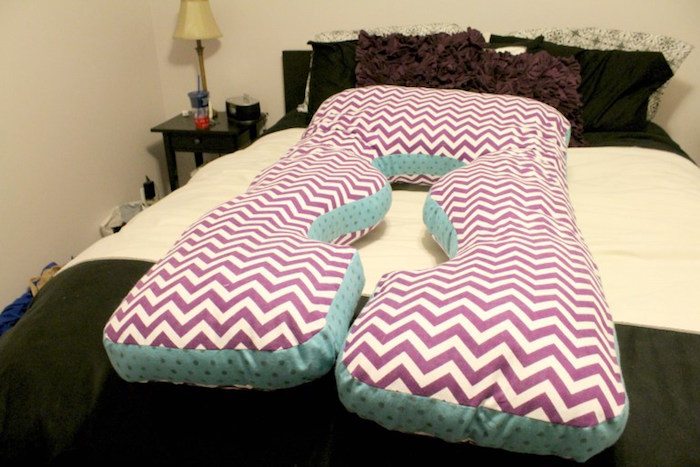 You'll need the following materials to make a maternity pillow.
Printed, cut out, and pieced together Contoured Maternity Pillow PDF Pattern
2 50-inch (or 54-inch for tall) x 30-inch pieces of fabric A
stuffing
6 3-inch x 40-inch (or 44-inch for tall) strips of coordinating fabric B (optional – to give it a little more height)
2 2-inch x 25-inch strips of fabric B (optional)
24-inch (+/-) zipper (optional)
How to make a contoured DIY maternity pillow
1. Start with the measurements
Be sure to measure how large you want the gap in your pillow to be. The best way to do this is to lie in bed and place a pillow in front and behind you. Once you have them in a comfortable position, carefully get up and measure the distance between them.
I highly suggest you measure, or at least do this step, to ensure that your pillows are the perfect size for you. By taking the time to do this, you'll be able to sleep more comfortably and wake up feeling refreshed.
2. Rip the pillow's seam and gut it
Start opening up the pillow's seam on one of its long sides with your seam ripper.
Make a hole large enough for your hands to fit inside, approximately where the flat section will be on the final product. Separate the stuffing into two halves, pushing it roughly into the pillow's final position.
Remove the two pieces of stuffing by opening up the seam along the long side.
The stuffing could probably be removed as one piece, and then cut in half. It might be easier to re-stuff later if I push the stuffing to approximately the right size with the rest of the seam still present to keep it in place.
The goal is to keep the stuffing as unchanged as much as possible, to avoid bumps and uneven shape later.
3. Mark the pattern and pin
Determine the center of your pillow's "skin." If it measured 35″, which indicated the flat part of my pillow was between 14″ and 20″.
Using a pencil and a straight edge, mark a line on either side of your pillow's flat part. Having the lines as a guide, pin your "skin" halves concurrently.
4. Sew along the two lines
The lines should be sewn along. Because I was sewing on the machine, I chose a triple stitch for strength.
Instead of sewing right to the end of your seams, leave a gap at the end if you have not reattached the trim yet.
It's okay to sew straight to the end of the pillow "skin" if you're removing the trim, or if you've already re-sewed the trim to one side. Just be sure that the unfinished edges are folded in).
5. Fill your pillow with stuffing
Load your pillow with some stuffing.
Re-stuff your pillow. If you're picky (like I am!), you might want to reverse your stuffing (so the side you pulled apart is towards the outside edge of the pillow).
Using one hand, I gathered one end of the stuffing and pushed it in as far as I could. The rest of the stuffing was relatively easy to place once it was started.
6. Pin the edges then sew to close
Be sure to pin the unfinished edges of the pillow "skin" back together as you pin the long side.
You should pin the trim to one side first, then pin the other side to the trim (make sure all three layers are pinned together with the new pins if you have not already cut off or sewn back the trim on one side). Trying to pin all three layers together at once is really difficult due to the tension from the stuffing.
Sew the seam back jointly. Although I used my machine, hand sewing might be easier. You can sew over the pins with your machine and remove them afterward if you're brave enough. When you remove the pins, the stuffing tends to push the layers out of alignment (this might not be an issue if you're not trying to sew the trim back in!).
Now you can enjoy the comfort and support of your maternity pillow while you hug it! This pillow is perfect for pregnant women who want to enjoy the benefits of a body pillow without having to deal with the bulkiness of a standard pillow. The maternity pillow is also great for nursing mothers who want to be able to feed their babies in comfort and without having to worry about their babies getting too close to their bodies.
Thank you so much for reading this article! We would love to know your feedback by writing comments below. We're always striving to improve our content and would really appreciate your input. Thanks again for taking the time to read and engage with our work!
Thanks to Cassiadawn, you can get the full step-by-step instructions here…