Last Updated on
Gone are the days when sewing ruled the arts and crafts world. Okay, maybe not totally gone since we still need to sew things together sometimes. But in recent years, increasing numbers of we, DIYers, have taken to our trusty glue gun to do many of those same projects! Glue guns are easy to use and very efficient, but they do have one drawback…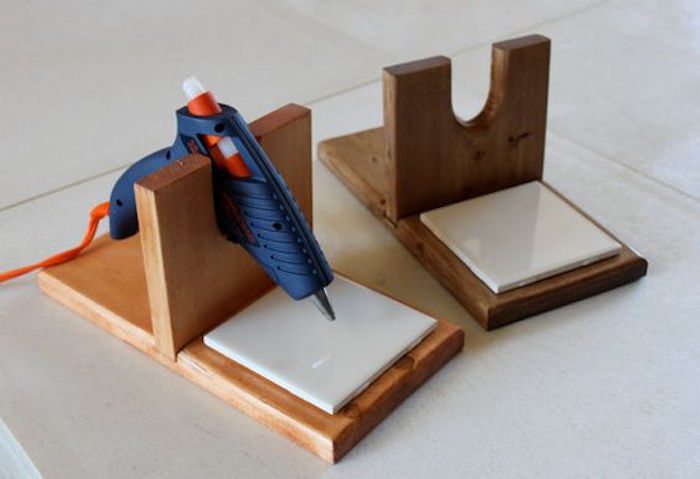 Heat! Yes, the very thing that makes a glue gun so good is also it's worst feature because it can leave a hot, sticky mess all over your work area. If you know exactly what I'm talking about, here's a neat idea to keep that mess at bay!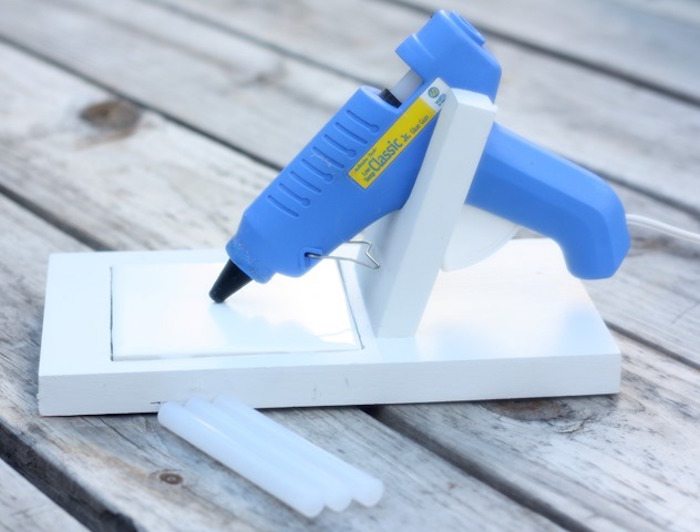 Hot glue dripping from your glue gun is sometimes unavoidable. Let's face it – the whole idea of a glue gun is to melt the glue stick. But you want that glue on the right pieces, not dripping onto your work area. Enter the DIY hot glue gun holder! It's your solution to keeping your glue gun and workstation clean, organized and ready to go. Did I mention the best part? It's so easy to clean up when you're finished!
You'll be working with wood, so be careful of splinters! Make sure you work that sandpaper to get the wood as smooth as possible. Ready to get started on this? Read on to find out what you need and how to make this DIY glue gun holder.
You'll need these materials:
Glass Tile Square 4 x 4 inches
Wood Plaque 5 x 7 inches
½" Plywood
Wood glue
Nails
Spray paint – your choice of color
And these tools:
Router (Optional)
Jig Saw
Wood Carving Tool Set
Sandpaper
Need some inspiration? Here are a few more ideas you can use to create your personalized DIY hot glue gun holder.
'Click on any image to start lightbox display. Use your Esc key to close the lightbox. ?'
To get the step-by-step instructions for this DIY glue gun holder, head on over to The Country Chic Cottage…