Decorative pillow covers are an excellent way to add a personalized touch to any living space. They add colour and texture and inject personality and character into a room. In this blog post, we will explore some of the most creative and stylish DIY decorative pillow covers that are easy to make and will elevate the décor of any room.
Whether you prefer modern, bohemian, or farmhouse decor, there is a pillow cover design that will complement your style. This blog post will offer step-by-step instructions and helpful tips to guide you through the process of creating your pillow covers. From fabric selection to embellishments, we will cover everything you need to know to create custom-made pillow covers that meet your unique style and preferences.
8 Delightful DIY Decorative Pillow Cover Ideas That Inspire!
Additionally, discover some creative ways to repurpose old clothing, curtains, or table runners to create affordable DIY decorative pillow covers. These DIY pillow covers are perfect for refreshing your space without spending a lot of money.
Discover eight creative and inspiring ways to make your decorative pillow covers with these DIY ideas. From elegant and sophisticated to fun and playful, these pillow cover designs will add a personalized touch to your home decor.
1. Stenciled with Designs
DIY decorative pillow covers are an affordable way to transform the look of your living space. One creative idea to make your plain pillow covers unique is to use stencils. You can purchase pre-made stencils from craft stores or make your own with cardboard or acetate sheets.
To start, secure your pillow cover in place and place the stencil over it. Use tape to secure the stencil. Next, choose your paint colour and apply it over the stencil with a foam brush. Be sure to dab the brush gently to prevent bleeding under the stencil. Once you've painted the desired area, carefully remove the stencil and let the paint dry.
You can repeat this process with different stencils and colours to create a variety of designs on your DIY decorative pillow covers.
2. Fabric Painted Pillow Covers
One creative and unique way to design your DIY decorative pillow covers is to use fabric paint to create hand-painted designs on the covers. This is an affordable and enjoyable way to bring personal style and originality to your pillow covers. You can create any design you desire, from simple geometric shapes to more intricate floral or abstract patterns.
To get started, choose a colour palette that complements your decor and select high-quality fabric paint that will adhere well to the material of your covers. Then, use a small brush or sponge to apply the paint to the desired design. Let the paint dry before using the covers.
This technique provides endless possibilities for customizing your pillow covers, making them perfect for any room or style.
Our Pick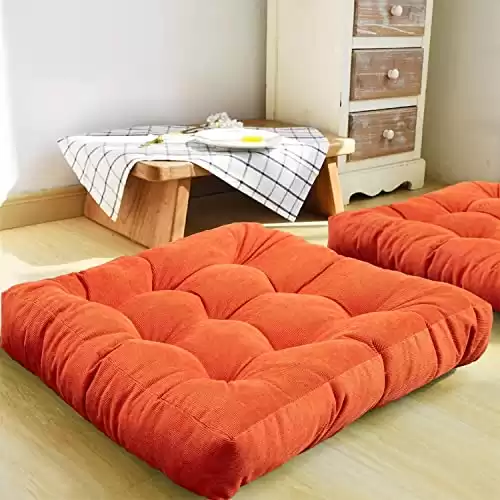 Square Floor Pillow
The cushion was packed with a compress bag due to the long shipment. Please put the floor cushion exposed under the sunlight for a few hours, then the floor cushion will recover to the normal thickness soon.
Buy on Amazon
We earn a commission if you make a purchase, at no additional cost to you.
12/01/2022 05:54 am GMT
3. Pillow Covers With Patches, Buttons, or Beads
Adding small embellishments to DIY decorative pillow covers can transform the look of a plain pillow into a statement piece. One simple way to add a touch of personality is by sewing on patches, buttons, or beads. Patches can be bought in a range of designs, from florals to geometric shapes, and can be placed strategically on the cover.
Buttons of different sizes and colours can be sewn onto the corners or centre of the pillow as a subtle accent. Beads can be individually sewn in a pattern to create a unique design that complements the existing decor.
These small additions can be easily applied using a basic sewing kit and can add a personal touch to your DIY decorative pillow covers.
4. Embroidered Pillow Covers
Add some texture and dimension to your pillow covers with embroidery. It is a versatile craft that allows you to create a wide range of designs using colourful threads. Floral designs are one of the most popular options for embroidery, as they can add a beautiful and intricate touch to any pillow cover. When creating a floral design, you can choose from a variety of flowers, such as roses, daisies, sunflowers, or any flower that you like.
Simple geometric patterns are also great designs, such as triangles or squares, which can be used to create a modern and stylish look on your DIY pillow beds or couches. You can use different colours of thread to create contrast and add dimension.
You can use embroidery to add words or phrases to your pillow covers. This can be a great way to personalize your home decor or add a meaningful message. You can use a variety of fonts and colours to create the perfect look.
There are a lot of embroidery designs that you can use to make beautiful and unique DIY decorative pillow covers.
5. Iron-on Transfer Pillow Covers
One of the most creative ways to personalize your DIY decorative pillow covers is to use iron-on transfers to add custom designs or quotes to the covers. This method allows you to give a personal touch to your plain, boring cushion covers without spending too much time or effort. Iron-on transfers are readily available at most craft stores or online retailers.
You can choose from a range of designs or create your own, using graphics software or free design tools available online. Once your design is ready, print it onto iron-on transfer paper, and then transfer the design onto the pillow cover with the help of an iron.
Make sure to follow the instructions that come with your transfer paper and iron-on materials to avoid any damage or smudging. This method of customization can help you create unique, inspiring, and stylish DIY decorative pillow covers for your home or as personalized gifts for loved ones.
Our Pick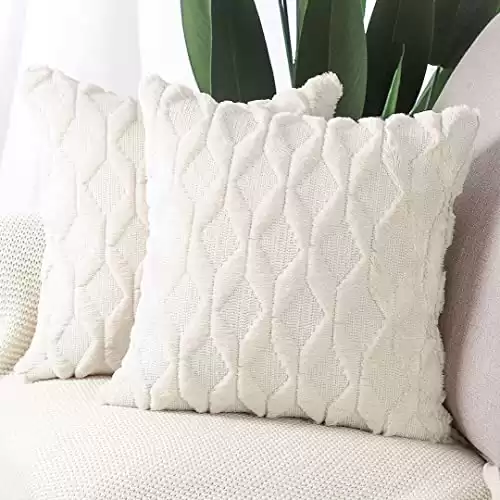 6. Layered Fabrics Pillow Covers
One of the easiest and most creative ways of making DIY decorative pillow covers is using layered fabrics. This technique involves using different textures and patterns to create a dimensional effect on your pillow covers. For instance, you can mix and match materials like faux fur, velvet, cotton, and linen to create an eye-catching and unique design.
You can choose to layer used fabrics in different ways, such as creating geometric shapes or overlapping patterns to add depth to your pillows. Layered fabrics also allow you to play around with colours, shapes, and sizes to create any style you desire.
This project is perfect for those who want to add a touch of elegance and sophistication to their home décor. It's also an inexpensive option when you want to make beautiful and unique DIY decorative pillow covers.
7. Pillow Covers With Pom-Poms, Tassels, or Fringes
If you're looking to add some flare to your DIY decorative pillow covers, consider incorporating some playful textures like pom-poms, tassels, or fringes. These simple additions can make a big impact and give your covers a fun and unique touch.
Pom-poms can be easily sewn onto the corners or edges of your covers, adding a whimsical touch that elevates the design. Tassels can be used to embellish the seams or corners of your covers, while fringes can create a bohemian vibe that adds depth and dimension.
Small details can take your pillow covers from ordinary to extraordinary, making them a great decorative element for any room in your home.
8. Pillow Covers With Pleats, Ruffles, or Gathers
If you're looking for a way to elevate the style of your DIY decorative pillow covers, try using a sewing machine to create pleats, ruffles, or gathers. These techniques can transform your pillow covers from simple and plain to unique and eye-catching.
Pleats are created by reversing the fabric and sewing it, resulting in a structured and orderly look. Ruffles involve gathering the fabric and sewing it onto the pillow cover, creating a soft and flowing effect. Gathers involve pulling the fabric together in a controlled manner and sewing it, producing a more tailored and refined appearance.
Whichever method you choose, using a sewing machine with a straight or zigzag stitch can make the process easy and quick, allowing you to achieve beautifully decorative and personalized pillow covers for your home.
Wrapping It Up
To wrap up, DIY decorative pillow covers are a great way to add some personal style to your home decor. By following these design ideas and techniques, you can get your creativity flowing and create a unique and stylish accessory for your living space.
Not only is it a fun and enjoyable activity, but it's also a cost-effective way to update the look of your home. Whether you're looking to add some colour or patterns, or simply spruce up your old pillows, the choices are in a wide range.
You have learned eight stunning ideas that can transform a plain pillow into a work of art. From designing intricate stencils to layering different fabrics, these ideas offer a range of options to suit your style.
With your unique choice of fabric, thread, and embellishments, you can create beautiful DIY decorative pillow covers that will enhance the look and feel of your living room, bedroom, or any other space in your home. Ready to try making one?