Do you have egg-laying chickens in your backyard? If so, then this sewing project might interest you – a DIY egg-gathering apron!
This custom egg-gathering apron has 12 pleated pockets which cup eggs gently, so you don't have to worry about fallen or broken eggs. The apron is crafted from a durable and lightweight fabric, with pockets that feature a soft lining to protect your eggs.
This custom apron is ideal for individuals looking to ensure a gentle and secure egg collection. This apron provides ample space for eggs while also cupping them gently to prevent breakage. Whether you're gathering eggs from your own backyard flock or from a local farm, this apron is a must-have to make sure your eggs make it home in one piece!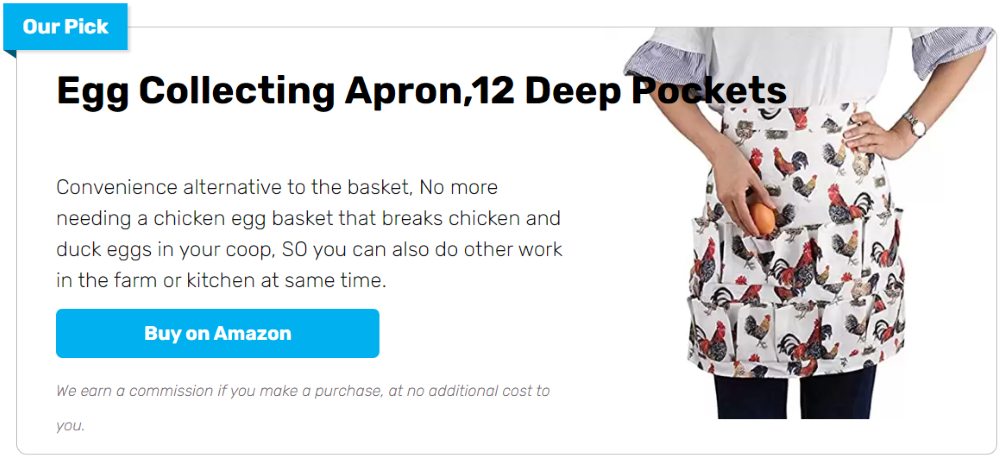 This apron is one of the easiest sewing projects that even those who aren't fond of sewing can enjoy it. So if you don't harvest eggs but you know someone who does, you can definitely make this as a DIY gift.
This apron makes for a great gift because it is not only thoughtful but also practical. Any egg harvester would love to receive this apron, as it would make their job much easier and less messy. 😊
Add a unique touch to your apron by repurposing fabric from old clothing. You can use denim from an old pair of jeans or a patterned dress you no longer wear.
For additional inspiration, check out our photo album below. It contains stunning images guaranteed to spark your creativity. You can trust that you will not be let down!
Click on any image to start the lightbox display. Use your Esc key to close the lightbox.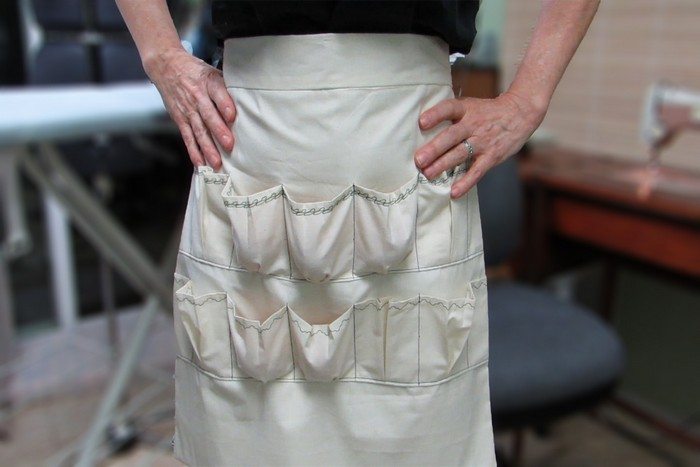 How to make a custom egg-gathering apron?
To create a DIY egg-gathering apron, gather the necessary supplies which include a piece of fabric that is sufficient to encircle your waist and secure at the back. Lightweight cotton or muslin fabric works well for this.
Materials
Fabric

Select a durable fabric, such as cotton or canvas, that can endure the heaviness of eggs. The amount of cloth necessary varies based on the apron's size and your measurements, but must not be below one yard.

Bias tape

This will be used to complete the apron's edges and form the straps. You have the option to purchase ready-made bias tape or craft your own.

Thread

Choose a thread colour that matches your fabric.

Elastic

You'll need about 1 yard of 1-inch elastic to create the waistband.

Marking tool

This can be a fabric pen or chalk, which will be used to mark the fabric for cutting and sewing.
Tools
Sewing machine

Although it is possible to sew the apron by hand, using a sewing machine would significantly expedite and simplify the process.

Pins

You'll need several straight pins to hold the fabric and bias tape in place while sewing.

Measuring tape

Use a measuring tape to take your waist and hip measurements so that you can create an apron that fits you perfectly.

Iron and ironing board

Ironing the fabric and bias tape will make them easier to work with and create a more professional-looking finished product.

Scissors

A pair of fabric scissors will be needed to cut the fabric and bias tape.
By gathering all these materials and tools, you will be ready to start making your egg-gathering apron.
Instructions
Obtaining the essential materials and tools is the initial phase in crafting a useful and functional egg-gathering apron for your laying hens.
Determine the Measurements
To create your egg-gathering apron, begin by establishing its dimensions. Measure your waistline, the apron's length, and width. It's crucial to measure your waistline to ensure a comfortable and secure fit of the apron that also enables unrestricted movement during egg collection.
Measure your waistline by wrapping a measuring tape, string, or ribbon around the slimmest part of your torso above your belly button. Ensure the tool is fitted appropriately. Hold it securely in place and mark the point where it meets the remaining tape for an accurate measurement.
Measure your waist, then extend the tape measure to determine the length of your egg-gathering apron. You may choose a length above or below the knee according to your preferences. It is crucial to consider the apron's length when stooping or bending to gather eggs. Ensure your apron is slightly wider than your hip measurement to allow for comfortable wrapping and ample egg storage.
After selecting the appropriate width, include an additional one centimetre to each side for the seam allowance before cutting to your preferred dimensions. You have the freedom to modify the seam allowance to your preference.
The Apron Tie
To make a tie for your egg-gathering apron, utilize a long ribbon or string that can encircle your waist. Tie it into either a knot or a bow. Wrap it around your waist, ensuring it is secure but not overly tight or loose.
After positioning the ribbon or string, fasten it by tying a knot or bow where the two ends meet. The dimensions of the tie depend on your personal preference but ensure it is adequate to effortlessly fasten the apron around your waist without slipping or becoming unfastened when you move.
The Pockets
To ensure the uniform pocket size in your egg-gathering apron, consider the apron's width. Based on its width, determine the number of eggs to store in each row. A wider apron may accommodate six eggs per row, while a narrower apron may accommodate five.
Once you've determined the number of eggs per row, you can calculate the width of each pocket. An egg fits well in a pocket measuring approximately 8cm long. To calculate the entire width of a pocket row, multiply the width of one pocket by the intended quantity of pockets.
To ensure consistent pocket placement on both sides of the apron, subtract the total pocket width from the overall apron width and divide the remaining value by two. This will yield the distance measurement between each side of the apron, ensuring size uniformity and easy egg-gathering.
Sew the Apron and Pockets Together
After sizing and designing the pockets for your egg-gathering apron, the next step is to attach them to the apron. For this task, a lengthy piece of fabric and sewing pins are required.
Cut the fabric according to the measured dimensions, shaping it into suitable pockets. Thereafter, lay the fabric flat and affix it to the apron in the desired area with sewing pins. Ensure that the pockets are evenly spaced and aligned with each other.
Sew the fabric edges to form the desired quantity of pockets in each row. Depending on the number of eggs you intend to gather, you may opt to create two or more rows in your apron. During sewing, verify that the pockets are firmly fastened and resistant to ripping or detaching during usage.
Thread a needle with a long length of thread to sew the apron and pockets together. Begin at the top of the apron, sewing the sides, before attaching the pockets to it. Ensure to reinforce the stitching at the corners of the pockets to avoid them coming loose. Lastly, finish off by sewing the long fabric or ribbon that ties onto the back of the apron.
The Finished Product!
After attaching all pockets, wear the apron and adjust it accordingly for a comfortable fit. This apron with pockets is ideal for gathering eggs as it allows you to work freely while ensuring the safety of your eggs in the coop.
Pocketed aprons are ideal for holding freshly gathered eggs or freeing up your hands during backyard tasks.
Now there you have it! An apron with pockets for your eggs. This project is ideal for sewing enthusiasts and provides a secure and protective storage solution for eggs during the backyard or small poultry area collection.
Congratulations on completing your apron with pockets! This project is perfect for anyone who has chickens, or who simply wants to make their own apron with a few special touches. The pockets are perfect for holding eggs, or any other small items that you might need while farming.
Cute custom egg gathering apron designs
Here are some cute custom egg gathering apron design ideas that you may find inspiring:
Floral Egg-Gathering Apron
A feminine design with a floral print fabric that is perfect for a garden or farmhouse setting.
Polka Dot Egg Gathering Apron
A playful design with polka dots that will add a pop of colour to your egg-gathering routine.
Animal Print Egg-Gathering Apron
A fun and quirky design with animal prints like cow, chicken, or goat that will match your farm animal theme.
Rustic Egg-Gathering Apron
A design that features natural fabrics and earthy colours that will give your apron a rustic and cozy feel.
Vintage Egg-Gathering Apron
A design inspired by old-fashioned aprons with lace trims and ruffles that will add a touch of nostalgia to your egg-gathering experience.
Seasonal Egg-Gathering Apron
A design that features seasonal prints like Christmas trees or Easter bunnies that will add a festive touch to your egg gathering.
Fruit and Vegetable Egg-Gathering Apron
A design that features prints of fruits and vegetables that will match your kitchen garden.
To make these custom egg-gathering aprons, you can use the same basic steps as mentioned earlier, and simply switch up the fabric and add additional design elements such as applique, embroidery, or fabric paint to create a unique and personalized apron.
To Sum It Up
In conclusion, crafting a stylish egg-gathering apron is an enjoyable and practical DIY endeavour for those who delight in collecting fresh eggs. Using suitable materials and tools, one can easily fashion a functional and chic apron that is tailored to their needs and aesthetic preferences.
By incorporating pockets, embroidery or other decorative elements, the apron can be rendered distinct and personalised. With proper upkeep, this accessory can provide years of convenience and pleasure.
Thanks to Lori Griffiths for this great project.
Thanks for taking the time to check out our project! We really appreciate it. If you have any feedback, please let us know in the comments below. We're always happy to help out and chat with our readers. :)
If you liked these ideas, you will also like viewing these Egg Carton Daffodils