Do you have egg-laying chickens in your backyard? If so, then this sewing project might interest you… a simple DIY apron for gathering eggs!
This custom egg gathering apron has 12 pleated pockets which cup eggs gently, so you don't have to worry about fallen or broken eggs. The apron is made of a lightweight and durable fabric, and the pockets are lined with a soft material to keep your eggs safe.
This custom egg gathering apron is perfect for those who want to make sure their eggs are gathered gently and safely. This apron provides ample space for eggs while also cupping them gently to prevent breakage. Whether you're gathering eggs from your own backyard flock or from a local farm, this apron is a must-have to make sure your eggs make it home in one piece!
Our Pick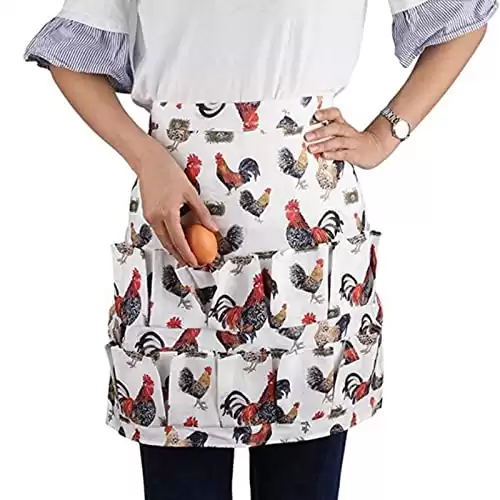 Egg Collecting Apron,12 Deep Pockets 
Convenience alternative to the basket, No more needing a chicken egg basket that breaks chicken and duck eggs in your coop, SO you can also do other work in the farm or kitchen at same time.
Buy on Amazon
We earn a commission if you make a purchase, at no additional cost to you.
12/01/2022 07:13 am GMT
This apron is one of the easiest sewing projects that even those who aren't fond of sewing can enjoy it. So if you don't harvest eggs but you know someone who does, you can definitely make this as a DIY gift. This apron makes for a great gift because it is not only thoughtful but also practical. Any egg harvester would love to receive this apron, as it would make their job much easier and less messy. 😊
Looking to add a personal touch to your home décor? Using fabric from old clothing is a great way to be more unique. You can repurpose denim from an old pair of jeans, or use a pretty patterned dress you no longer wear.
If you're looking for more inspiration, be sure to check out our album below. It's packed with beautiful photos that are sure to get your creative juices flowing. Trust us, you won't be disappointed!
Cute custom egg gathering apron designs
Click on any image to start the lightbox display. Use your Esc key to close the lightbox.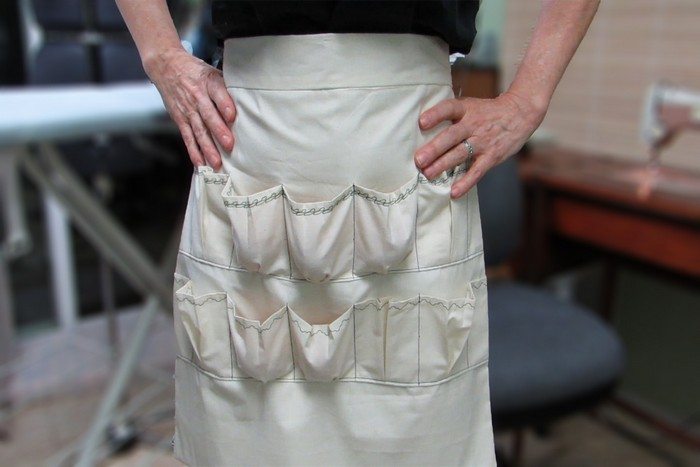 To make your own egg-gathering apron, you'll need a few supplies. First, you'll need a piece of fabric that's large enough to wrap around your waist and tie in the back. Lightweight cotton or muslin fabric works well for this. You'll also need a sewing machine and thread, scissors, and a piece of ribbon or twill tape for the ties.
Muslin or cotton Fabric
Ruler
Cutting mat
Sewing tools and equipment
How to make a custom egg gathering apron
1. Measure the waist size
To measure your estimated waist size, simply trace around your waistline with a measuring tape. If you don't have a measuring tape, you can use a piece of string or ribbon and then measure the string or ribbon with a ruler. Once you have your measurement, you can compare it to a size chart to find your estimated waist size.
2. Measure each pocket
When you are measuring each pocket, it is important to be as accurate as possible.
Here are a few tips to help you get the most accurate measurements:
Use a measuring tape, and make sure to measure from the top of the pocket to the bottom.
If you are measuring a pocket that is not perfectly rectangular, make sure to take the widest and longest measurements.
Write down your measurements for each pocket, so that you can refer back to them later. Taking accurate measurements is essential for ensuring that your pockets will be the perfect size for your needs. With a little care and attention, you can get the perfect measurements for each and every pocket.
You'll need a long piece of fabric and some sewing pins.
To make a fabric organizer with pockets, you'll need a long piece of fabric and some sewing pins. Cut slits for each pocket, making sure they're all equal in size. Then, sew the edges of the fabric, creating approximately 12 pockets in total – 6 on the top and 6 on the bottom. This is a great way to organize small items and keep your space tidy.
3. Cut the traced apron
Now that you have your apron traced out, it's time to cut it out! Be sure to cut along the lines you traced, so that your apron will turn out the way you want it to. Once you have the bottom half of your apron cut out, you're well on your way to having your customized apron!
4. Sew the apron and pockets together
To sew your apron and pockets together, start by threading a needle with a long length of thread. Then, start at the top of the apron and sew the sides. Next, sew the pockets onto the apron. Make sure to reinforce the stitching at the corners of the pockets so they don't come loose. Finally, finish off the apron by sewing the long fabric or ribbon that ties onto the back.
Aprons with pockets are great for carrying around your harvested eggs, or for keeping your hands free while you're working in the backyard.
Now there you have it! An apron with pockets for your eggs. This is a great project for anyone who loves to sew, and it's a perfect way to keep your eggs safe and protected while you're gathering in the backyard or in your small poultry area.
Congratulations on completing your apron with pockets! This project is perfect for anyone who has chickens, or who simply wants to make their own apron with a few special touches. The pockets are perfect for holding eggs, or any other small items that you might need while farming.
Thanks to Lori Griffiths for this great project. You can watch the full tutorial here.
Thanks for taking the time to check out our project! We really appreciate it. If you have any feedback, please let us know in the comments below. We're always happy to help out and chat with our readers. :)
If you liked these ideas, you will also like viewing these Egg Carton Daffodils