Here's an salt dough foot print heart activity you can do with your children that are guaranteed to be both great fun and truly memorable!
These days, many parents resort to technology in order to keep their kids entertained and occupied, completely forgetting the benefits of arts and crafts.
Technology is very useful, of course, and it's good to introduce kids to it early, but that should never come at the expense of them learning to make things with their own hands.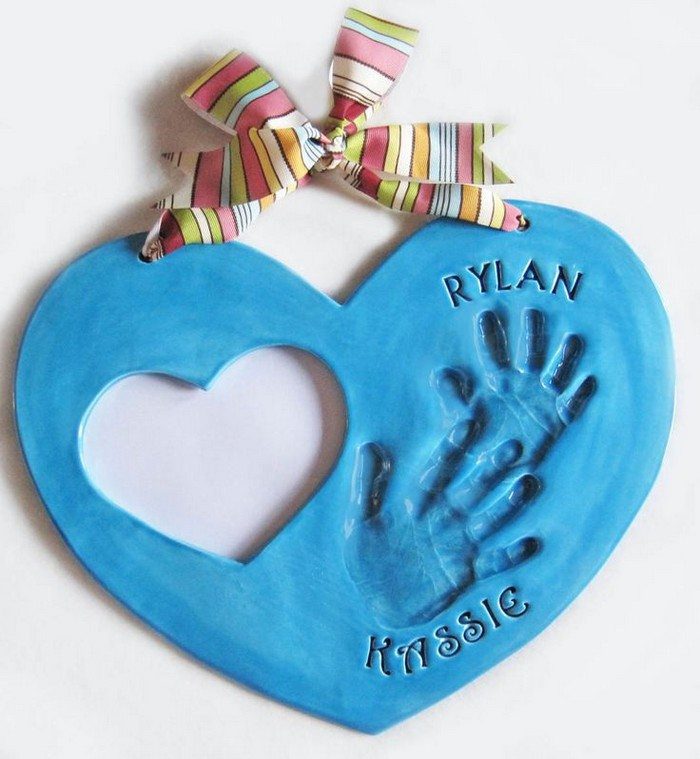 It's an art project that includes baking! The dough you will use here is made purely from food ingredients, which makes it a safe activity to involve the young ones in.
It's great as a DIY gift for the family. You can imprint your kids' feet (and even hands), and give it to your husband/wife or to grandma/grandpa!
Our Pick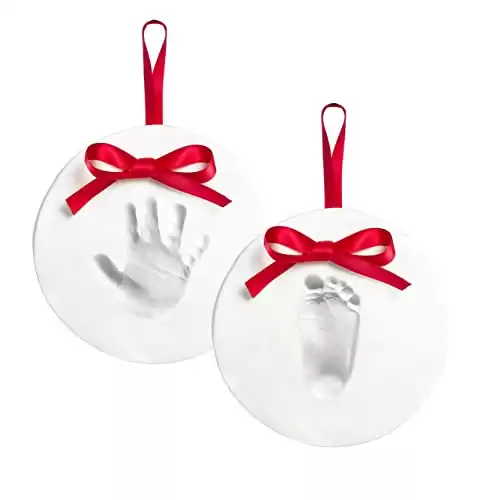 2-Pack No-Bake Baby Hand and Footprint Ornament Kit
Clay requires no mixing or baking! Use a rolling pin to desired thickness, flatten baby's hand and foot and press against the impression clay, cut and shape to make it ready for the frame, let dry for 24-48 hours.
Buy on Amazon
We earn a commission if you make a purchase, at no additional cost to you.
12/01/2022 10:13 am GMT
You can also make smaller versions of these with a little hole on top so that you can use them as ornaments, say for the Christmas tree. :)
Think your family is going to love this idea for Christmas?
You'll need these ingredients and materials:
1 cup of Salt
1 cup of Flour
1/2 cup Water
Mixing Bowl
Parchment Paper
Pan
Acrylic Paint
Craft Spray Sealer (important if you intend to display it outdoors)
And these tools:
Foam Paint Brush
Knife (for shaping the dough if you want)
Fork (or any other item you can use for writing on the dough)
How to create a salt dough foot print heart
Making salt dough footprint art is not an activity you can leave entirely for the kids to do, but it's a fun activity to bond with them!
1. Mix them all
Prepare all the ingredients in a bowl and mix them thoroughly. You can use your bare hands or a mixer. Add water if necessary.
2. Form the dough
After mixing, you can now form the heart shape, or any shape that you desire, this can be anything your heart desires. You can add a hole for hanging. It's optional to add a hole since it might be too heavy.
3. Add the foot prints
Place the heart-shaped salt dough on the floor. Make your kids step on it gently to form their foot prints.
4. Add names and dates
You can also add their names and year by using a stick or any alternative.
5. Place the dough on a pan
Now you're ready to bake your salt dough. Carefully place the formed salt dough on your pan and bake it for three hours at 200F.
6. Flip it upside down
Check your baked dough by flipping it upside down. If it's dry, then it's cooked, but if it's moist in the centre, then do it for another hour.
7. Let it cool down
Remove it from the oven and let it cool down before painting.
8. Paint your salt dough
After cooling, using a foam brush, you may now paint your dough with your desired colour. In this project, we painted the dough a metallic purple, which leaves a pleasant sheen effect. You can also paint the bottom part. Apply a sealant if this will be displayed outdoors. Then let it dry.
9. Display your foot print heart dough
After drying, your artistic foot print heart salt dough is now ready for display. Or you can give this to a friend as a perfect gift!
Take a look at more ideas for this salt dough art through our album below for inspiration. :)
Click on any image to start the lightbox display. Use your Esc key to close the lightbox.
Thanks to roamingrosie for this great project. You can get full details here…
If you liked this project, you might also like to view DIY Galaxy Play Dough…