To most people, a smell isn't just a fragrance – it's a memory. When you get a whiff of food cooking, you may think of the kitchen where your Mom used to cook. When a breeze blows the smell of fresh flowers, you're instantly taken back to your first dance and the corsage you brought for your date.
Fill your home with nature's wonderful aromas by making your own scented mason jar candles. This DIY project is easy to do, inexpensive, and doesn't use any hazardous chemicals!
Our Pick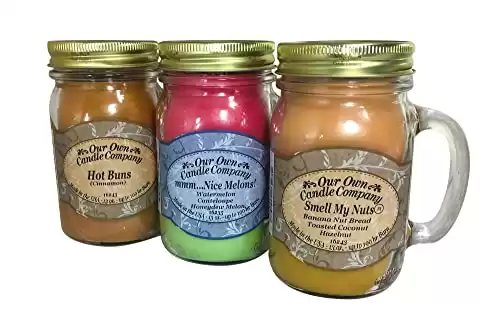 What are the benefits of DIY scented mason jar candles?
The fresh scent of pine cones adds to the Christmas feel during the holidays. There are many ways to get that scent to linger in your home, but the best way is to make mason jar candles using pine cones. Not only do they smell good, but they also make pretty decorations too!
There are many scents to choose from. While pine is quite popular, other scents such as citrus, coffee, vanilla, or a combination of one or two. Whatever your nose fancies – it's really up to you!
One of the good things about it is they keep well and long. For some homes, like ours, it has become a tradition to bring them out during the holidays. We simply refill existing mason jars with a new oil and scent, put in a new wick and you have yourself a mason jar candle for the holidays!
But we recommend that you buy a few new mason jars to do this project every year, as they make great Christmas pressies for friends and family. So far, everybody loves them! :)
What are the basic tips for DIY scented mason jar candles?
1. With the use of a skewer, or any object similar, compress the botanicals at the bottom part of the mason jar, to allow more room above for the oil and wick to burn properly.
2. If you will be using the scented candles frequently, you can add some water. This will allow the oil to rise up and burn the wick continuously. If you will be using the candles seldom, we're not recommending this tip, since bacteria growth might occur, if the water stays for long.
3. For safety measures, always keep your candles out of children's reach. Never leave a candle burning without anyone around and make sure the location of the lighted candle is not flammable.
What are the materials needed to make these scented mason jar candles?
Is this going to be your next craft project?
You'll be needing the following materials to make your own scented mason jar candles.
Materials:
Mason Jars with Lid
1- 1/8 Nipple
2- 1/8 Couplings
2- 3/8 in Washers
Lamp Wicks, 100% Cotton (or make your own out of 100% cotton T-shirt)
Olive Oil
Pine cones Cranberries Fruit (like Lemons, Limes, Oranges, Coffee beans, Vanilla beans, etc.)
Tools:
Scissors
Cordless Drill with 3/8 Drill Bit (or large screwdriver and hammer)
Block of Scrap Wood
How to make these DIY scented mason jar candles?
1. Prepare your mason jars
Begin with adding some botanicals to your mason jar. You can use some pine cones, greenery, cinnamon sticks, orange slices, fresh cedar, cranberries and other beautiful botanicals.
2. Add the essential oils
Now, you can add your essential oil. You may consider using olive oil since it is cheaper and least scented than the extra virgin.
3. Arrange the botanical designs using a wooden skewer
You can use a stick to position these botanicals to make them look beautifully arranged. Remember to leave some space in between.
4. Add the floating wick
After pouring the oil and arranging the botanicals, you can now add the wick and screw the lid. You may also prefer to tape the wick to the lid if the scented mason jar candle is to be given as a gift.
5. Add the directions tag and gift tag to the candle
You may optionally add a printed gift tag or directions tag to be tied to the candle.
And that's it! You can now have these scented mason jar candles given as a present, or can be displayed in your home!
Click on any image to start the lightbox display. Use your Esc key to close the lightbox.
Do you want one for your home? Check our album above for ideas or click on the link below to learn the full step-by-step process on how to do the Scented Mason Jar Candles.
Thanks to Garden Matter for this great project. You can get step-by-step instructions here…