The true sign of intelligence is not knowledge, but imagination"  –  Albert Einstein
It's every child's dream to have their own little space to play and create their own world. Their imagination runs wild as they build, form, mold, and imagine everything they want!
Playhouses can be as simple as a cardboard carton or two or as complex as the galleon below. Some can be built in minutes – two chairs and a blanket, while others are a labor of love lasting months.
We love giving you inspiration. Here are some playhouse designs which you can build for your kids. Some of these projects even make use of upcycled materials. :)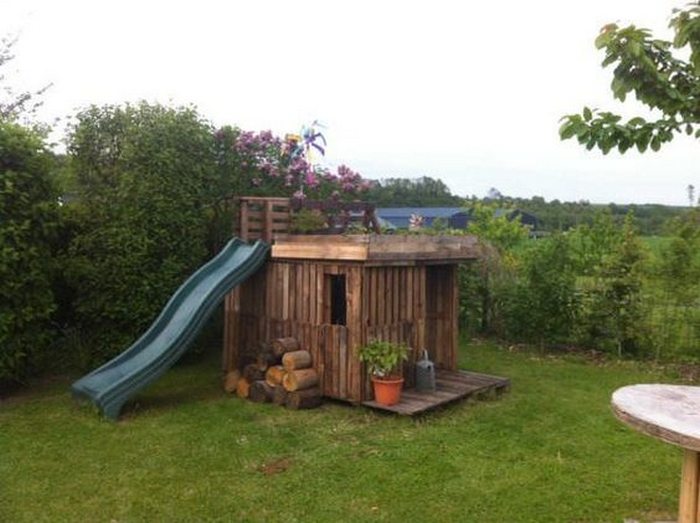 We hope this inspires you to design and build your very own outdoor playhouse! Remember that kids don't need perfection. They need family time and memories!
1. Pirate ship playhouse
Looking for a fun and unique playhouse for your kids? Why not try a DIY pirate ship playhouse?
A homemade pirate ship playhouse is the perfect way to let your kids have fun. They can explore their imaginations and play make-believe games in their own special space. You can easily make a pirate ship playhouse using some simple materials. You will need some plywood, some 2x4s, and some paint. You can find detailed instructions here…
Your kids will love having their very own pirate ship playhouse. They can invite their friends over to play and they will have hours of fun.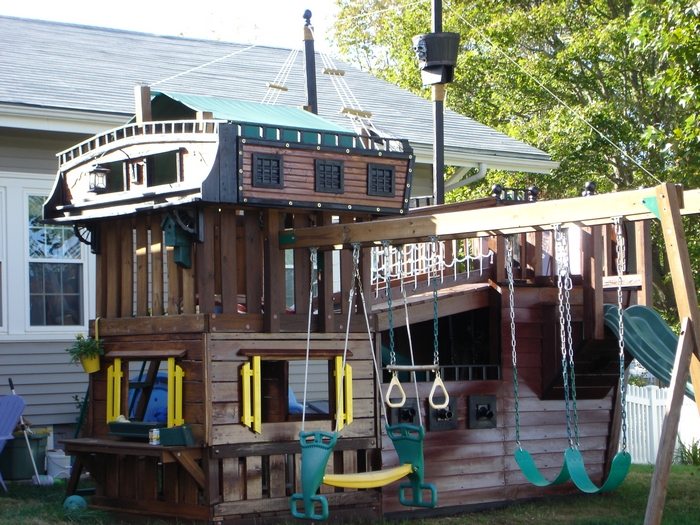 2. Cubby House made from Apple Crates and Pallets
Here's a fun and an easier DIY project that will keep the kids entertained for hours on end. Why not build them their very own cubby house made from apple crates and pallets!? This project is relatively cheap and easier to do, and you can get all the materials you need from your local hardware store. Simply stack the apple crates on top of each other to create the walls of the cubby, and then use the pallets to create the floor and roof. If you want to get really creative, you can paint or decorate the outside of the cubby house to make it really special. The kids will love it and it will provide them with hours of fun!
3. Upcycled Doors Playhouse
This DIY upcycled doors playhouse will let your kids have hours of fun! It's a great way to reuse old doors, and the playhouse can be customized to what your kids like.
All you need to get started is a set of 4 old doors (preferably with handles and hinges still attached), paint or other decorative materials, some screws, and a drill.
Plus, it's a great way to teach your child the value of recycling and upcycling!
4. Willow Playhouse
Willow playhouses are a great way for kids to have fun and be creative. They're also relatively fun to make, so you can do it with your kids! Plus, it's super versatile and can be used for a variety of different activities. You'll just need a few materials to get started: A large piece of willow, a sharp knife, a few small pieces of wood, some string or twine, and a hot glue gun.
Once you have all of your materials, you can now create the frame of the playhouse by tying the willow branches together. Then, attach the walls by wrapping them around the frame. Just make sure to leave a space for the door and small window.
This is a great way to get them outside and enjoy the fresh air! 😎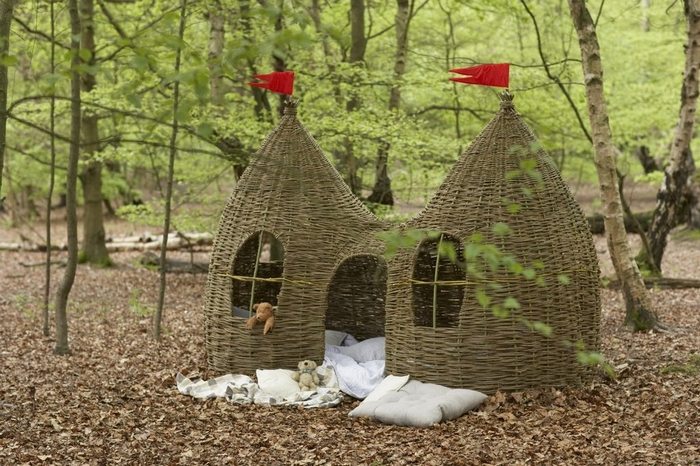 5. Crooked Playhouse
This is one of the best playhouses for kids. Perfect for kids who love to play outside. It's a little challenging to build due to its construction, but is definitely worth it! This crooked playhouse is made of sturdy materials, that will make this last longer for your kids to use for more years to come. After construction, your kids can help with painting this playhouse. They'll have a blast painting it and adding their own personal touches. The playhouse will provide hours of fun and enjoyment for your children!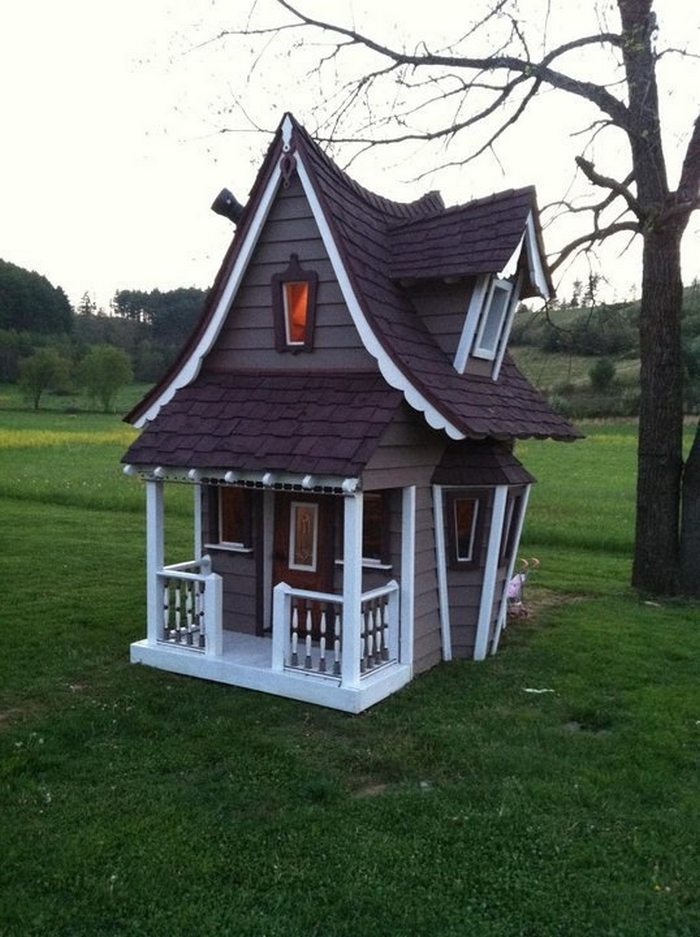 Want to grant your daughter, her ultimate dream? Here's the answer – Isabella's Place!
This stylish and sturdy playhouse is sure to put a smile on her face. Whether she's hosting tea parties for her stuffed animals or pretending to cook in her very own kitchen, she'll be sure to have hours of fun.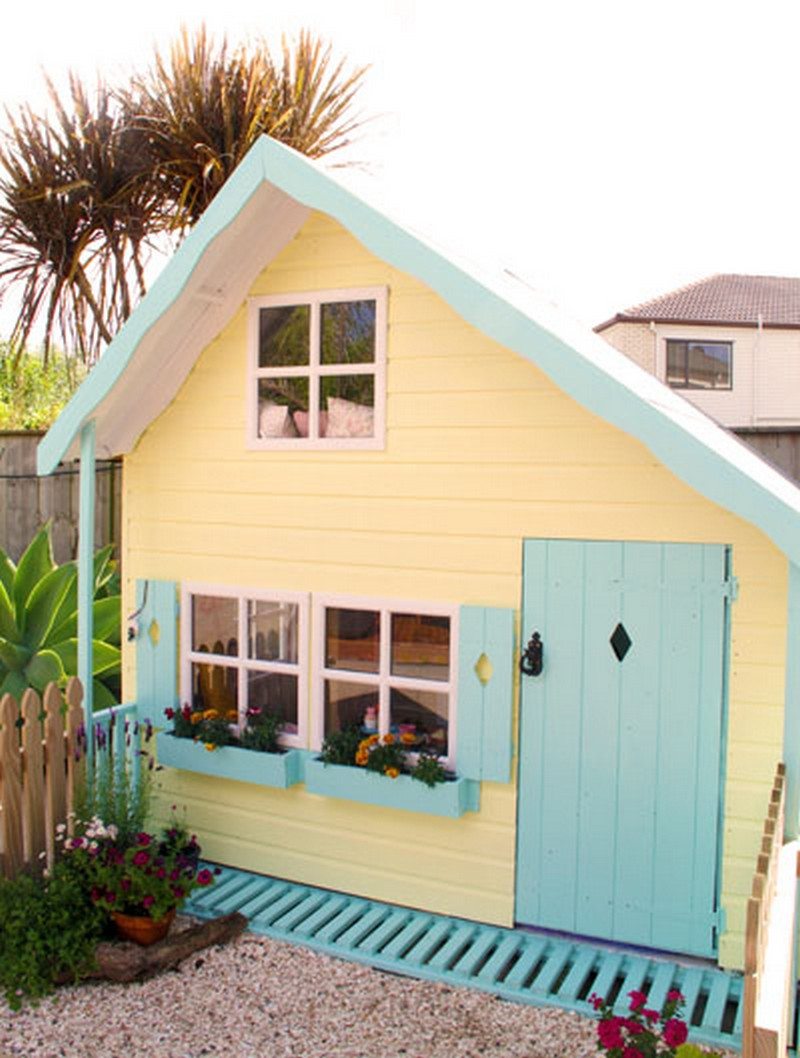 7. Under the Deck Outdoor Playhouse
If you have some extra space under your deck, why not turn it into an outdoor playhouse for your kids? It's the perfect spot for them to let their imaginations run wild, and it's a great way to get them outside and away from screens. To get started, clear out any debris from under your deck. Then, you can either build a playhouse from scratch or repurpose an old shed or small structure. Once your playhouse is built, stock it with fun toys and games for your kids to enjoy. They'll love spending time in their new hideaway, and you'll love having them busy with their friends and away from screens. 😎
8. Elevated Outdoor Play House
Looking for a fun-filled activity for your kids this summer? Check out our elevated outdoor playhouse! This wooden playhouse is the perfect place for your little ones to explore and play. It features a slide, a climbing wall, and plenty of room for imaginative play. Plus, it's elevated off the ground, so your kids can enjoy the fresh air and sunshine while they play.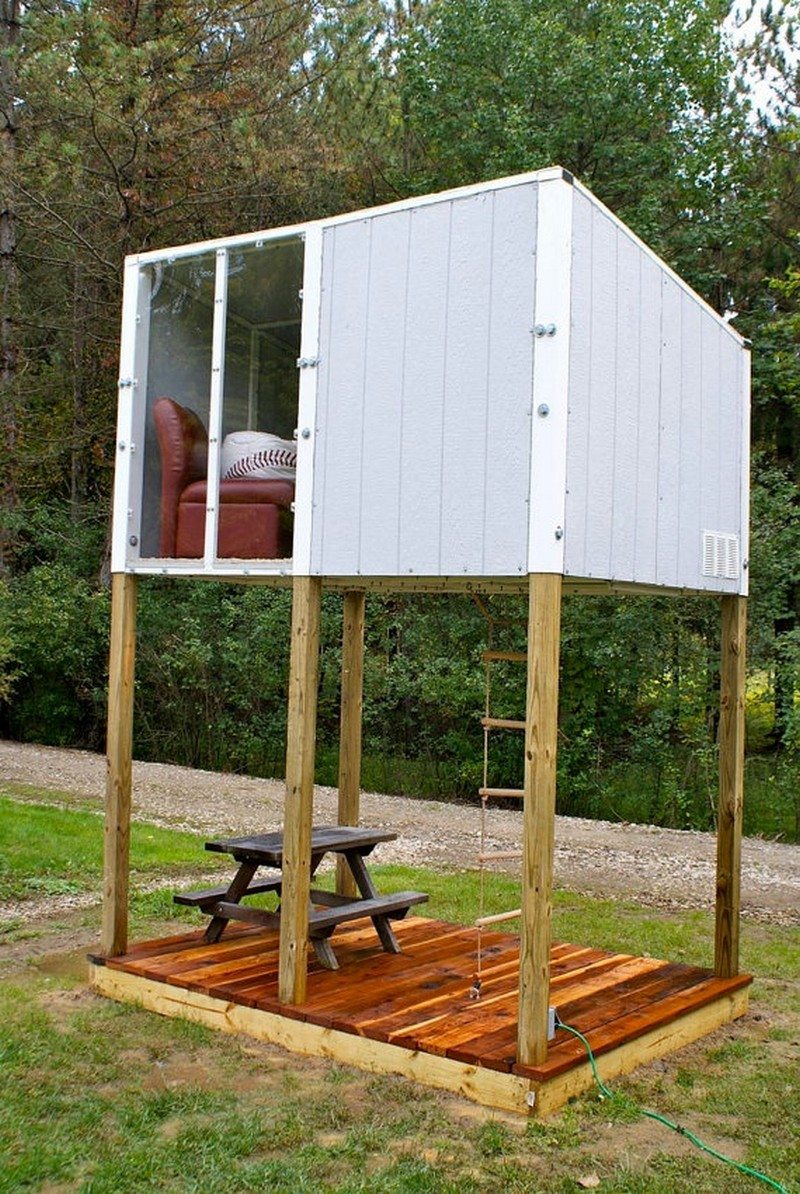 9. Mini Grocer's Shop
Check out this mini grocer's shop play house! This charming play set is perfect for inspiring your child's imagination and encouraging them to role-play and explore different scenarios. Your child will love pretending to shop for groceries, run their own store, or help out around the house with this fun play set. The mini grocer's shop playhouse features a variety of realistic accessories, including a play cash register, food items, and more. Plus, it's easy to assemble and can be stored away when not in use. Give your child a fun and educational toy that they're sure to love with our mini grocer's shop play house.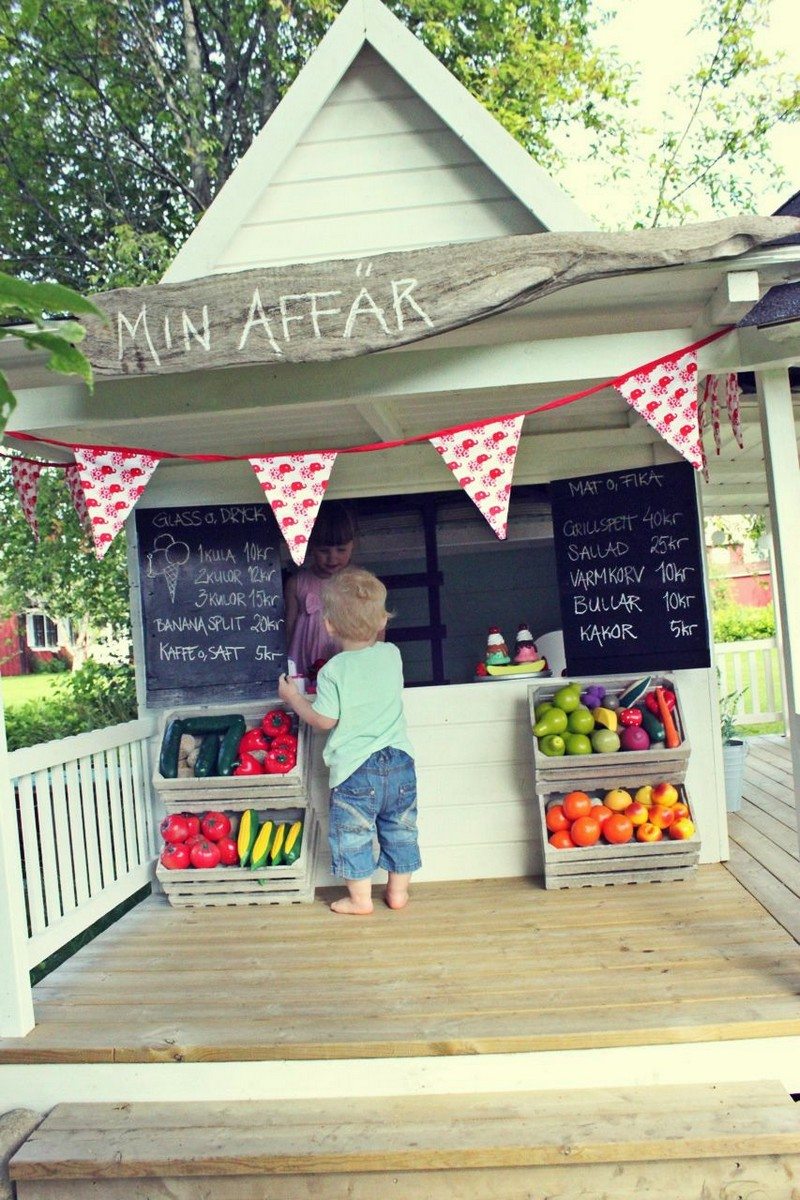 10. Playhouse with Slide
This playhouse with a slide is the perfect one for your active kids, and with a few simple materials, you can have it built in no time. Plus, it's a great way to get the kids outside and active!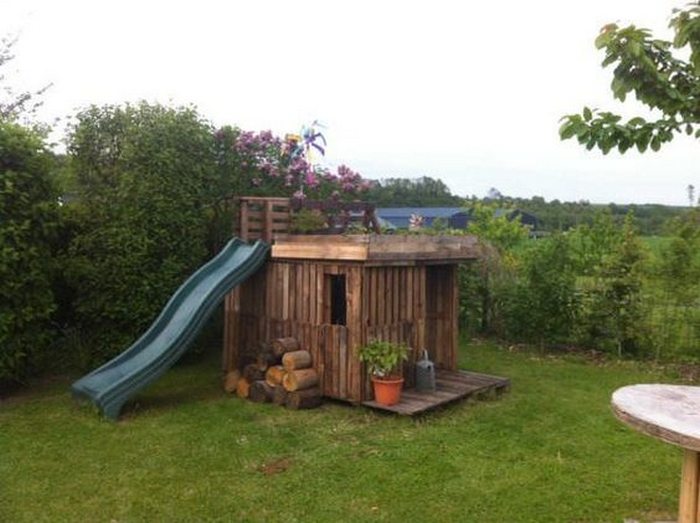 Have you built a DIY outdoor playhouse for your kids? Why not share it with us? :)