It is every child's dream to have a playhouse — a place that he or she owns. But what if your home doesn't have enough outdoor space to build a cubby house? Then try building it inside the house instead — use the space under your stairs!
If you have a basement or an ample staircase, more likely than not, you have an extra space where can build your little kid an indoor playhouse he or she will surely enjoy.
What we like about this playhouse idea is that it doesn't make the house less spacious since it occupies space barely utilized by homeowners.
Moreover, an indoor playhouse under the stairs is easier to build than an outdoor playhouse because the stairs themselves and the walls adjacent to it already serve as roofs and walls of the playhouse. Most of the building process usually involves the fun part — designing and decorating!
5 Unique Indoor Playhouse Ideas for Under the Stairs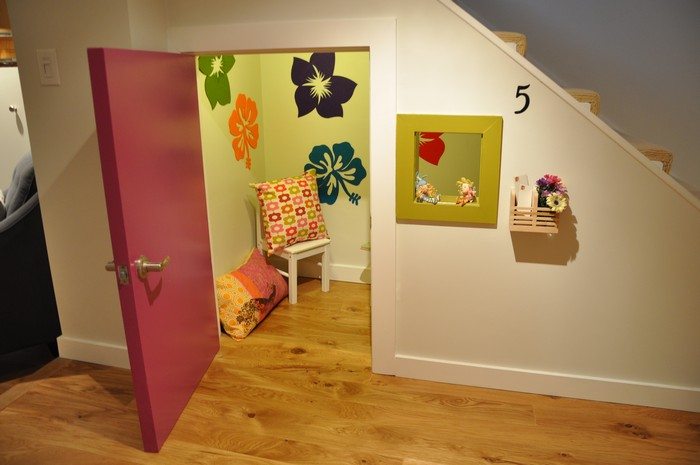 If you're looking to create a playful and imaginative space for your children, utilizing the often neglected area under the stairs is a great option. Here are some inspirational ideas to transform this area into an indoor playhouse:
1. Garden shed
Create a garden shed-inspired playhouse with rustic wood panelling and flower boxes. Use a small table and chairs, a toy garden set, and gardening tools to create a realistic garden atmosphere.
2. Farmhouse
Design a cozy farmhouse play area with a barn door entrance, hay bales, and farm animal toys. Use plaid blankets and rustic decor to create a warm and inviting atmosphere.
3. Treehouse
Create a cozy treehouse-inspired play area under the stairs with a wooden ladder leading up to a lofted play space. Add a tree mural on the walls, fairy lights, and a tree stump table for a realistic touch.
4. City Loft
Transform the space under the stairs into a city loft playhouse with brick wall decals, metal accents, and industrial-inspired lighting fixtures. Use a small sofa, coffee table, and bookshelf to create a cozy living space.
5. Fairy Tale-Inspired Playhouse
This playhouse is designed to look like the ones in fairy tales. Mostly in a natural setting like a forest, it can have trees, rocks, and sand to make it look more realistic.
So, they are the best indoor playhouse ideas for you to choose from. Whatever your children's interests and preferences, there is an indoor playhouse that will provide them with a special place to play and have fun.
5 Easy Steps for Building an Under the Stairs Indoor Playhouse
It can be a great DIY project for parents and children to build an indoor playhouse under the stairs. Here's an outline for making this indoor playhouse:
1. Measuring the space
Measure the area under your stairs to determine the size and shape of your playhouse. Make sure to take into account any obstacles or uneven surfaces that can affect the design. Consider the placement of electrical outlets, the location of pipes, or any protrusions that can interfere with the playhouse's construction.
By carefully considering these obstacles, you can ensure that your playhouse is not only functional and safe but also aesthetically pleasing.
2. Choosing a design
Choose a design for your under the stairs playhouse based on your child's interests and preferences. This can be a garden house, treehouse, or any other theme you can imagine. This will let you determine the colours, materials, and decor that will be used to create the playhouse.
3. Planning the layout
Plan the layout of your playhouse by sketching out a design or using a digital tool. This will help you visualize the space and determine the placement of furniture, storage, and decor. This process will let you make informed decisions about the placement of each element, taking into account the size of the space and the needs of your children.
4. Starting the construction
Begin the construction. Here's how to start building the under the stairs indoor playhouse:
Build the frame. Build the frame of your playhouse using wood or other materials. This will create the basic structure of the playhouse and can be customized based on the design you have chosen.
Install flooring. Install flooring in your playhouse using carpet, rugs, or tiles. This will help create a comfortable and safe space for children to play.
Install walls and roof. This will create a more defined and enclosed space for children to play. You can use drywall, plywood, or other materials.
Add doors and windows. Create a more realistic and inviting space. You can use pre-made doors and windows or create your own using wood or other materials.
Decorate and furnish. Use paint, wallpaper, lighting, shelves, storage, tables, seating, and decor. This will create a special and magical space for children to play and use their imaginations.
5. Enhancing the outside aesthetics
Adding lighting to the outside of your under the stairs playhouse is a great way to enhance its design and create a cozy and inviting atmosphere. There are various lighting options available, including fairy lights, lanterns, string lights, and spotlights, which can help you achieve the desired look and feel.
Also, using decals to create decorative elements such as trees, flowers, or animals can add a whimsical touch to the playhouse design. You can choose from a variety of decal designs or create your own. Applying vinyl or similar materials to the walls can also help create a more realistic look.
Enjoying the Indoor Playhouse
That's it, the indoor playhouse should be ready! To enhance the functionality of the playhouse, you can add seating or play equipment such as a mini slide or swing set, depending on available space and your child's interests.
Incorporating additional features can help create a fun and engaging environment for children, while also promoting physical activity and healthy play habits.
This is also nice to have even if your kids already own an outdoor cubby house. With an indoor playhouse, they can still enjoy playtime on rainy days! ;)
Are you going to build your kids their indoor playhouse under the stairs?