These creative penny ideas will have you emptying the piggy banks and your pockets!
Pennies are the most unused money in our purses. What can you buy with them nowadays, anyway? If you let them accumulate in your bag you'd be wondering later on why your bag is so heavy. Personally, I just leave them in a jar at home.
The U.S. government has been talking about doing away with the copper-plated coin for years. Two big arguments against keeping the coin in production are time and cost.
Incredibly enough, the U.S. Mint spent 1.5 cents to produce each penny in 2016, making the cost of every penny 50 percent higher than its actual value!
But if you're one to toss your pennies in the change plate at your local coffee shop or overlook one on the ground, you should think again. Pennies can actually save you some real money!
If you're looking for some fun and creative ways to use those old pennies, look no further! We've rounded up 14 of the best penny ideas out there. From penny planters to shiny penny coasters, there's something for everyone on this list. So get those creative juices flowing and start making something beautiful!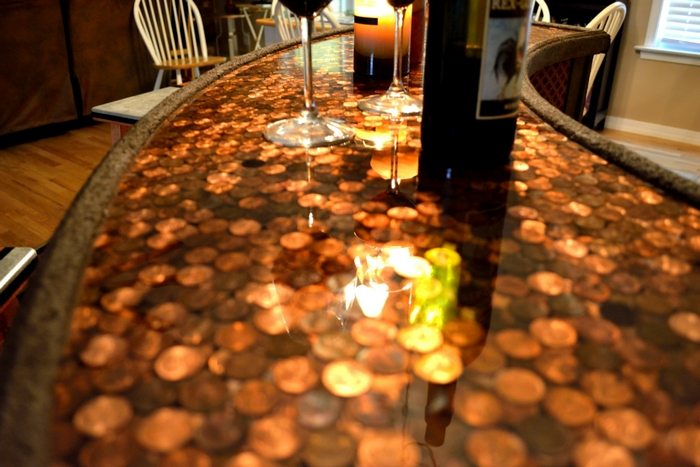 Now I already have one tall jar of pennies and I searched for great ideas I could do with them. Here are 14 beautiful penny ideas from the internet…
14 Creative Penny Ideas
Click on any image to start the lightbox display. Use your Esc key to close the lightbox.

1. Penny Earrings
Searching for a unique and stylish gift? Check out our selection of Penny Earrings! These DIY earrings are handmade with love and attention to detail. Each pair is one-of-a-kind, so you're sure to find the perfect gift for that special someone.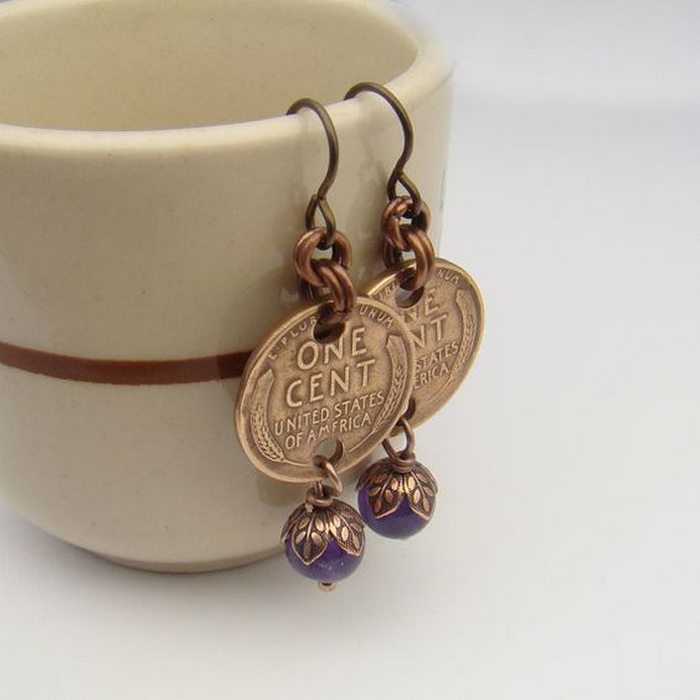 2. Penny Floors
When it comes to floors, there are so many different options out there. But, if you're looking for something a little different, a penny floor might be the way to go. Sure, it takes a little bit of work to put together, but the results can be pretty amazing. Plus, it's a great way to use up those spare pennies you have lying around. Not sure how to get started? Here are some penny floor ideas to get you inspired.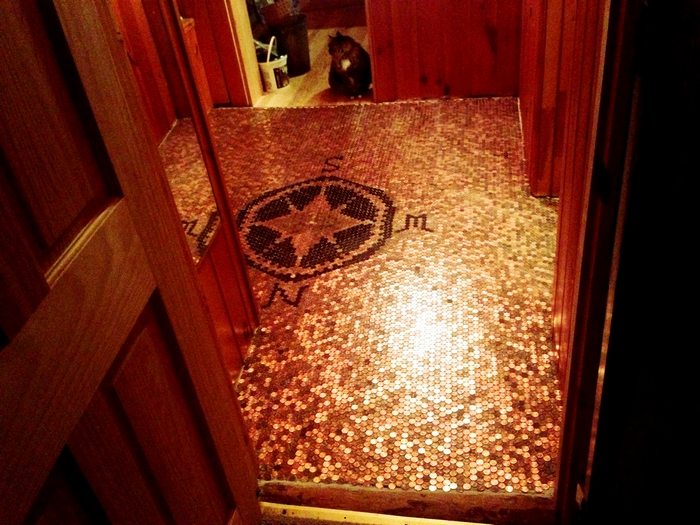 3. Penny Tabletop
Check out this penny table! This project is perfect for anyone who loves DIY projects and is looking for a unique and interesting table. This table is made out of old pennies and is a great way to upcycle them.
To make this table, you will just need a table, a can of pennies, a hot glue gun, a hammer, and nails. Start by flipping your table over and attaching the pennies to the table with hot glue. Start at the centre of the table and work your way out. Once the glue is dry, you can add another layer of pennies on top, or even paint them to create a truly one-of-a-kind piece.
This project is simple, fun, and inexpensive – perfect for anyone looking for a fun weekend project.
Looking for a fun and easy way to add some personality to your home décor? Well, look no further than the Penny Wall Accent! This unique wall hanging is made from – you guessed it – real pennies! It's a great conversation starter and is sure to add some pizzazz to any room. This fun and easy DIY project is a great way to add a touch of whimsy to any room.
So, how do you make a Penny Wall Accent?
To create your own Penny Wall Accent, simply gather a few supplies from your local craft store. You'll need a frame, a lot of penny coins, and a hot glue gun.
Not only is this project easy and fun to do, but it's also a great way to add some personal style to your home. So go ahead and get creative with your Penny Wall Accent! 😎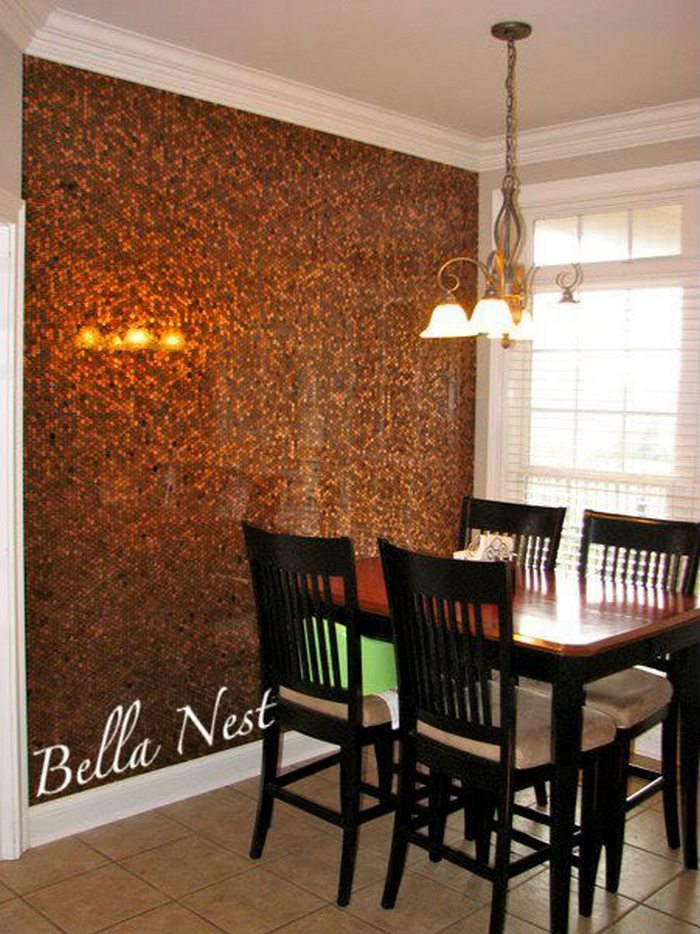 Choosing a countertop for your home bar can be a tough decision. There are so many different materials, colors, and styles to choose from. But if you're looking for a classic countertop material that will never go out of style, then penny countertops are a great option.
Penny countertops have a long history dating back to the early 1900s. They were originally used in public bars and restaurants because they were easy to clean and maintain. But over the years, penny countertops have become a popular choice for home bars because of their unique look. Penny countertops are made from real pennies that are glued down to the countertop surface. The pennies are then sealed with a clear coating.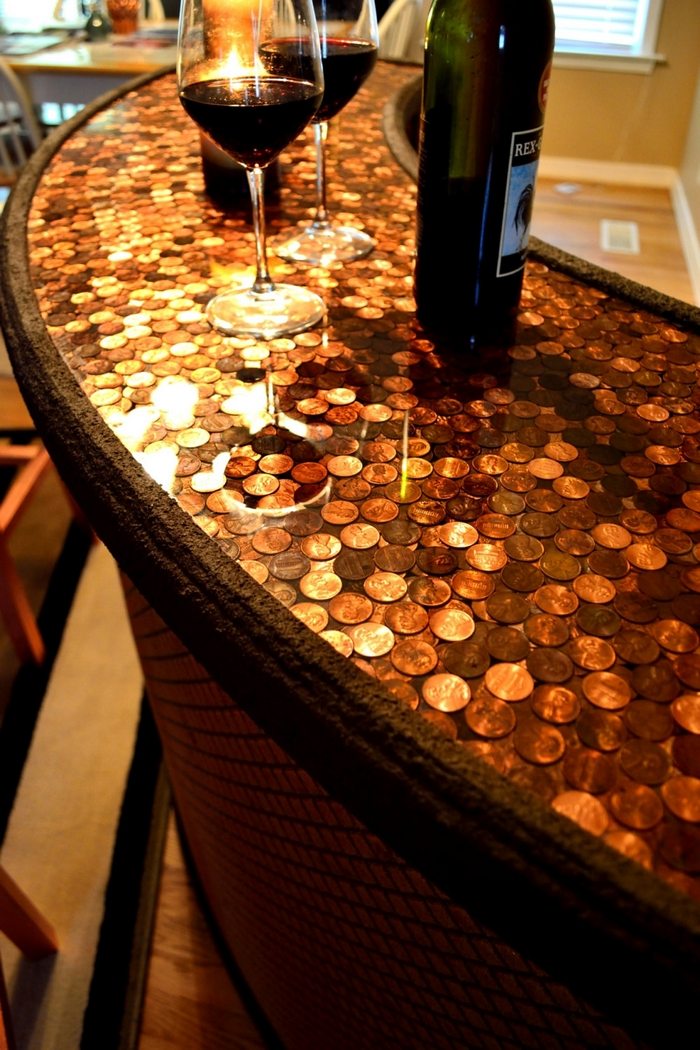 6. Lucky Us Penny Keychain
Need a distinctive keychain from penny ideas? Why not try making a DIY lucky penny keychain? All you need is a penny, a key ring, and a little bit of creativity.
To start, simply thread the penny onto the key ring. Then, get creative and decorate your keychain however you like. You could try painting the penny with lucky symbols or even wrapping it in a bit of green fabric to represent money.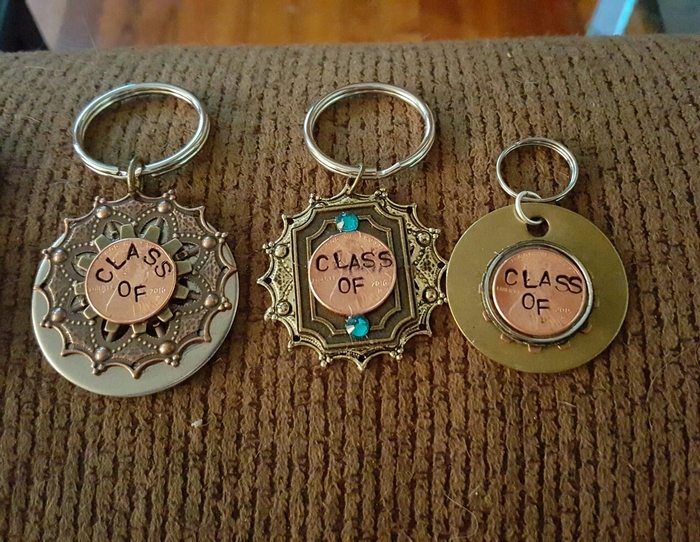 7. Penny Necklace
You can make a simple and elegant necklace with just a few pennies! This DIY project is easy and fun, and you'll end up with a stylish piece of jewelry that you can wear again and again.
To get started, gather a few pennies and a length of thin cord or wire. You'll also need a pair of needle-nose pliers. First, thread the cord through the center of each penny. Then, use the pliers to twist the cord around each penny, securing it in place. Once all of the pennies are attached, tie the cord in a knot to finish the necklace.
You can wear your new necklace as is, or dress it up with a pendant or charm.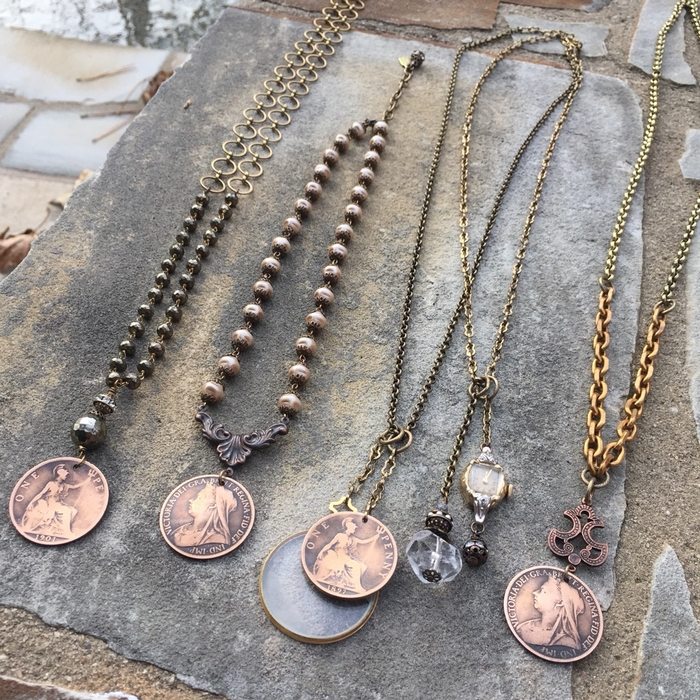 Making your own penny tray is a great way to add a personal touch to your home décor. Plus, it's a fun and easy project that anyone can do!
To get started, gather a few pennies, you'll also need a hot glue gun and your wooden tray (we recommend upcycling an old one!). First, begin by cleaning your wooden tray. If you are upcycling an old tray, make sure to sand it down to create a smooth surface. Once your tray is clean, Then simply glue down your pennies.
With just a few supplies, you can create a unique and stylish tray that is sure to impress your friends and family.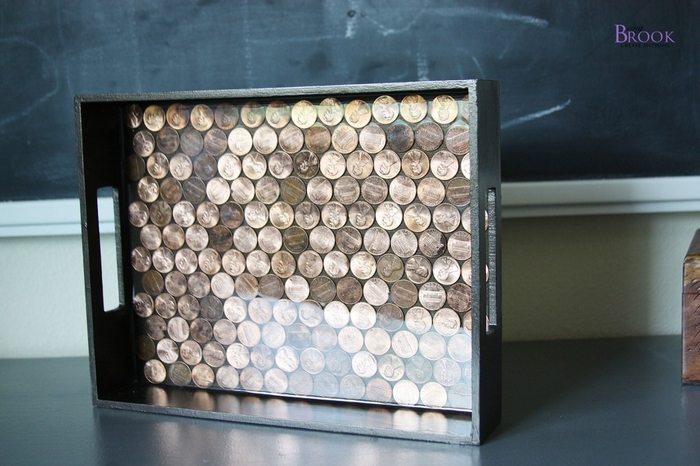 9. Penny Frames
Looking for a creative way to display your favorite photos? Check out this DIY penny idea for easy-to-make Penny Frames! All you need is a selection of old coins, some strong glue, and a few basic tools.
First, decide on the shape and size of your frame. Then, begin gluing the coins around the edge of the frame, overlapping them as you go. Once you've finished gluing the coins in place, leave the frame to dry overnight. Once it's dry, you can add your favorite photo or image to the centre of the frame – and voila, you've got a unique and personalized piece of art!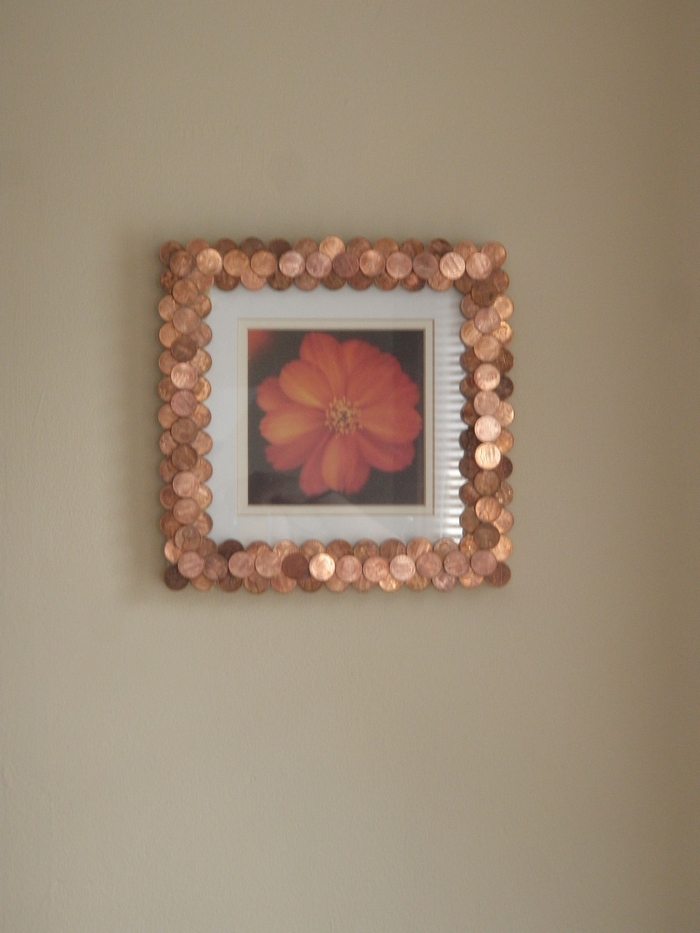 10. Penny Bowl
Searching for a unique and inexpensive way to spruce up your table décor? Give this easy DIY penny bowl a try!
All you'll need is a bowl, a hot glue gun, and some pennies.
This project is perfect for kids and adults alike and is a great way to show off your creativity.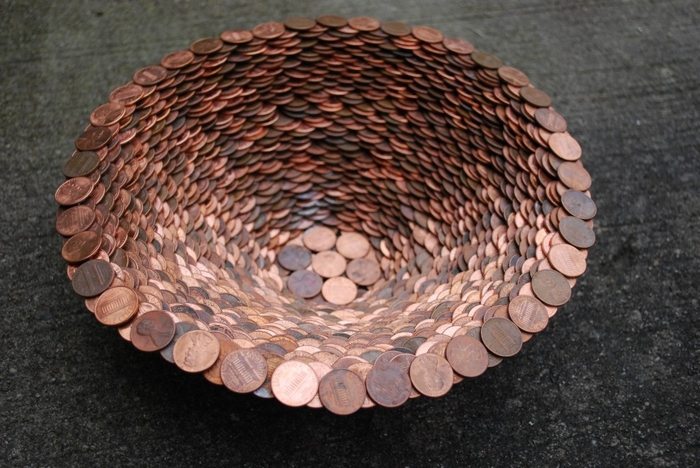 11. Penny Kitchen Backsplash
If you want a distinctive and cheap kitchen backsplash, consider using pennies! This fun and creative backsplash will give your kitchen personality and pizzazz.
This project is easy to do and can really add some character to your space. All you need are some old pennies, a little bit of adhesive, and some patience. 😉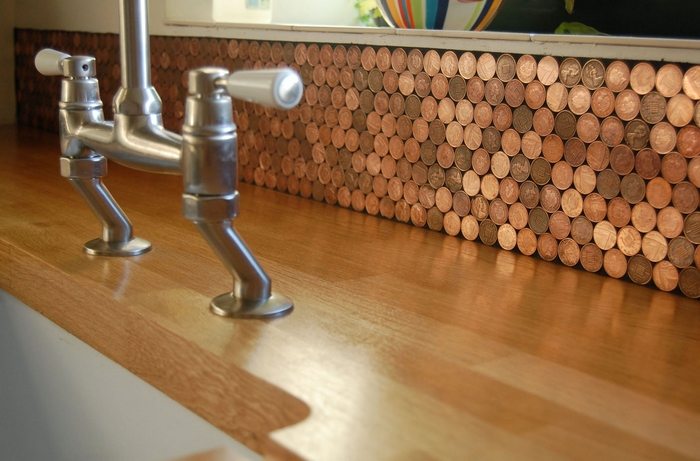 12. Penny Ball
Making a penny ball is a fun and easy DIY project that anyone can do. All you need is a penny, a balloon, and some clear tape.
This ball is made up of individual pennies that are glued together to form a sphere. It's a great way to repurpose those old coins and make something unique.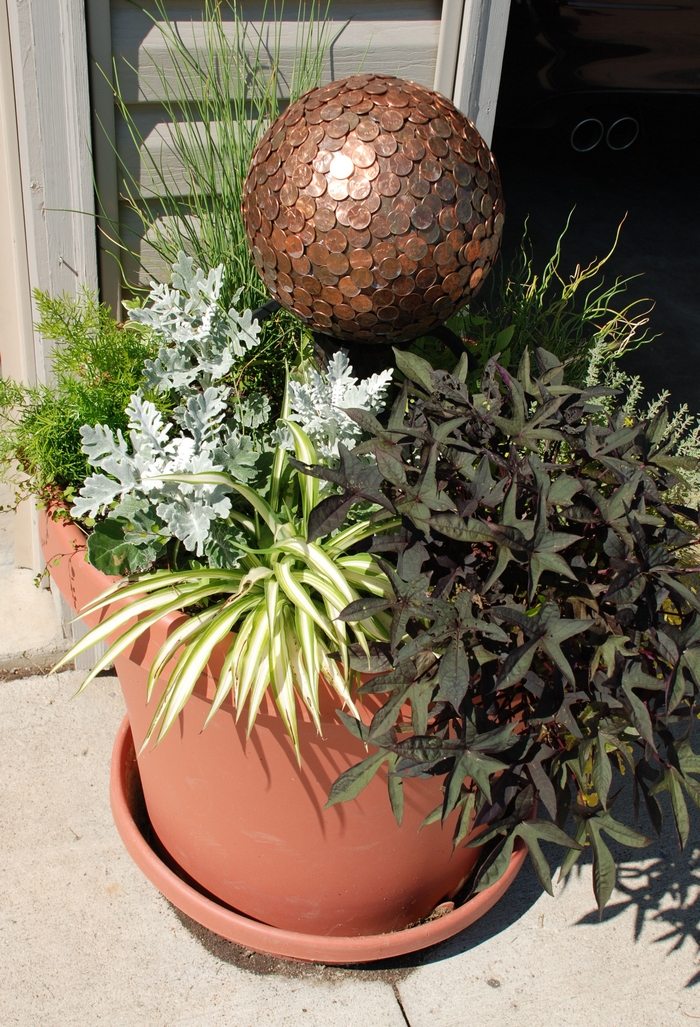 Love the look of pennies but don't want to actually use them as currency. No problem! You can make these stylish and unique coasters out of pennies instead.
This is a great project for anyone, whether you're a beginner or a seasoned pro. All you need is a little bit of time and some pennies.
So why not give it a try? You might be surprised at how satisfying it is to make your own coasters. Plus, it's a great way to add a personal touch to your home décor. 👌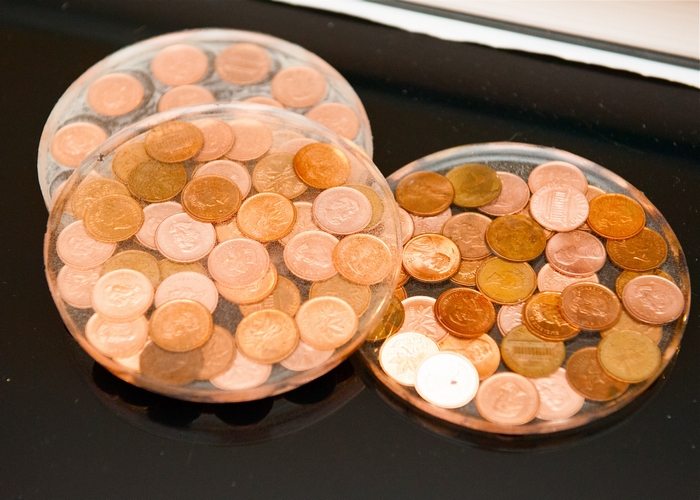 14. Penny Wind Chimes
Looking for a fun and easy DIY project to spruce up your home for summer? Try making your own penny wind chimes! This project is perfect for anyone, regardless of craftiness or skill level. All you need is a few supplies and a little bit of time.
Penny wind chimes are a great way to add a little bit of charm to your home. These pretty wind chimes are made from recycled pennies, so they're not only beautiful but eco-friendly, too. They also make a great gift!
So have fun and get creative! 😉
No. 2 is my favourite. I need to collect more pennies to do it in my house. Which penny ideas did you like the most?
If you liked this project, you might also like to view Sea Glass Mosaic Table…