Buttons – they just appear out of nowhere. Do you have a jar or perhaps a box full of buttons that you've amassed over the years? If so, you have likely wondered from time to time how you can put them to good use. Chances are, you cannot use them all to mend your shirts – why not make a DIY button bowl?
Buttons are fun to collect and come in a variety of shapes, styles, and colours. That makes them perfect for craft projects.  They have many fun and creative uses, after all. You can fashion everything from home decor to jewellery with buttons.
If you've run out of art ideas with that heap of buttons, try making a bowl with it! A button bowl can be used to store your kid's accessories, as a candy bowl, or as a coffee table centrepiece.
You can make yours even more different from the button bowls shown below by using other shaping models instead of a balloon!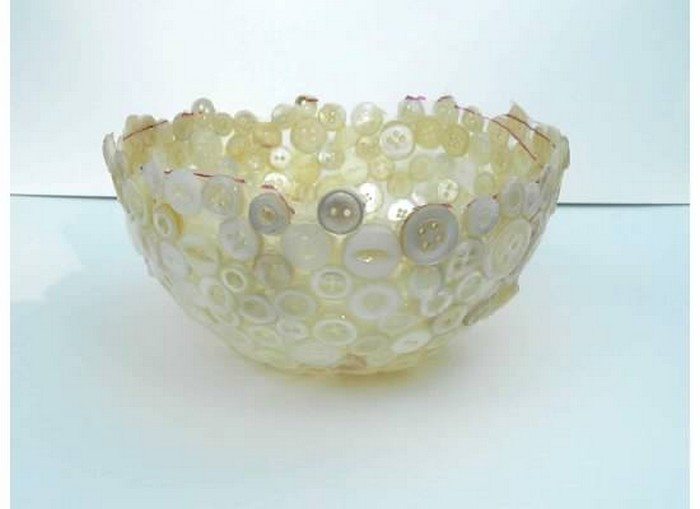 Do you have a collection of buttons waiting for a project? :)
Click on any image to start the lightbox display. Use your Esc key to close the lightbox.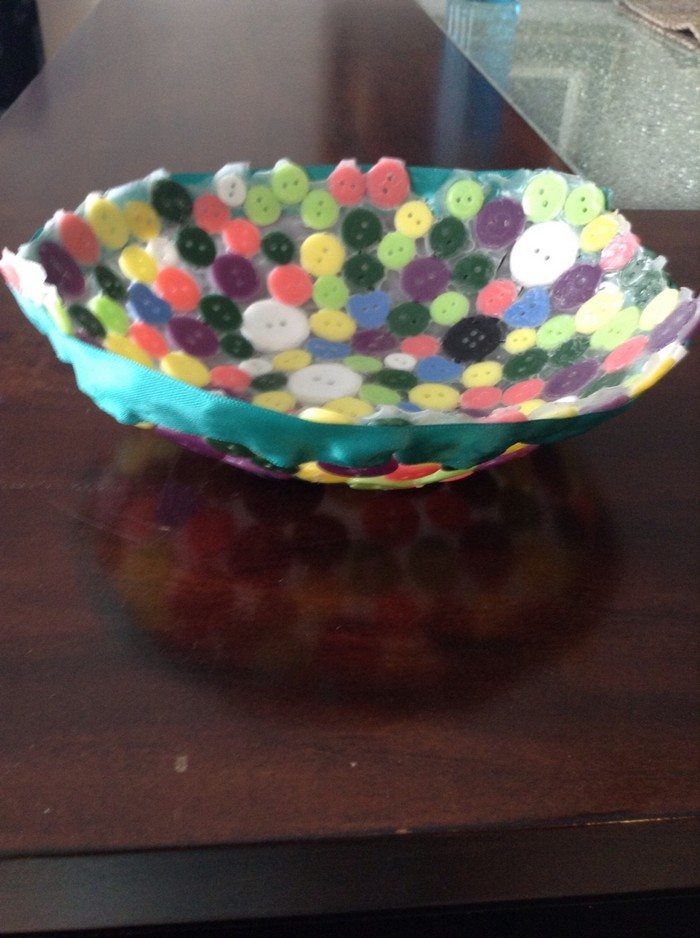 How to Make Your DIY Button Bowl?
Below are the materials you can use to create this cute and fun-to-make button bowl project.
Materials:
Lots of buttons

You'll need a lot of buttons in various sizes, shapes, and colours to cover the surface of the balloon and create a unique design for your bowl.

Balloon

You'll need a balloon to act as the mould for the bowl. Select the balloon size based on the desired bowl size.

Vase or container

Prepare a container or vase to secure the balloon for easy application of glue and buttons.

White glue

You'll need white glue to stick the buttons onto the surface of the balloon. Elmer's glue is a good choice for this project.

Paintbrush

Use a paintbrush of small to medium size to apply glue onto the balloon and buttons.
Step-by-Step Instructions
Collect your buttons, acquire some glue, and commence crafting a unique button bowl that you can exhibit with pride for many years to come.
Inflate the balloon
To start creating your DIY button bowl, start by inflating the balloon to your desired size. The balloon's size will dictate the final dimensions of your button bowl, thus select a size that suits your intended purpose.
To hold small accessories such as hairpins or beads, opt for a small balloon. Conversely, choose a larger balloon if the purpose is to use the bowl for decorative purposes. Ensure not to over-inflate it, as this could result in bursting and jeopardize your project.
After achieving the desired size, secure the air inside the balloon by tying a knot. With the balloon prepared, it is now possible to progress to the subsequent stage of the project.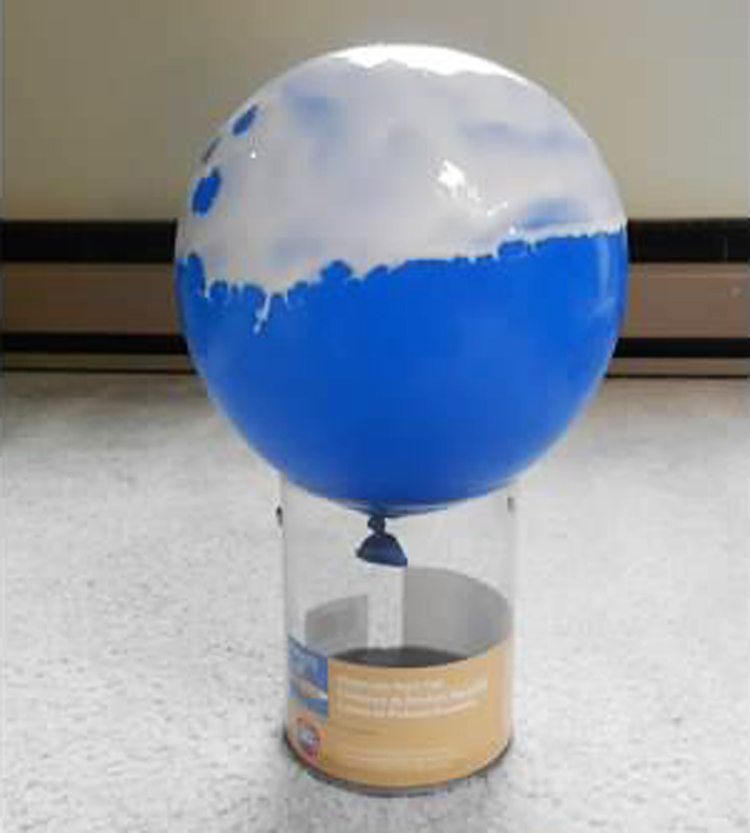 Add Glue: Protective Layer
To create a DIY button bowl, first, find a vase or container capable of supporting the balloon during the crafting process. Next, position the balloon on top of the container and secure it in place to avoid any incidents.
Using a paintbrush, generously coat one side of the balloon with white glue (such as Elmer's glue), ensuring complete coverage. Leave it to dry completely.
Applying this coating is important to protect the bowl and ensure proper adhesion of the buttons.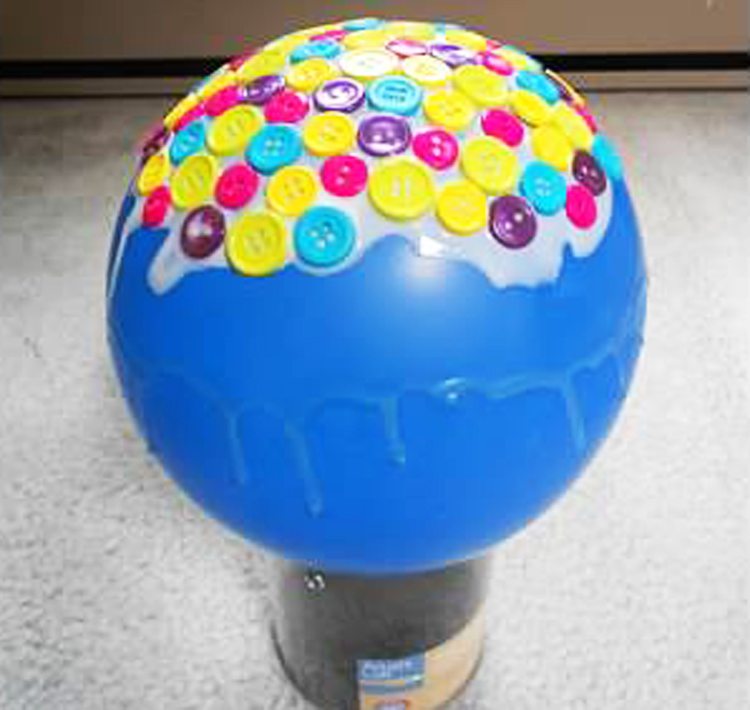 Adding Glue and Buttons
After the initial layer of glue has dried, proceed to apply a second coat using a paintbrush. Ensure the entire half of the balloon previously coated is covered with a thick layer of white glue.
Take the buttons and stick them to the glue, one by one and as closely as possible. Firmly press each button onto the glue to ensure it sticks well. Cover the entire half of the balloon with buttons, avoiding any empty spaces.
You can use buttons of different sizes, shapes, and colours to create a unique and eye-catching design.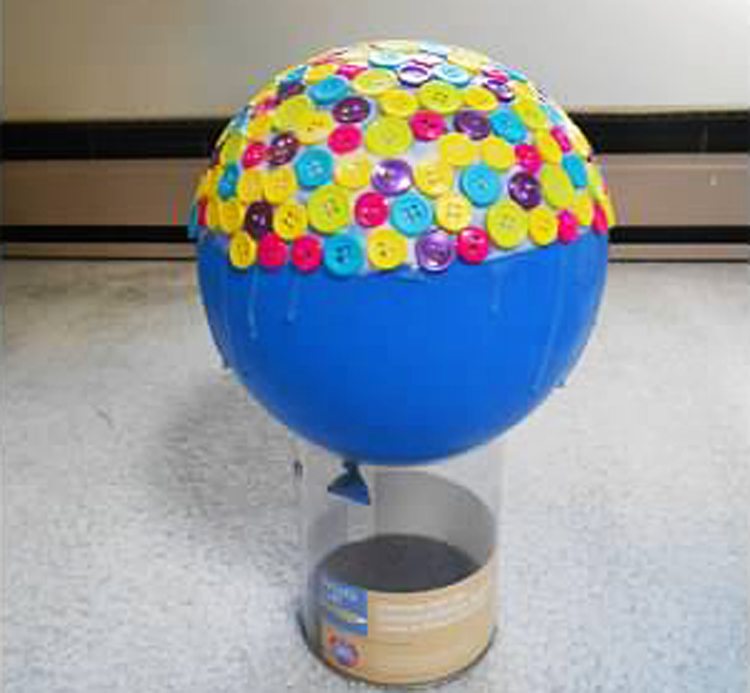 Let it Dry
Once you have attached all the buttons, allow the balloon to dry on the vase for approximately 5 hours to ensure that the buttons are firmly secured and do not detach when the balloon is removed.
To prevent unintentionally dislodging any buttons, refrain from handling or relocating the balloon.
To speed up the drying process, place it in a well-aerated area. Upon full solidification of the adhesive, the buttons will be securely affixed to the balloon, and the bowl will have formed.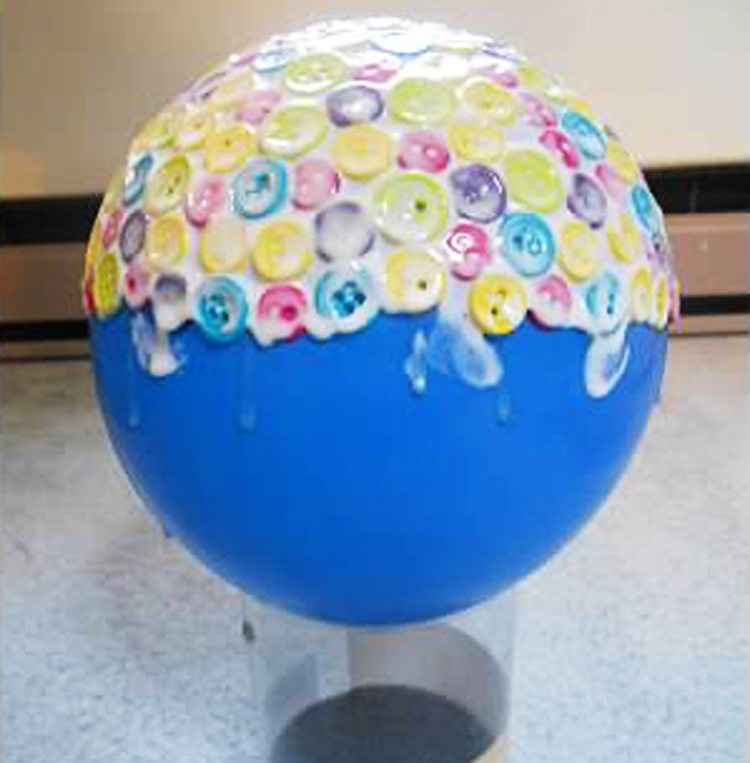 Add 1 or 2 More Coats of Glue
After the second coat dries, apply a third layer of glue uniformly across the button bowl's entire surface. It's advisable to use a thin layer of adhesive to speed up drying.
Let the third layer dry overnight. To strengthen the button bowl, apply a fourth layer of glue. However, ensure that each layer dries completely before adding the next.
After ensuring the bowl's durability, allow enough time for it to dry completely before deflating the balloon. This will guarantee that the button bowl maintains its structure and does not collapse.
Avoid bursting the balloon! Instead, use the scissors to create a tiny incision and gradually release the air.
And there you have it! Your fun DIY balloon bowl is ready to display! :)
Conclusion
To sum up, making a button bowl is an enjoyable and imaginative method to recycle your unused buttons. By using simple materials and straightforward instructions, you can create an exceptional and customised bowl that serves a lot of functions.
Crafting a button bowl is not only an excellent opportunity to display your skills but also yields a functional and decorative item for your home. Collect your buttons, secure some adhesive, and prepare to make an exquisite and practical button bowl that is bound to leave an impression!
If you liked this project, you might also like to view Buttons into a belt...