Get ready to take your crafting to the next level with the ultimate tool for precision and creativity. Introducing the five best die cut machines for 2023.  They're seriously next level, giving you crazy precision and endless possibilities.
Even if you're a total newbie, you'll be able to whip up some seriously impressive creations. These machines will have you creating like a pro in no time. Get ready for precision and adaptability like never before, these babies are game-changers. Say goodbye to tedious hand-cutting and hello to effortless and flawless designs.
Things to Keep in Mind
Before you snag that snazzy die cut machine, keep in mind these key factors to make the right purchase:
Cutting Performance
One of the most important factors is the machine's cutting performance. If you want a solid die cut machine, you gotta make sure it can cut with precision and accuracy and has the ability to handle a range of materials like paper, cardstock, fabric, and even thin metal. Keep your eyes peeled for a machine that can handle all that jazz. 
Versatility
A versatile die cut machine allows you to explore a wide range of creative possibilities. When you're on the hunt for a machine, make sure it's got your back when it comes to die shapes and sizes. You'll also want to be able to emboss, score, or draw with it to really get those intricate designs and custom shapes going. Plus, adding some sweet textures to your projects will make them pop.
Ease of Use
Opt for a die cut machine that is user-friendly and intuitive to operate. Look for features such as a clear and easy-to-read control panel, a simple loading mechanism for dies and materials, and smooth cutting processes. Additionally, consider the machine's compatibility with design software and digital connectivity options, which can enhance your crafting experience.
Durability and Build Quality
A well-built die cut machine ensures long-lasting performance and reliability. Look for machines made from sturdy materials that can withstand frequent use and offer stability during the cutting process. Check customer reviews and ratings to get insights into the machine's durability and overall build quality.
Size and Portability
Depending on your crafting space and mobility needs, consider the size and portability of the die cut machine. If you have limited space, a compact and lightweight machine may be preferable. If you often travel or attend crafting events, a portable machine with a carrying handle or a sleek design can be more convenient.
Price and Value
Set a budget for your die cut machine and consider the value it offers. Make sure you scope out all the goods in each package and see how they're holding up. Don't just assume the pricey stuff is always the right choice.
Don't dive into buying a die-cutting machine with your precious money just yet. Instead, pump up those brain muscles and ponder the long haul.
Top 5 Die Cut Machines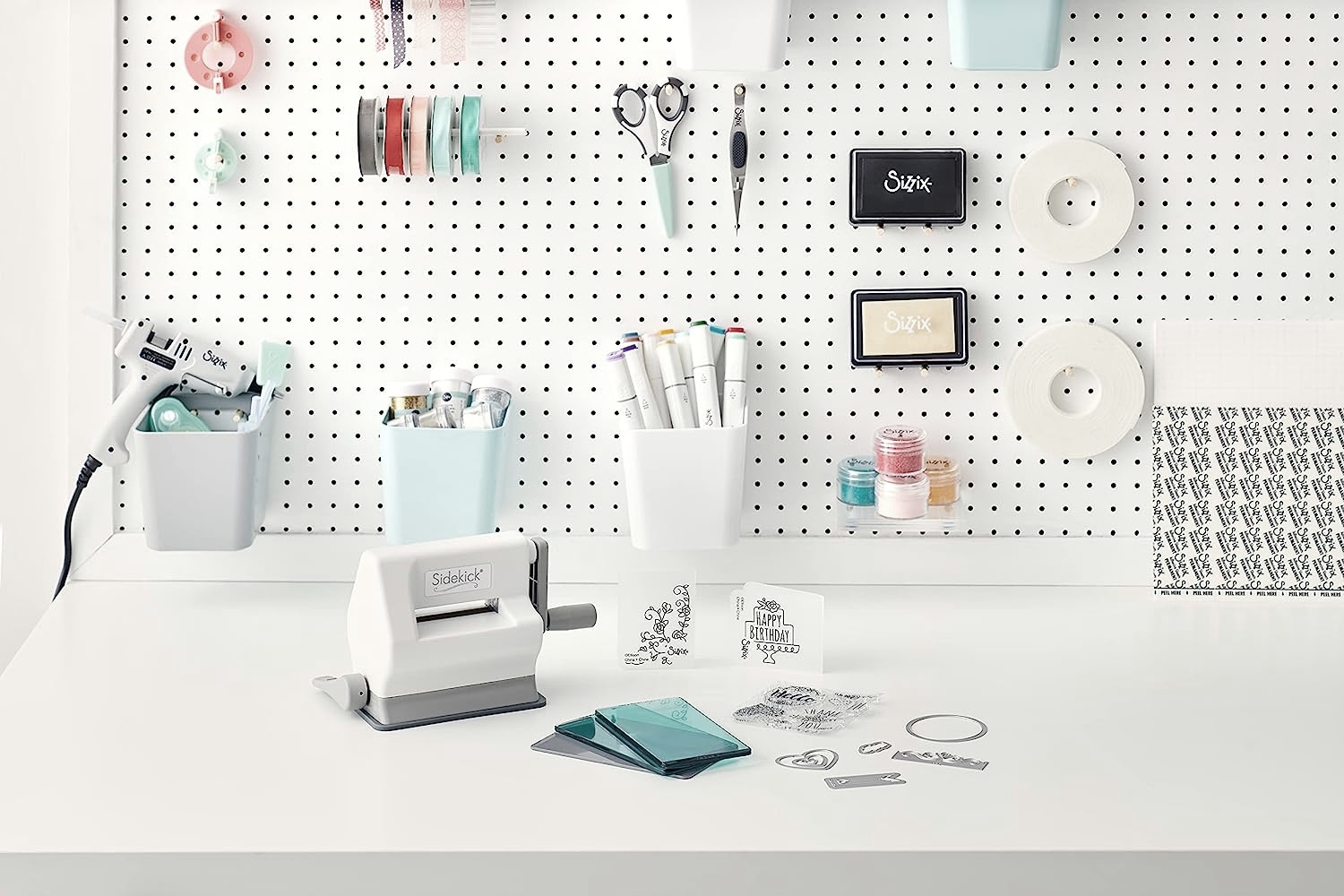 1. Best Overall: Cricut Explore Air 2 Machine
The Cricut Explore Air 2 Machine is a remarkable tool that has captured the hearts of crafters and DIY enthusiasts. With its array of features, outstanding performance, and reasonable price, it's no wonder why this machine has become a top choice for creative individuals.
One of the standout features of the Cricut Explore Air 2 is its versatility. It offers precision cutting for a wide range of materials, including paper, iron-on, and felt. Whether you're creating intricate designs for paper wisteria for home decor, or other stylish fashion projects, this machine can handle it all with ease.
This mighty machine is an absolute cutting-edge wonder! With lightning-fast precision and unbeatable power, its blades slice through anything in its path like a hot knife through butter, thanks to the latest and greatest in technology.
The die cut machine is equipped with built-in Bluetooth technology, allowing for convenient wireless cutting, writing, and scoring. It also features a Smart Set dial that easily adjusts to different types of materials, ensuring optimal cutting settings.
It can effortlessly upload various image file formats (.svg, .jpg, .png, .bmp, .gif) to the Cricut Design Space online platform using an iPad, computer, tablet, or smartphone. Unlock the full potential of your design files with its seamless integration. You'll be able to effortlessly tap into your preferred designs with the utmost agility and freedom.
"I bought this for my wife's birthday," says one user. "She's been wanting one for a while and I was afraid of the result because her standards are very high and gets easily frustrated. Needless to say, she is in love with it. She learned to use it very quickly and started designing anything that she could think of. Extremely recommended."
However, it's important to be aware of the limitations and consider alternative methods of operating the die cut machine to ensure a smooth and hassle-free crafting experience.
"The Android app doesn't work," says one user. "I unfortunately learned the hard way."
When it comes to price, the Cricut Explore Air 2 offers excellent value for money. It combines high-quality performance with a reasonable price tag, making it accessible to a wide spectrum of consumers.
This die cut machine comes with a manufacturer's guarantee that's got your back. No need to stress about any manufacturing mishaps or glitches. Your hard-earned money is safe and sound!
Overall, the Cricut Explore Air 2 Machine is a game-changer in the crafting world. Its impressive features, outstanding performance, reasonable price, and warranty make it a top choice for anyone looking to unleash their creativity.
2. Best Manual: Bira Craft Die Cutting Machine
The Bira Craft Manual Die Cutting Machine has quickly become a top choice in the world of manual die cut machines. What sets it apart is its user-friendly design and straightforward operation.
This die cut machine is also incredibly portable, making it a breeze to bring along to any crafting adventure. Its trusty suction cup feature ensures that this baby sticks to any smooth surface you choose, no matter how wild the endeavor gets. And when it's time to wrap things up and head home, simply lift the lever, and voila – it's freed from its spot like magic!
You'll also be delighted to know that it works with all the popular brand acid-etched dies and embossing folders, so you can seamlessly incorporate it into your existing crafting collection.
The Bira Craft Manual Die Cutting Machine excels when it comes to performance. It provides consistent and reliable cutting, allowing you to create intricate designs and patterns effortlessly. 
"I use it almost every single day while my Big Shot sits idle – it is just so easy to fit this little machine on my desk and most dies work well with it," says one user.
One of the notable advantages of this manual die cut machine is its affordable price. Despite its quality construction and impressive performance, it remains budget-friendly, making it accessible to crafters of all experiences.
The only reported downside with this machine is the price tag on those replacement plates. They can be a pretty penny, so make sure to factor that in when planning for the long haul.
"I gave it 4 stars only because the replacement plates are so, so expensive – about half the cost of the machine," explains one user.
To provide further assurance, the Bira Craft Manual Die Cutting Machine comes with a solid warranty and replacement terms. The manufacturer stands behind their product and guarantees its quality. This warranty safeguards your investment and ensures that you can craft with confidence.
Overall, the Bira Craft Manual Die Cutting Machine is a true gem in the realm of manual die cut machines. Its features and performance make it an exceptional choice for crafters. Whether you're a seasoned professional or a beginner exploring the world of die cutting, this machine will elevate your crafting projects.
3. Best Automatic: Silhouette Cameo 4
The Silhouette Cameo 4 is a powerhouse of a machine that is jam-packed with cutting-edge features and top-notch performance, making it the ultimate tool for crafting enthusiasts and professionals alike. Don't settle for anything less – upgrade to the Silhouette Cameo 4 today and experience the difference for yourself! 
The Silhouette Cameo 4 represents a new era in desktop cutting technology. This innovative machine is designed with user convenience in mind, featuring a built-in roll feeder and a cross-cutter for the seamless cutting of vinyl and heat transfer materials. The roll feeder allows for quick and easy cutting directly from a roll, while the cross cutter ensures clean and precise edges for your projects.
"Cuts out the designs as cleanly as I could hope for," says one user.
What sets the die cut machine is its unique dual carriage system, equipped with tool type detection. With this advanced feature, the machine's intelligent system can identify the specific tool being used and automatically adjust the cut settings in the Silhouette Studio software. This streamlines the cutting process and eliminates the need for manual adjustments, saving you time and effort.
In terms of performance, the die cut machine shines brightly. Its powerful motor and sharp blades deliver exceptional cutting speed and accuracy. Whether you're working on intricate designs or larger projects, the Silhouette Cameo 4 rises to the occasion, consistently delivering professional-quality results.
One minor drawback to note is that the cutting machine tends to generate noticeable noise during operation. However, this noise is likely inherent to the machine's powerful cutting capabilities.
"One thing is that it is pretty loud when cutting," explains one user.
While the price is higher, the investment in this die cut machine is definitely worth it. The quality and adaptability it provides will impress and satisfy you in your creative endeavors. Despite its cost, the machine's exceptional performance, complex features, and consistent output make it a valuable addition to any craft enthusiast's toolset.
In all, the Silhouette Cameo 4 is a standout choice for any passionate crafter. Its cutting-edge features, impressive performance, and reasonable price make it a reliable and rewarding investment. Take your crafting projects to new heights with this versatile die cut machine that empowers your creativity and brings your ideas to life.
4. Best Print Media: Gemini II Electric Die Cutting & Embossing Machine
The Gemini II Electric Die Cutting & Embossing Machine combines the exceptional power, precision, and performance of the original Gemini with enhanced speed and reduced noise levels.
The die cut machine boasts a robust electric cutting and embossing mechanism that effortlessly handles a wide range of materials. From heavyweight cardstock to vinyl, leather, mount board, fabric, and even craft metal, this machine allows you to explore your creativity without limitations. It is compatible with a vast selection of thin metal dies and embossing folders, opening up endless possibilities for your crafting projects.
Its high-pressure system ensures clean and precise cutting of up to A4 and US letter-size materials. The machine also features a pause, resume, and reverse function, allowing you to correct any mistakes or adjust your project mid-process.
The Gemini II machine delivers exceptional performance, allowing for precise and efficient cutting and embossing of various materials. It offers smooth operation and consistent results, ensuring high-quality craftsmanship for your projects.
"I am impressed with the powerful cutting ability of this junior machine," says one user. "I also very much appreciate the capability of the machine to accept larger size die cuts so I can expand my card-making collection without needing to advance to the more expensive machines."
One drawback to note though is that some users have reported experiencing warping and markings on the plates of the Gemini II machine. According to one user: "The only disappointment would be the warping and markings of the plates almost immediately upon first use. The clear, steel and magnetic plates just seem to need to be updated to a better quality." 
And it might cost a bit more than some of the basic models out there, but, it's worth it. With next-level features and a toughness that won't quit, this machine is a total game-changer for all you crafty folks and pros out there. And no need for unnecessary worries, because it comes with a rock-solid warranty and customer support.
Looking for a crafting machine that's precise, versatile, and efficient? Look no further than the Gemini Electric Cutting and Embossing Machine! This baby will blow your mind with its unbeatable precision and endless crafting possibilities.
5. Best Budget: Sizzix Sidekick Starter Kit 661770 Portable Manual Die Cutting & Embossing Machine
If you're looking for an affordable option without compromising on quality and functionality, the Sizzix Sidekick Starter Kit 661770 Portable Manual Die Cutting & Embossing Machine is the perfect choice. With its compact design and versatile capabilities, it offers a budget-friendly solution for all your crafting needs.
The Sidekick die cut machine is designed to effortlessly cut through a single sheet of paper, cardstock, and vellum, or paper, making it a perfect tool for various creative projects such as scrapbooking, card making, home décor, and event planning.
"It cuts like butter," says one user. "The first time I used it, it felt like it wasn't cutting, that's how smooth it is. But it did cut."
Still, it's important to consider your specific crafting needs and the size of the projects you intend to work on when deciding if this die cut machine is the right fit for you.
"Like for very small projects," according to one user. "Very hard to find embossing folders that fit the small machine."
One drawback of this die cut machine is its limited compatibility with embossing folders due to its small size. For small-scale projects, this machine performs exceptionally well and delivers impressive results.
It offers compatibility with a range of Sizzix Thinlits dies, Framelits dies, and embossing folders that are up to 6.35cm wide.
Performance-wise, the Sizzix machine delivers consistent and precise cuts and embossing results. Its manual operation allows for full control and customization, ensuring high-quality output every time.
The compact size and lightweight nature of the machine make it effortless to use, even for those with limited hand strength.
The Sizzix Sidekick die cut machine offers great value for money. It provides a comprehensive set of tools and accessories at a very affordable price point, making it an attractive option for both beginners and experienced crafters.
When it comes to warranty, the Sizzix die cut machine comes with a three-year warranty that covers any potential defects or malfunctions. It's always recommended to read the warranty terms and conditions provided by the manufacturer to ensure proper understanding and coverage.
All in all, the Sizzix Sidekick die cut machine is a fantastic choice for crafters looking for a portable and versatile die-cutting and embossing machine. This machine offers the perfect balance of convenience, quality, and affordability, making it easy to get started right out of the box.
Cutting-Edge Crafting at Your Fingertips!
Get ready to fuel your creativity and bring your crafting dreams to life with our selection of the 5 best die cut machines for 2023. These cutting-edge machines are designed to revolutionize your crafting experience and open up a world of possibilities.
Whether you're a seasoned crafter or just starting out, these machines are sure to inspire your imagination and help you create stunning projects with ease. From precision cutting to intricate embossing, these die cut machines offer exceptional performance, versatility, and durability.
Don't miss out on the opportunity to take your crafting to new heights with these top-rated machines.