When trying to find summer activities, most people consider keeping kids entertained. However, there are plenty of artistic activities for imaginative adults to explore their creative talents and produce something new and unique. 
Summer Crafts Projects Ideas
Summer crafts projects should be bright, bold, and full of life to reflect the feeling of the season. Here are seven fun summer crafts for creative adults to try this year.
Clay Planters and Vases
One of the best parts of summer is everything coming to life with stunning blooms, lush green leaves, and buzzing gardens. As such, there's no better time to create vessels in which to plant this year's exterior decor or display cut flowers from the garden.
While there are many oven bake clay ideas for adults, clay planters and vases are the simplest and most functional. Get creative and braid or weave your clay. Pair your planters with handmade macrame hangers to bring everything together nicely.
If you have leftover clay, you can make plant marker signs, so you always know what's growing.
Beach Glass Mosaic
If you're lucky enough to live in a place near the water or take a summer trip to the ocean, be sure to collect some beach glass and shelves. You can use these to create a stunning summer mosaic to capture key moments from your summer. All you need for this simple craft is some concrete and a mold.
As concrete dries quickly, it's best to lay out your mosaic beforehand. Trace the mold on a piece of paper and move your beach glass, shells, and pretty rocks around until you find a design you like. You can even create a mandala-inspired piece to celebrate the beauty of nature.
This craft is a great annual summer wrap-up project, using all the pieces you've collected this season. Use your concrete mosaics as stepping stones or markers throughout your garden for a trip down memory lane.
A Dyed or Painted Picnic Set
Enjoy your summer days with a picnic at the park. Make it a personal affair with a dyed or painted picnic set that you create yourself. Get a large piece of canvas drop cloth and some fabric paint. Use a paintbrush to paint stripes, dots, or a custom work of art. You can also use stencils and spray paint or get creative with stamps.
To complete the set, get some fabric for cloth napkins to match. If you're feeling really crafty this summer, you can put together a full picnic kit with custom dishes as well!
Tin Punch Lanterns
Decorate your backyard or pathway with durable custom lanterns. This classic craft requires:
Clean tin cans
A marker
A nail
A hammer
Patience
Choose a design for your tin punch lantern and draw it on the can in dot form. Then, use your nail and hammer to punch out the dots, creating holes for light to shine through. When you put a candle inside, these lanterns will glow like constellations in the night. You can also paint the outside of your tin punch lantern to match your decor.
Resin Floral Suncatcher
You can preserve your favorite summer blooms forever. Get a few round silicone molds and resin. Follow the manufacturer's instructions and insert your favorite blooms, letting them dry and harden. 
Smooth the resin discs down and drill a hole through the top. String them with twine or fishing line, then hang them from your window or trees for a dazzling display. With this simple project, you can enjoy your summer flowers on the coldest winter days.
A Molded Sand Bowl
If you grew up spending time at the beach, you probably feel nostalgic about building creations in the sand. You can capture the same feeling (with less mess) by creating a molded sand bowl to hold jewelry, seashells, and other keepsakes.
For this project, you'll need sand, glue, a bucket, plastic wrap, and a bowl or container you want to emulate. Mix the glue with the sand until you have a thick-yet-pourable paste. It should feel like the wet sand you use to make a strong sand castle. Place the plastic wrap over your mold and apply the sand paste, packing it in and smoothing it out to perfect the shape.
Let the sand dry, then apply a thin layer of glue over top. Repeat this process twice, then let the bowl dry overnight. Alternatively, you can cover it with varnish or Mod Podge spray. With the latter, you can also add seashells to the sand mixture. For a unique look, use balloons instead of an existing bowl to create a dripping sand illusion.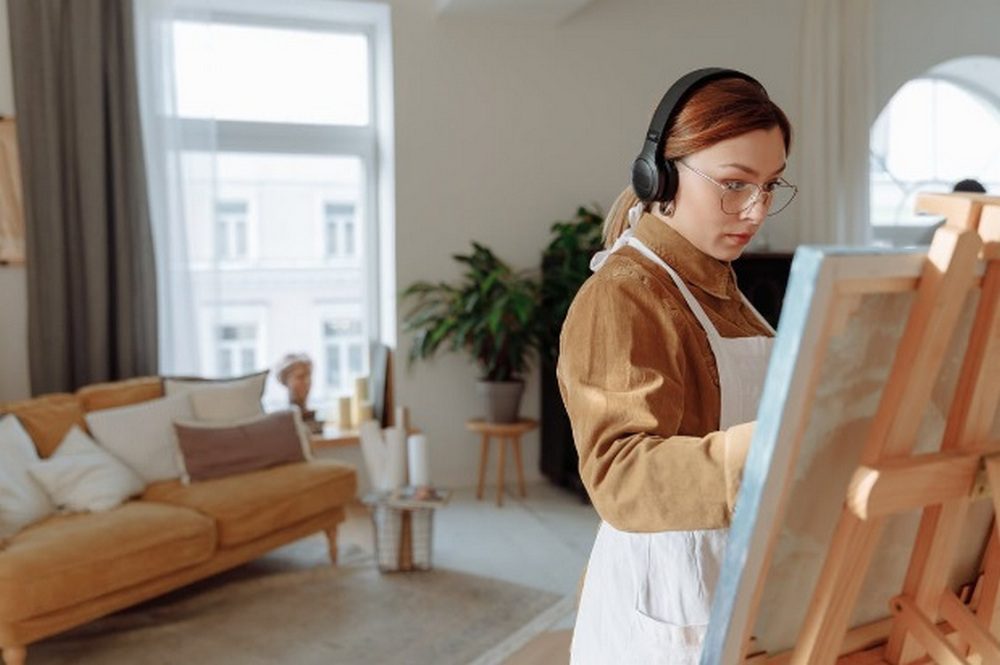 Ombre Sunset Canvas
For a simple, eye-catching piece of decor, create a summer sunset on a canvas. For this project, you'll need acrylic paints in shades of pink, orange, red, yellow, and purple. You'll also need a canvas in the size of your choice and a paintbrush.
Add a dollop of each color along the side of the canvas, with your darkest shade on the top, working your way down to the lightest shade. Then, use your paintbrush to wipe the paint from side to side, covering the canvas as you work your way down. Try to get complete coverage from each color before moving downward, blending the shades as you go. Let the canvas dry completely.
You can finish the project here or add a fun summer quote in a contrasting shade using paint pens, a Cricut, or a small paintbrush with a steady hand.
Wrapping it up…
Arts and crafts aren't just for kids; they can also be a therapeutic, memorable experience for adults. Enjoy these fun, festive crafts as you add a personal touch to your decor this summer. Don't worry about perfection— it's all about getting creative and having fun.