Home improvement projects can be very rewarding, but not everyone has access to power tools. Fortunately, there are plenty of projects that can be completed without the need for power tools. DIY projects without power tools are a great way to bring life to your home without spending a lot of money.
You can update the look and feel of your space by simply utilizing common household items, such as cardboard and fabric, or by repurposing items that you already own. DIY projects don't have to be expensive or complicated, and they don't need to take days or weeks to complete. With a little creativity and some basic hand tools, you can transform your home and make it a more enjoyable place for you and your family.
Creative DIY Projects Without Power Tools
In this blog post, we'll discuss some of the most accessible DIY projects without power tools, the tools and materials needed for each, and provide tips for turning each project into a successful home improvement project.
1. Painting
Painting is a fantastic DIY project that anyone can do (even if you don't consider yourself a crafty person!). Painting can have a dramatic effect on the look and feel of any space. In addition to the visible benefits, painting can also help protect surfaces from mold and mildew, and can even help with soundproofing.
With a few basic tools and a bit of elbow grease, you can transform any room in your home with a fresh coat of paint. DIY projects without power tools are a great way to take on a project without having to invest in expensive equipment or enlist professional help.
All you need to do is put on your painting clothes and get ready to take on a new challenge. With a few swipes of the brush or roller, you can create a whole new look for your space. Not to mention, it's a great way to express your creativity and have fun.
If you're looking for a creative outlet that requires minimal effort and offers plenty of fun, go ahead and try your hand at some DIY projects without power tools!
2. Decoupage
Decoupage is a fun and easy way to personalize and transform everyday objects. To decoupage, you simply cut or tear pieces of paper (like magazine or newspaper clippings, scrapbook paper, or even your own artwork) and use a medium like Mod Podge to glue them onto a surface, such as a box, jar, or piece of furniture. You can layer multiple pieces of paper to create a unique design, or even add accents like ribbons, buttons, and beads.
Decoupage is an exciting and straightforward way to bring your own unique flair to everyday items. It's the perfect project for you, one of the simplest DIY projects without power tools! All you need is a little bit of creativity and a few supplies like scissors, glue, paint, and your favorite patterned paper.
With decoupage, you can take things like mugs, boxes, furniture, and more and turn them into beautiful works of art. So get creative and let your imagination take over as you transform ordinary objects into something extraordinary. Taking on DIY projects without power tools can be fun and exciting.
3. Wallpapering
Wallpapering is a great way to give any room a new look without the need for power tools. It is a relatively simple process to do and can be done in just a few hours. The first step is to measure your room and purchase enough rolls of wallpaper to cover the walls.
Next, prepare the walls by removing old wallpaper, if necessary, and sanding them to create a smooth surface. And, apply the wallpaper with a brush or a roller, being careful to match the pattern of the wallpaper as you go. After you've completed this process, you will have a beautiful new look in your room.
And the best part is that it doesn't require any power tools to install. It is one of the easiest DIY projects without power tools required, and a DIY project with minimal effort. Start by measuring your wall space to determine the amount of wallpaper you need, and then simply follow the instructions on the wallpaper package to hang it up.
Once you have the wallpaper in place, you can enhance the look by adding trim and other details that will bring your vision to life.
4. Tiling
Tiling is a great way to add a stylish touch to your home without needing any power tools. Tiling usually involves installing small tiles in patterns or designs on walls or floors. You can purchase tiles in a variety of sizes, shapes, and colours, so you can get creative with your design. You'll need a few basic tools like a trowel, adhesive, tape measure, and a tile cutter. Tiling can take some time and effort, but the results can be worth it if you put in the work.
Tiling can be an intimidating task, but the rewards of a job well done can make all the effort worth it. All it takes is an eye for design and some patience ⁠— even DIY projects without power tools can be achievable. With the right approach and a little bit of help, you can create a stunning, eye-catching look that will turn any room into a work of art.
5. Woodburning
Woodburning is one of the classic DIY projects without power tools that DIYers enjoy. It's a great way to add a personal touch to furniture and home decor. With the right tools, you can easily create beautiful designs, monograms, and words on wood. As an added bonus, woodburning does not require a lot of supplies and materials and is fairly straightforward to learn.
If you want to get started on crafting and creating beautiful wooden masterpieces, all you need is a woodburning tool, a woodburning pen, and a few handy woodburning tips. Taking on DIY projects without power tools is a fantastic way to become an expert craftsman and create stunning works of art.
6. Stenciling
Stencilling is a great way to create intricate patterns quickly and easily. All you need is a stencil and some paint, and you can create unique patterns on your walls or furniture. Just make sure you use painter's tape to secure the stencil in place and use a foam roller to apply the paint evenly. You can also design your own tote bags with stencils and other items like t-shirts. With a little creativity, stenciling can be a great way to spruce up any item or room.
With a sprinkle of creativity, stenciling can be a great way to add a unique and personal touch to your home or any item. And, it's one of the fun, easy, and rewarding DIY projects without power tools – perfect for a weekend craft night with friends.
7. Macrame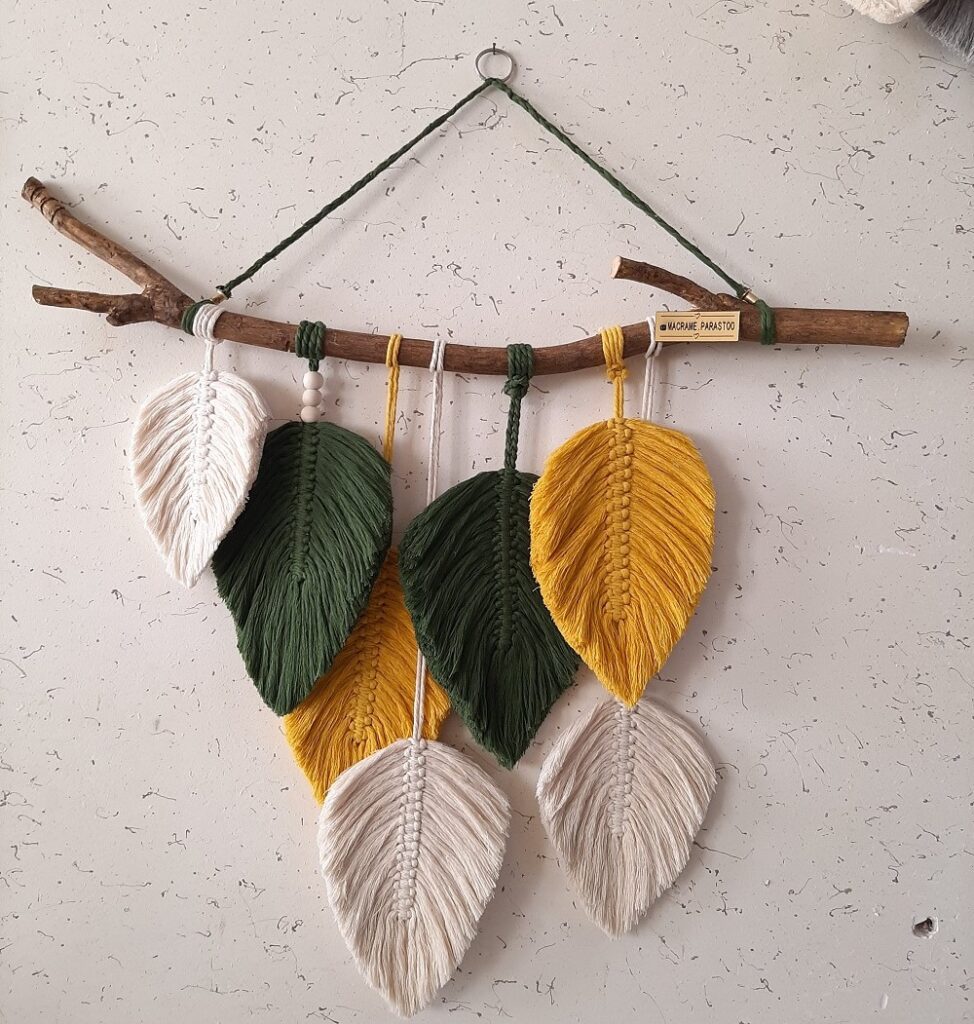 If you're looking for a unique and enjoyable way to add some homemade decorations to your home, macrame is the perfect option. Macrame is a form of textile craft that uses knotting techniques to create beautiful textile pieces.
You'll only need some basic supplies like cotton rope and a dowel or hoop as a frame to create intricate wall hangings, planters, and even clothing. Macrame is also an inexpensive and easy way to add some personal flair to your home decor.
Macrame can add a little bit of handmade charm to your home furbishing. Whether you are just starting with some basic knotwork or are already a pro at weaving intricate designs, it's a straightforward, affordable, and fun way to breathe life into any space.
And best of all, it is one of the DIY projects without power tools or any expensive materials for you to purchase ⁠— just a few pieces of string and a little bit of creativity will do!
8. Embroidery
Embroidery is an incredibly versatile and beautiful art form. It can be used to create stunning wall hangings, add a personal touch to clothing, or decorate other fabrics. All you need is a hoop, some fabric, and some colorful embroidery thread.
You can even use different stitches to create texture or use metallic threads to add sparkle. Embroidery is easy to learn and the results will add an extra element of beauty to any project.
Wrapping It Up
To wrap up, it is possible to create beautiful, one-of-a-kind pieces using only hand tools, with a little bit of practice and some ingenuity. DIY projects without power tools can be a great way to learn new skills and look great when complete.
Whether you're looking for something as simple as a homemade shelf or as complex as a rustic dining set, you can make it with hand tools. And when you take the time to craft DIY projects without power tools and instead use manual tools like saws, hammers, drills, and planes, you'll create an intimate bond with the material and feel a heightened sense of pride in the end result.
You will love the feeling of crafting something with your own two hands. You'll adore the beauty of DIY projects without power tools!