Making these super squishy stress balls can be a great bonding activity with your kids.
If you're constantly stressed out, I have a treat for you. This DIY super squishy stress ball is super easy to make – and it's very addicting, too! So far, I have made about a dozen pieces and given them away to family and friends.
I've always been a fan of making slime. My kids love them! Playing with them is very relaxing. But I never thought of putting them inside a balloon to make stress balls. I think it's a brilliant idea. Plus, these super squishy stress balls are very easy to make.
Our Pick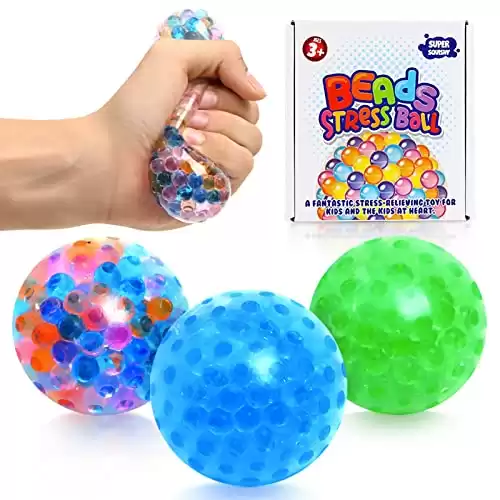 There's nothing quite like a colorful, squishy stress ball to help you relieve tension and anxiety. And with so many fun designs available, it's easy to find one (or a few!) that inspires you to make your own DIY.
From simple and soothing to downright whimsical, these stress balls are sure to put a smile on your face and help you de-stress in no time. So take a deep breath, grab your favorite design, and let the squeezing project begin!
Colorful super squishy stress ball designs
Click on any image to start the lightbox display. Use your Esc key to close the lightbox.
You can actually do this project with your kids. It'll be a great way to bond with them. You can make them using different colors for variety. Try it out today and you can squeeze your worries away.
Here's what you'll need to get started:
Materials:
Elmer's glue
Liquid starch
Food coloring
Balloon
Fishnet
Tools:
Mixing bowl
Fork
Scissors
How to make a super squishy stress ball
If you're looking for a fun and easy way to relieve stress, then why not try making your own stress ball? Super squishy stress balls are a great way to help you relax, and they're also really easy to make! Just follow these simple steps:
1. Mix the ingredients
To make your own super squishy stress ball, you'll need the mixing bowl for your Elmer's glue, food coloring, and liquid starch. For this step, you can use any type of glue you prefer. Add the glue to the bowl, then drop in a few drops of food coloring. Add the liquid starch and mix thoroughly until the mixture becomes soft and elastic.
2. Insert the mixture into the balloon
To add the mixture to the balloon, simply insert it using a small flask and a soft or round pen. You'll want to add more mixture until it becomes about the size of a tennis ball.
Now that you've added the mixture to the balloon, it's time to close it off by tying a knot. This will keep the mixture inside the balloon so you can use it later.
3. Add the fishnet stocking
Once you have your super squishy stress ball, you can now wrap it with a fishnet stocking. Then, close it with a small button or simply tie it up. By doing this, you will be preserving the shape of the ball and adding an extra layer of scratch protection at the same time. Plus, it'll look really cool!
You can then repeat the process until you have the desired number. Just remember to be patient and take your time with each step for the best results!
And that's it! Your super squishy stress ball is done! Now you can start squishing to your heart's content. If you find that your stress ball is getting too squished, you can always add more stuffing to it. But be warned – once you start squishing, it's hard to stop! 😉
Here's the full video tutorial:
If you liked this project, you might also like to view another stress reliever DIY Play Foam…