For lovers of anything vintage, this cassette tape coffee table is perfect for you.
A room should have a focal point – a talking point, if you may. Whether it's a painting, a sculpture, or a piece of furniture, it should be something interesting. It must be unique enough to be the topic of conversation.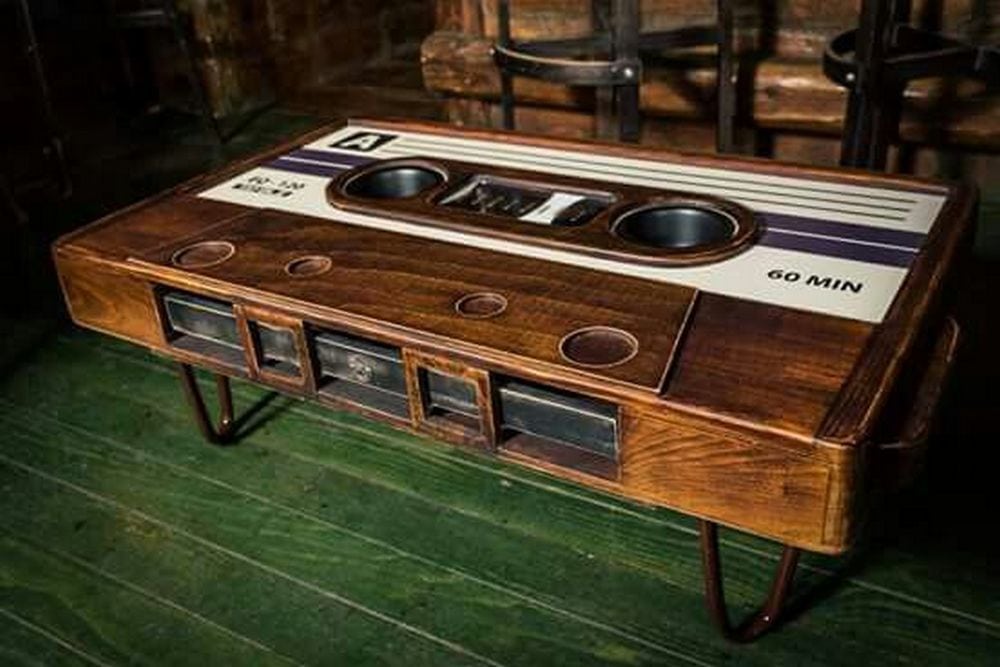 Choosing furniture is not an easy task. The way you decorate and furnish your home speaks a lot about your personality. This is why most people take the job seriously. They want their space to reflect who they are. But With mass-produced furnishings, how does one find something unique?
This cassette tape coffee table is a perfect example. If you're the type of person who's into vintage-themed stuff, this project is right for you.
Our Pick
Do you remember the good old days when you used to listen to music on cassette tapes? Well, those days may be gone, but you can still bring a little bit of that retro style into your home with cassette tape-inspired furniture.
There are plenty of ways to design furniture using old cassette tapes, and we've rounded up some of the best examples to inspire you. From colorful designs to more minimalist looks, there's sure to be tape-tastic furniture that's perfect for your home.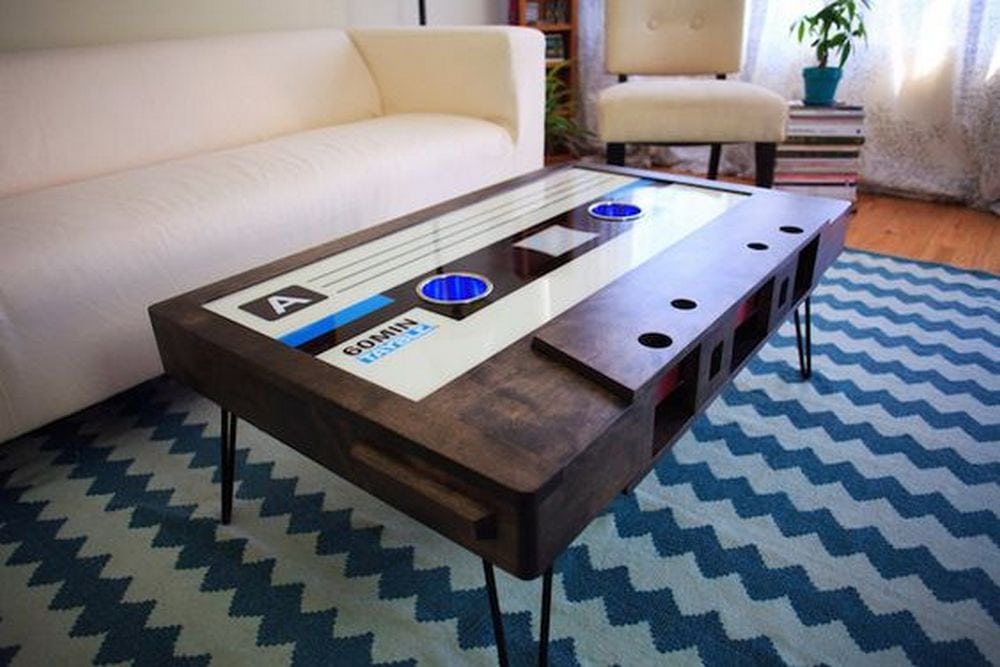 Whether you're a fan of retro music or just love the look of vintage decor, these pieces of furniture are sure to inspire you. So, what are you waiting for? Get creative and start your own DIY coffee t
Cassette tape-inspired vintage DIY coffee table design ideas
Click on any image to start the lightbox display. Use your Esc key to close the lightbox.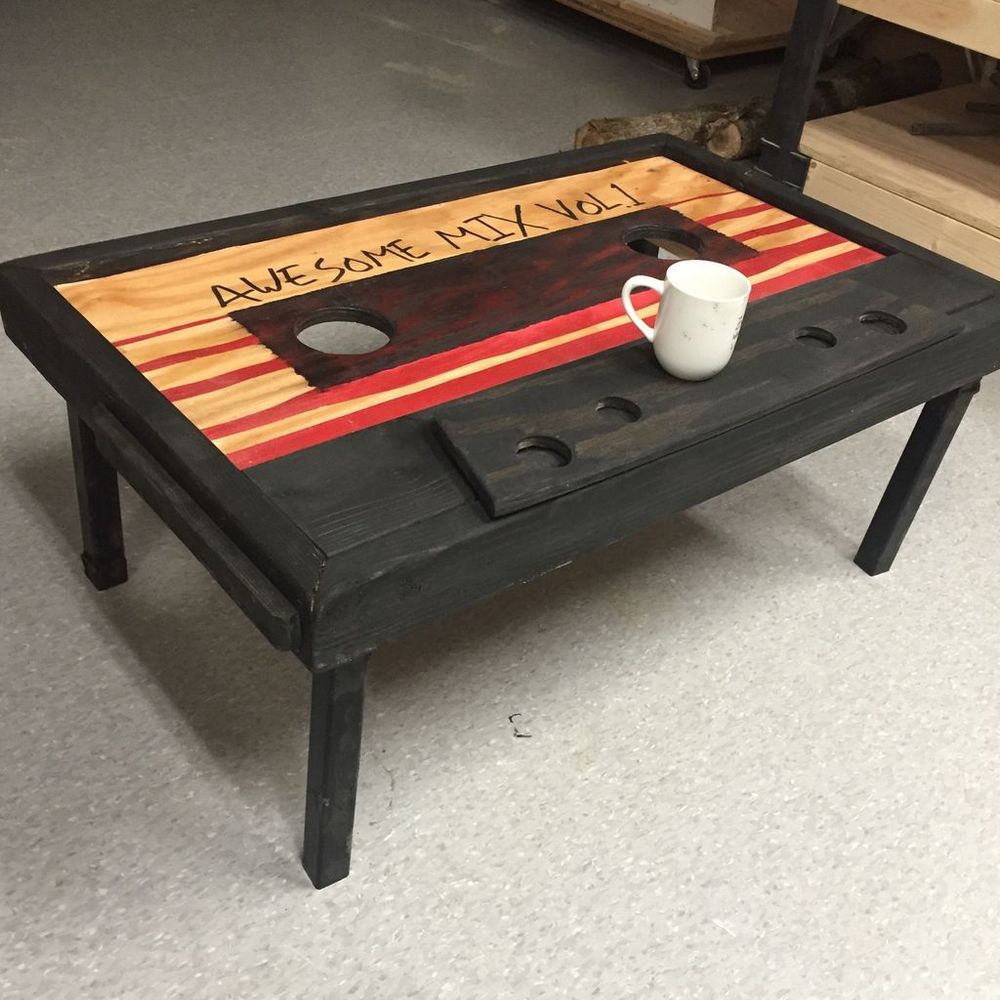 Unique and interesting, this furniture piece will surely stand out.
Here's what you'll need to get started:
Materials:
(2) 2″x4″x8′ timbers
(2) 2″x6″x10′ timber
(1) 6″x27″x1/4″ plywood sheet
(1) 1/2″ plywood
assorted paint/stain
table legs OR use scrap steel/wood to build your own legs
3″ wood screws
wood glue
Tools:
power drill
2″ diameter hole drill attachment/bit
4″ diameter hole drill attachment/bit
drill bit slightly thinner than your 3″ screws
orbital sander + sanding disks
table saw
miter saw
paintbrushes
painter's tape
tape measure
speed square
How to make a cassette tape-inspired vintage DIY coffee table
Most of us are music lovers. And what could be cooler than a coffee table made out of vintage cassette tapes? This DIY project is not only inexpensive, but it's also unique furniture that will surely impress your guests. Here's how to do it:
1. Prepare the plywood
Determine the coffee table measurement you need. Once done, you can now cut your plywood using a miter saw. To smoothen the surface and edges, use sandpaper. Wipe them to remove debris.
2. Build the frame
Once all plywood has been prepared, you can now build the frame.
Arrange them in a rectangular shape then drill some holes. Connect them using wood glue and wood screws.
Flip it over and add the plywood. Attach to the frame using wood glue and wood screws.
If you wish to attach legs to the 2×6 braces now or later, you can do so.
3. Add the cassette tape look
The two holes that look like the holes in a tape deck give its cassette tape look. The plywood sheet should be drilled with a 4″ drill bit in order to make these.
Place the center points of the holes from the upper corners by 10.5 inches.
The trapezoid shape on the bottom of a cassette can be replicated by cutting a 6 x 27 x 1/4″ piece of plywood with the saw, sawing the sides at a 30-degree angle, and drilling four accent holes.
Connect the trapezoid to see if it fits well. Drilling from the top down would be much more secure and level than drilling from its underside.
There is a raised notch on the side of a cassette that guides it into the player. We can use a scrap piece of wood, this will be cut into 14 x 1 1/2 x 3/4″ and rounded with a power sander. The sides were then screwed together.
To make everything smooth, use an orbital sander or sanding disks.
4. Stain and paint
First, stain your coffee table. Let it dry.
Next, choose what color would you like your cassette tape to be. Now apply the paint randomly, with a faded design preferably. You can put any design you want. Just be creative!
5. Add the legs
Once the paint applied on the plywood is dry. You can now attach the legs.
It is typical for a coffee table top to be 14 to 18 inches tall, so you will want to purchase/build legs that are around 12 inches.
That's it! You now have a vintage cassette tape coffee table! Enjoy it while having coffee with your guests, or use it as a conversation starter. This unique piece of furniture is sure to be a hit with anyone who sees it.
Here's an additional tip:
If you're a big fan of Marvel's Guardians of the Galaxy, and you would like to have your coffee table look like one of Peter Quill's cassette tapes, just simply use an ebony stain all over. Then add some red stripes using red spray paint. Lastly, use black spray paint to write the Awesome Mix Vol. 1 text on top of the two holes. That's it! You now have a legendary cassette tape coffee table from the movie!
A one-of-a-kind coffee table that is sure to be a conversation starter. This table is the perfect way to show your love for movies and music. 😎🎬
Here's a quick video…
Thanks to NicolasBarrows for this great project. You can get step-by-step instructions here…
If you liked this project, you might also like to view The Beetle-Shaped Coffee Table With Fold-Out Wings