After a long and tiring day at work, it's nice to come home to chill and relax. One of the best ways to recharge is with the use of essential oils. Having an essential oil burner is great. You can just light it up in your room or as you soak in a tub. Soon, the aroma of the oil will waft through your nostrils and leave you feeling relaxed.
There are burners available but you can easily make one of your own. If you have an extra terra cotta pot with a lid, try out this DIY project. It's very simple and easy to make. Just a drill and a drill bit and you're good to go.
Our Pick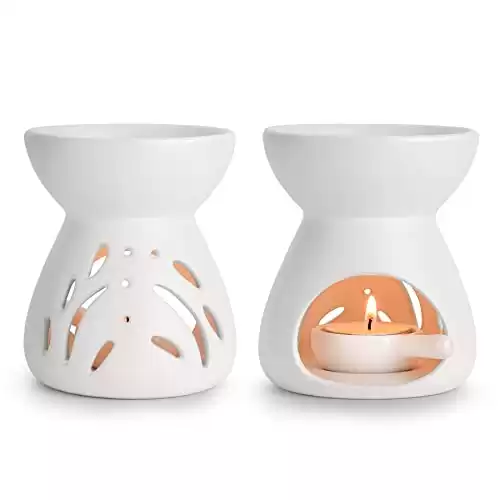 These easy-to-make diffusers will help you enjoy your favorite oils even more. Whether you want a simple design or something more elaborate, there's a DIY essential oil burner here for you. Choose from ceramic, glass, or even metal diffusers – there's something to suit every taste. So why not give one of these diffusers a try? You'll be amazed at how much more you enjoy your essential oils when you have a beautiful diffuser to use.
Benefits of essential oils
If you're looking for a natural way to improve your well-being, essential oils may be a good option for you. Essential oils are substantially beneficial to our health. They are used throughout folk and traditional medicine because of their healing power and their aromatic smell. Their main use is to help heal the body and encourage well-being. Although, many ancient claims about them are supported by modern medicine, such as:
1. Reduces stress
Aromatherapy uses essential oils to manage stress. Researchers discovered that male volunteers who inhaled 2.5, 5, or 10 drops of orange oil had reduced their stress and anxiety. Although further study is required, the initial effects were encouraging.
2. Helps to cure fungal infections
Traditional medicine has long touted tea tree oil's antimicrobial effects. Early research has shown good results. Infections such as oral thrush and athlete's foot, have been cured with the oil. Again, further study is required.
3. Promotes good sleep
Studies have shown that lavender essential oil can enhance mood, anxiety, and sleep quality. It is even thought to be an effective remedy for insomnia. Lavender oil was sprinkled onto towels around the pillows of older adults living with dementia. They were asked to lie in the towel-covered bed. While in the towel-covered beds, they fell asleep on average 67% of the time. Furthermore, participants who received the lavender therapy had more extended sleep durations than normal participants.
This effect was even seen in participants who were not experiencing sleep disturbances. Additionally, the sleeping pattern of the participants receiving the lavender therapy was significantly better, meaning that they got more sleep overall, compared to participants who did not receive lavender therapy.
4. Helps to prevent disease
As antioxidants, essential oils support the protection of our cells against free radical damage. This condition can lead to serious diseases such as cancer, so researchers are inquisitive as to how essential oils can boost our antioxidant intake and extend life.
Check out these fabulous DIY essential oil burner designs! From whimsical to elegant, there's sure to be a style that inspires you. Whether you're looking for a fun project to do with the kids or a beautiful addition to your home décor, these DIY essential burners are sure to please.
DIY essential oil burner design ideas
Click on any image to start the lightbox display. Use your Esc key to close the lightbox.
Making your own essential oil burner is a great way to enjoy the benefits of aromatherapy without having to spend a lot of money. Plus, it's a fun project that you can do at home!
To make this DIY project, you'll need the following tools and materials.
Terra cotta pot with saucer
Pencil
Bowl of Water
Tea light
Essential oil
How to make a DIY essential oil burner
1. Clean your terra cotta pot and saucer
To clean your terra cotta pot, start by filling a bowl with water. Submerge the pot and scrub it gently with a sponge. Once the pot is clean, rinse it off and set it aside to dry. If your pot is extra dirty, you may need to repeat this process a few times.
2. Draw a pattern at the lower portion of the terra cotta pot
Draw an oval or circular shaped pattern at the lower portion of the terra cotta pot, big enough for the tea light to fit. This will allow the tea light to properly illuminate your space.
3. Drill a hole
Using a 562 Dremel bit, carefully drill a hole (follow the pattern) at the lower part of the terra cotta pot.
4. Insert the tea light
Add the tea light. Place at the bottom of the terra cotta pot.
5. Add the Saucer
Add the saucer to the top of the terra cotta pot. This will serve as your plate for your essential oils.
6. Add an essential oil
Add a few drops of your favorite essential oil to the saucer.
You can now light the tea light inside the terra cotta pot and enjoy the benefits of aromatherapy by taking a deep breath in and letting the oil's scent relax and rejuvenate you!
You can watch the video tutorial here…
Thanks to the Learning Resources Blog for this project. Get the full step-by-step instructions here….