Recycle old toy blocks and make photo puzzles out of them.
Choosing the right gift for a friend or loved one can be difficult, particularly when you're shopping for somebody who seems to have everything! The last thing you want to do is spend money on a gift that's going to sit on a shelf, unused.
There are a few things more frustrating than knowing that a gift you chose to give someone isn't what the recipient wanted.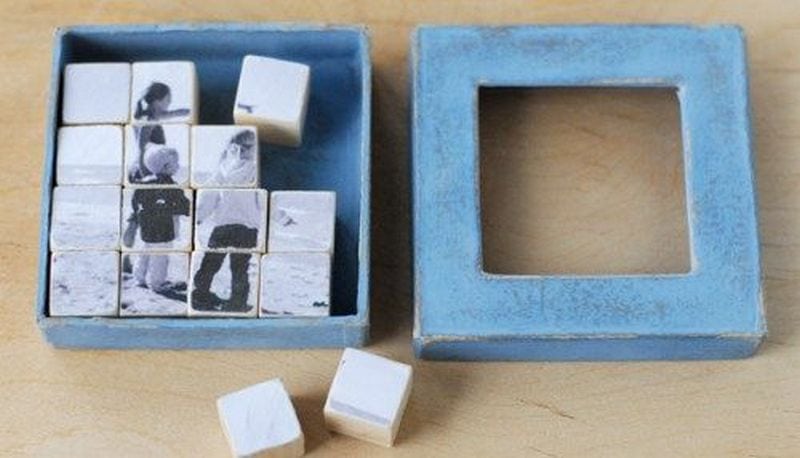 Customized gifts, on the other hand, say a lot about the giver. It shows how much thought is put into a gift and I love that they are so… personal. This is why I am constantly looking for customizable gifts.
Recently, I came across the idea for photo blocks. I read about them several times through various blog sites and each had its own version. I love that they're very easy to make, too.
This project uses old toy wooden blocks that were used by kids as puzzles. If you have one of those, you should give this project a go. Make these DIY photo puzzle blocks using your kids' photos, or those of your friends. Place them on your table as home décor, or give them as gifts.
There's nothing quite like a personalized gift, and what could be more unique than a photo puzzle block?
With a little bit of creativity, you can turn your favorite photos into unforgettable puzzle blocks. These DIY designs are sure to inspire you.
Whether you're looking for a gift for a special occasion or just a fun way to show off your favourite memories, DIY photo puzzle blocks are a great option. Here are a few ideas to get you started.
DIY photo puzzle block design ideas
Click on any image to start the lightbox display. Use your Esc key to close the lightbox.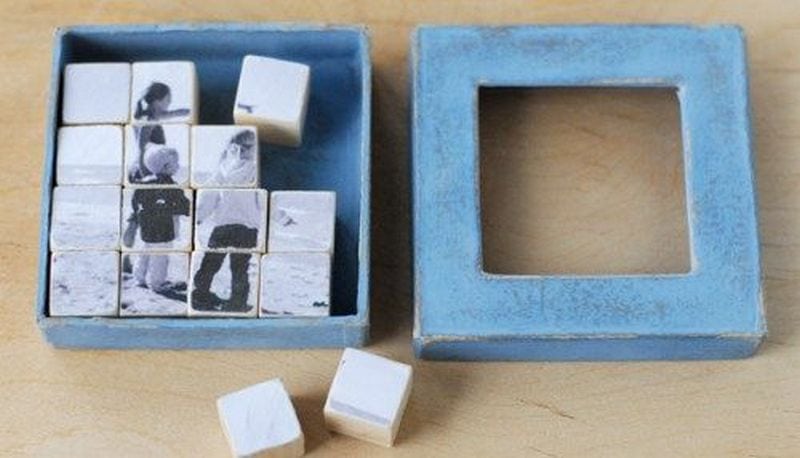 This project is very easy to make, and no high-level skills are required. You'll find the tools and materials in most arts and crafts stores.
To get started, here's what you'll need:
Materials:
Printed photos of your choice
Wooden cubes
Sandpaper
Cloth/brush
Mod podge
Paper
Cardstock
Glue/double-sided tape
Tools:
Ruler
Scissor
Pencil
X-acto knife
Butter knife
How to make DIY photo puzzle blocks
Making your own photo puzzle blocks is a great way to keep your kids entertained while also getting them to use their creative minds. Plus, it's a fun activity that you can do together as a family. Here's how to make your own DIY photo puzzle blocks:
1. Print your photo
You can choose to print your own photo, your travel photo, your family photo, a cherished childhood photo, or a friend's photo. Once printed, let it dry for a few hours.
2. Clean your wooden cubes
You can easily clean your wooden cubes using sandpaper and cloth. First, use sandpaper to smoothen the surface of the cubes. Then, wipe the surface with a cloth to remove any debris. Your wooden cubes will look good as new in no time!
3. Make a guide
To make a guide, measure your wooden cubes. Based on the measurement, make a guide. You can use a piece of paper, or a board.
If you're using a piece of paper, simply trace the outline of the cube onto the paper. Then, use a ruler or other straight edge to draw lines connecting the opposite sides of the cube. This will give you a cross-section of the cube that you can use as a guide for cutting.
Otherwise, if you're using a board, it's a good idea to first mark out the dimensions of the cube with a pencil. That way, you'll have a clear reference point to work from. To cut the cube out of the board, you can either use a sharp cutter or an X-acto knife.
Now that you have your guide, you can trace it to your photo. The excess part shall be removed. The photo shall have the same size as the puzzle blocks combined.
4. Cut your photo into smaller pieces
To make a puzzle photo, cut your photo into smaller pieces. Measure the dimensions of each wooden cube. Draw the measurement at the back of your photo. Following the measurement, you can now cut your photo into smaller pieces.
5. Apply the mod podge
Apply a small amount of mod podge to each wooden cube.
To make your photo cubes, start by applying a small amount of mod podge to each wooden cube. Then, take your small photo pieces and stick them to the cubes. Once all of the pieces are in place, gently press them down using a cloth. And that's it! Your photo cubes are now ready to be enjoyed.
Repeat this process with all wooden cubes.
Be sure to add a second layer of mod podge on top of each photo. This will ensure that they're properly sealed. Let it dry thoroughly before proceeding.
6. Make your own box
If you're the type of person who loves a good photo puzzle, then you know the importance of keeping them organized. The last thing you want is to misplace a piece and ruin the whole puzzle.
That's why we recommend making your own storage box for your photo puzzles. That way, you can keep them all in one place and avoid any mishaps.
To avoid misplacing your photo puzzle, make your own box to store them. Here's how:
First, you'll need a neat carton (large enough to fit all of your photo puzzles)
Using your guide from the previous step, draw a square on the carton
Use one of the wooden cubes to trace the height of the box. Mark each side.
Use a ruler to trace where the folds will be
Cut the corners and fold to provide the height of the box
Apply glue or double-sided tape to close the sides of the carton box
Make another one with the same process. This will serve as the cover
Remember to take your time; if you need to, you can always ask a friend or family member for help. With a little effort, you'll have a beautiful, one-of-a-kind piece of art that you can enjoy for years to come.
And that's it! Your photo cubes are now ready to be enjoyed.
Puzzle blocks make a great gift for friends and family. This is also a fun display for your living room. Give it a try today and see how much fun you can have with this unique and challenging activity with your kids! 😊
Watch the video below to see how to make this DIY photo puzzle box.
Thanks to the Learning Resources Blog for this project. You can get the full step-by-step-instructions here.