There are toys our children outgrow. You can give them away to friends with little kids or put them up for sale. But hold on to some plastic army men your son seems to have hundreds of them.
The words 'toy soldiers' will bring a smile to any boy's face. There's never been any evidence to suggest kids who play with them are more likely to be warlike when they grow up, anyway. In fact, by learning to cooperate and abide by rules, kids who play with toy soldiers can function better in society later on, according to some experts.
Check out these awesome plastic army men's bowl designs! Whether you use them as decoration or as part of a play set, these bowls are sure to inspire you. So get creative and see what you can come up with!
Our Pick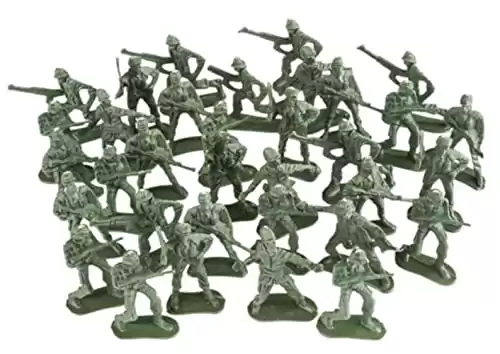 144 PCS Army Men Toys in Various Poses
A bulk set of 144 army men toys for boys in various stances, ranging in height from 1.75 inches to 2 inches, is included in our package.
Buy on Amazon
We earn a commission if you make a purchase, at no additional cost to you.
12/01/2022 12:48 pm GMT
Awesome plastic army men's bowl design ideas
Click on any image to start the lightbox display. Use your Esc key to close the lightbox.
You can breathe new life into your child's plastic army men by turning them into a bowl.
This project is very easy. If you already have plastic army men, you won't need to spend anything. However, if you don't have plastic army men, you can buy them online. It was inexpensive. The price ranges from $ 3 to 6, depending on where you buy them.
Before you proceed, here's a word of caution. Because you'll be melting plastic, work outdoors. Wear a protective mask so you don't inhale the fumes. And be careful not to touch the metal bowl during and right after work. Let it cool down first because it's extremely hot.
Needless to say, do not work with, or near, children. Keep them away. Remember, it's always safety first.
Plastic army men
Metal Bowl
Heating gun
PVA glue (optional)
Oven gloves
Face mask/protective face gear
How to turn plastic army men into a bowl
1. Arrange the army men
When you're ready to arrange your army men, start by positioning the bases on the ground. Then, place your army men according to your desired arrangement.
2. Attach the two men
Now transfer them to the metal bowl.
Start with the first 2 army men. Attach these two by using the heating gun. Don't let them get too near to the heating gun or it may burn or melt down. Heat them just enough to have them attached to each other.
This will serve as the center.
3. Add the rest of the army men
After attaching the two men together, next will be heating the other army men to join these two army men. Turn it around and continue adding army men until you occupy the full space of the bowl. Let it cool down for a while.
Be careful not to touch the hot bowl with your bare hands. The metal bowl may get too hot, be sure to use your oven gloves.
When working with these army toys, it's important to use your protective gear to avoid exposure to toxins and poisonous fumes. If you're not careful, you could easily become sick from inhaling the fumes or coming into contact with the toxins. So please be sure to take the necessary precautions to keep yourself safe. There are a lot of poisonous fumes generated by this process.
4. Remove from the bowl
Let the army men bowl cool completely before handling it.
Once the army men's bowl has cool down, you can now remove it from the bowl.
5. Apply PVA glue
To make it extra sturdy, you may apply PVA glue on top of these army men. Apply it twice. On the last coat, your army men will have a nice shiny finish.
And that's it! You can add a few stuff here from your kitchen. You can also place here your keys so you won't misplace them.
For example, you can keep a fruit bowl or a tray with snacks on it. You can also place your keys here, so you won't misplace them. By having a designated spot for these items, you can help yourself stay more organized and save time.
You can get step-by-step instructions here…
And here's a quick video tutorial…