Got a number of unused golf balls at home? Then recycle them and make a cute decoration for your garden!
Painting these balls to look like ladybugs is easy so it's a great project to do with kids. As long as they already have good control of their hands, they can definitely make their own beautiful DIY ladybugs. Just don't forget to wear an appropriate mask when you spray paint these balls!
The featured DIY ladybugs here are an example of the basic way to make this cute decor idea. But you can be more creative. Use other recyclable materials such as old wire hangers and empty plastic bottles to create the legs and wings!
Is this going to be your next family fun activity?
Materials:
Golf Balls
Sandpaper
Primer Spray Paint
Acrylic Paint (Red, Black, White)
Varnish
Tools:
How to make your own golf ball ladybugs
1. Clean your golf balls
Use sandpaper to smoothen these golf balls. Wash & let it dry.
2. Spray primer
Spray a primer on the surface of the balls to make sure the paint adheres. Let it dry.
3. Apply red paint
Apply the red paint to your golf balls. Add black paint to draw the face and body of the ladybugs. You can add a varnish. Let it dry and display!
Click on any image to start the lightbox display. Use your Esc key to close the lightbox.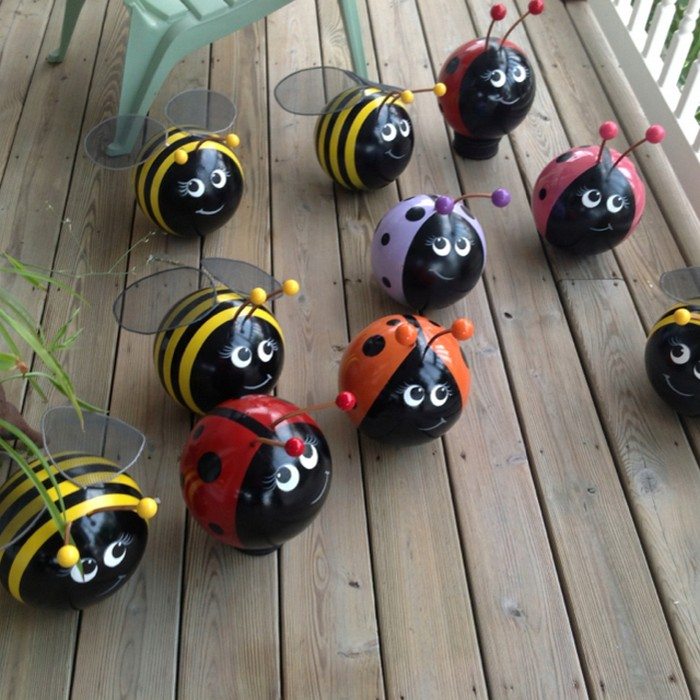 Thanks to Art Drops for this great project. You can get step-by-step instructions here…
If you liked this project, you might also like to view DIY Ladybug Rocks...