Here's a wonderful witch's potion bottles project for every fan of all those novels and movies full of magic and witchcraft! These would make a wonderful gift or you could do it as a family project with the Harry Potter fans in your family!
Made from nothing more than an empty pill and vitamin containers (plus a lot of love and a little magic), these really are low cost yet look like they cost a small fortune.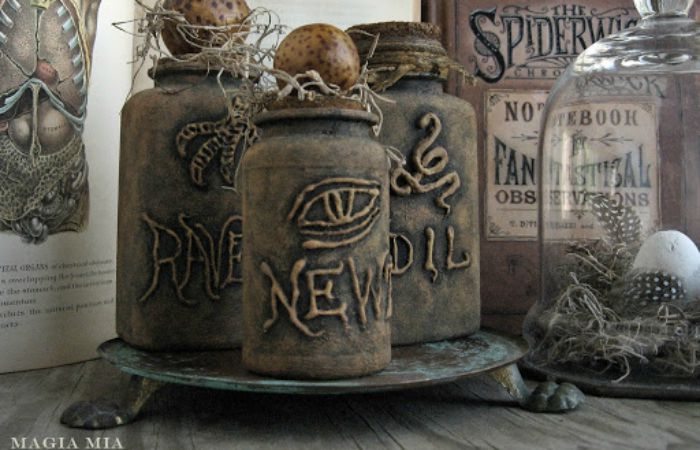 These potion bottles are a cute decor set to put in any part of your house for this Halloween. Or you can use them as awesome condiment containers when hosting a get-together this festive season!
Ready to get started?
Click on any image to start the lightbox display. Use your Esc key to close the lightbox.

Materials:
Small Plastic Bottles (such as medicine and vitamin bottles)
Tin Cans (such as seasoning containers)
Chalk Paint Colours (black, dark brown, rust, orange-yellow)
Sandpaper
Tracing and Transfer Paper (optional)
Matte Clear Coat (optional)
Corks
Tree Bark Chips
Art Markers / Alcohol Ink
Sand / Pebbles / Marbles (to give bottles some weight)
Twine
Tools:
Hot Glue Gun
Serrated Knife
Sponge / Foam Paintbrush / Little Mop Brush
Steps for making witch's potion bottles:
The first thing you need to do for plastic bottles is to cut off the threaded necks using a serrated knife. This will give your bottles a classic, apothecary look. Alternatively, you can cover the neck with twine, scrap fabric, or wax coating.
For tin cans, you will have to get rid of the lid. Some tin cans have plastic covers which are easier to remove.
Remove all sticker labels and sand the exterior surfaces of your containers, so that paint will hold much better later. (If you plan to use these Halloween bottles to store spices and other food ingredients, make sure to clean them thoroughly at this point.)
Now you can proceed to add your designs with a hot glue gun. You can do this directly to the bottles, but you can also use tracing and transfer paper if you wish to replicate your designs in the future.
When applying hot glue, let the little glue strings stay on the bottles. Don't remove them as they add to the character of your potion bottles.
Once your designs have dried, you can then paint the bottles starting with black. (Remember that if you are going to use this to store food ingredients you should be careful not to get any paint inside.)
Let the paint dry. Then using a foam brush, dab on dark brown, then rust, and lastly a pale orange-yellow. Water down these paints so as not to leave any sponge or brush marks on your bottles.
Do NOT apply these lighter colors on the crevices and immediate surroundings of your design. When done, you can let them dry a bit and then fine-tune the crevices with black paint if needed. The light colors on the hot glue and the dark crevices will emphasize your design.
Protect your bottles with a clear matte coat if you plan to use them for a long period, or again for next year's Halloween.
The bottle stoppers:
Once you're satisfied with how your bottles look, you can then play around with making the bottle stoppers. Use whatever available materials you have. What's important is for them to look like they're made out of things usually found in forests.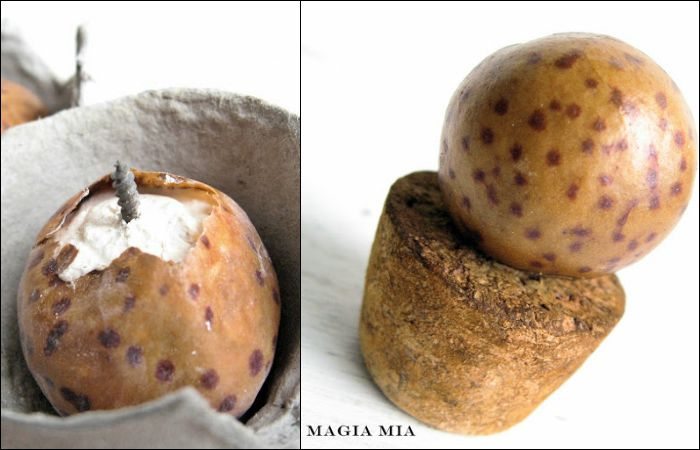 This one is made from speckled oak galls, simply filled with plaster to make it solid. An eye screw was inserted so it could be attached to a cork. To finish with a natural, rustic look a little bit of Spanish moss was added.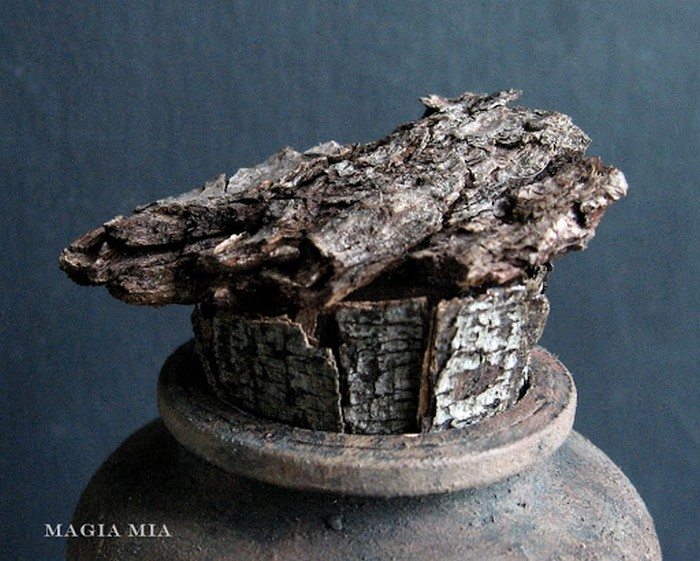 This one on the other hand consists of tree bark chips, which shouldn't be difficult to find outdoors. :) You can simply cover a cork stopper with small bark pieces using hot glue and that's it!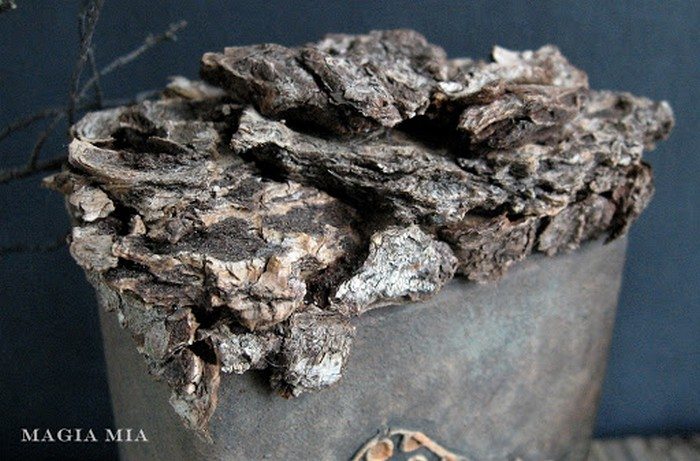 Almost the same goes for the spice tin can. If you have some cork sheets, cut them to shape and size a little larger than the tin can opening. Glue together three layers, and then sand the sides down so that the cork fits just right with the opening. Then again, cover it with bark chips.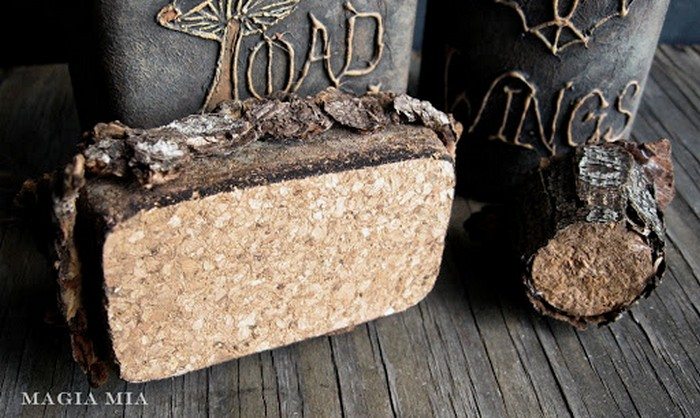 To make your corks look old and weathered, darken them with art markers or alcohol ink.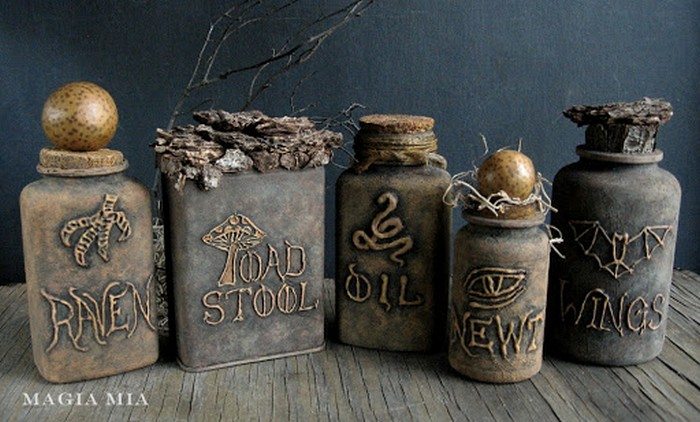 Fill each container with sand or put some small rocks to give them some weight. And you're done!
Thanks to Maria (Magia Mia) for this wonderful project! Take a look at her amazing site. It's full of inspiring ideas!