Allowing children to explore their creativity can foster their imagination and inspire them to come up with unique and innovative ideas. This then leads to self-expression and can be an enjoyable and exhilarating experience for them.
That's why we're sure your kids will love this very easy project!
They can do it themselves, with your guidance. Just make sure they are wearing clothes you wouldn't mind getting dirty. Glow in the dark paints are usually waterproof, so once it gets to their clothes you have to wash them quickly!
Our Pick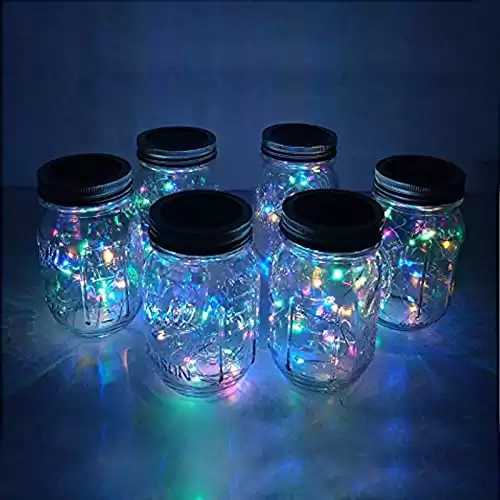 6 Pack Solar LED Mason Jar Lights
No need wire, really eco-friendly, save electric bill. Good idea for indoor and outdoor decorations like garden/patio/deck/wedding/party/Christmas/holiday and other festival or occasions.
Buy on Amazon
We earn a commission if you make a purchase, at no additional cost to you.
12/01/2022 05:43 pm GMT
A glowing jar will be nice especially once you have turned off their lights for bedtime. It's also great to put them on the patio or garden.
What you'll need to create a DIY glow in the dark jar…
Materials:
Glass Jar – the bigger the nicer
Glowing/Luminous Acrylic Paint
Paintbrush
Water
How to create a DIY glow in the dark jar?
1. Wash the jars
Wash your jars clean. Use soap and water to clean it, and dry it thoroughly. Before starting the project, make sure the jar is clean and free from any dust or debris.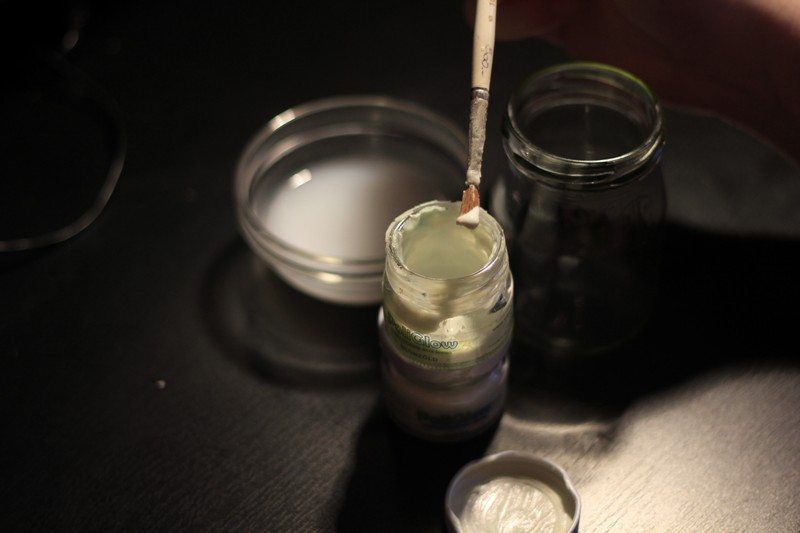 2. Pick your paint
A glow in the dark paint is a specialized product that contains phosphors, which are substances that emit light when exposed to radiation. There are different types of glow in the dark products, including acrylics, spray-on, and powders. Each type has its own characteristics and advantages.
Acrylic glow in the dark paint is a water-based paint that can be applied to various surfaces. It is commonly used in many craft projects as it is easy to use and dries quickly, and it is available in a range of colours. It is also a good choice for small to medium-sized projects that require a smooth and even surface.
Choose the acrylic type for your glow in the dark jar. It is best suited for your project!
3. Choose your design and paint tiny dots in the jar
Choose and know your design. From galaxy or starry night sky to animal prints, the options for design are many.
Then, mix the paint using the brush to make sure the glowing particles are evenly distributed.
Make tiny and thin dots inside the jar based on the design you want to achieve. Make sure to avoid clumps or streaks. Apply multiple coats to get the desired level of glow.
However, when applying the paint, it is important not to apply too much at once. This can lead to clumps or streaks, which can affect the quality of the glow. Instead, apply a thin layer and allow it to dry before applying another layer.
By applying the paint in thin layers evenly, you can ensure that the glow in the dark effect is consistent and bright.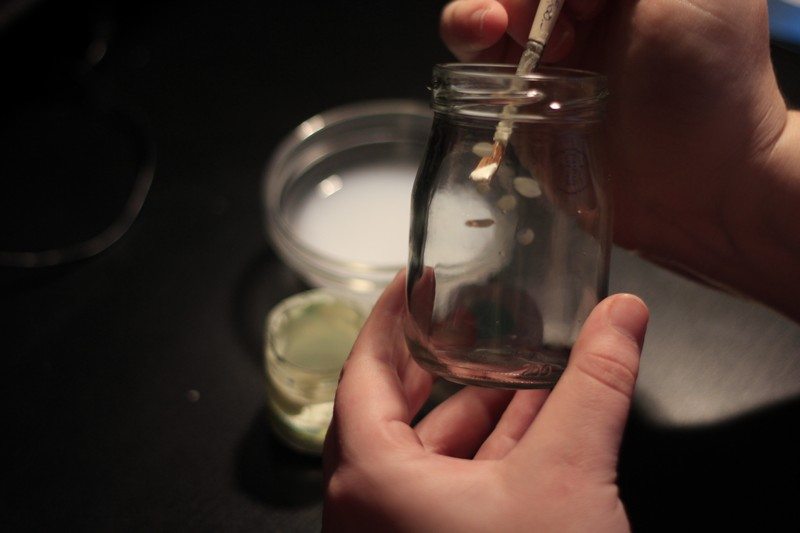 The more dots, the better.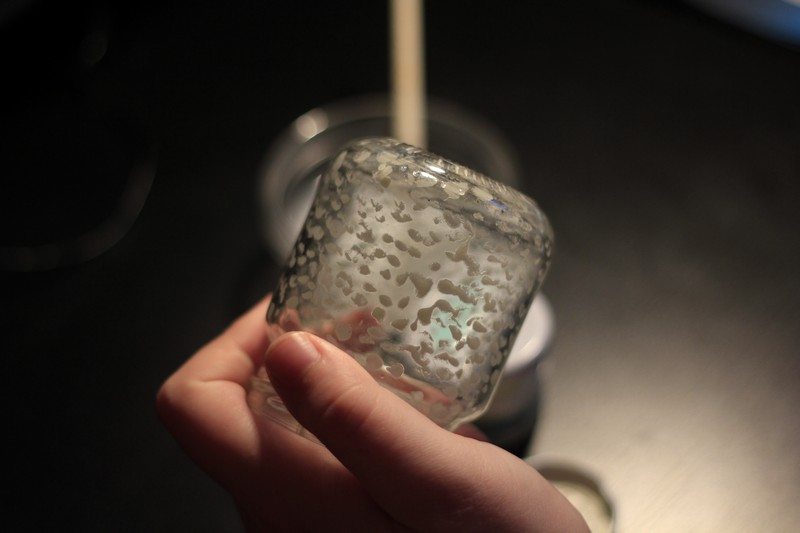 3. Expose your jar to light
To activate the glowing effect in a glow-in-the-dark jar, the jar needs to be charged with light. This is because glow-in-the-dark paint or powder contains phosphors, which absorb light energy and store it. When the light source is removed, the phosphors release the stored energy as a glow.
The amount of time needed to charge the jar can vary depending on the type of paint used, as well as the strength of the light source. Some types of paint require only a few minutes of exposure to light, while others need several hours. The instructions provided with the paint will specify how long the jar needs to be charged.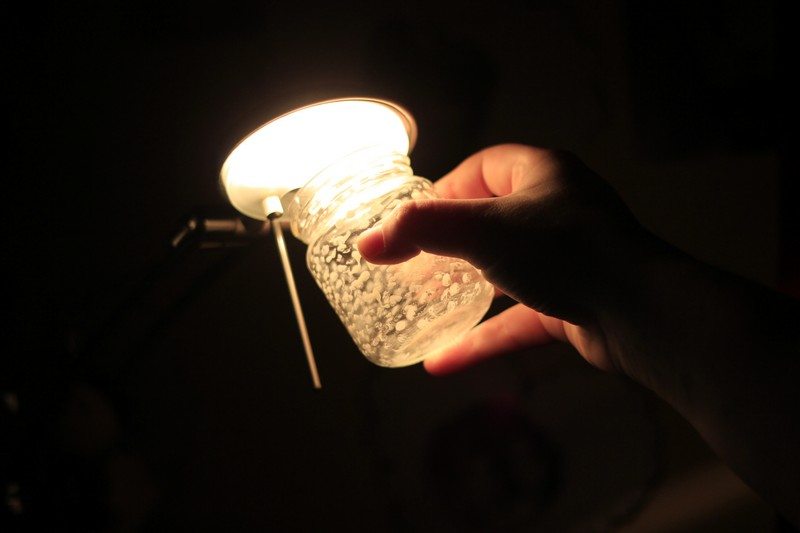 It's that easy!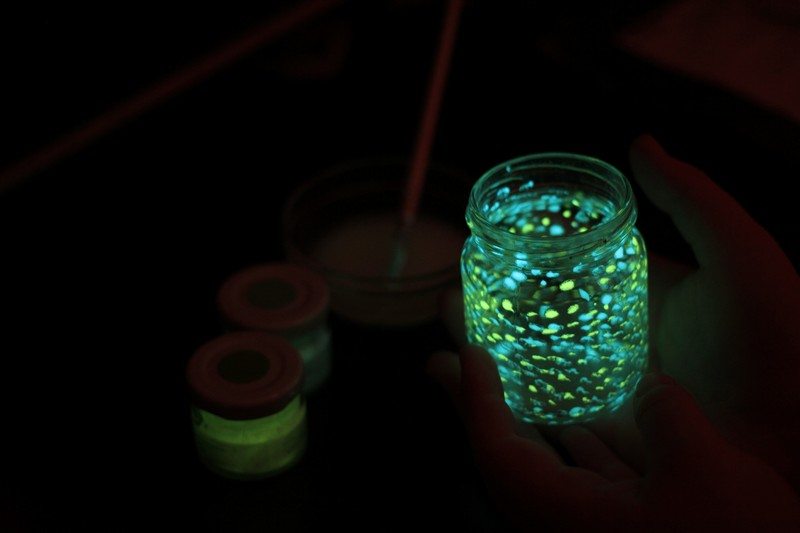 Experimenting with designs when it comes to glow in the dark paint jars is a fun and creative way to personalize your project.
Here are some design ideas for glow in the dark jars:
1. Galaxy or starry night
Create a galaxy or starry night effect by painting the jar with dark blue or black paint, then adding dots of white or yellow paint to represent stars. With the glow in the dark paint, they will glow like real stars in the sky!
2. Aquatic theme
Combine different colours of glow in the dark paint to create unique designs and colour combinations. For example, you can use blue and green paint together to create an aquatic.
3. Gradient effect
Use glow in the dark paint to create a gradient effect by starting with a light colour at the top of the jar and gradually blending into a darker colour at the bottom. Use contrasting colours for a unique effect.
4. Animal Print
Paint the outside of the jar in a light colour and then use a small brush to create dots of glow in the dark paint in an animal print pattern, such as leopard or zebra.
These are just a few ideas to get you started designing your glow in the dark jars. Feel free to get creative and come up with your own ideas!
Where is the best place to display your glow in the dark jars?
Glow in the dark jars creates a relaxing and cozy atmosphere. Once you've made your jars, place them in areas where you can really enjoy their glow. Place them on a windowsill, on a bedside table, or on a shelf in your living room. When the lights are off, the jars will emit a soft, soothing glow, creating a peaceful ambience in your home.
You can also use your glow in the dark jars as part of your decor. Use them as centrepieces for a dinner party, or place them around your outdoor space for a summer gathering. You can even use them to light up a dark corner of your room or to add a touch of whimsy to your child's bedroom.
Whatever you decide to do, enjoy the ambience that your glow in the dark jars creates!
Click on any image to start the lightbox display. Use your Esc key to close the lightbox.
If you liked this project, you might also like to view DIY Galaxy Jars…