Bracelets are one of the first accessories you could let your kids wear. They are cute colourful accessories that are safer than necklaces.
But we believe that they can be more than an accessory – think about the "friendship bracelets" we had as kids.  Because of that, bracelet-making serves as a good activity to do with your kids. It's an easy, stress-free bonding time that could also cultivate friendship between you and them.
18 best bracelet ideas to make with your kids.
If you're looking for bracelet ideas, here are some tutorials that you might want to try. Most materials used are readily found in your home! :)
1. Paper bracelet with texts
A paper bracelet with texts (from The PopCase).
This paper bracelet is such a cute and easy way to show off your personality! I love the idea of using text to personalize each one. You could write something meaningful, inspirational, or just a fun saying. They would make great gifts, too!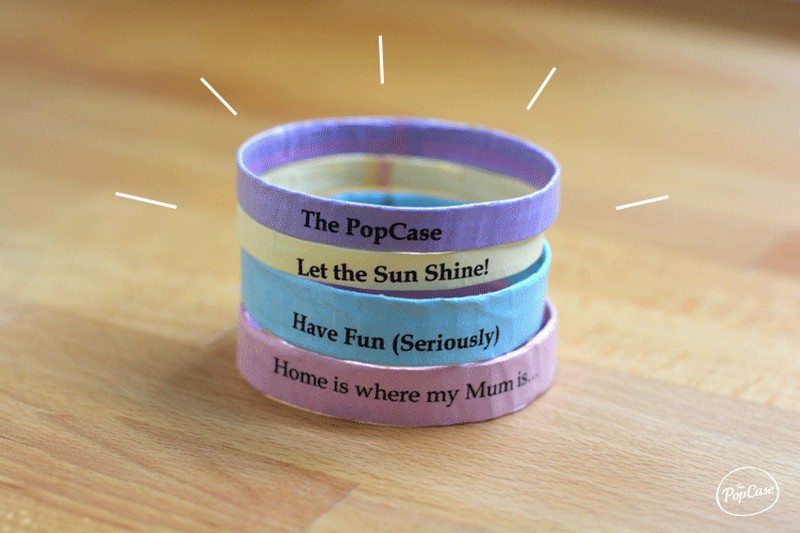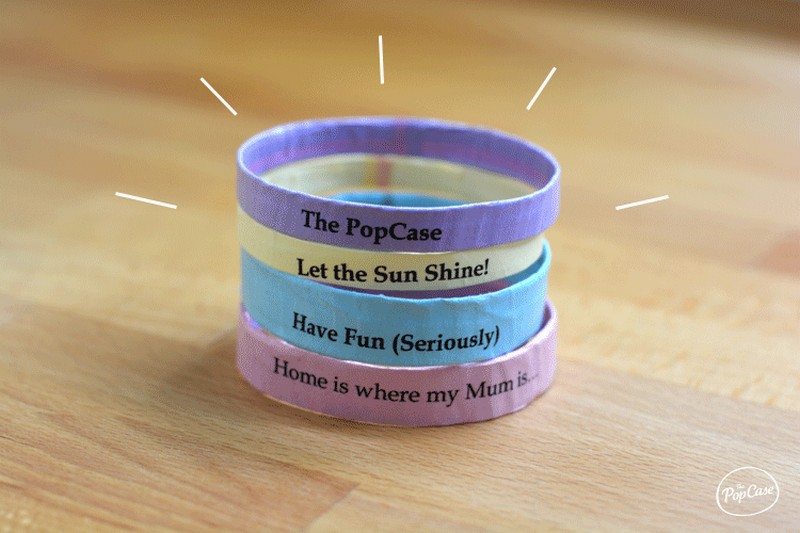 2. Macrame bracelet
A macrame bracelet idea made out of paracord and Korean knotting cord (from Remarkably Domestic).
Macrame bracelets are a fun and easy way to show your personality and style. They're also a great way to add a pop of colour to any outfit.
There are lots of different ways to make macrame bracelets. You can use different colours of string, beads, and charms to create a one-of-a-kind bracelet that's perfect for you. You can make your bracelet as simple or elaborate as you like, and there's no need to worry about perfection – the imperfections are what make handmade items so special. So have fun with it and see what beautiful creations you can come up with!
3. Plastic canvas bracelet
A plastic canvas bracelet idea from Crafts Unleashed.
A plastic canvas bracelet is a fun and easy way to add a personal touch to your outfit. You can find plastic canvas bracelets in a variety of colors and styles, or you can even make your own. Making your own bracelet is a great way to show off your personality and style, and it's also a lot of fun.
4. Friendship bracelet
The fastest DIY friendship bracelet made from embroidery threads (from hey wanderer).
Friendship bracelets are a popular way to show your affection for your friends. They are typically made with colourful string and can be tied in a variety of different ways. Some people believe that the more complicated the bracelet, the stronger the friendship. Friendship bracelets are often given as gifts, but can also be made and worn by anyone as a way to show their support for a friend.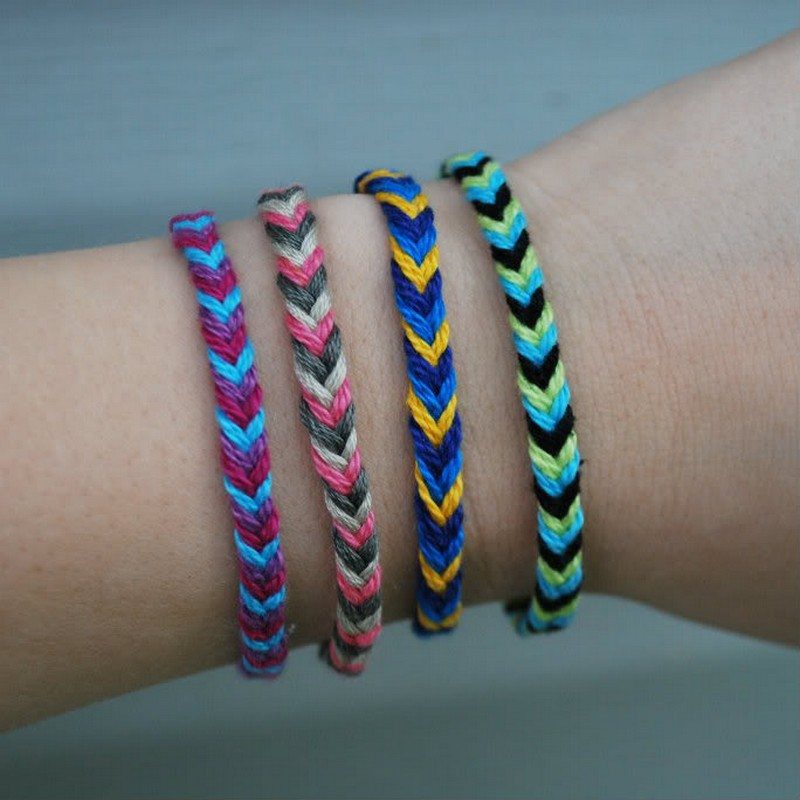 5. Soda pop bracelet
An easy DIY soda pop bracelet idea. You can follow the full step-by-step tutorial here.
This is a terrific bracelet idea, it is made out of soda pop cans. They are usually made by teenagers and young adults as a hobby or project. The bracelets are made by cutting the soda can into thin strips and then weaving them together. Some people add beads or other decorations to their bracelets.
Soda pop bracelets are a fun and unique way to show your personality. They are also great conversation starters. If you see someone wearing a soda pop bracelet, be sure to ask them about it!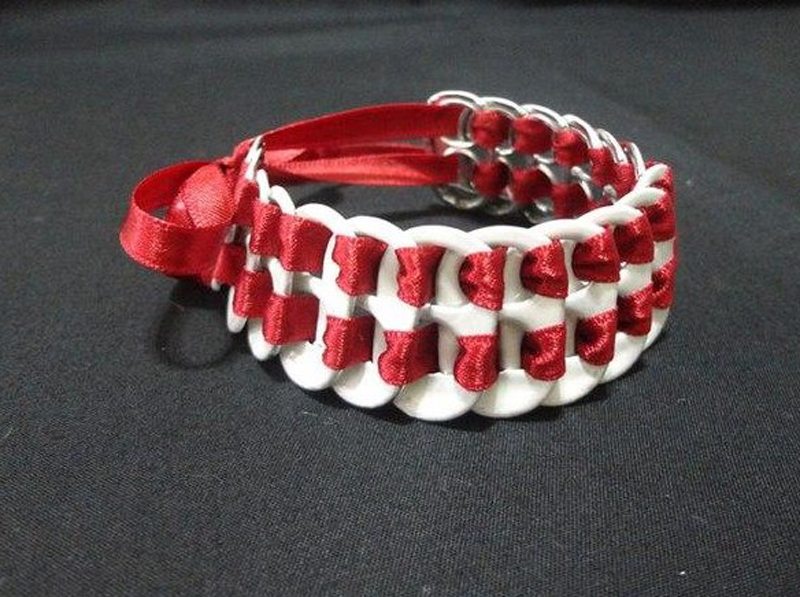 6. Heart friendship bracelet
A Heart friendship bracelet with embroidery threads (from Honestly WTF).
A heart friendship bracelet is a bracelet idea is a perfect gift for a friend as a symbol of your friendship. It is usually made with two colours of thread, one for each friend, and has a heart charm designed.
7. Braided bracelet
A braided bracelet made from old/unused fabrics (from Lula Louise).
A braided bracelet is a lovely bracelet idea that is made by braiding together different materials. The most common type of braided bracelet is made with thread, but you can also find them made with yarn, ribbon, or even leather. Braided bracelets are often decorated with beads or charms, and they can be worn for both casual and formal occasions.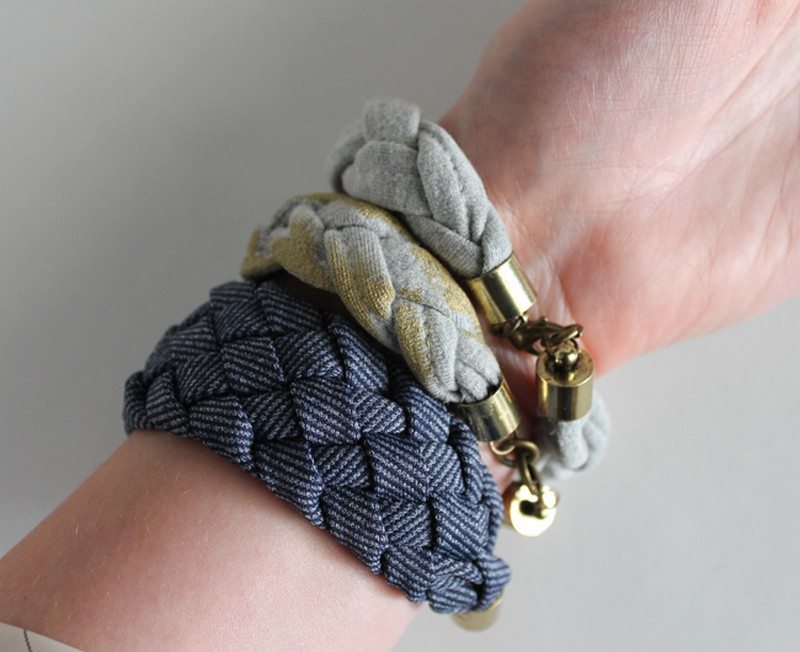 8. Embroidery thread bracelet
Another embroidery thread bracelet, with beads (from I'm Topsy Turvy).
Embroidery thread bracelet is a classic bracelet idea that is made using embroidery thread. A bracelet made with embroidery thread is a beautiful and unique piece of jewellery.
These bracelets can be made in a variety of colours and patterns, and are often used as a fashion accessory.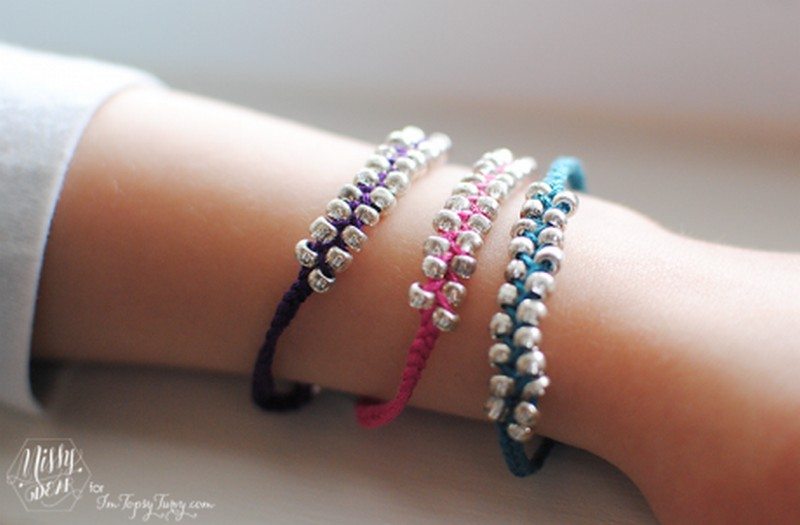 9. Leather bracelet
A simple leather bracelet (from Ael R).
A leather bracelet is a classy bracelet idea made of leather. Leather bracelets are popular because they are comfortable to wear and they look good. Leather bracelets can be made from different types of leather, and they can be decorated with different types of beads or charms.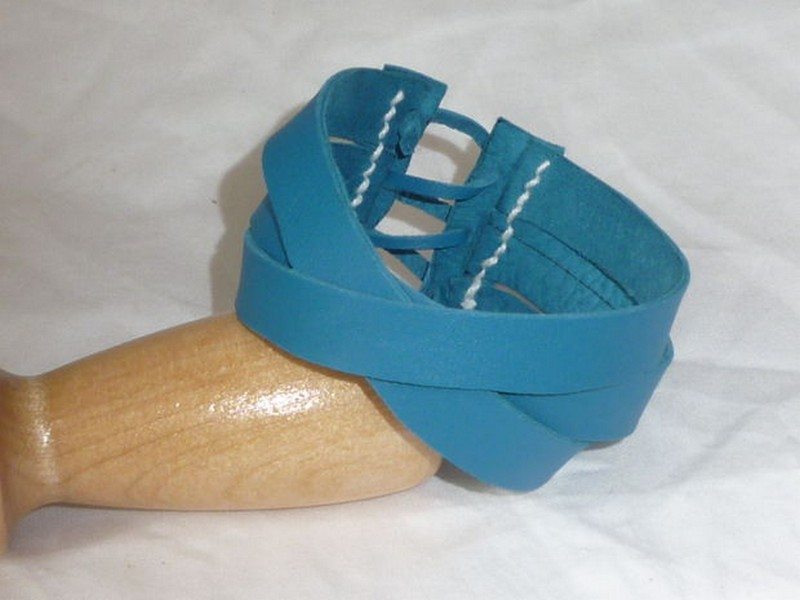 Continued Page 2…