Looking for a fun and easy project to do with those old shampoo bottles? Why not try turning them into pencil holders? This is a great way to upcycle those bottles and give them a new lease on life. Plus, your pencils will always be within reach when they're stored in a handy pencil holder like this.
Instead of throwing away your empty shampoo bottles, give them another purpose. Create colorful shampoo bottle pencil holders that your children will love!
There are so many ways to recycle and upcycle everyday items, and your old shampoo bottles are no exception! Instead of tossing them in the trash, try one of these fun and creative ideas to give them a new lease on life.
We can repurpose them as vases or plant pots. A little bit of paint or embellishment can transform an old shampoo bottle into a cute holder for your favorite flowers. We can also use them to organize your space. Empty shampoo bottles are the perfect size for holding everything from makeup brushes to office supplies. You can make a homemade cleaning solution. Combine your favorite essential oils with water in a recycled shampoo bottle for a natural way to clean your home. And lastly, for big empty shampoo bottles, you can fill these with treats for the kids.
Excellent shampoo bottle pencil holder designs.
We have excellent shampoo bottle pencil holder designs here that will definitely inspire you.
Click on any image to start the lightbox display. Use your Esc key to close the lightbox.

What are the materials needed to make a shampoo bottle pencil holder?
You'll need the following tools and materials to make a shampoo bottle pencil holder.
Empty Shampoo Bottles
Adhesive Paper
Double-sided Adhesive
Scissors
X-acto Knife
Markers
Glue Gun
How to make a shampoo bottle pencil holder?
1. Trace the design
If you're looking for a fun way to spruce up an ordinary shampoo bottle, try drawing a monster face on it! First, remove the label from the bottle. Then, use a pencil to draw the monster's eyes, mouth, and head.

2. Cut the shape
Use a cutter above the top of the monster head to make an initial cut. Next, cut along the contours of the head with scissors. You may need to make a few passes to get a clean cut.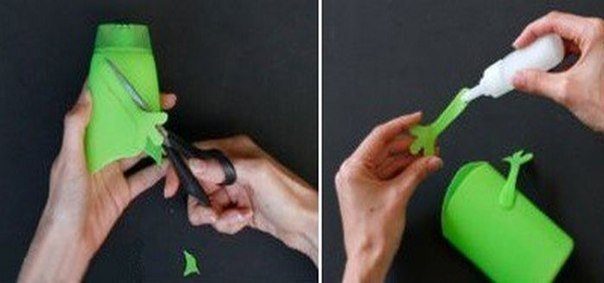 3. Add some arms & mouth
Great job! You've almost got the hang of drawing this monster. Just a few more steps and you'll be done. First, let's draw the arms of the monster. Draw one on each side of the upper part of the bottle, near the neck. Make them nice and long, and be sure to include the claws at the end. Once you've got the arms drawn, it's time to cut them out. Use sharp scissors and be careful not to cut yourself. Now you've got the basic shape of the monster complete!
To make your monster's eyes and mouth, simply cut out some adhesive paper, stickers, or tape in the desired shapes. Then, just stick them on your monster's face!
Add some extra flair by drawing on the monster with markers or crayons.
If you're feeling extra creative, you can even give your monster some unique features, like a big nose or sharp teeth.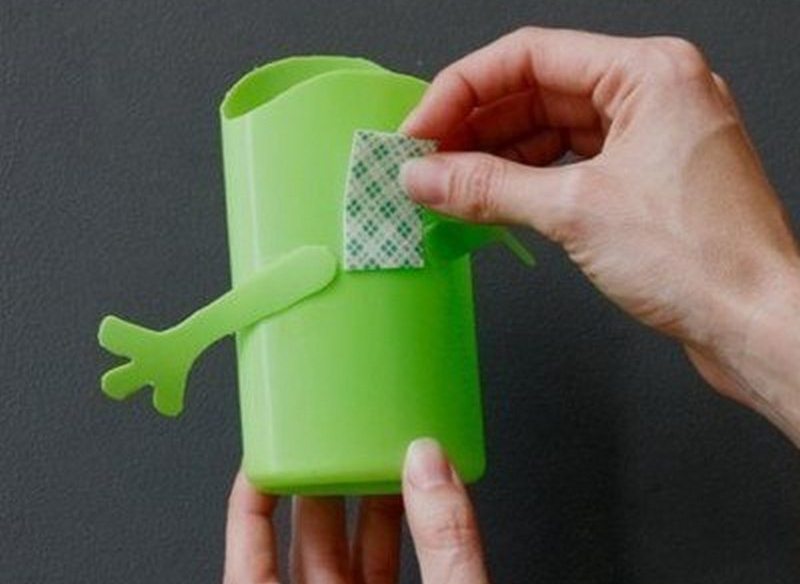 4. Stick to your wall
Use double-sided tape to stick on the wall.
To stick this pencil holder on the wall without using nails or thumbtacks, then a double-sided tape is a great option! Just be sure to clean the wall surface before applying the tape, so that it will stick better. Once you've applied the tape, simply peel off the backing and press the item you're wanting to hang onto the wall. Voila! Your item is now securely stuck to the wall without any damage.
When you're finished, you'll have a one-of-a-kind decoration for your study table!
Is this shampoo bottle pencil holder your next project?
Source: Madame Criativa