Crochet is a beautiful art form that can be used to create heartwarming gifts and treasured keepsakes. The process of crocheting is not only enjoyable, but it also allows us to express our creativity and emotions through our handmade creations.
5 Heart-Touching Crochet Gift Ideas to Try Today!
In this blog post, explore five delightful crochet gift suggestions that are ideal for creating cherished presents and lasting mementos. Whether it's snuggly blankets or charming amigurumi, these crochet gift ideas will ignite your creativity and enable you to share happiness and comfort through your handcrafted works.
Ready to embark on a journey into the realm of heartwarming crochet gift ideas?
Explore a wealth of ideas to craft meaningful gifts for loved ones, whether you're a seasoned crocheter or a novice. Enjoy step-by-step instructions and tips to inspire your creativity and weave heartfelt memories. Start a crochet journey that brings joy and love through giving.
1. Warm Embrace Blanket
There's nothing quite like wrapping yourself in a cozy handmade blanket. It is sure to provide comfort and warmth to your loved ones. And with its intricate stitch design and soft yarn, this blanket is a labour of love that will be cherished for years to come.
Whether you're creating it as a heartfelt gesture for a newborn, a cherished companion for a dear friend, or a treasured keepsake for a beloved family member, this crochet gift idea is a remarkable expression of your love and care.
Here are some tips to help you along the way:
To ensure a smooth crochet experience, it is vital to have the appropriate crochet hooks that match the recommended size for the specific yarn you are using. The right hook size ensures proper tension and stitch definition in your work.
Opt for soft and snuggly yarn that will provide maximum comfort. Look for yarn specifically designed for blankets or choose a high-quality, acrylic or cotton blend that feels soft against the skin.
Before diving into the blanket, make a small swatch using the recommended hook size and yarn. This will help you determine if your tension matches the gauge specified in the pattern.
Personalize your blanket. Consider adding a personalized touch to your project. You can incorporate unique colour combinations, create stripes or motifs, or add a decorative border to make it truly one-of-a-kind.
Take your time. Crocheting a blanket is a labour of love that requires patience and dedication. Don't rush the process and take breaks when needed. Enjoy the meditative and soothing nature of crocheting as you work on each stitch.
Stitch consistency. Maintain consistent tension throughout your work to ensure an even appearance. This is particularly important when working on intricate stitch designs.
Weave in ends as you go. To avoid a large pile of loose ends at the end, weave in yarn tails as you complete each colour change or finish each section of the pattern. This will save you time and make the finishing process much more manageable.
As you bring your blanket to completion, relish in the anticipation of the moment when you will gift it to a cherished recipient. Picture their face lighting up with delight as they receive a cozy and comforting creation made with love. Imagine the warmth and affection that will wrap around them each time they snuggle up in your handcrafted masterpiece.
Take pride in the fact that your blanket carries not only the physical warmth it provides but also the emotional warmth and love that went into its creation!
2. Cuddly Friends Amigurumi
The enchanting allure of amigurumi toys knows no bounds, as they effortlessly bring smiles to people of all ages. Crochet gift ideas that feature charming animals or lovable characters serve as delightful companions, bringing joy to both children and adults alike.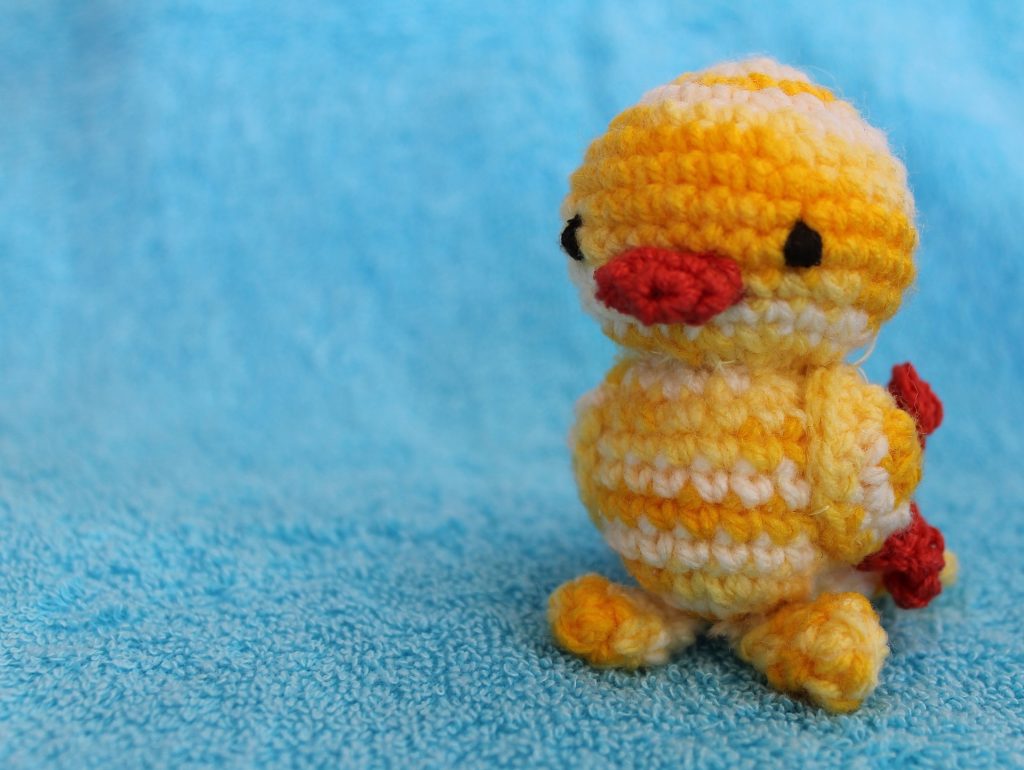 Whether you opt to crochet an endearing teddy bear, a mischievous kitten, or a fantastical unicorn, these small crochet gift ideas are guaranteed to bestow happiness and solace upon their recipients.
Here's how to bring your Amigurumi toys to life:
Choose the right yarn. Select soft and durable yarn that is suitable for the type of toy you are making. Opt for yarn in vibrant colours to add an extra touch of charm to your creation.
Practice tension control. Maintaining consistent tension while crocheting is vital for achieving uniform stitches. Practice controlling your tension to ensure your toy has a neat and professional finish.
Use stitch markers. When working on complex patterns, use stitch markers to keep track of your rounds. This will help you stay organized and avoid mistakes.
Stuff firmly but not too tightly. Fill your Amigurumi toy with stuffing to give it a plush and cuddly feel. Be careful not to overstuff it, as it may distort the shape. Aim for a firm but squeezable texture.
Embellish with safety eyes and noses. Safety eyes and noses give your Amigurumi toy a lively and expressive appearance. Make sure to attach them securely to ensure they cannot be easily pulled off, especially if the toy is intended for young children.
Add personal touches. Feel free to get creative and add personalized details to your Amigurumi toy. You can embroider facial features, accessorize with tiny bows or hats, or even customize the colours to match a specific theme or preference.
Remember, the joy of making Amigurumi toys comes not only from the finished product but also from the process itself. Enjoy the journey as you crochet these charming companions that are bound to bring happiness and comfort to the special people in your life.
Loving Hearts Coasters
If you're looking for a unique and heartfelt crochet gift idea, loving hearts coasters are the perfect choice. Not only do these charming coasters provide protection for surfaces, but they also serve as a delightful manifestation of love and care.
Ideal for housewarmings, birthdays, or simply as a thoughtful surprise, the loving hearts coasters are destined to hold a special place in the hearts of those who receive them.
Here are some helpful tips and tricks to ensure your finished coasters are a gift to be treasured:
Choose the right yarn. Opt for a soft and durable yarn suitable for coasters. Worsted-weight cotton yarn works well as it provides both functionality and a lovely texture. Consider selecting two contrasting colours—one for the hearts and another for the border—to create a visually appealing design.
Perfect the heart motif. The key to making the coasters stand out lies in the heart motif. Pay attention to each stitch, ensuring clear heart shapes. Count your stitches at the end of each row to maintain the correct stitch count.
Personalize your gift. To make your coasters even more special, consider personalizing them. You can embroider initials or small motifs onto the coasters, adding a personal touch that will be appreciated by the recipient.
Presentation is key. Packaging plays a significant role in crochet gift ideas. Wrap your coasters in a beautiful box or tie them together with a ribbon. Consider including a handmade tag or a heartfelt note expressing your love and well wishes.
Crochet stunning coasters that will be cherished by your friends and family. Explore a range of colours, allowing your creativity to flourish and infuse each coaster with your personal touch, making them truly one-of-a-kind. Let your crochet gift idea shine brilliantly through the loving hearts coasters, filling the hearts of recipients with immense joy.
4. Forever Blooms Shawl
For a crochet gift idea that combines beauty and functionality, look no further than the forever blooms shawl pattern. This exquisite crochet shawl is a flawless choice, with its intricate lacework and sophisticated design. Whether worn on special occasions or as an everyday wrap, it adds an air of elegance to any ensemble.
The carefully selected yarn and meticulous stitch patterns contribute to the creation of a timeless accessory that will be treasured for generations. Pour your heart into crocheting this shawl, and it will transform into a cherished keepsake for the fortunate recipient.
Here's how to transform a stunning crochet gift idea into reality:
Choose the perfect yarn. To make it truly extraordinary and the perfect crochet gift idea, select a yarn that matches the desired drape and feel. Opt for a lightweight yarn with a soft texture, such as a blend of silk or bamboo, to ensure the shawl has an exquisite drape and a comfortable feel against the skin.
Master the lacework. The shawl features intricate lacework that adds an enchanting touch to the design. Take your time to understand the lace stitch patterns and practice them before starting the project. Pay attention to stitch counts and stitch markers to maintain consistency throughout.
Personalize with embellishments. Consider adding unique embellishments to make the shawl an even more special crochet gift idea. You can attach delicate beads, sequins, or tassels to add a touch of glamour and individuality.
Remember, crocheting a shawl is not just about creating a beautiful accessory—it's about pouring your love and creativity into a crochet gift idea that will be valued for years to come. Your recipient will be touched by the thought and effort you've put into making this stunning crochet masterpiece.
5. Sentimental Memory Pillow
The most heartfelt crochet gift ideas are often the ones that carry sentimental value. With the sentimental memory pillow, you have the power to turn your favourite clothing or fabric into a personalized keepsake. Whether it's a beloved t-shirt, a treasured baby blanket, or a piece of fabric that holds special memories, it will serve as a perpetual reminder of the deep connection you share.
Here are some tips to guide you in crafting a unique crochet gift idea, such as the memory pillow.
Select complementary yarn. Choose a yarn colour that complements the fabric and evokes the desired atmosphere. Consider soft and cozy yarn options that enhance the sentimental aspect of the crochet gift idea.
Combine crochet and fabric. Incorporate the fabric pieces into your crochet design. This can be done by attaching the fabric squares to the crochet stitches using crochet hooks or by sewing them onto the crochet fabric later.
Personalize with embellishments. Add personal touches to the pillow by including decorative elements such as buttons, ribbons, embroidery, or applique. These embellishments can further enhance the sentimental value of the memory pillow.
Embrace the journey of crafting this heartfelt crochet gift idea and imbue it with your genuine affection and attention.
Want to learn more? Explore "Cozy Creations: 11 Fun and Simple Yarn Crafts" for additional inspiration.
Gifting Crochet Magic!
Crochet is not just a craft; it's an opportunity to create something meaningful and heartwarming. The five crochet gift ideas mentioned in this blog post offer a range of options for creating presents and treasured keepsakes that are infused with love and care.
Whether you're engaged in the art of crochet to commemorate a special occasion or to express your love and affection, these crochet gift ideas will undoubtedly ignite inspiration and bring delight to both the maker and the recipient.
So, pick up your crochet hooks, gather your vibrant yarn, and allow the enchantment of crochet to infuse your life with heartfelt creations. Happy crocheting!