Transform your bathroom into the epitome of elegance with stunning tile designs! Tiling is the perfect way to deliver a stylish makeover to your space. With an array of gorgeous bathroom tile designs, you can easily give your special and private area a totally unique look.
Tile designs have something for every taste, from the tiniest of powder rooms to the grandest of baths. With tiles, you can easily make a statement in any bathroom, regardless of size, and add a splash of texture and colour for an extra touch of flair.
Check out these Best Bathroom Tile Designs
Discover the infinite design opportunities for your bathroom with tiles! From shapes to sizes, colours to textures, your bathroom can be transformed into your own personal paradise. Unleash your creativity and customize the look of your bathroom to be uniquely yours.
From sleek, modern bathroom tile designs to more classic and timeless looks, you can find something that complements your style and makes your space a more inviting and luxurious space. And with the option of an endless selection of tiles, you can create a unique and stunning look for your bathroom that will please you every time.
In this blog post, we will take a look at some inspiring tile designs that can transform any bathroom into a stylish, chic space.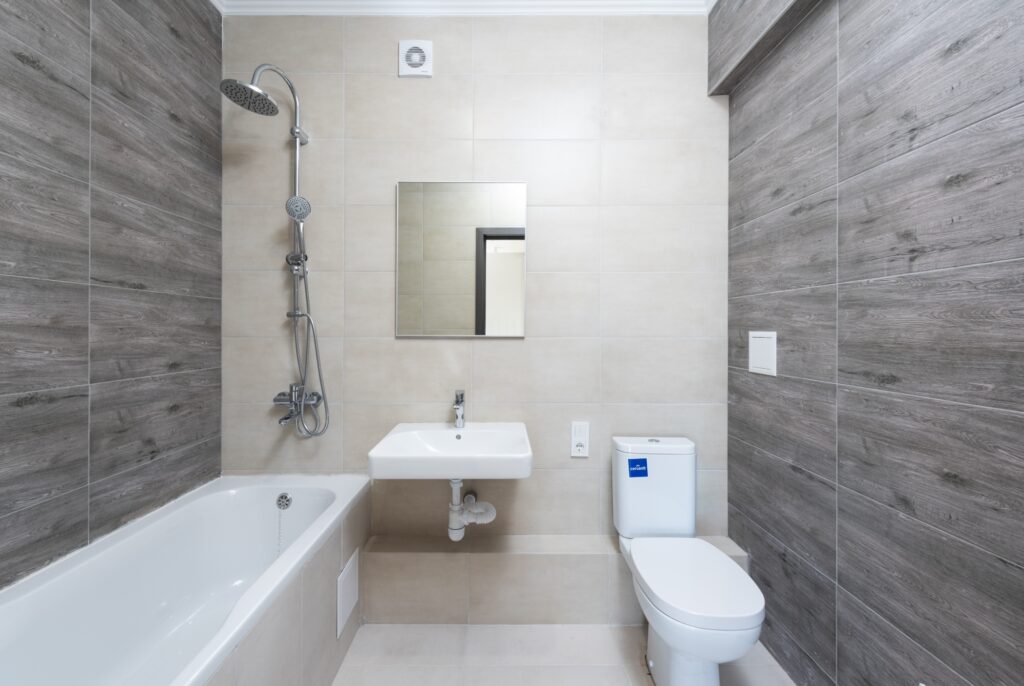 1. Get Creative With Colorful Mosaic Tiles
Looking to make a bold statement with your bathroom tile designs? Try getting creative with colourful mosaic tiles! This beautiful and vibrant style will add a sense of liveliness and energy to your bathroom, making it a great choice if you're looking to stand out.
Perfect for any kind of style, you can create a one-of-a-kind look for your bathroom with mosaic tiles. With an endless selection of colours to choose from, you can create a unique pattern that perfectly suits your vision — whether it be classic or something a bit more daring.
So go ahead, mix and match — and get ready to wow.
Our Pick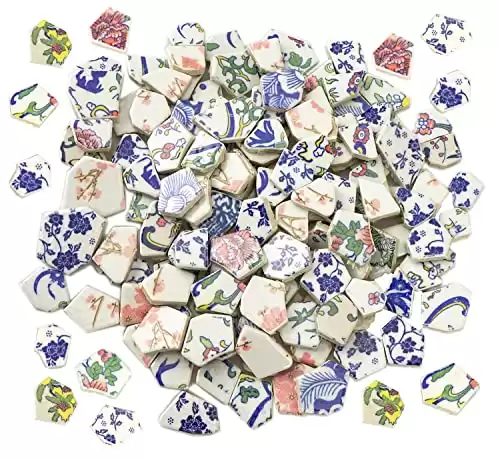 2. Marvel at Marbled Magic
For those looking to create a truly unique and awe-inspiring bathroom tile design, marbled magic is likely your best option. Marbled magic is a unique bathroom tile design that carries the organic beauty of marble with intricate patterns, making it a showstopper no matter the size of the bathroom.
The possibilities for bathroom tile designs are virtually limitless, with a rainbow of colours to choose from and a wide range of sizes and shapes to mix and match. Whether you're looking for something subtle or bold, traditional or modern, marbled magic can provide the perfect solution.
With an array of colours, textures, and designs to choose from, you can create a masterpiece that will bring a touch of luxury to any space. They are made with the highest quality materials and meticulous attention to detail, so you can be sure that they will stand the test of time.
Plus, they are easy to clean and maintain, so you do not have to worry about cleaning up spills or dusting them regularly. They offer an exquisite opportunity to simply craft an aesthetically pleasing environment for you and your loved ones to relish.
3. Get Geometric With Angles and Shapes
When it comes to bathroom tile designs, it's time to get creative! Geometric shapes and angles are the perfect way to add a modern touch to any bathroom and elevate the style of the entire room. Whether you choose to simply incorporate sharp angles and curves in the tile design, or go all out and create a feature wall with a geometric design, you can be sure that this will draw attention.
Get creative and explore the endless possibilities of shapes and angles, and you'll be sure to find the perfect bathroom tile designs that will transform your bathroom into a stylish and modern space.
4. Make a Splash With a Subtly Striped Feature Wall
Stripes aren't just for fashion anymore! With the right blend of style and colour, you can create a subtly striped feature wall in your bathroom that will never fail to make a splash. Whether you opt for a subtle vertical pattern or a bold horizontal stripe, bathroom tile designs with stripes can add a unique touch to your space.
Make sure to choose colours that will complement the rest of the room and bring out the unique personality of your bathroom. Striped bathroom tiles are the perfect way to inject a bit of life and charm into any bathroom.
Even if you opt for classic black and white, or something more colourful, these tiles give you the opportunity to create a unique and cozy space. If you want to evoke a nautical feel in your bathroom, you can go for blue also with white stripes, a timeless classic that will bring a tap of the seaside to any bathroom.
Striped tiles can be used to create visually captivating mosaics, intricate geometric shapes, or even distinct abstract designs that will add a touch of beauty, artistry, and enjoyment to any room. For a unique and eye-catching, mix and match different sizes and orientations of stripes.
The blue and white stripes evoke a tranquil and peaceful feeling like you are standing right at the edge of the ocean. How's that sound?
5. Build a Bright & Bold Focal Point
Have you ever wanted to add some pizzazz to your bathroom? Well, look no further than bathroom tile designs! Whether you're looking for a bright and bold focal point or simply something to add a touch of subtle mood, you can easily find bathroom tile designs that will fit your style.
Choose from modern geometric shapes, vibrant colours, and eye-catching patterns to make a statement in your bathroom. With the right tiles, you can turn any bathroom into an artful creation. So, go ahead and explore the world of bathroom tile designs to create a beautiful space that is sure to inspire!
6. Create a Calming Haven With Porcelain Tiles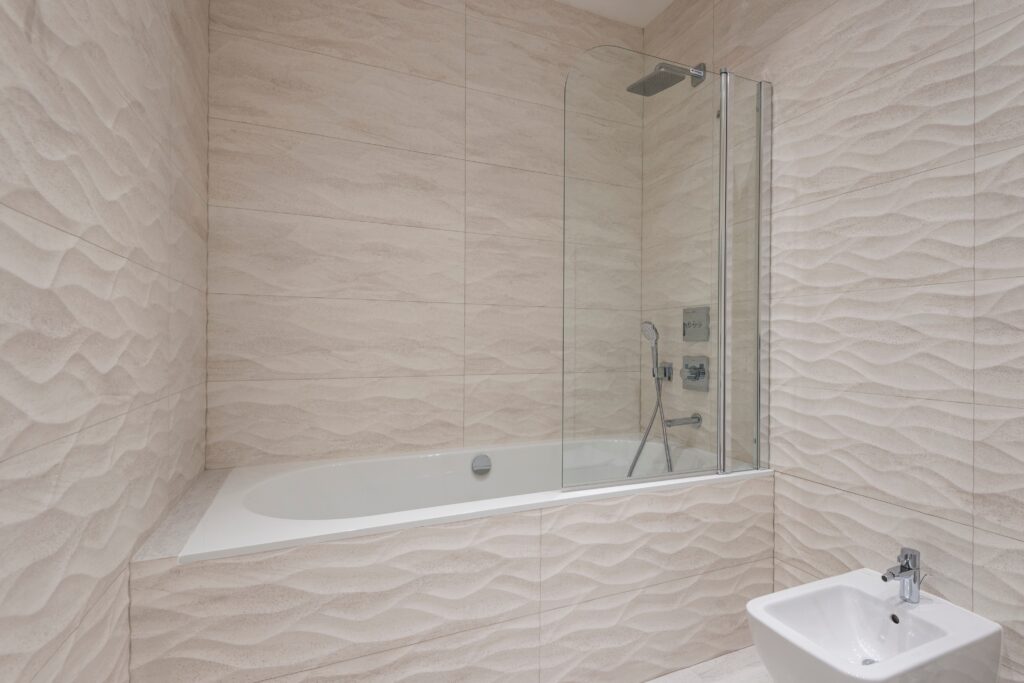 Porcelain tiles are the perfect way to create a calming haven in your bathroom. Whether you prefer a soft pink and blue, a neutral beige and grey, or something a bit bolder, there are bathroom tile designs to fit your style.
With porcelain tiles, craft a tranquil oasis in your bathroom. Let the waves of white, cream, and beige wash over your sanctuary, creating a space where you can relax and recharge. You can use this soothing palette to design a bathroom that is both elegant and inviting.
Whatever bathroom tile designs you choose, adding soft palette tones to your bathroom can be the perfect way to inject a sense of tranquillity into your space. You can also get into crafting handmade bath bombs and soaps to indulge in the perfect self-care and bathroom oasis experience.
Use porcelain tiles to create a haven in your home that will bring you joy each and every time you step in.
7. Add a Splash of Color With Hexagons
Hexagons are having a moment in the world of bathroom tile designs and it's easy to see why! With their unique shape and bold colours, hexagons are the perfect way to add more life to any bathroom tile design. With so many colours and sizes available, there's no limit to what you can do with hexagons.
Whether you want to create a strong statement with bright colours or keep it subtle and neutral, hexagons are the perfect way to achieve your desired look. Don't be afraid to get creative with your bathroom tile designs ⁠— you never know what amazing results you might create!
8. Let Nature Inspire You With Natural Stone
Natural stone tiles are the perfect way to bring a touch of nature into your bathroom and create a peaceful atmosphere. Natural stone tiles are the perfect way to bring a touch of nature into your bathroom.
Whether it's river pebbles, slate, granite, or quartz, these tiles exude a sense of peace and tranquillity. Not only do they provide a stunning visual effect, but their natural textures also help to create a zen-like atmosphere. Imagine stepping onto a cool river pebble after a good shower, or letting your feet wander across the rough surface of the slate.
Natural stone tiles are not only gorgeous to behold, but they can also be great for helping you to relax and settle your mind. Transform your bathroom into a sanctuary of relaxation and let nature bring a sense of zen to your home.
Incorporate natural stone into your bathroom tile designs for an easy way to bring in the vibe of the great outdoors.
9. Rustic Retreat With Wood Materials and Textures
Consider installing rustic bathroom tiles designs such as terrazzo, wood effect, and exposed brick, coupled with natural stone and wooden beams, to create a relaxed and rustic atmosphere in your bathroom.
The combination of wood materials, textures and colours will give your bathroom a supremely inviting and cozy feel. Try the natural warmth of oak, the earthy tones of walnut, or the rustic charm of pine, your bathroom will be a tranquil oasis of comfort and relaxation.
You can play with the shades and tones to create a unique atmosphere that perfectly complements the décor of the room. Imagine yourself taking a luxuriously long soak in a tub surrounded by the warm and inviting presence of the wood.
With a great selection of materials, textures, and colours, your bathroom can become a soothing sanctuary that will have you looking forward to every visit.
The Takeaway
From bright and bold to classic and timeless, inspiring bathroom tile designs can be tailored to suit any style. Whether you're looking for a pop of colour or a neutral backdrop, these tiles can create a beautiful and inviting bathroom for your family and guests.
With the perfect combination of bathroom tile designs, you can create a bathroom that is a perfect reflection of your personal style. Whether you're looking to create a modern, minimalist oasis or a cozy, traditional haven, the possibilities are limitless.
From paint colours and tile patterns to fixtures and accents, you can create a look that is both unique and timeless. Don't forget to add small touches to make your bathroom feel cozier, like plush towels, subtle lighting, and a few plants.
With the right bathroom tile designs and installation, you can craft a bathroom that feels like an extension of yourself and makes you feel right at home.