Are you looking for some fun crafts that will keep your toddlers engaged and entertained? In this blog post, we'll share some of the best crafts for toddlers that are both fun and challenging. From simple painting projects that promote creativity to more complex crafts that require some assembly, there's something here for everyone.
Let's check out these fun crafts for toddlers!
Whether your toddler loves making art or loves building things, these crafts for toddlers will provide hours of fun and help your little one learn as they create. Get out the glue, paint, and other craft materials and get ready to make something awesome!
1. Hand Printing
Hand printing is one of the most fun crafts for toddlers! Nothing captures the joy of childhood like getting messy with paint and paper. Your toddler will have a blast as they create their very own masterpieces. Their faces will light up with delight as they swirl and smear the paint on the paper and watch their artwork come to life.
This hand-printing activity for toddlers is sure to be a hit! Just make sure that you use paints that are safe for kids to ensure that everyone has a fun, safe experience. When it comes to painting with toddlers, safety is of the utmost importance! To ensure that your little one can safely enjoy their art session, it is important to use safe, non-toxic paint. For toddlers, water-based paints are best.
Look for paints that are labelled as non-toxic, eco-friendly, and free of hazardous chemicals like lead, phthalates, and VOCs. Some great options are washable tempera paints, washable finger paints, and even natural vegetable dyes. Make sure to cover the ground with some old sheets or newspaper so as to avoid staining.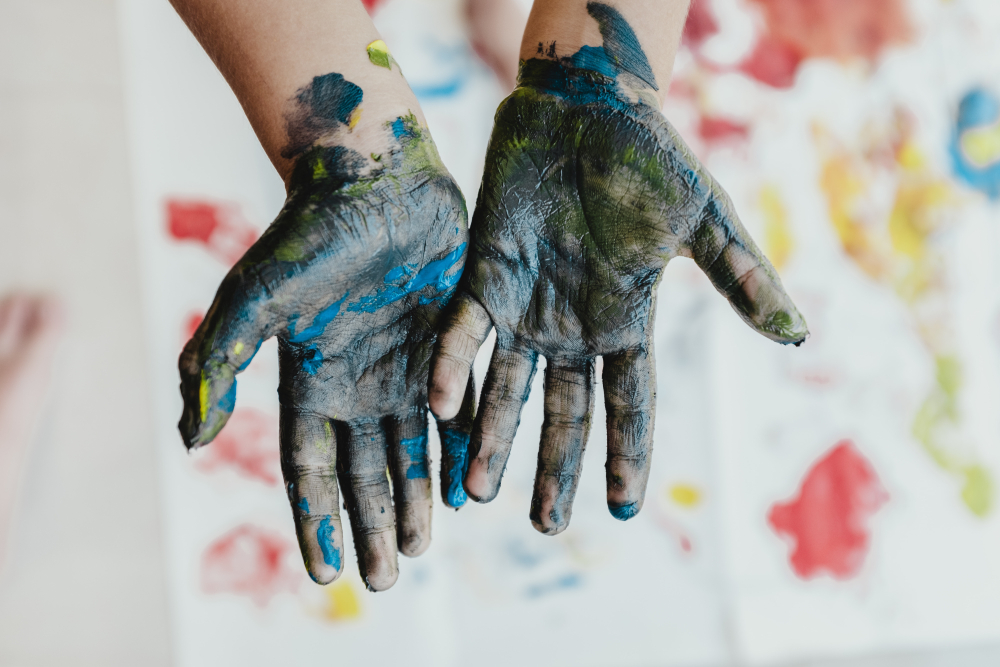 Don't forget to have plenty of paper on hand – you never know what creative designs your little ones will come up with! This activity is a great way to get your toddlers engaged and encourage their creativity while they learn how to express themselves and their ideas through art.
The joy of hand printing is not only in the process of creating but also in the incredible artwork your toddler can make. But, brace yourself for a colourful surprise. Your toddler's hand-printing will likely make an appearance on your home's walls! And don't forget to take some pictures – you'll want to remember this moment forever!
2. Play-Doh
The squishy play-doh can be used to make a variety of fun shapes and figures. The possibilities with squishy play-doh are endless! From creating silly faces to imaginative creatures, play dough is a great way to have fun and unleash your toddler's creativity.
Crafts are not only a fun way to pass the time, but they are also a great way to help your toddler develop their fine motor skills. It's an ideal activity that can be done together, allowing you to bond with your little one over a creative project. One of the easiest and most versatile crafts for toddlers is play-doh.
Playing with play-doh is one of the great crafts for toddlers to express their creativity and have fun. It's important to remember, though, that play-doh is made up of materials that can be a hazard to children if not handled properly.
To make sure your child has a safe and enjoyable play-doh experience, here are some safety tips you should follow:
Always supervise your toddler while they are playing with play-doh. This includes making sure they don't put any of it in their mouth or eyes.
Make sure your toddler washes their hands after playing with play-doh. This will help ensure that any remaining pieces don't get stuck under their nails.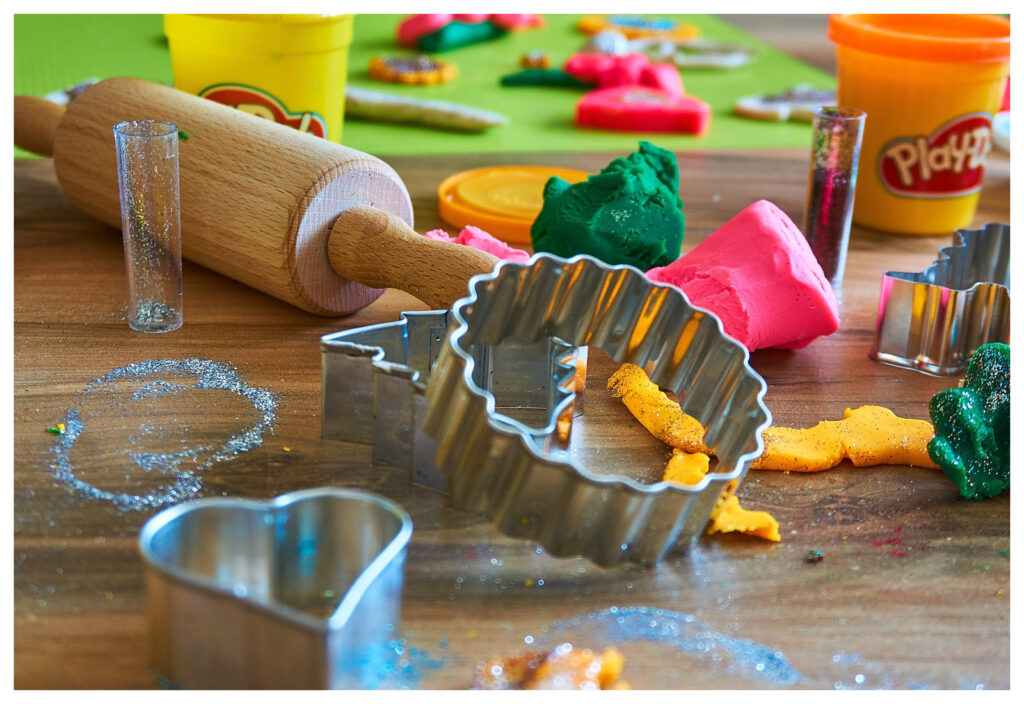 Play-Doh is a great way to not only keep your toddler occupied but to help foster their creativity! This classic toy has been around for generations and is still one of the popular crafts for toddlers today as it was when it first hit the shelves. With its bright colours, fun shapes, and satisfying squishing, it's no wonder why kids love play-doh.
3. Cardboard Tube Crafts
Toddlers are notoriously difficult to keep entertained. These kiddos are bursting with energy and enthusiasm, ready to explore and have fun — they're far too young to be cooped up in one place for too long and don't yet possess the maturity to take on more complex tasks. This is where crafts come in!
Crafts are the perfect way to keep toddlers entertained. There are lots of crafts for toddlers that are simple, engaging and fun. Plus, crafting is a great way to promote creativity and fine motor skills.
Cardboard tubes are the ideal size for toddlers to easily grasp, and there are so many fun activities that can be done with them! From painting and decorating to using them as stamps, your little one can explore the world of creativity without ever having to leave the house.
From rolling them around and discovering the different sounds they make to cutting them into shapes and using them as binoculars, the possibilities are truly endless. You can also create fun DIY games with them such as a marble run, a mini golf course, or even a bowling game!
Cardboard tube art is a great way to keep your toddler entertained, and it's also a great way to recycle those cardboard tubes! Here are a few ideas to get you started:
Paint the tubes and create a colourful collage.
Cut the tubes into pieces and use them to create a 3D puzzle.
Turn the tubes into puppets and put on a show.
Use the tubes to create a marble run or other simple machine.
Whatever you decide to do, your toddler is sure to have a blast!
4. Recycled Crafts
There are many great crafts for toddlers that can be made from recycled materials. One of the best things about recycled crafts is that they can be very inexpensive to make. Here are four great recycling crafts for toddlers:
Toilet paper roll crafts

There are so many different things that can be made from toilet paper rolls. Toddlers will love painting and decorating them to make all sorts of different creations.

Egg carton crafts:

Egg cartons aren't just for storing and transporting eggs anymore! With a little bit of creativity and imagination, they can be transformed into all kinds of fun and educational crafts for toddlers.
They will have a blast creating playful animals to imaginative models, and also learn the importance of recycling in a fun and engaging way.

Milk jug crafts

Milk jugs can be used to make all kinds of crafts. From painted piggy banks to upcycled planters, the possibilities for crafting with milk jugs are endless.

Can crafts

Paint and colour the cans in any way they like. Also use pom poms, glitter, and other craft materials to decorate them. With just a few simple materials, you and your toddler can have hours of creative fun, making something entirely unique and special.
5. Paper Plate Crafts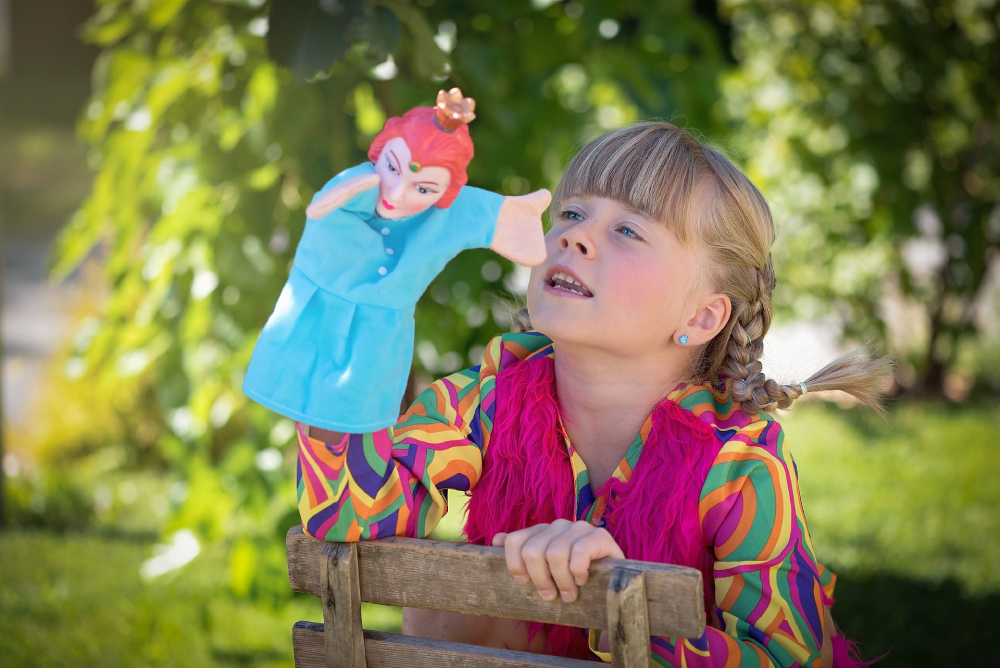 Paper plate crafts are some of the best crafts for toddlers. They are easy to make, and they can be used to make a variety of different projects.
Paper plates can be used to make even simple paintings. The sky is the limit when it comes to paper plate crafts for toddlers.
6. Window Clings
Window Clings are a great craft for toddlers and they are so much fun! With bright colours and unique designs, they can help to spark the imagination of little ones. Window Clings are made of a durable, waterproof material that can easily be applied to windows, mirrors, and other glass surfaces.
They are easy to remove and reposition, so they are perfect for a toddler's creative play. They can be used to create fun scenes and stories, and they can help to brighten up any room or space. Window Clings also offer a great opportunity for learning. They are made from a special static-cling material, which means they stick to the surface of your windows without the need for any glue or adhesives.
With the help of basic shapes, colours, and numbers, toddlers can learn about colours, shapes, and numbers in a fun, interactive way. Window clings are also a fun and easy way to decorate your home for the holidays, and they're also a great craft for toddlers. All you need is some holiday-themed stickers, and your toddler can create their own festive window decorations.
Let your little one be creative and design their own festive window decorations — it's a great way to get them into the holiday spirit. They can use the contact paper to create a mosaic of different festive stickers, or they can even create a different scene each day.
Our Pick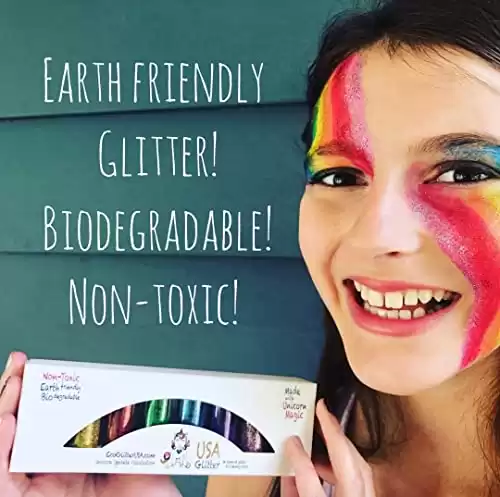 7. Glitter Art
Glitter art is one of the best crafts for toddlers for many reasons. It's simple, sparkly, and fun! Plus, it's a great way to get your toddler's creative juices flowing.
To do glitter art, all you need is some glitter, some glue, and some paper. Simply have your toddler glue down the glitter in whatever design they want. Crafting with toddlers is a great way to help them express their creativity and have fun at the same time.
There are so many easy art crafts that you can do with your toddlers, from building simple block structures to making sparkly art with sequins and beads.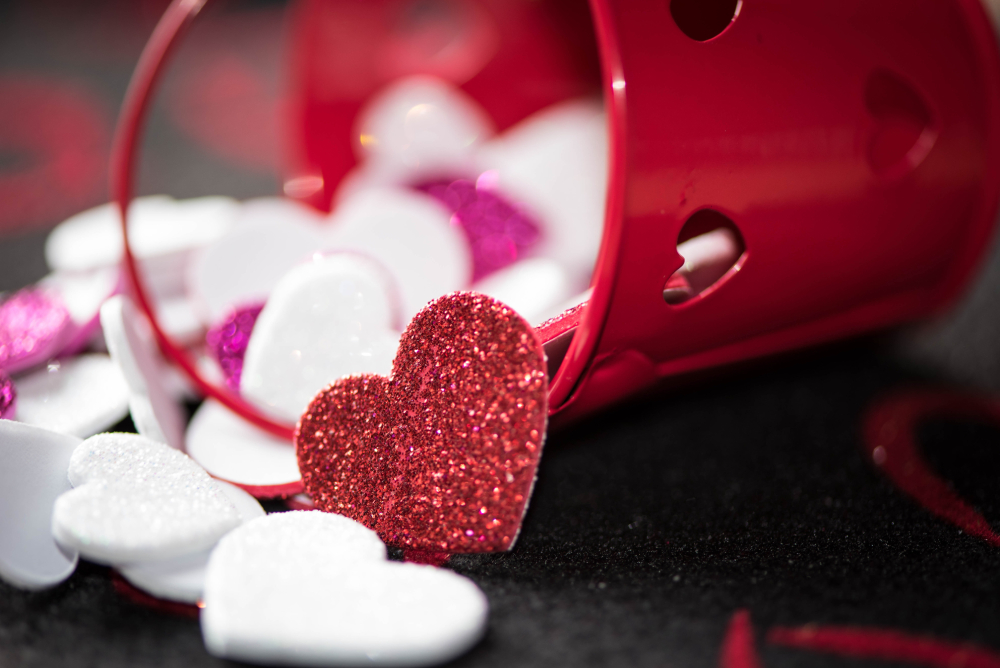 Get your toddlers excited about craft time by setting up a fun environment for them to explore and come up with their own creations. You can use everyday items like construction paper, markers, and glue, and then add other embellishments, to make the art even more sparkly and fun.
With a little bit of imagination, you and your toddlers can explore together and make all sorts of amazing creations through these fabulous crafts for toddlers.
Our Pick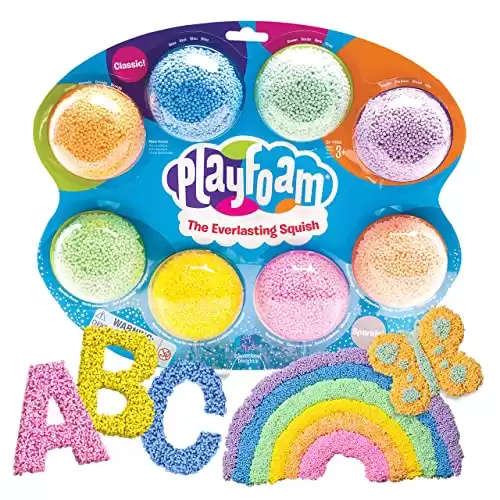 8. Foam Crafts
Foam crafts are an ideal activity for toddlers, as they are simple, versatile, and creative. The possibilities with foam crafts are nearly endless, allowing toddlers to create anything from cars and castles to animals and flowers. This type of craft is perfect for little hands and minds, as they can easily manipulate foam pieces into a variety of shapes and sizes.
Not only are foam crafts for toddlers fun and rewarding, but it also helps toddlers with fine motor skills, creativity, and problem-solving. Foam crafts are also incredibly affordable, making them a great option for parents looking for budget-friendly activities for their children. With vibrant colours and easy-to-use pieces, foam crafts are an excellent way to keep toddlers entertained and engaged in a creative activity.
Crafts for toddlers can be an enjoyable way to foster creativity and keep little hands busy! Foam crafts are best for tots, as they are usually very lightweight, making them perfect for toddlers to carry around.
9. Color Matching Puzzles
Looking for crafts for toddlers to engage them while teaching them new things? These matching puzzles are a great way to help toddlers learn their colours while developing their motor skills and pattern recognition. Not only that, but this fun activity encourages problem-solving, logical thinking, and creative expression.
Each puzzle piece is brightly coloured and designed with rounded edges, making them safe and easy for little hands to manipulate. Your toddlers will have fun piecing the puzzle together and discovering the colourful patterns!
You can also make a DIY colour-matching puzzle for your toddlers to enjoy. To make the puzzle, you will need some cardstock, a printer, scissors, and some crayons or markers. First, print out the puzzle template on the cardstock. Then, cut out the puzzle pieces.
Next, colour each puzzle piece according to the colour listed on the template. Once all the pieces are coloured, mix them up and have your toddler try to put the puzzle back together again.
Wrapping it up
The best crafts for toddlers are those that are safe, easy to do and allow them to be creative. Toddlers are also very enthusiastic about crafting, so it's important to choose crafts that you know they will enjoy.
The crafts for toddlers are ones that fill them with joy and spark their creativity. Painting is a great craft for toddlers and is a great way to introduce them to the wonderful art of colour. With the right supplies like finger paints, washable paints, and brushes, you can create an art-filled afternoon that your toddler will not soon forget.
Drawing is another great craft for toddlers and can be made even more enriching with the addition of crayons and markers. Exploring the different colours and line patterns can help your toddler express themselves and have a lot of fun in the process.
Collages are also a great craft for toddlers, as they can create a masterpiece out of everyday items like magazines, paper, and even pictures. They will have so much fun getting creative, cutting and pasting their own unique designs.
Are you ready to get crafting with your little one?