Glass block adds a surprising touch of style to interiors and exteriors alike. Here are 11 glass block blockbusters you won't want to miss.
People's fondness for this material has waxed and waned throughout the decades. These days, when you hear the phrase "glass block," your mind is likely to recall the neon-accented icy interiors of the 80s. Or, recalling a 40s film noir atmosphere, you may have some vague mental picture of curved glass block windows in the front of some black-and-white mystery mansion.
But did you know that these amazing building blocks can also be used in many other beautiful ways?
You can use these blocks to make crafty home decorations and gifts!
Now although the ideas you see below look gorgeous and skillfully made, they are very easy projects anyone can do. Most of them simply make use of stencils, decals, glass frosting spray, ribbons, or string lights. So even if you think you don't have enough creativity to make any of these projects, you'd be surprised at how easy it is to make your own, equally beautiful glass block masterpiece!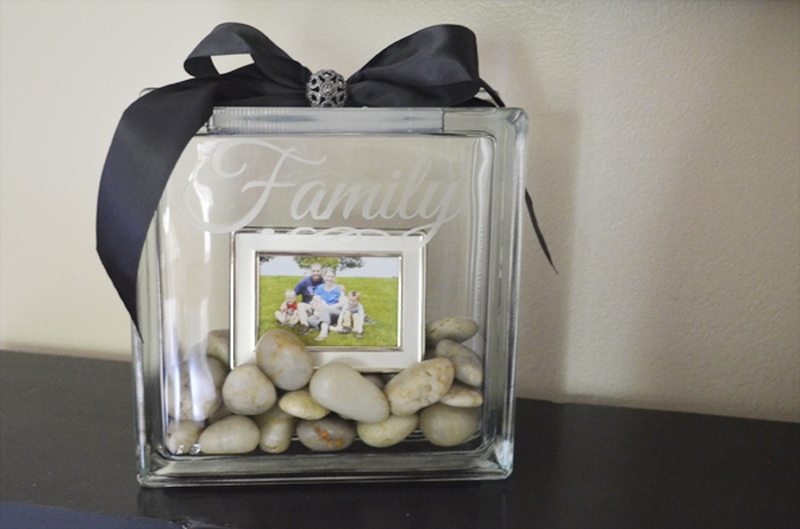 Think of any occasion there is in a year and there's most probably a suitable glass block craft project for it. Whether you are looking to decorate your home or you'd like to give a loved one a gift, these glass-block projects will make unique pieces of art everyone will surely love.
11 crafty glass block design ideas
Looking for some fun and unique ways to use glass blocks? Check out our top 11 picks below!
Click on any image to start the lightbox display. Use your Esc key to close the lightbox.

1. Family Photo Display
If you're looking for a unique and crafty way to display family photos, look no further than glass blocks! Glass blocks come in a variety of sizes and colors, making them perfect for customizing your own personal style. Plus, they're easy to find at your local craft store.
To create a family photo display, simply gather up some photos of your loved ones and get started! Begin by arranging the glass blocks in the desired shape or design. Then, using a permanent marker, write a short message or quote on each block. Finally, glue or tape the photos to the blocks. This project is sure to be a cherished family keepsake for years to come!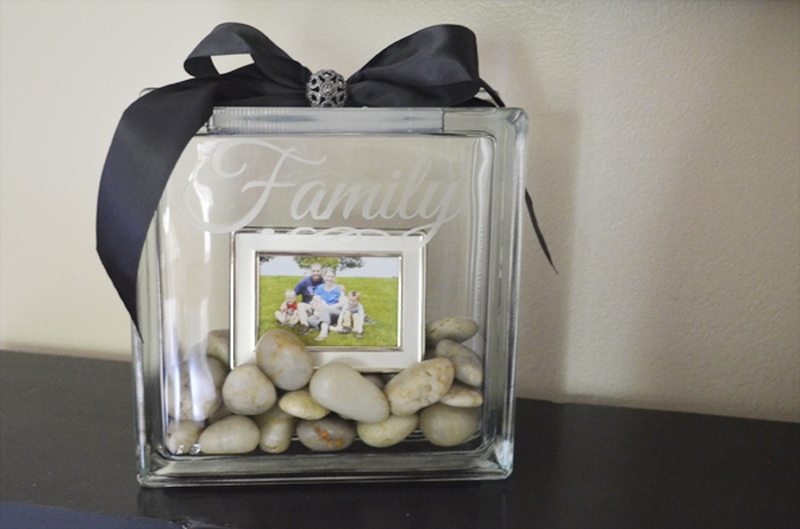 2. Valentines' Day Gift
These versatile blocks can be used for everything from home decor to unique gifts. Check out these ideas for some inspiration! Valentine's Day is the perfect occasion to show your loved ones how much you care. Why not make a unique and thoughtful gift using glass blocks? You can personalize them with photos, heartfelt messages, or anything else you can think of. Your loved ones are sure to appreciate the thoughtfulness and care that went into such a unique gift. There are endless possibilities for what you can do with glass blocks. Get creative and see what you can come up with!
3. Beach-Themed Decor
If you love the beach, why not try some beach-themed decor? For a nautical look, try painting the glass blocks in stripes of blue and white. Or, if you want something a little more fun and festive, try painting them in bright beachy colors like pink, yellow, and green. You can use the glass blocks to create all sorts of beach-themed decorations.
Make a sandcastle sculpture by gluing sand and shells to the blocks. Or, fill the blocks with sand, and small sea creatures and place tea lights inside for a pretty and unique beach-themed lantern. There are endless possibilities for decorating with glass blocks!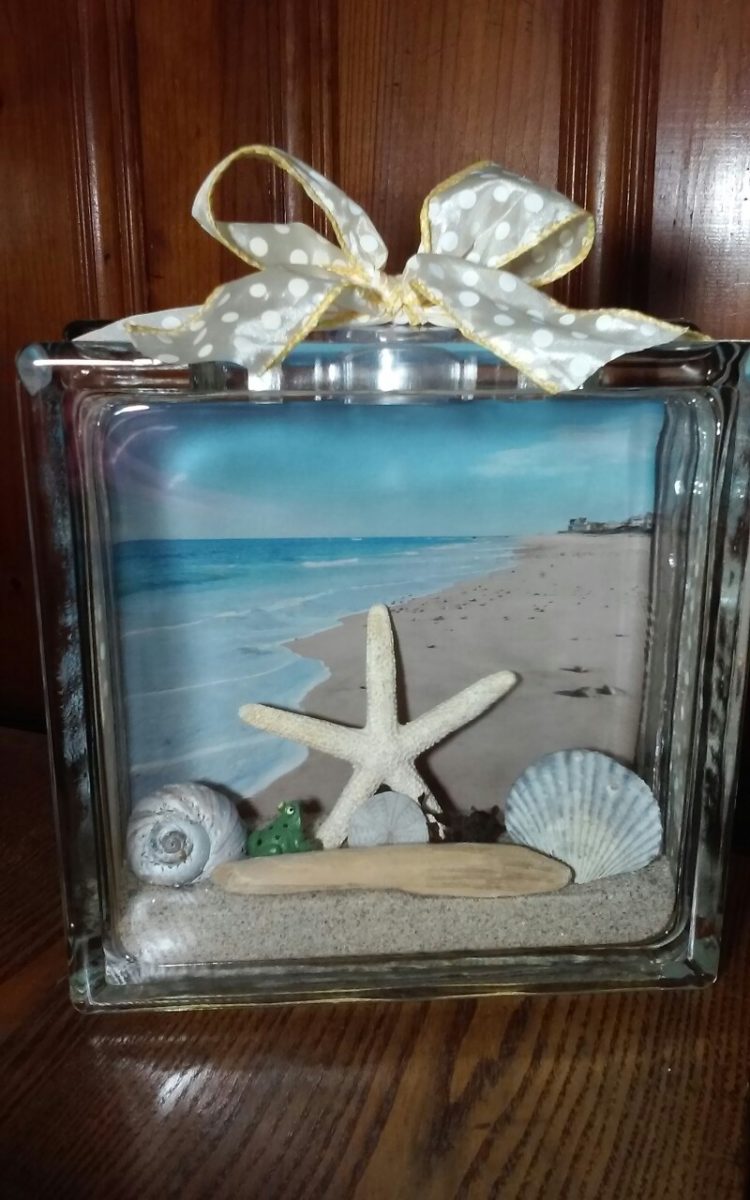 4. Easter Egg Decor
It's no secret that glass blocks can make gorgeous home decor items – but did you know that they can be used for Easter decorations, too? These make a beautiful addition to any mantle or table setting. Simply glue Easter eggs inside the glass blocks. Another adorable idea is to glue easter eggs or figurines onto the glass blocks. You can add a little bit of greenery or moss for a nest-like effect. You can even paint the blocks with a variety of colors you like!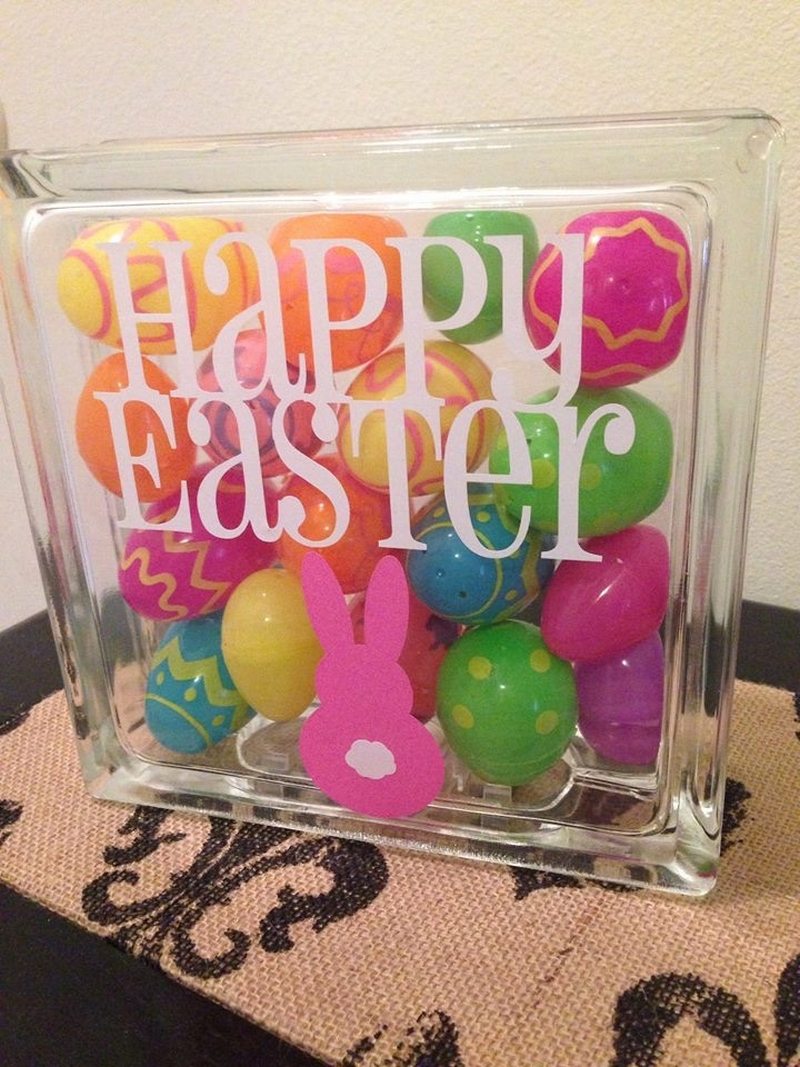 5. "Welcome to our Home" Sign
Making a "Welcome to our Home" sign glass block is a great idea to welcome your guests. This project is simple and only requires a few supplies. You'll need a glass block, a vinyl Welcome sign, and some adhesive. We used a strong adhesive to make sure our sign would stay put.
First, clean the glass block so that the adhesive will stick properly. Then, apply the adhesive to the back of the vinyl sign and place it on the glass block. That's it! We love how our Welcome to our Home Sign turned out. It's a great way to show your guests how much you care.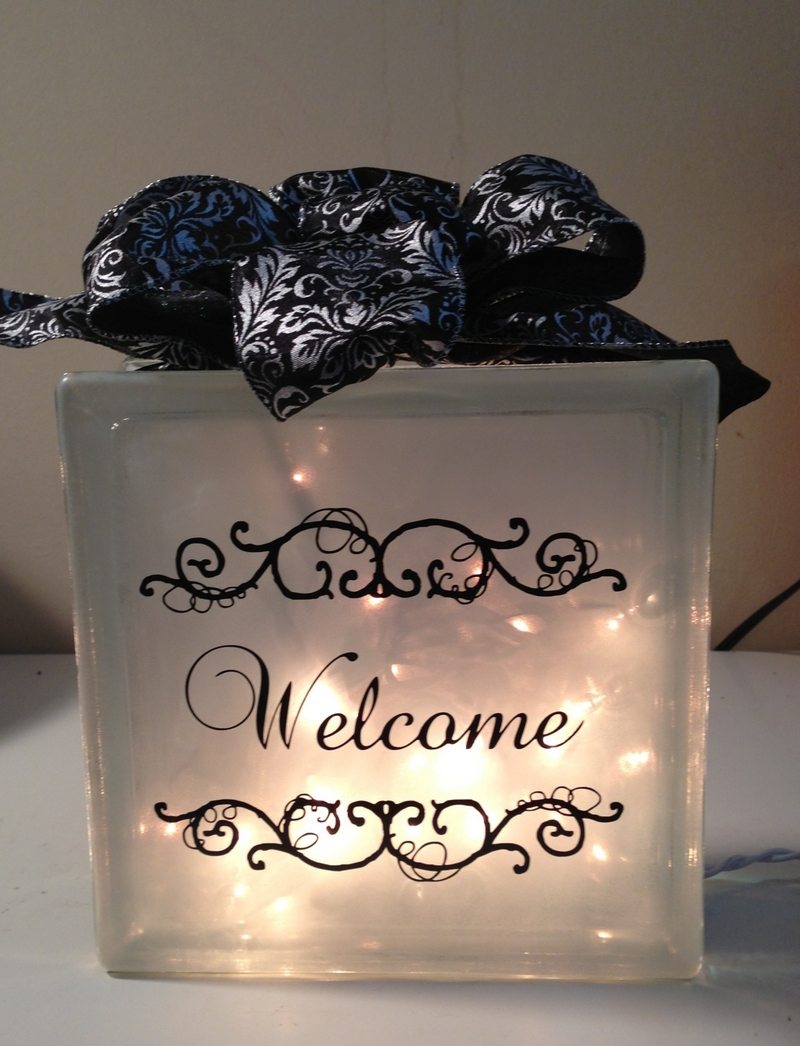 6. Monogram Letter
Similar to the "Welcome to our Home" sign, this DIY is simple and requires the same supplies.
This project makes a beautiful and one-of-a-kind gift. To get started, you'll need a glass block, some craft paint, and a paintbrush. Choose the color or colors you want to use for your design. Once you have your supplies, it's time to get started! Begin by painting your design onto the glass block. You can be as creative as you like – try a simple monogram, or get creative with patterns and designs. Once you're happy with your design, set the glass block aside to dry. That's it! Your DIY monogram letter is ready to display!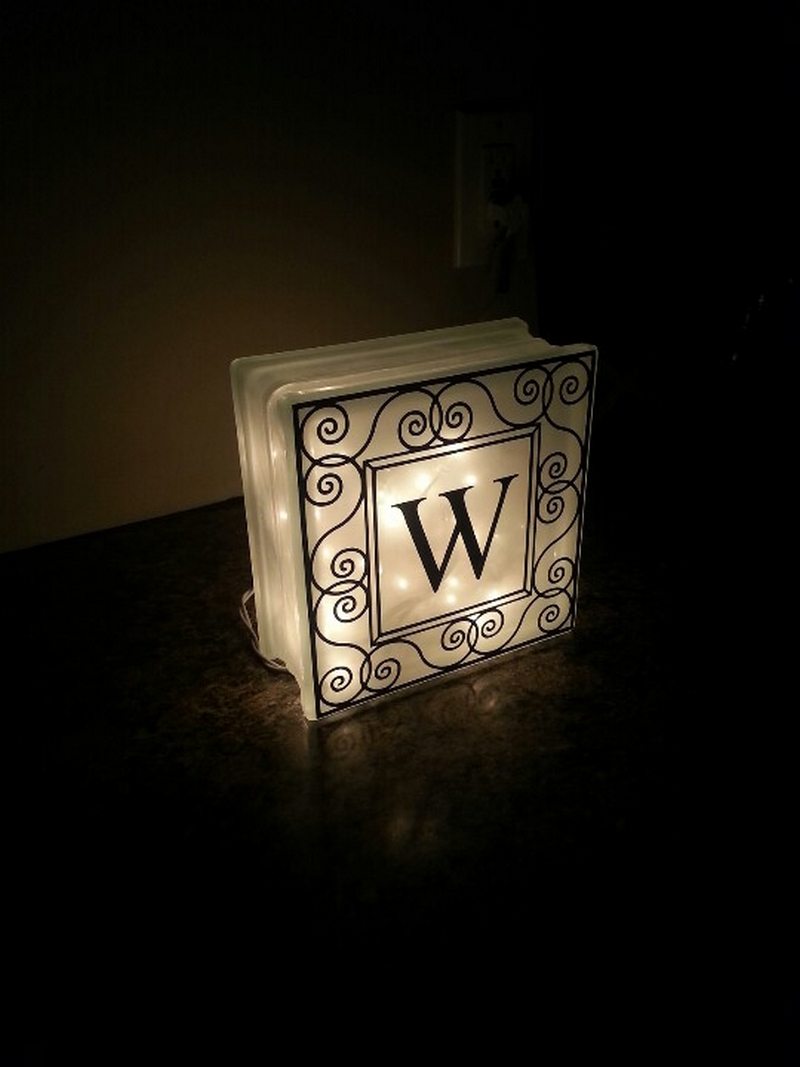 7. Inspirational Quotes Display
What a great way to show off your favorite inspirational quotes! This DIY display is a simple and easy project that anyone can do. Just grab a few blocks, some paint, and your favorite quotes, and you're all set!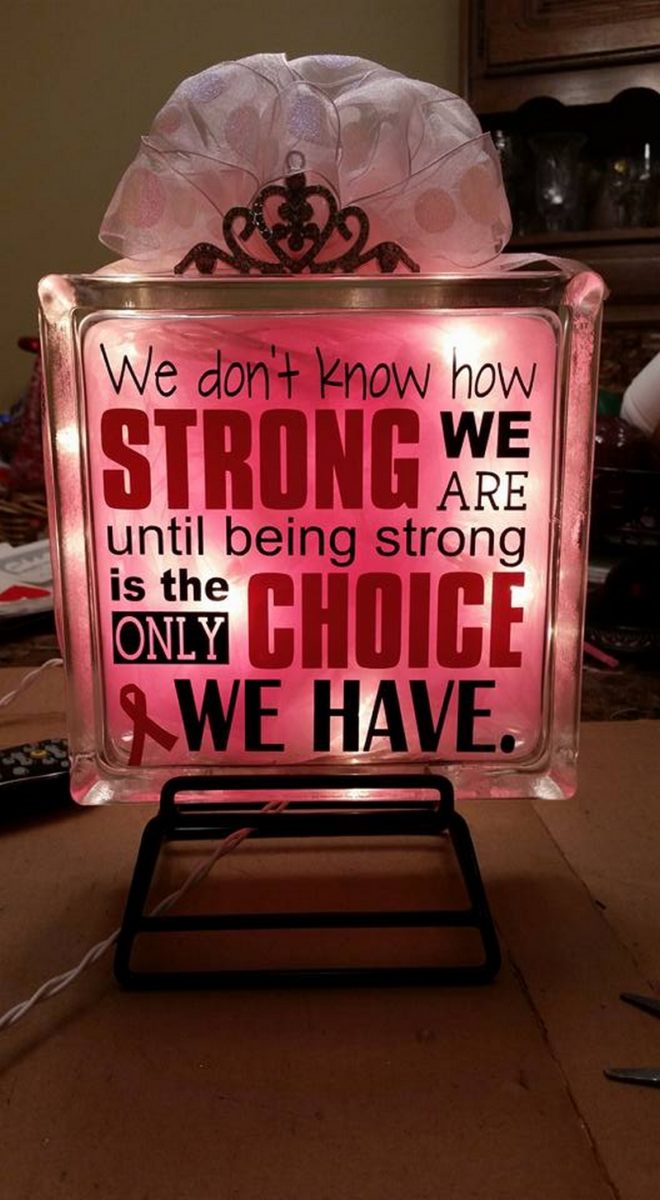 8. Halloween Decor
This Halloween, get into the spooky spirit by making your own decorations! One easy and festive way to do this is by transforming a simple glass block into a spooky decoration.
To start, gather your supplies. You will need a glass block, some black paint, and some Halloween-themed scrapbook paper. Once you have everything, begin by painting the block in black color. Let it dry completely before moving on to the next step. Next, cut out a few small shapes from the scrapbook paper. These will be the ghosts that will go on the glass block. Once you have your ghosts cut out, glue them onto the glass block. There you have it! Your very own DIY glass block Halloween!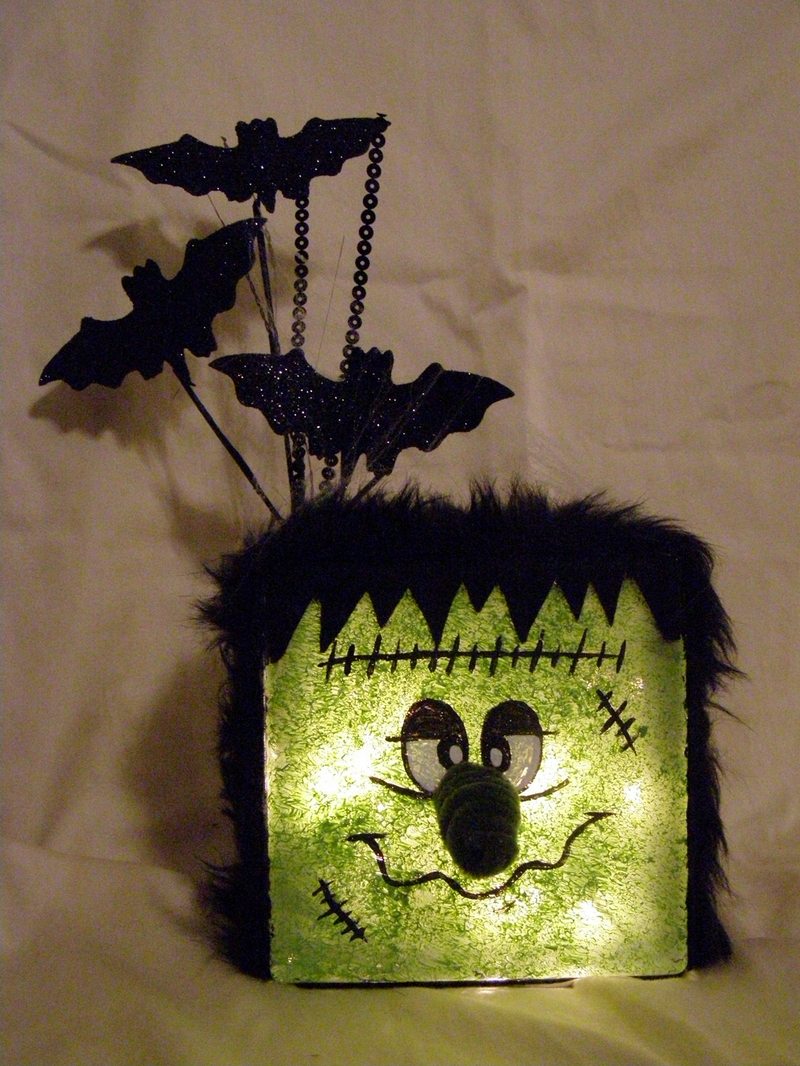 9. Gift Box Decor
To create your own amazing and stylish gift box, simply decorate a glass block with your favorite ribbon, paper, or fabric. This is a wonderful way to personalize a present for someone special, and it's also a fun project to do with your children. With a little creativity, you can turn a simple glass block into a beautiful and one-of-a-kind gift box.
10. Winter Season Decor
These charming little blocks can be transformed into all sorts of cute winter scenes, from snowmen to gingerbread houses. Here are a few tips on how to get started:
Simply, pick up a few different sizes and shapes of glass blocks. You can usually find them in packs of four at your local craft store. Then decide what kind of scene you want to create. Will it be a snowman? A gingerbread house? Something else entirely? Next, gather your supplies. In addition to the glass blocks, you'll need some white paint, fake snow, pinecones, or berries. Once you have your supplies, you can let your imagination run wild and come up with all sorts of fun and festive ways to make your winter-season decor glass block!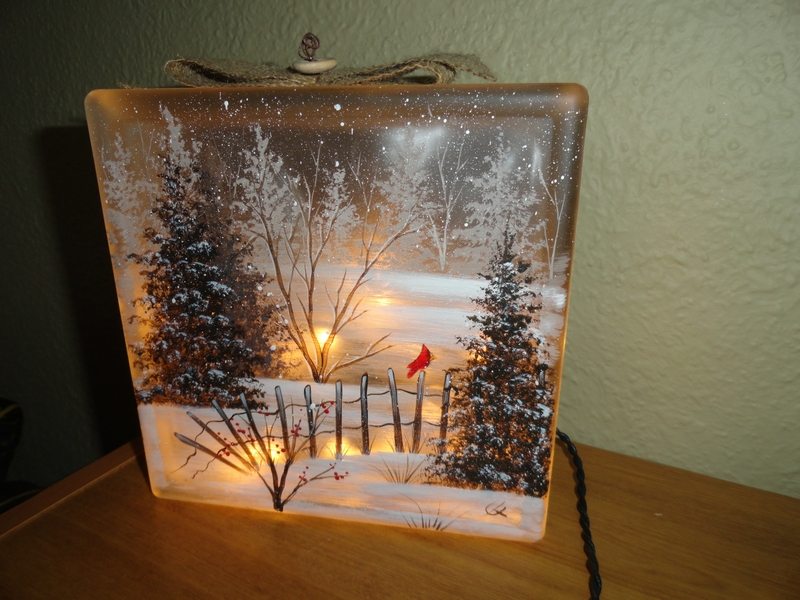 11. Christmas Decor
Another way to design your home this holiday is a DIY glass-block Christmas decoration. This project is easy to do and can be customized to fit your own personal style. Plus, it's a great way to upcycle old glass blocks or even repurpose some clear plastic ornaments. So gather up your materials and get ready to get creative!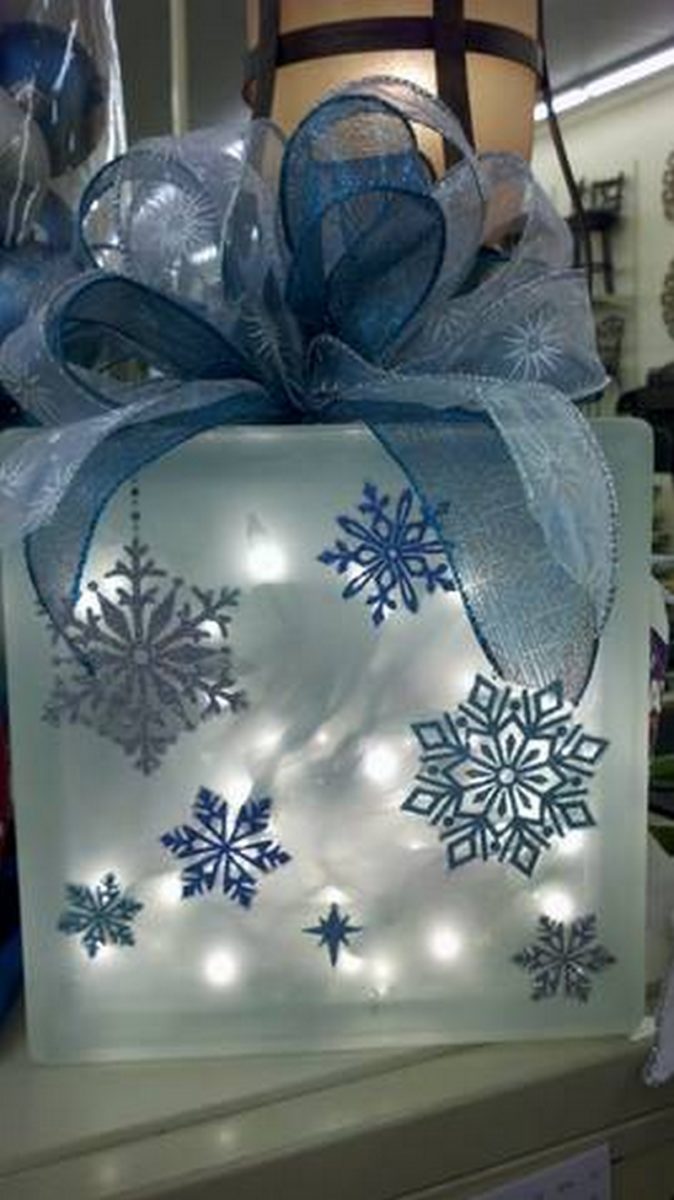 Now, which of these ideas would you like to DIY right now? :)
If you liked this project, you might also like to view Wine glass snow globes and Christmas and the Festive Season…