Stamped metal jewellery has become increasingly popular as a stylish, durable and versatile option. Whether you are looking to add a little sparkle to your wardrobe or start your own jewellery business, it is essential to understand the history and production process of stamped metal jewellery.
This blog post explores the history, production and design of stamped metal jewellery, as well as why it is such a popular choice for jewellery makers, designers and hobbyists alike. With an understanding of the terminology, production and design, you will be well-equipped to create beautiful jewellery that stands the test of time.
You will be able to choose the best materials, such as brass or silver, to ensure your creation is of the best quality. Learning how to shape and mould the metal is only half of the challenge as you will also need to be aware of the finishing touches such as polishing, plating, and enamelling.
This will ensure your creation stands out and makes a statement. With your expertise and creativity, you can craft exquisite, one-of-a-kind jewellery
Genuine Metal Is King ⁠⁠⁠⁠⁠— Choose Quality Over Quantity
When it comes to fashion, quality is always better than quantity. This is especially true when it comes to stamped metal jewellery ⁠— as is often the case, genuine metal is king. Shopping for stamped metal jewellery doesn't need to be an expensive endeavour ⁠— you can find great items at a variety of price points.
However, be sure to avoid jewellery crafted from 'faux' metals, as these are often not as durable and will not last nearly as long as those made with genuine metal. If you want to invest in quality metal jewellery that will last for years, look for items made with sterling silver, white gold, or yellow gold.
Get Style Inspiration From Stamped Metal Jewellery ⁠— From Traditional Elegance to Modern Chic
Are you looking for a timeless way to express your personal style and make a statement? Look no further than stamped metal jewellery! It's the perfect combination of classic and modern: you can find traditional elegance just as easily as modern chic.
Whether it's a necklace, earrings, bracelet, or ring, stamped metal jewellery is the perfect way to showcase your style and make a statement. Plus, it's incredibly versatile, so you'll never be stuck for ideas. Have some fun experimenting with different looks and find the one that's perfect for you!
Here's the amazing metal stamping process to get started…
Metal Stamping ⁠— Easy and Straightforward
Metal stamping is an affordable and straightforward way to create one-of-a-kind pieces to wear or give as gifts. And while it may seem daunting at first, with a few simple steps and the right tools, making stamped metal jewellery can be an enjoyable and rewarding experience.
Take a look at exactly how to make a stamped metal piece of jewellery, from choosing the right metal to getting the perfect stamp impression. Whether you're a beginner or an experienced jewellery maker, you'll find something to learn here.
Put on your craft apron and gather your materials
It's time to get creative and make something unique! Put on your craft apron, gather your materials, and start crafting your masterpiece. You will need:
Metal stamping kit
Metal blanks
Stamping tools
Hammer
Patterns and designs
Polishing cloth
Once you have all your supplies, you're ready to begin!
Choose a unique design and get ready to stamp
Ready to stand out from the crowd? You can make your stamped metal jewellery unique by selecting a unique design. Put your creative stamp on things and choose a design that reflects your style and personality. Put some thought into it, as the design you choose can be the thing that makes your jewellery totally unique and recognizable from miles away.
Once you have the perfect design, it's time to get ready to stamp it out! Get your materials ready, pick up your tools, and start crafting your one-of-a-kind jewellery.
Place the metal blank into the stamping block
The metalwork can give you a chance to unleash your inner artist. With the right tools and a little imagination, you can transform a simple metal blank into a beautiful unique piece of jewellery.
Step three in the process is just as important as the others. Place the metal blank into the stamping block and make sure it's firmly in place. Secure it with a few drops of super glue and let it dry for a few minutes. Now you're ready to begin hammering away and creating a masterpiece!
Hammer away and create your masterpiece
Now that you've come this far, it's time to start hammering! Your jewel is almost complete. Take your metal stamping hammer and start pushing it into the metal. Feel the metal bend to your will as you create your masterpiece.
As you hammer away, imagine the design you're creating — the shapes, the curves, the lines — and bring your vision to life. Once you're satisfied with your work, set it aside to be finished with a bit of polishing. And voila! You've now created an amazing piece of jewellery.
Love the beauty of your new custom jewellery!
Congratulations! You have just finished your very own custom-stamped metal jewellery! As you admire your work, you can't help but feel proud of the beautiful piece you have created. From the design you crafted to the stamping technique you used, each small detail of your custom jewellery is a reflection of your hard work and creativity.
The fact that you can wear your one-of-a-kind piece of jewellery is the icing on the cake. Hold your masterpiece up to the light and appreciate the beauty of your new custom jewellery!
Unique Custom Designs ⁠— Get Creative With Metal Stamping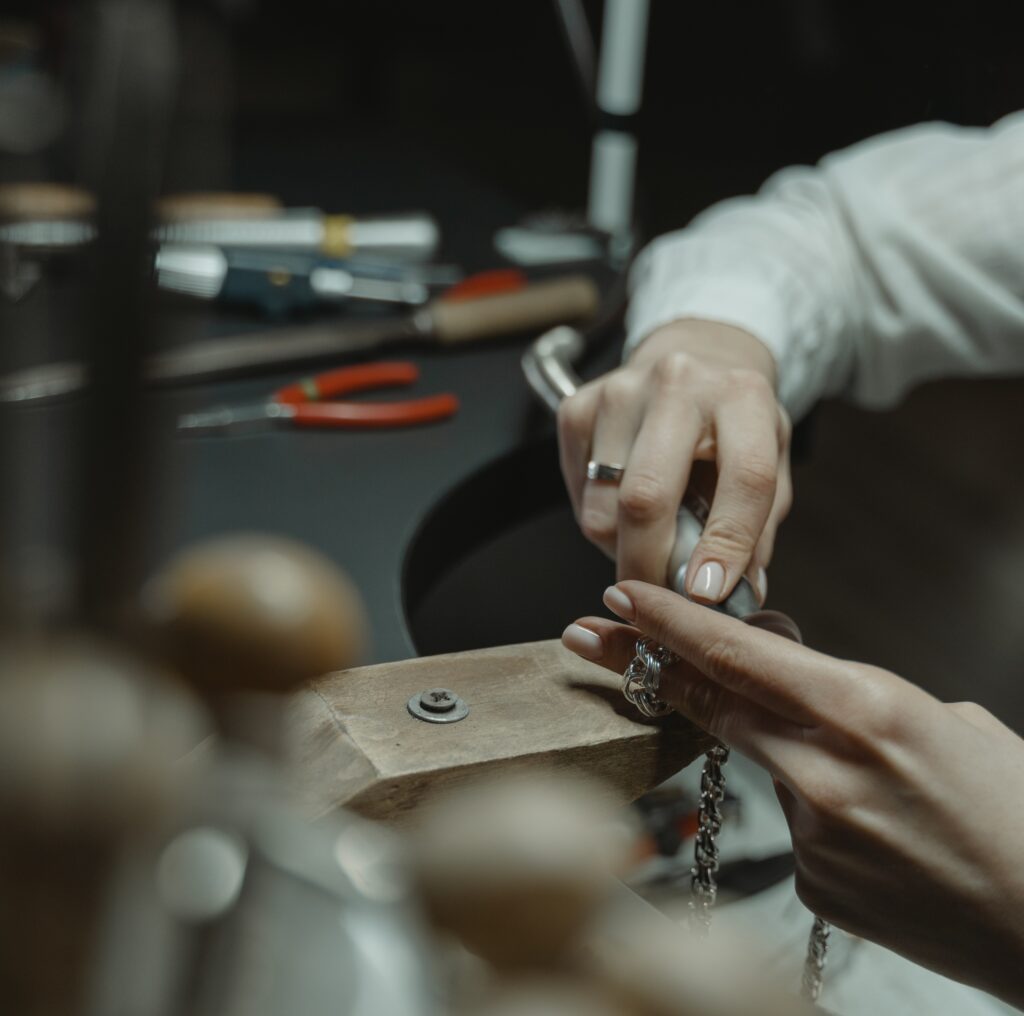 Ever wanted to create something truly unique and special that nobody else has? With stamped metal jewellery, you can do just that! Create custom designs that no one else has with metal stamping. This is the perfect way to create something truly unique and special that captures your unique style. Plus, you can use different metals and materials to create a look that is truly yours.
It's the little details that can really elevate a piece of jewellery from ordinary to extraordinary ⁠— the sheen of a polished surface, the subtle shimmer of plated gold or silver, or the beautiful, vibrant colours of enamelled pieces. Whether you're looking for a personalised gift or an eye-catching piece of art, metal jewellery is the perfect way to do it. As a gift, it's one of the creative DIY birthday gifts that make celebrations more special.
Making a Statement With Metal ⁠— Make Your Style Stand Out
From necklaces to earrings and bracelets, stamped metal jewellery adds a touch of glamour and sophistication to any look. Whether you choose a single piece or a whole set, these pieces are sure to make an impact.
Express yourself through the medium of metal and make your style stand out! Whether it's an eye-catching necklace crafted from gold or a pewter bangle with a personal engraving, there is so much to explore when it comes to metal jewellery.
From the timelessly glamorous gold and silver to the modern sensibility of pewter, you can choose from a variety of metals to create something truly distinct. Make a statement with your jewellery and show off your individual style!
Take Care of Your Jewellery ⁠— Clean and Store It Safely
Taking care of your jewellery is the key to ensuring it stays shiny and retains its beauty over time. Properly cleaning and storing your jewellery is important, so here are some tips to keep your jewellery looking its best.
Start by giving your jewellery a gentle polish with a soft cloth to remove any dirt or oil. Then, use mild soap and warm water to give your jewellery a thorough clean. Other jewellery cleaning solutions can be used, just make sure to check the manufacturer's instructions first.
After jewellery cleaning, dry your jewellery properly before storing it away, and always keep it in a case with a soft lining to avoid scratches and damage.
Our Pick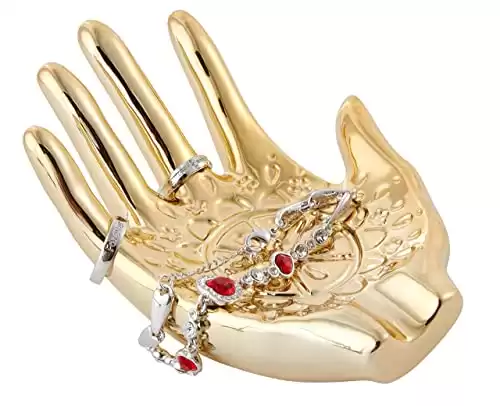 Versatile Wearability ⁠— Metal Jewellery Fits Any Occasion
If you're looking for the perfect accessory, stamped metal jewellery is a great choice! It's not only beautiful and eye-catching but also incredibly versatile — no matter what the occasion, stamped metal jewellery will fit right in. Whether you're going to a formal event or a casual gathering, metal jewellery can be dressed up or down to suit any style.
Whether you're dressed in jeans and a T-shirt or a cocktail dress, metal jewellery adds just the right finishing touch. With its versatility and timeless beauty, it's no wonder that stamped metal jewellery is becoming increasingly popular.
Wrapping It Up
To wrap up, stamped metal jewellery is an affordable and stylish way to add a personal touch to your wardrobe. The variety of styles, designs and metals available means that there's something for everyone.
Stamped metal jewellery is a fantastic choice for those who appreciate the beauty of handcrafted pieces and artisanal designs. Not only is stamped metal jewellery stunningly beautiful, but it is also incredibly versatile, allowing you to easily create the perfect look for any occasion.
Whether you decide to browse the selection of ready-made pieces or commission a custom design, stamped metal jewellery is a timeless accessory that is sure to add a touch of sophistication and elegance to any ensemble. With its ability to be both bold and subtle, stamped metal jewellery is a must-have item for anyone who values the beauty of handcrafted pieces. Are you ready to craft your masterpiece?