When designing stairs in your home, it is essential to not only consider the practicality of the stairs but also the design of the railing. This all-important feature brings the entire look of your home together, so it should be given special thought. You can make a powerful statement with the right railing design that is certain to draw attention. So, get creative and add a stunning stairs railing design to your home!
In this blog post, we will look at unique stairs railing designs and discuss the various materials, styles, and applications that can be used to create a truly unique stair railing. We will also discuss the practical considerations for each design and which type of stair railing will work best in your home.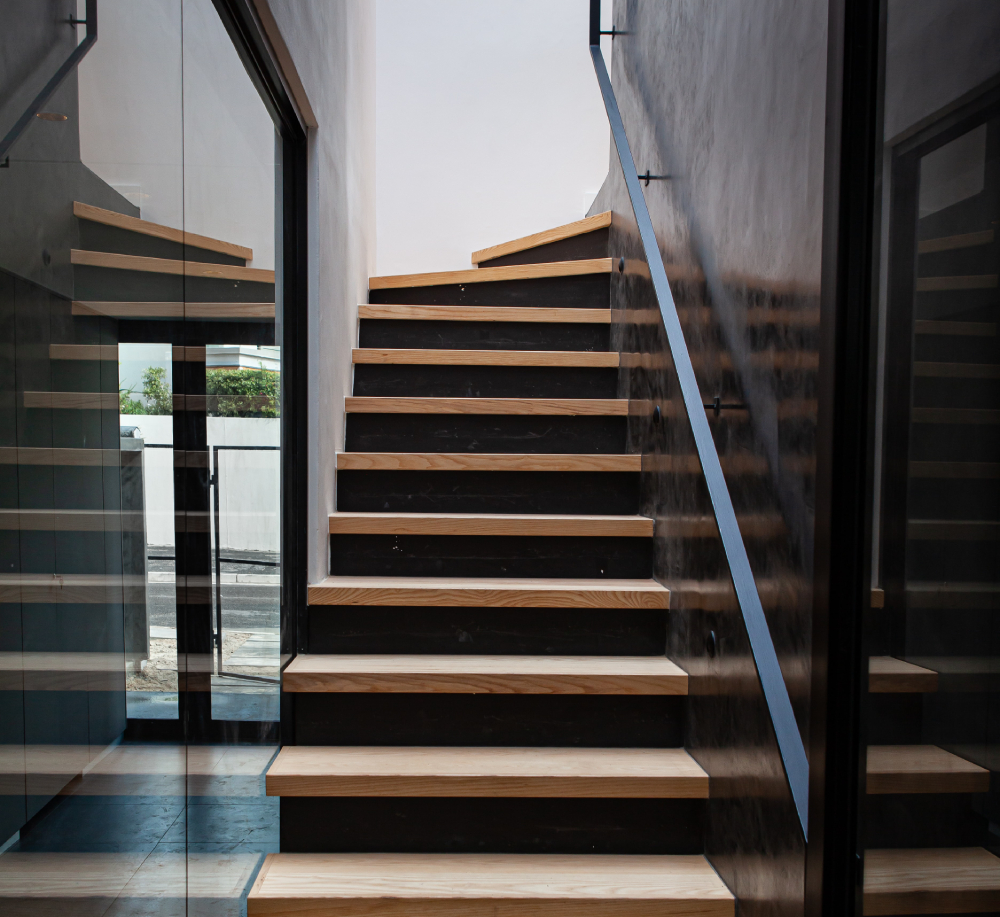 1. Wrought Iron Railings
Wrought iron railings have been used in staircases for centuries and are still popular today. The classic style of these railings is timeless and elegant, and they are available in a variety of designs to match any decor. Wrought iron railings are an eye-catching addition to any staircase, elevating its design and adding a sense of grandeur.
Whether you're going for a sleek and modern look or an ornate and classic style, wrought iron railings can provide just the right touch. From an elegantly curved railing to a decorative patterned picket, the possibilities are endless.
With the perfect combination of effortless beauty and strength, wrought iron railings are the perfect choice for your stairs railing design. With their unique charm and understated sophistication, wrought iron railings bring a touch of timeless elegance to any home.
Wrought iron is a strong and long-lasting solution for your staircase, and it requires little maintenance over time. It is the ideal material for your new stair railing design.
2. Glass Railings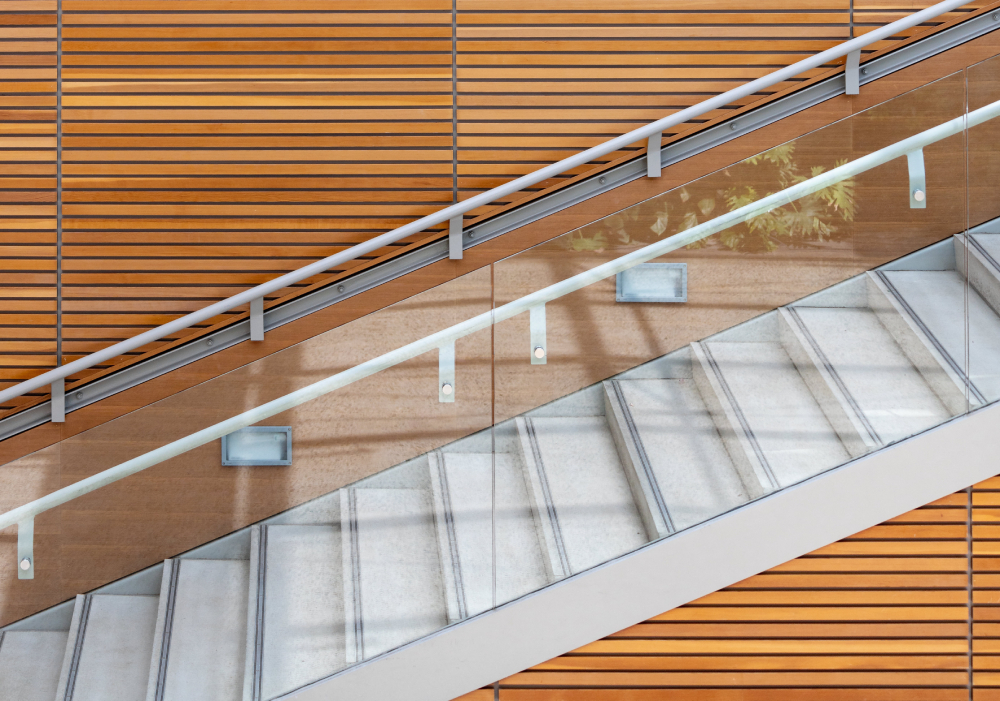 Glass railings are a unique and elegant way to add style to your stairs. A glass stair railing design is perfect for a contemporary home and provides a sleek and clean look.
When it comes to glass railings, there is an array of design options available to fit any style. Glass railings provide a modern look and come in a variety of colours, patterns, and sizes that can be customized and tailored to perfectly fit a home. For a timeless and elegant look, wooden railings have a classic look that will never go out of style.
Whether you prefer a rustic, traditional, or contemporary look, with a variety of wood and stain options available, you are sure to find the perfect design that will bring your staircase to life! Not only will glass railings add a touch of class to your home, but they are also extremely durable and require minimal upkeep.
3. Cable Railings
Cable railings are a unique and modern way to add a touch of style to any staircase. This type of railing is made up of a series of cables, usually stainless steel, that are connected by end fittings. Cable stairs railing designs are an excellent choice for open staircases, offering a modern and stylish look while keeping the view of the stairs open and unobstructed.
They are perfect for adding an element of sophistication and elegance to any home, making them an ideal option for adding a touch of luxury to any space. Cable stairs railing designs come in a variety, giving you the perfect opportunity to customize your staircase to match the overall aesthetic of your home.
Cable railings are also particularly popular in homes with modern and minimalist aesthetics as they provide a simple yet sophisticated look. Additionally, they are relatively easy to install and maintain.
4. Stainless Steel Railings
Stainless steel railings are one of the most classic and timeless stairs railing designs. If you're looking to make a statement with your staircase, stainless steel railings are the way to go. With its sleek, modern look, stainless steel can easily fit into many different interior designs, giving your space a stylish and sophisticated vibe. Stainless steel railings are incredibly durable and can last a lifetime, ensuring you're getting a great investment in your home.
They can also be customised to fit any colour scheme you have in mind, whether you're looking for a bright, vibrant colour to really make your stairs stand out or something more subtle and chic. With stainless steel railings, you can be sure to get a stairs railing design that's not only beautiful but also reliable and long-lasting.
5. Wood Railings
Wood railings are a classic choice for stairs railing design. There are many different types of wood to choose from, so you can find a look that will fit perfectly with your home. When it comes to stairs railing design, wood railings offer a unique and classic look that is sure to stand out from the other materials out there. Not only are they beautiful and traditional, but they can also be easily painted or stained to match any colour palette or design style you can imagine.
Whether you are going for a crisp and modern look or a warm and cozy feel in your home, wood railings can be customized to fit your vision perfectly. And with the right sealer, you can keep the wood looking great for many years.
Also, in 3 easy steps turn the stairs into a slide but still enjoy peace of mind! Wood railings provide the perfect blend of strength and ease of cleaning, making them the ideal choice for those with children and even pets.
6. Combination Railings
Combination railings are one of the most popular and versatile stair railing designs. This railing type combines several components such as balusters, handrails, and posts to create a more unified look. Combination railings can be made from various materials including wood, metal, and glass.
Stair railings can be so much more than just a functional addition to your home. With the right combination of railings, you can create an eye-catching look that will stand out from the crowd.
Combination railings come in a variety of styles to fit any aesthetic, from traditional to contemporary. With their multiple-component design, combination stairs railing designs are a great way to create a unique look.
7. Patterned Railings
Patterned railings are a great way to add some personality to your stairs. Whether you choose to incorporate a classic geometric pattern or something more modern, patterned stairs railing designs are a distinct way to make your stairs stand out.
With patterned railings, you can make a statement by combining different materials, colours, and shapes to create a truly unique and beautiful pattern. For an organic look, why not alternate different colours of natural wood?
Or, for a modern touch, you could mix colours of metal or glass to create a sleek, contemporary stairs railing design. If you're looking for an attractive option, you can even combine different colours and materials for a truly one-of-a-kind look.
With patterned railings, the design possibilities are truly endless — so why not get creative and have fun? As an added benefit, patterned railings often come with built-in safety features, making them a great way to add style and security to your home.
8. Turned Balusters Railings
This timelessly elegant stairs railing design is a thing of beauty. The bottom features a smoothly turned newel post, connected to the top of each individually hand-crafted baluster. These are connected by an exquisitely curved handrail, creating a graceful and luxurious look.
Beautiful stairs stair railing designs can elevate any home or office space. Balusters are the perfect way to create an elegant and classic look that will last for a long time. Whether you are looking for a timeless traditional style or a more modern design, balusters can provide the perfect finishing touch. With a wide variety of materials and styles to choose from, you can find the perfect railing for any staircase.
The Takeaway
Overall, it is clear that the staircase railing is a crucial component of stair design, and can be used to create a unique and visually appealing look. Whether you are looking to add a modern touch to a traditional staircase or create a completely custom stairs railing design, there are countless options available.
Your stairs are like the heart of your home, an integral part of your living space where you come and go multiple times a day. That's why it's important to pay close attention to the stairs railing design of your home. Think about traditional spindles for a classic look, intricate metalwork for an ornate feel, or perhaps sleek and modern lines for a contemporary vibe.
After all, this is a part of your home that you use every day — and not just for you, but for your family, friends and visitors alike. So, invest in a well-crafted, stylish, and secure stairs railing design. Whether you're looking for something modern and minimalistic or a more traditional style, you can benefit from your choice. Go ahead and make this part of your home something special.