These DIY mini pallet coasters are perfect as gifts!
Personalized gifts are great because of the time and effort put into making them. These gifts have your imprint and they say so much about you, the giver.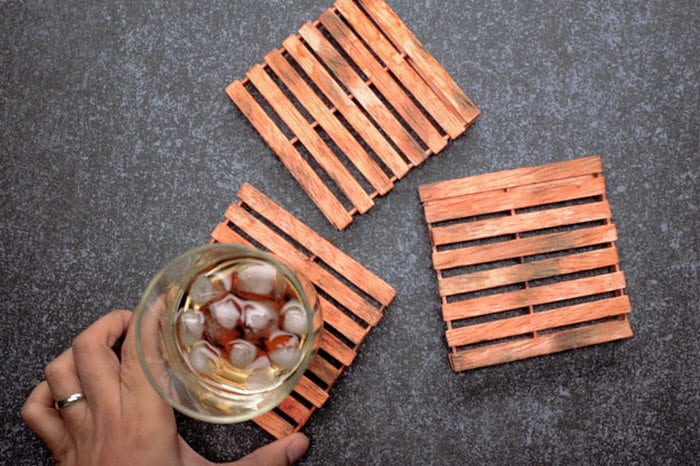 If you're looking for something to give as a gift, here's a great idea for you: DIY mini pallet coasters. You can give this for a housewarming or a birthday celebration – pretty much for any occasion. Because these coasters are fully customizable, you can paint or stain them in any way you want.
This makes the act of gift-giving fun and creative. The coasters will also allow the personal connection between you and the recipient to shine through – perhaps over a drink or two!
Creating these DIY mini pallet coasters requires woodwork so be careful with the bandsaw! The finished products are beautiful so enjoy the process of making them.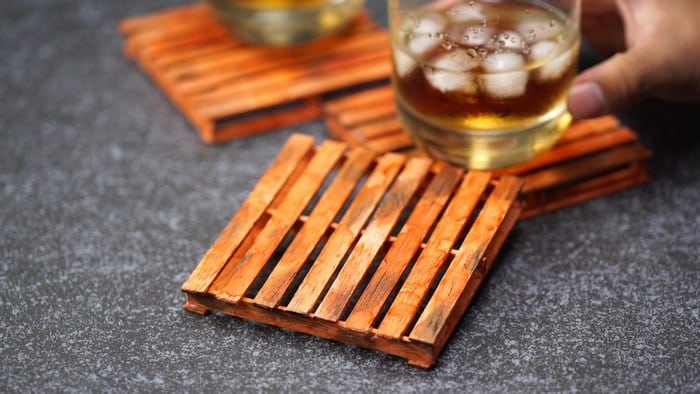 Whether you want to make them for yourself or as a gift, these pallet coasters are sure to inspire you. So gather up your supplies and get creative!
DIY mini pallet coaster design ideas
Click on any image to start the lightbox display. Use your Esc key to close the lightbox.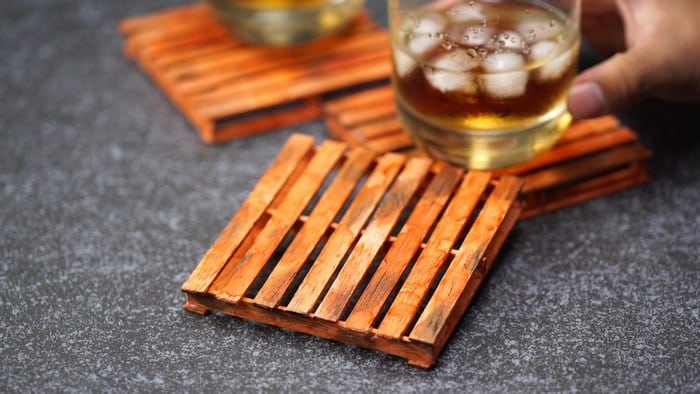 Why don't you start making a bunch of them today? Your friends will surely love receiving them for Christmas!
This is a great project for anyone, even if you're new to woodworking. To make these coasters, you will need:
Materials:
9 pcs slats (wood of your choice) – 1/8"x1/2"x4"
3 pcs runners (wood of your choice) – 3/8"x1/2"x4"
cyanoacrylate glue/crazy glue
wood glue (optional)
spray lacquer finish (or a stain of your choice)
Tools:
bandsaw
miter saw
sander
ruler
How to make a DIY mini pallet coaster
Making your own mini pallet coasters is a fun and easy project that you can do at home! All you need is a few simple supplies and a bit of creativity.
To get started, simply gather all the supplies needed. Then, follow the instructions below to create your very own pallet coasters.
1. Prepare your pallets
First, clean your pallets thoroughly.
2. Cut your big pallets into small pallets
Trace your desired coaster measurement on the pallets. Then, use a saw to cut the pallets into small rectangles.
3. Sand down the edges
Next, sand the surface of each pallet piece to create a smooth surface for painting or staining.
Sanding the surface of each pallet piece is important to create a smooth surface for painting or staining. You'll want to use medium-grit sandpaper to start with, and then move to a finer grit if needed. Be sure to sand in the direction of the grain to avoid damaging the wood. Once you're finished sanding, wipe down the surface with a damp cloth to remove any dust.
4. Arrange your small pallets
Arrange your small pallets by piling them up alternately. Then, use wood glue to attach them. Let it dry.
5. Paint or stain your pallet coaster
Now that the glue is dry, you're ready to paint or stain your pallet coaster.
Adding a stain to the finished product gives it a more rustic look.
If you want to get really creative, you can try using different stencils or stamps to decorate your coasters.
To protect your coaster from water damage, you can seal it with a clear sealant.
Give it a few minutes to dry, and then enjoy your new coaster!
We hope you enjoy this project and have fun getting creative with it.
Thanks to Josh Millar for this great project. You can watch the video tutorial here…
If you liked this project, you might also like to view Transform Old Maps into DIY Coasters…