We have a lot of empty jars at home – and I mean dozens of them. I literally stumbled upon them while I was cleaning out our storage room. I must have collected them over the years because I don't like throwing recyclable stuff away.
Because the jars were of different make and sizes, I engaged myself in a DIY project. I once saw a video tutorial on how to make mushroom fairy houses from jars. A quick search gave me what I needed. I then decided to give it a try.
Our Pick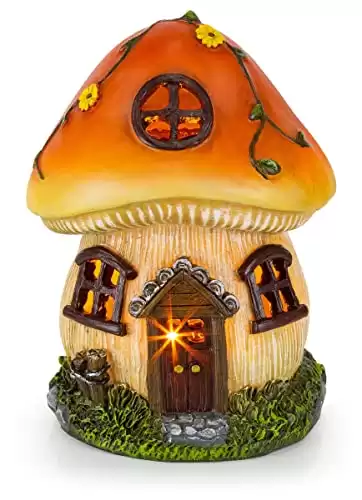 Mushroom Fairy House Solar Powered Outdoor Decor LED Garden Light
Install anywhere that gets direct sunlight. During the day, the solar panel collects the sun's energy and converts it into electrical power that is stored in the rechargeable battery. At night, the light sensing technology automatically illuminates the solar fixture.
Buy on Amazon
We earn a commission if you make a purchase, at no additional cost to you.
12/01/2022 02:49 pm GMT
These mushroom fairy houses are perfect as home décors or as gifts. You can also use them to store candy, jewelry, trinkets, and other stuff. With this DIY project, you can bring new life to old boring jars. You just have to turn them into mushroom fairy houses!
You can also ask the kids to join you. Let them have fun with the clay or ask them to color. It will be a great bonding activity for you and your kids.
Gather what you need and get to work…
Majestic DIY mushroom fairy house designs.
With a little bit of creativity, you can design and build a beautiful and magical home for your favorite fairies. Not sure where to start? Check out some of these amazing mushroom fairy house designs for inspiration.
Click on any image to start the lightbox display. Use your Esc key to close the lightbox.
What are the materials needed to make a DIY mushroom fairy house from jars?
These Majestic DIY mushroom fairy house designs are sure to inspire you. Not only are these houses adorable, but they're also surprisingly easy to make, plus its a good way to recycle your old jars. All you need is some basic crafting supplies and a little bit of imagination. So grab your glue gun and let's get started!
To get started, you'll need some basic supplies. Here's what you'll need:
Materials:
empty jar
tinfoil
hot glue
white air-dry clay
watercolours
Tools:
How to make a DIY mushroom fairy house from jars?
Making a fairy house is a great way to bring some enchantment into your home and garden.
This DIY project is easy to do and only requires a few materials. Best of all, you can customize your fairy house to suit your own personal style.
Since your supplies are ready, then let's get started!
1. Prepare the jar
Make sure to clean the jar thoroughly before using it. You can wash it with soap and water, or you can put it in the dishwasher. Either way, make sure the jar is clean before you use it.
2. Make the mushroom head
To create a mushroom head shape out of tin foil, start by covering the lid with the tin foil. Next, use your hands to mould the tin foil into the shape of a mushroom head. Then, seal it with hot glue. Just be sure to use good-quality glue to keep the foil in place.
3. Make the mushroom body
To make the body of the mushroom, cover the whole jar with clay, including the head. We recommend using white air-dry clay. Use your fingers to smooth out the clay and make it even. Make sure there are no gaps or cracks in the clay.
4. Create the carving design
Once the jar is covered, use a knife to make the details of the mushroom. Start at the top of the jar and make a downward cut. Then, use a stick to make the door and windows. Draw the rest of the details for the walls using your imagination. You can draw some rocks, stems and stairs. With a little bit of creativity, your mushroom house will be complete!
5. Finally, you can now paint your fairy house
Now that the building of your fairy house is complete, it's time to add a little colour! This is the fun part, where you get to make your house look however you want. You can use any colours you like, or even mix them together to create new shades. Just make sure to have fun and be creative!
Enjoy your new DIY fairy house display! We hope you enjoy it for years to come.
Here are a few tips to keep it looking its best:
Dust it regularly with a soft cloth
Keep it out of direct sunlight to prevent fading
If you live in a humid climate, consider using a sealant to protect the materials from moisture damage
You can watch the video tutorial here…
Thanks to Creative Mother in Craft for this great project.
If you liked this project, you might also like to view the DIY Aquarium Jar…