Have you been in a situation where even the mere task of charging your cellphone becomes very inconvenient? This usually happens when your charger cord is too short to reach available power outlets. And because no table or shelf is near enough for you to put your phone on while it's charging, you have no other choice but to place it on the floor and pray that nobody steps on it.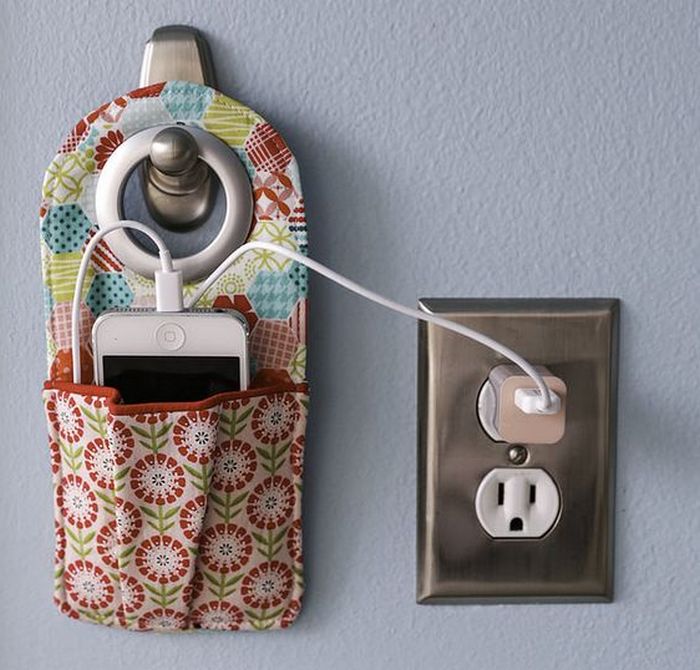 I came across this DIY cellphone charger holder from Flamingo Toes. I think it's a brilliant idea so I decided to share it with you. It's a handy little thing with a cute pocket just big enough for your phone to fit. This one's relatively easy to make, depending on how good your sewing skill is.
You'll need these materials to make a charger holder:
2 pcs of fabric for the main front and back – both measuring 10 1/2″ x 6″
2 pcs of fabric for the pocket front and back – both measuring 7″ wide at the top; 6″ wide at the bottom; 5″ tall
2 pcs Fusible Fleece – one measuring 10 1/2″ x 6 and another one measuring 7″ x 5″
10" ribbon
30" pom pom trim
1 plastic curtain grommet
And these tools:
Sewing machine
A pair of scissors
Since it's fully customizable, you can give this as a gift for family and friends by choosing fabric prints you think they'll love. Take a look at some of the designs here…
'Click on any image to start the lightbox display. Use your Esc key to close the lightbox.'
For step-by-step instructions on how to sew your own cellphone charger holder, go here.