If you have little kids at home then there's a good chance that you're missing a sock or two every now and then. Instead of wondering of where they went, or wait for them to reappear (don't hold your breath on this one), why not do something with the remaining socks!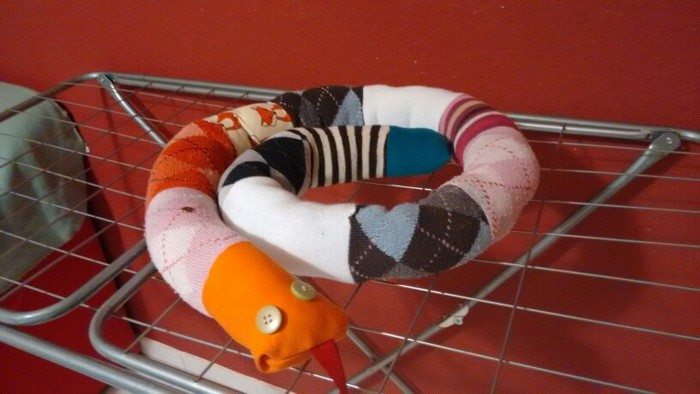 Got a collection of socks with missing partners? If you think that their mates are gone for good, here's a cute sewing project you can do with the orphaned socks! Make a sock snake out of them!
Your kids are going to love its unique look. They will definitely enjoy playing and taking it to bed with them because it's as cuddly and cute as a teddy bear!
It's easy to make, even if you're not an expert or into sewing projects.
Here, the DIY-er used 10 pieces of clean socks. To use more or less is up to you. But of course, the more socks you use, the longer the snake sock, the better!
Do you have enough mismatched socks you can use for this cute project?
Materials:
Clean Socks
Thread
Buttons
5″ Red Ribbon
Pillow Stuffing
Tools:
Scissors
Sewing Machine
Sewing Needle
Click on any image to start lightbox display. Use your Esc key to close the lightbox. ?
Thanks to Grosgrain for this great project. You can get step-by-step instructions here…