Soda pop tabs, soft drink tabs, beer tabs – call them what you will but most people will still see them as rubbish! In isolation, they may look unattractive and useless, but start putting a few together and you can actually make some really cool things, like a beautiful lampshade! If you need or are thinking of getting a new lamp shade, this DIY project is one that you should definitely consider…
Our Pick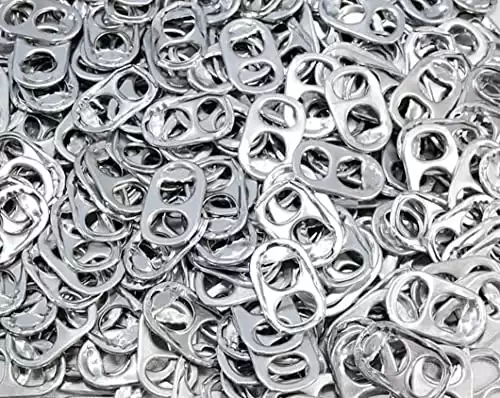 I'm writing this on Christmas Eve, knowing that, over the next few days, literally hundreds of millions of these tabs are going to hit the rubbish bin and from there to landfill!
This is an easy project and even if you don't need a lampshade, your local Op Shop will be able to turn your tabs and time into cash to help others… and that's what this time of year is really all about, isn't it?
It's easy and quick to make a soda pop tab lampshade! You don't need any kind of glue or fastener as you basically only have to cut and interlink all the pieces.
A lamp that is 8 inches tall and 7 inches in diameter would need around 544 tabs. Now you're probably wondering how you can get that many soda tabs without also getting diabetes! Well, you can always ask your friends, family or anyone in your local area to keep the tabs for you from all the soda cans they consume.
If you don't think you'll be able to collect enough soda tabs that way but you still want to do this project, you can actually buy bulk from Amazon or eBay! Yes, there are these wonderful people who collect and sell soda tabs. ;)
Silver aluminum or colored tabs — they both make beautiful lampshades. And the colored tabs don't mean an extra step for painting. Colored tabs are factory-anodized color pull tabs that you can simply collect or buy just like the aluminum tabs.
Do you want to have your own soda pop tab lampshade? 
Get inspiration from our album and learn how to make it by heading over to the tutorial from Foundry below!
Materials:
Soda Pop Pull Tabs
Lampshade Hoops (top and bottom)
Tools:
Needle Nose Pliers
Side Cutters
Small Flathead Screwdriver
Click on any image to start the lightbox display. Use your Esc key to close the lightbox.

Thanks to Foundry for this great project. You can get step-by-step instructions here…