Too sick to get out of bed, but need to finish some computer work? Here's a DIY bed table made purely out of cardboard that can help you in your situation!
Working in bed is a big no-no for us! Beds are not conducive to creative thinking and working while lying in bed will only make you feel more exhausted than you actually are. But there are those exceptions, like when you are sick and you still need to get some work done. :)
This is where this bedtable can come in handy! It's a tablet stand, a laptop tray, a cellphone holder, a pencil holder, a glass and bottle holder — an anything-you-want holder!
Since it is made out of cardboard, it's a bed table you can (and should) use only when you really need it ;)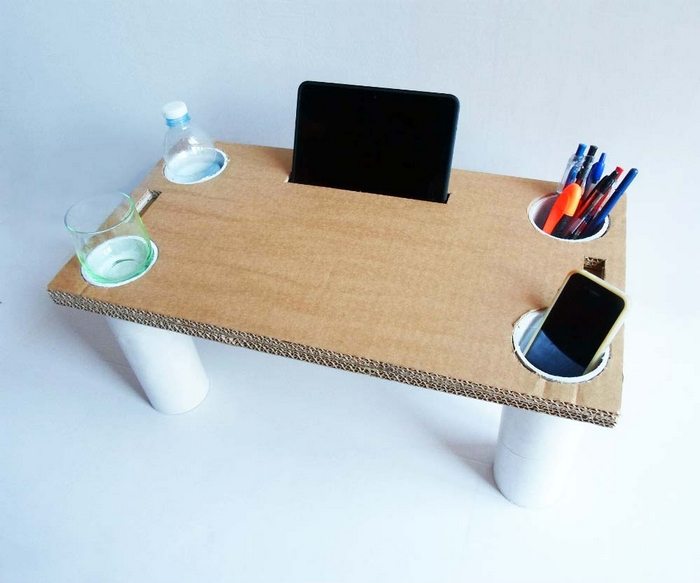 You'll need the following tools and materials to make a DIY multi-purpose bed table.
Long Cardboard Tube
Thick Corrugated Cardboard
White Glue
Paper
Jigsaw
Drill with Holesaw
Cutter
Ruler
Pencil
Scissors
Awl / Screwdriver (or anything similar to make holes)
How to make a DIY multi-purpose bed table
1. Let's start making the feet for the bedtable
I decided that mine would be 25 cm tall (9.84 inches). You can make them as tall as you prefer.
Make signs on your cardboard tube measuring the right size for your feet (25cm in my case). They must be 4 equal sections.
Cut them using a jigsaw or circular saw, trying to be very accurate.
I painted mine in white because the cardboard tube was dirty with dark signs, but I believe that the cardboard's natural color is good too.
Let's cut the flat surface now which is composed of 2 rectangles of the same size.
Draw a rectangle on your piece of cardboard that is 58 x 30 cm (22.83 x 11.81 inches). I made up these sizes considering how big my laptop is and how much space the tubes would have taken, but you can adjust it to your size.
Cut the rectangle using a cutter and cut another identical piece.
Make some signs on each angle to see exactly where you want your tube feet to be. I decided to put mine at 2cm (0.78 inches) from the sides.
Make sure not to put them too close to the sides because cardboard breaks easily that way.
Use a hole cutter and drill to make the holes for the feet on both rectangles.
Important: the hole cutter must have the same diameter as the tubes you are using.
Believe it or not, I used a hand drill, and that was so much slower and harder to use, so I recommend you to use a regular drill (if you have one!) :D
Cut 8 cardboard discs using a smaller hole cutter. This hole cutter should be as big as the inside of your tubes. Mine has a diameter of about 7,5 cm (2.95 inches).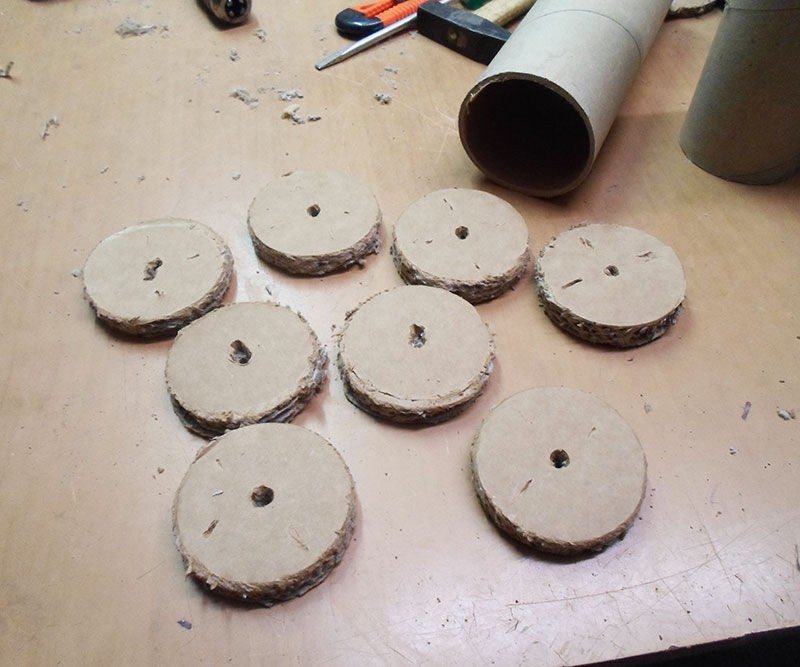 The hole cutter left a hole in the middle of the discs so I decided to cut some other discs out of paper and glue them on the cardboard discs. The paper discs must be just as big as the cardboard ones, of course.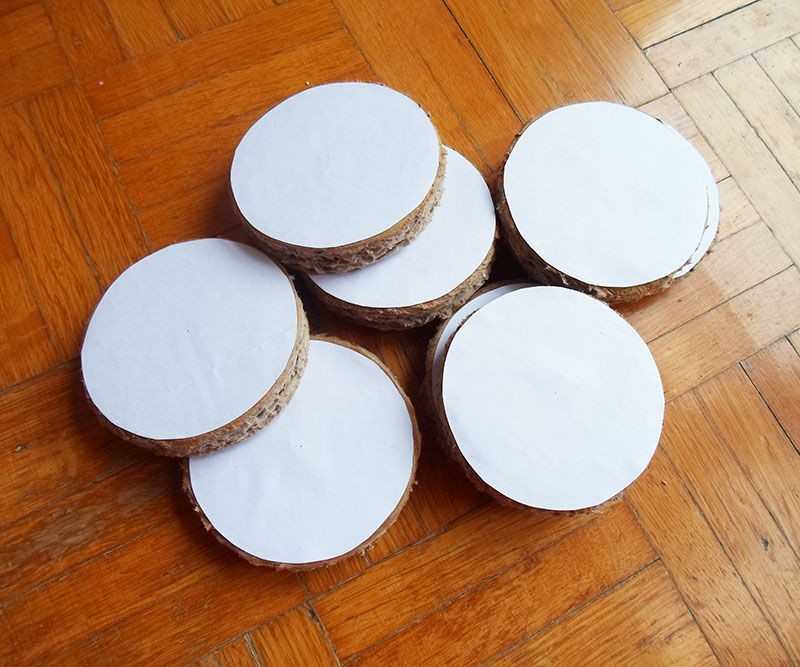 Continued Page 2…