Need a new wall decoration for your room? Here's one DIY idea you might enjoy!
String art first became popular in the 70s but is now enjoying a comeback as a simple way to create art. This DIY retro string art craft is especially popular among beginners as it requires few materials and is an inexpensive way to add some personality to otherwise bare walls.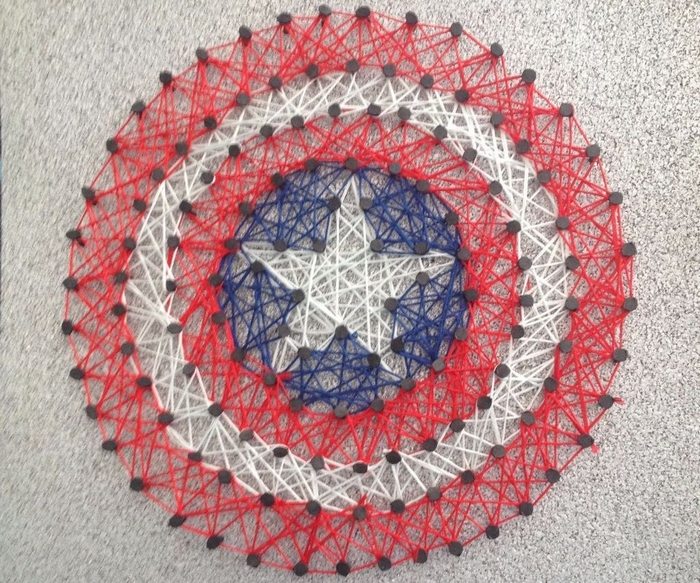 A string art wall decoration is a great creative project for using up all excess nails and timber or plywood around the house. Aside from being inexpensive, it is also fun because it's an art project that anybody can successfully make. No special skills or talent is required! And you can do this string art together with the kids. Just make sure not to leave them unattended, especially with the small nails lying around!
String art is a fun and unique way to create art. There are endless possibilities for designs, and the results can be truly stunning. If you're looking for some inspiration, check out these amazing string art designs. From simple to complex, there's something here for everyone. So get creative and start stringing!
Amazing string art designs
Click on any image to start the lightbox display. Use your Esc key to close the lightbox.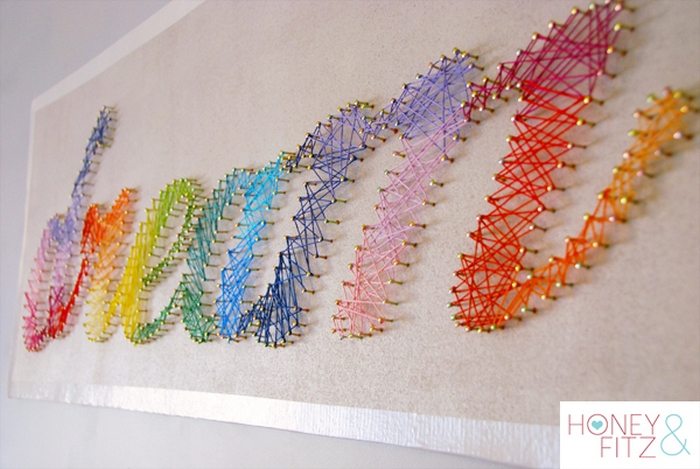 What's great about the project featured here is that it uses all lightweight materials, making it easier to do and safer to display in any room. As you can see the owner of this project even hung it above their baby's crib.
In order to get started on your project, you'll need to gather a few supplies. Below is a list of materials you'll need in order to complete your project successfully.
3 pcs – 2'x4′ Cork Roll
Assorted colors of Embroidery Floss
4 packages – 11/16″ Linoleum Nails
Optional:
Paint
Mini Styrofoam Roller
White Duct Tape
How to make string art
Read on to learn how they did it and be inspired to make your version. :)
1. Prepare the cork roll
Flatten your cork and glue it together. Before I started this project, I unrolled the corkboards and placed a bunch of heavy books on them to straighten them out a bit.  I left them like this for a day.}
Each piece of corkboard is only about 1/32″ thick – definitely not enough to hold a nail stable.  So I stacked three together.  Use your glue gun to glue them together.  Put them back under some heavy books for an hour or so so allow them to dry completely.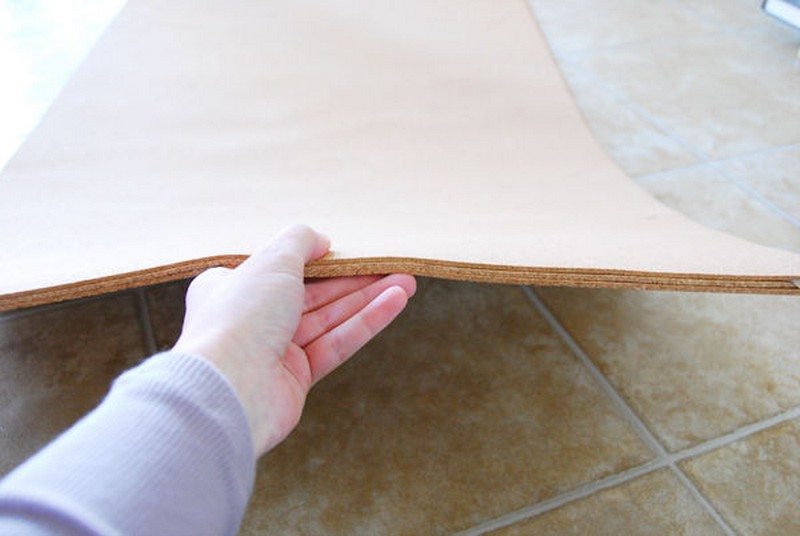 2. Make a word template
Create your word template. You will most probably be printing your chosen word on more than one or two papers. Cut the letters all out and assemble them into a single word using some Scotch tape.
Reinforce the spaces between letters with some additional tape.  That will make the entire template more stable to work with.   Don't worry about cutting out the inside of some letters like "d", "e" and "a".  Not necessary!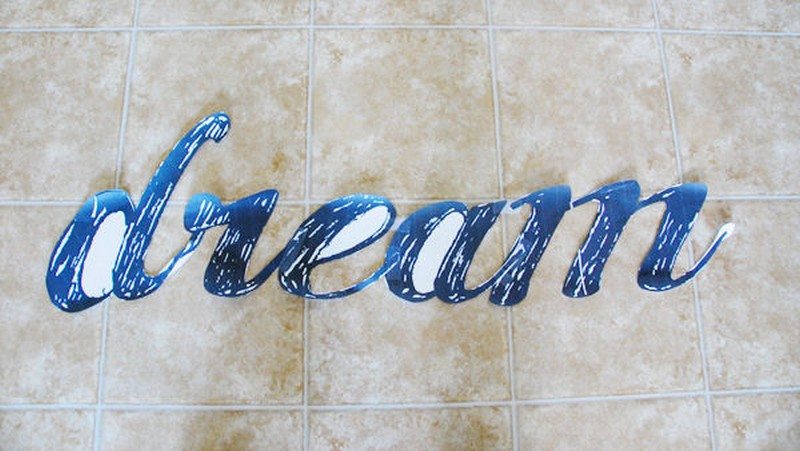 3. Layout your word template to your corkboard
Centre your template out on your corkboard.  I decided there was too much cork at this point and wanted to trim away a few inches from the top and bottom.
Important: Do NOT trim your corkboard with a box cutter! It will shred and fall apart on you. Use scissors and it will cut nicely with minimal shedding.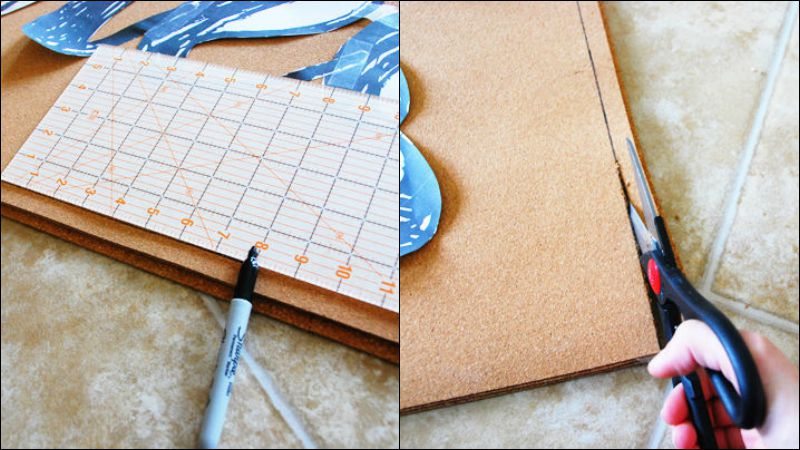 4. Paint the corkboard with white
I wanted the look of a white background for my string art so I decided to paint the cork.  If you're fine with the cork color/texture background, then feel free to skip this step.
(When the paint dried, there was a little bit of buckling of the top layer of the corkboard and I could see where I had missed spots with my hot glue.  Don't worry if this happens to you, it's completely not noticeable after you're done.)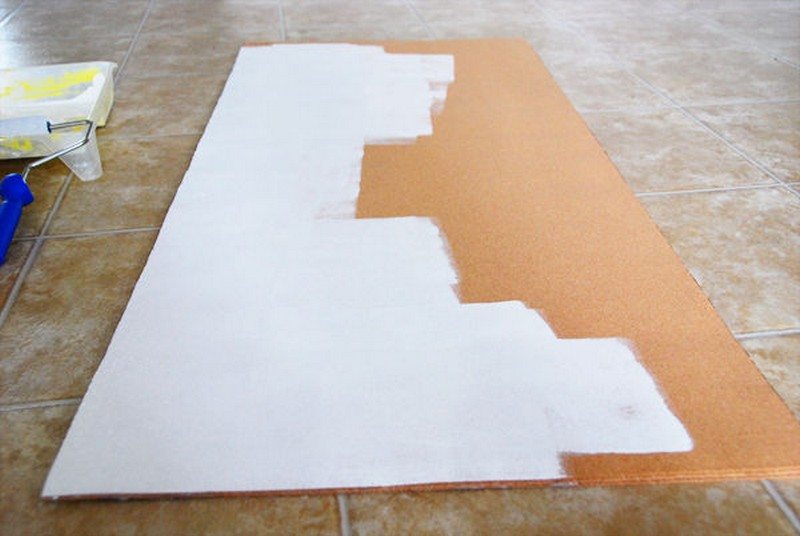 5. Apply the hanging strips
At this point, you'll want to flip the entire canvas over and apply your hanging strips.   Do this now so that you don't have to deal with it once all your nails are in.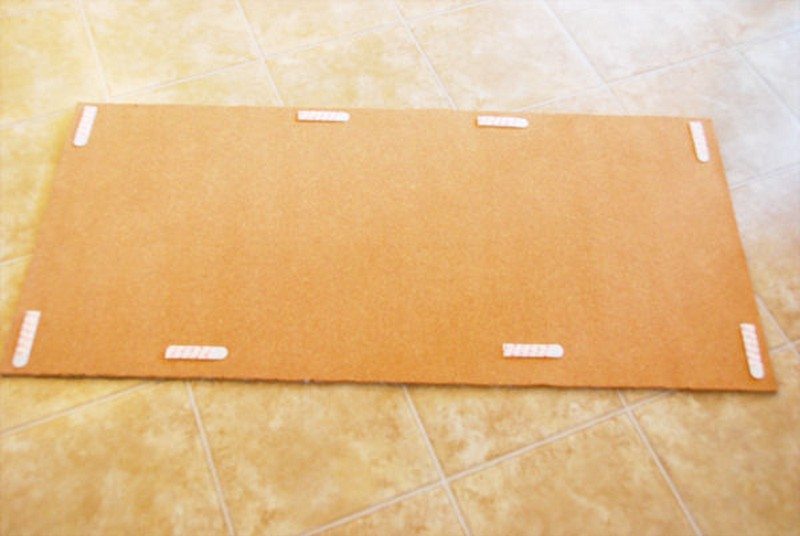 6. Add your nails to the cork
Centre your template and tape it down.
Insert your nails into the cork, following the outline of your template.  They should push in fairly easily with a little pressure (except when you hit a glob of hot glue below…then you'll need to push a bit!)  Trace the inside of the "d", "e" and "a" by pushing the nails right thru the paper.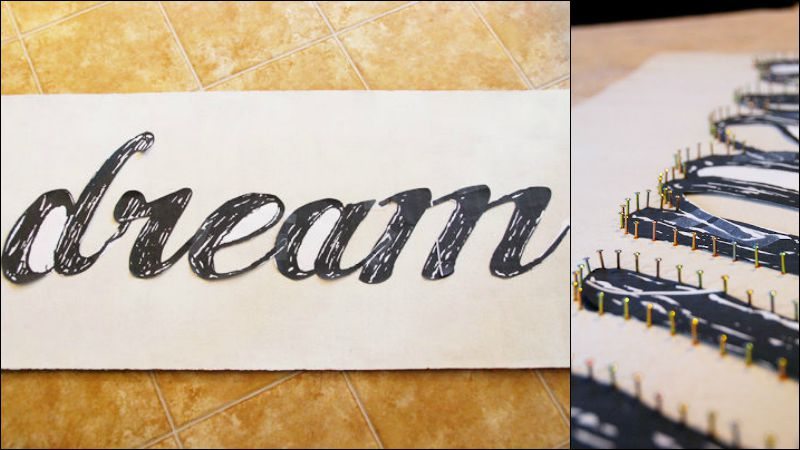 7. Remove the template
When you've traced the entire template, carefully remove the paper.  Work slowly and you're nails will stay in place.
Here's my canvas ready for the string art!  I thought it already looked pretty cool at this stage.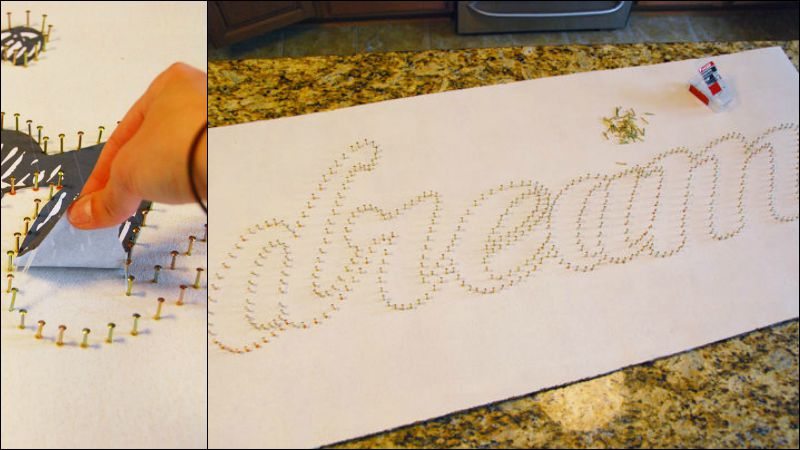 8. Work on your stringing
Now the fun part of string art – stringing!  I decided to do this in a rainbow spectrum effect but you could easily do it in all one color as well.
Starting with my dark purple, I tied it onto a nail at the top of the "d".
Now you're on your way!  Just start weaving in a back-and-forth fashion.  The less you think about this the better.  I found it to be quite therapeutic. Just let it flow.  If you don't like the way a certain section looks, unwind and do it again.  It's very forgiving!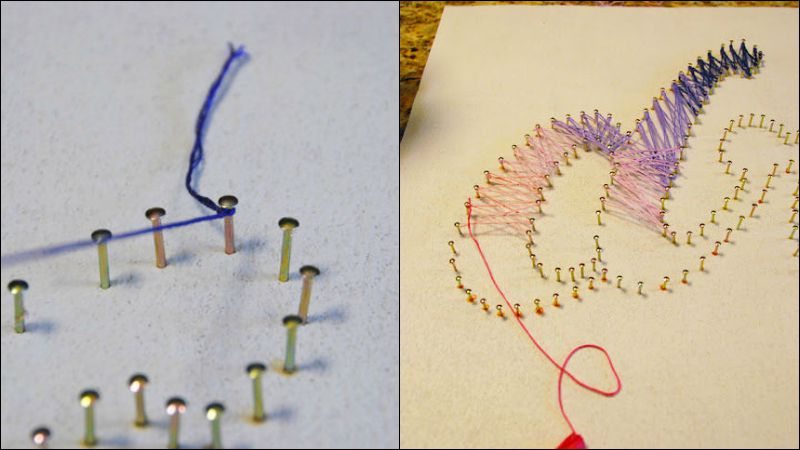 I kept moving through the color spectrum as I worked my way through the word.  I found that overlapping the colors a bit helped to blend each color into the next.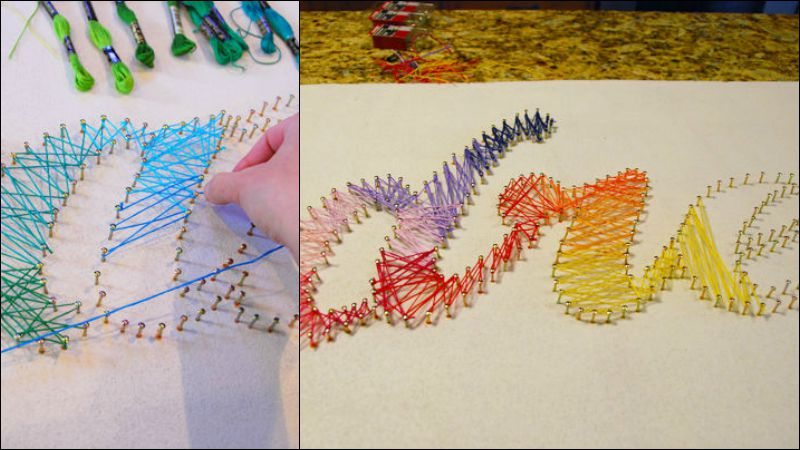 9. Frame out your string art
The last thing I did was to frame out the whole piece with some white duct tape. The edges were looking a little raggedly after I trimmed them and I wanted a cleaner look.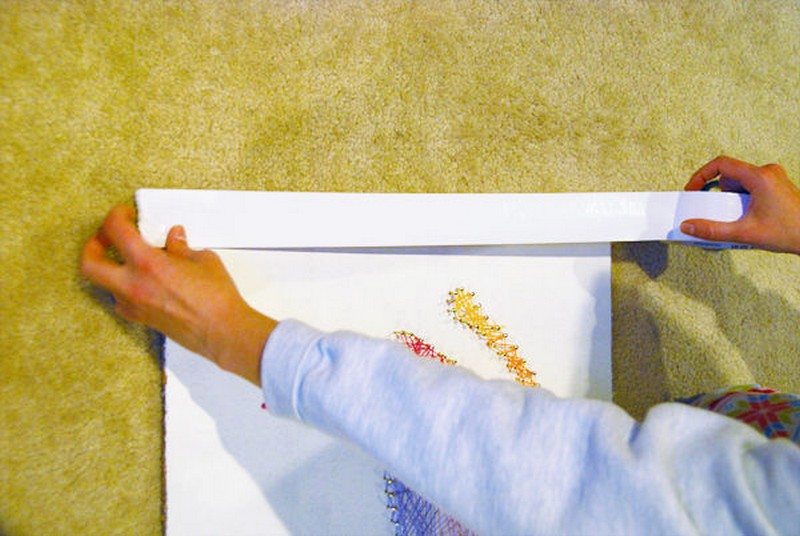 10. Hang your string art
This is how it looks now, hanging in the baby's room! Since the entire string art wall decor is lightweight, parents can worry less about it falling on their babies ;)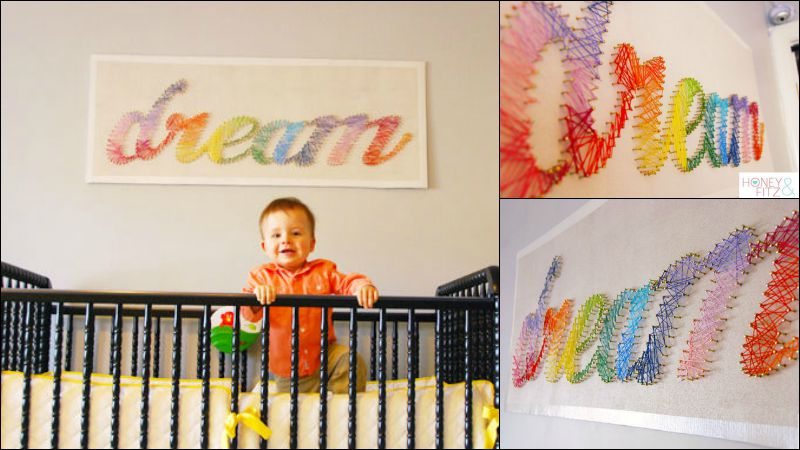 Love this idea? Don't forget to share with us your creation should you decide to make one!
What other additional materials do you think can also be used to create unique string art?
Thanks to honeyandfitz for this great project!