I don't know about you, but I take more pictures than ever now and smartphones have made photography so much easier. Photos capture the special moments of our lives. And whether they are taken by established artists and journalists or a family member, pictures inform us, they inspire us, they amaze us, and they put our world in the broader context of time.
But how can you relive those moments when most of the photos taken today are posted online?
You see, when your device is low on power there's no way for you to access those photos. Having a hard copy ensures that you can look at them anytime you want, with or without electricity.
To make the experience even better we've collected these creative ideas to display photos. No – it doesn't use the typical and boring picture frames. These are unique ways to display photos using repurposed items you can find in your home!
Go ahead and gather your favorite photos, and use one of these creative methods to display them :)
Best ways to display photos?
Click on any image to start the lightbox display. Use your Esc key to close the lightbox.

1. Collage
We have some exciting and new ideas on how to display photos, whether you are a professional photographer or a lover of vintage Polaroid film. It gets monotonous just to put them up, side by side, on the wall. Rather than creating a traditional collage, try a funky one.
There are times when it's nice to simply stick the photos directly to the wall without all the accessories, twine, and boards.
Do your kids still have their old letter blocks? Make your own rustic photograph displays using letterwood blocks and a handful of your family photos.
3. Old Door as Frame
Transform your old door into a stunning display rack. The wooden door frame looks fantastic and adding a few hooks makes it super easy to hang anything on it. Using this gorgeous display stand, you can hang wreaths, painted signs, and clothespins with family photos.
Sideway doors are transformed into fun and functional picture frames and coat racks. Originally, the old door had glass panes on both sides. Pictures and quotes are framed in the place where the panes once were. Added to the top of the cabinet is a shelf for displaying more pictures or decorations. On the side, key hooks are provided for convenience, as well as coat hooks at the bottom. As your family leaves the house, this is the perfect place to keep things they need.
4. Full Wall Art
One of the most common ways of exhibiting our past for everyone to see is by wall art photo display. There are numerous ways to creatively display your photography in captivating ways that will enhance any wall design and mean something to the whole family. In terms of the selected room, wall space, dimensions, and general composition of the room, there are several ways to arrange photo frames on your wall.
5. Mason Jars
The process of making frosted mason jar photo frames is actually quite simple! Used mason jars and paint are all that's needed to make them look antique. In order to achieve that vintage look, various colors of frosted glass paint are marbled together. However, once you have them, you have unique frames that look great in a farmhouse or vintage-style home.
6. Wall Clock
In addition to being safe, your photo can also be stored inside a mason jar, and since these jars have large mouths, you don't have to worry about it curling up like it does when you use a bottle.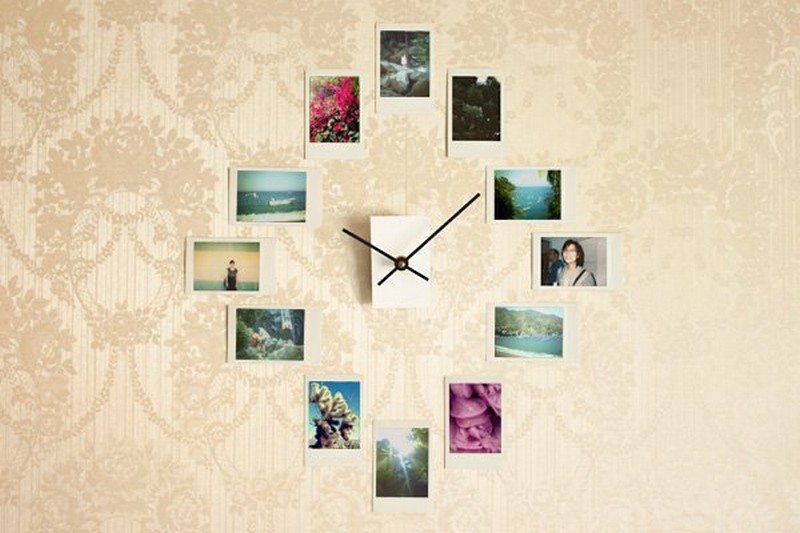 7. Old Pallets
A simple reclaimed pallet wood photo display can give you a rustic look in your living room.
8. Wreath
We gather several greeting cards every year. Most of these have lovely photos of our kids and friends that need to be displayed. We can have these cards trimmed to a pattern that we like. These photos will look so good on your wall. Using your creativity, just add a few straw wreath forms and wired ribbons and you can have your wall decor with these lovely photo displays.
9. Hanging Polaroids
A simple clothing style hanger is cheaper than photo frames and takes a few minutes to arrange. You can also use LED strings to hang your favorite photos.
Which of these do you think would fit your home? :)
If you liked this project, you might also like to view Repurpose a Photo Frame and Wonderful Wood Projects…